R. W. French
Submitted by Scott French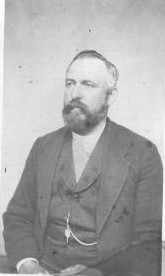 R. W. French - about age 40
Russell Walter French's lineage in America began with the immigration of William French (settled in Billerica, MA) aboard the 'Defence' in 1635 (William French of Billerica, MA; John French of Billerica, MA; William French of Billerica, MA; Nathaniel French of Brattleboro, VT; Nathaniel French of Dummerston, VT; William French of Dummerston, VT; Russel French of Otto, NY; Russell Walter French of Ashland, WI). Nathaniel of Brattleboro and four of his sons fought in the American Revolution (23). One son, William French, was the first casualty of that war (http://www.rootsweb.com/~vermont/WindhamWestminster.html).

Russell was born 20mar1830, Townshend, VT; died 10 Feb 1913, Ashland, WI; buried Mount Hope Cemetery, Ashland, WI.

Russell married first, Mary Rosette Magher on 19 oct 1853 in Ashtabula, OH. She was born 5 Feb 1832 near Rome, NY; died on 9 Nov 1871 and is buried in Superior, WI.
Their children: (1) Ella Rosetta; born 26 Dec 1854 Ashtabula, OH; died 1 Nov1 928, Ashland, WI; married 8 July 1872, Sumner W. Tanner; (2) Emma Rinette; born 14 Aug 1856, Ashtabula, OH; died 4 Feb 1932, Portland, OR; married 26 Apr 1890, Oswald Dundas; (3) Eda R.; born 26 May 1858, WI; died 6 Oct 1892, Ashland, WI; married 11 Aug 1881, Alexander McDougall; (4) Fred W.; born 21 July 1859, Superior, WI; died 1 Mar 1937, Madison, WI; married 19 Oct 1882, Ella A. Ferguson; (5) Clara Elizabeth; born 4 Nov 1861, Superior, WI; died 31 Jan 1892, Ashland, WI; married 14 Apr 1883, Adolphus C. Harvey; (6) Mary Helen; born 5 Aug 1866, Superior, WI; died Dec 1953; married 2 June 1890, John G. Noble; (7) Frank Walter; born 5 Nov 1867, Superior, WI; died 21 Mar 1944, Ashland, WI; married 8 Apr 1891, Ida Belle Pearce; (8) Rosette Gertrude (Rose); born 16 Oct 1871, Superior, WI; died Dec 1953, Manistique, MI; married 16 Oct 1894, Edmund E. Johnston.

Russell married second, Mary Lana Vosburgh of Cattaraugus, Co., NY on 14 Aug 1873. She died 22 Sept 1874 (age 39). No children.

Russell married third, Mrs. Mary Jane (Mower) Hasey from Pushaw Lake or Glenburn, Maine on 26 Oct 1876. She was born 25 Dec 1830 in Starks, Somerset County, Maine and died 6 Feb 1921 in Madison, WI. No children.

Russell (known in later life as R.W.) attended the Springville Academy (Springville, NY) in 1845-1846 to learn the tinner's trade. He traveled extensively to refine that trade, and eventually owned two hardware stores, each with tin shops.
On 7 Oct 1856, he became a Master Mason of the Rising Sun Lodge #22, State of Ohio.
While in Superior, WI (1856-1872), R.W. was listed as Sergeant in the Home Guard (Indian uprisings of more local concern than the Civil War) (16) and chair of the town supervisors (13). He arrived in Superior by "traveling on foot from La Cross, WI" (13).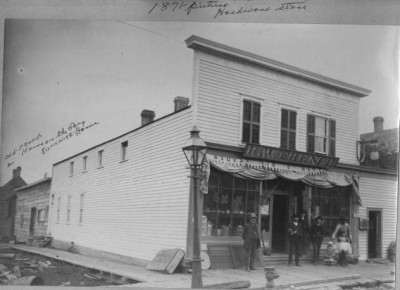 R. W. French Hardware Store - 821 & 823 W. Second St. (corner of West 2nd St. and 9th Ave. West)
R.W. lived in Ashland, WI from 1872 until his death in 1913.
"I met R.W. French on the way here. It took us four days to walk from Superior to Ashland (17)." Having explored the new territory, he then dismantled the existing store in Superior and shipped it to Ashland.
He is listed as: one of Ashland's pioneers, Elder, Deacon, Master Mason, Senior Deacon, and school board member (15).
In 1873, R.W. helped organize the First Congregational church in Ashland. The first services were held in his hardware store. A short time later, he and seven other men assumed a debt of $800 to take over the existing Methodist church. Since there were more Presbyterians than Methodists or Congregationalists in the body, the First Presbyterian church of Ashland was founded (18). His name, as well as his daughters Eda and Clara, are enshrined on three separate stained glass windows within the church.
R.W. built the first sidewalk in Ashland, supported the party of William Henry Harrison, and tinned the locally famous Time Capsule in 1877 - opened ceremoniously in 1929.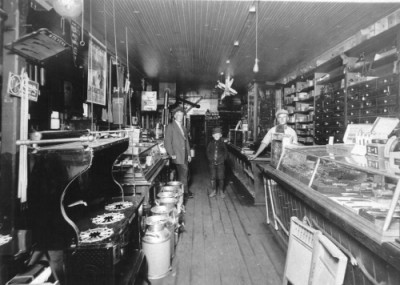 R. W. French Store - abt. 1915

------------------------

(13) Commemorative and Biographical Record of the Upper Lake Region, Beers, 1905
(15) Obituary
(16) John Ward, Telegram Staff Writer
(17) Some 1872 Recollections, C.L. Judd
(18) Historical Sketch, First Presbyterian-Congregational Church of Ashland
(23) Soldiers, Sailors and Patriots of the Revolutionary War-Vermont, Fisher