Howard Henry Bingham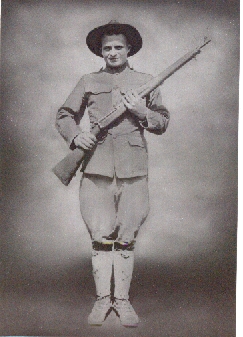 Howard Henry Bingham was born in 1895 in Wisconsin.
His parents were Henry H. Bingham and Ella M. Johnson.
He served in the United States Army from
May 9, 1917 to March 22, 1919.
Wherein he returned to Crandon and
married Viola Rose Frederick. They had three children,
Joann Betty, Shirley, and Lowell Thomas.
When Lowell Thomas was age three
the courts found Howard and Ella Bingham unfit
to care for their children.
Lowell Thomas was put in a foster home
and the two sisters were sent to live with an aunt.
Howard Bingham passed away August 16, 1940 at the V.A. Hospital in Milwaukee, Wisconsin of chronic nephrosclerosis.

This photo and information were provided by and belong to Lowell Bingham.
Lowell Bingham my be contacted at Buzman3@CS.COM.He is interested in sharing information with anyone who is a member of the Bingham or Johnson families