Langholff Articles
Submitted by: Barbara Rhode
Appleton Post Cresent
Appleton Wisconsin
Aug 4 1921
Appleton band expected to leave camp Douglas Saturday morning
Camp Douglas
The Milwaukee battalion of the First Wisconsin infantry, including companies from Edgerton, Milwaukee, West Allis, Racine and Stoughton, held the first battalion parade of the new encampment late Wednesday afternoon, The battlion is under command of Maj. Clarence Christensen, West Allis.
The First battalion of the First Wisconsin, commanded by Maj. Arthur Langholff, Fort Atkinson, is scheduled to parade Thursday afternoon. A regimental parade will probably be held early next week.
Wednesday was the third day of the encampment for the infantry regiment and the thirty second division trains. The troops were well settled by night in the routine of camp duty.
The artillary units from the one hundred and twentieth and one hundred and twenty first field artillary regiments, under commadn of Col Alvin A Kuchenmeister, Milwaukee, is on its last lap of its training period. The artillarymen will be paid off Friday afternoon and will entrain for home stations Saturday. The vavalry contingent will arrive on Monday and go into camp in the site vacated by the artillary. The tank corp company, Janesville, one of the new tank companies in the entire National Guard of the country, is in camp with teh trains in the south end of the reservation.

Stevens Point Journal
Stevens Point Wisconsin
Nov 25 1911
Prizes for guardsman
The Holway diamond badge for officers competion in estimatin distances was awarded to Arthur R Langholff, first Lieutenant of First infantry, Fort Atkinson, whose per cent or error was .037
Bon Ton Bakery
Date in History: Early 20th Century This historic document aired on the radio as an Historic Minute on 01/12/2004.
On the northwest corner of South Main Street and Milwaukee Avenue in Fort Atkinson, where the little parking lot for W.D. Hoard & Sons is now, there used to be an old frame building that had been built by Charles Rockwell way back in 1840. By 1916 this building housed the Bon Ton Bakery owned and operated by Arthur Langholff and his wife Lydia. With its large baking ovens and fancy mixing machines the Bon Ton was a modern marvel and easily the most popular bakery in town. Of course it didn't hurt that it was also a confectionery and an ice cream parlor with a soda fountain that could seat 36 people.
But Art Langholff was also an officer in the Fort National Guard and in 1916 his unit in the 32nd Division was called to duty in the Mexican border campaign. Lydia ran the Bon Ton alone for a while but the Langholffs sold the bakery in 1917 after Art's service was extended right into the World War.
Appleton Post Cresent
Appleton, Wisconsin
June 29, 1920
Fort Atkinson, Wis - This city is to have two new moving picture houses. Aside from teh one which is being erected by F. T, Langholff there will be another one put up on a location which commands a view of both the river and the main street of teh town. It will ahve a seating capacity of 1,000 and will be constructed in accordance with latest plans of moving picture houses. Application for a charter under the name of the Rivera Amusement Co. Inc has been made and the name of the theater will be the Rivena
Birth Annoucement
Jefferson county Union
June 30 1922
Jefferson Wisconsin
An 8 lb son, Richard John, was born to Mr and Mrs A, J. Knilans of Jansville, Thursay morning, June 29. Mrs Knilans was formerly Miss Elsie Langholff of this city.
Floyd Albert Mumm
Cards have been received here announcing the arrival of a 7-pound son, Floyd Albert, at the home of Mr and Mrs Carl J Mumm, Evanston Illinois, on Oct 27th. Congratulations.
This article was in the Jefferson County Union Newspaper on Nov 5 1920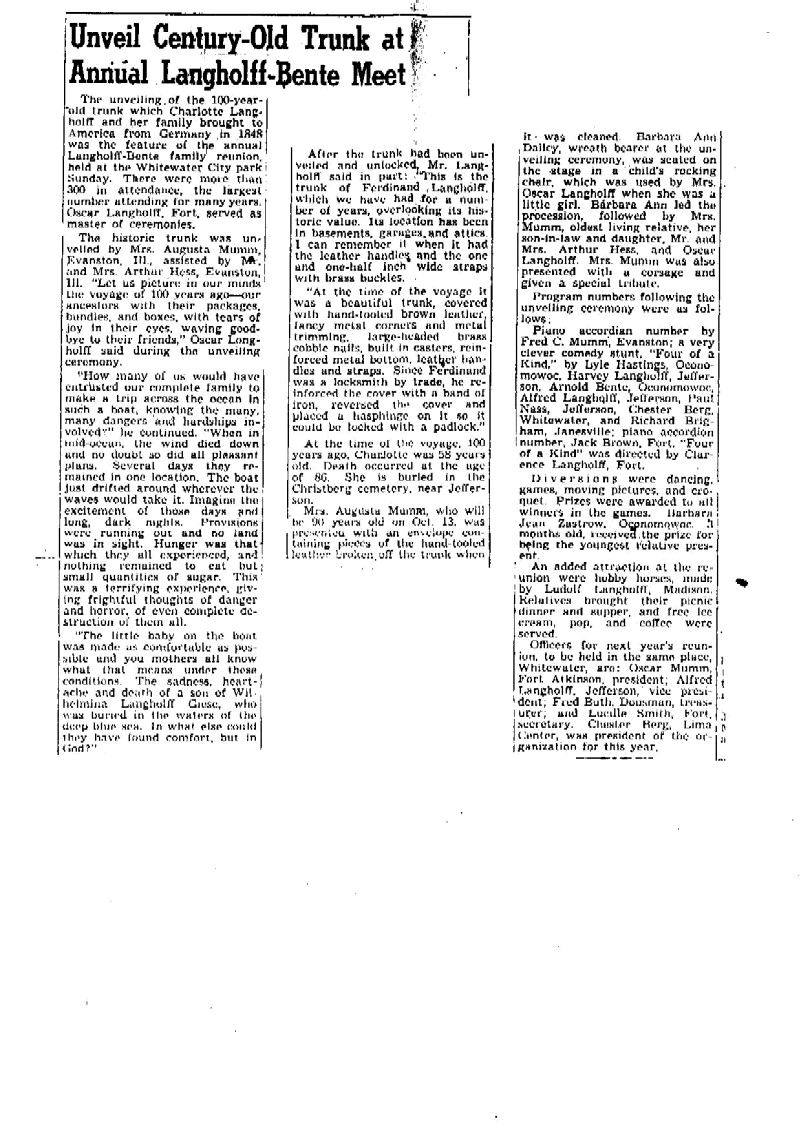 Last Update Thursday, 12-Aug-2010 19:45:59 EDT

WIGenWeb State Coordinator:

Tina Vickery
WIGenWeb Assistante State Coordinator: Marcia Ann Kuehl
Copyright 2010 by the WIGenWeb Team. All rights reserved. Copyright of submitted items belongs to those
responsible for their authorship or creation unless otherwise assigned.