Frederick Frank Langholff
Johnson Creek - Fred F Langholff, 69, of Johnson Creek, died on Saturday, March 22, 1997, at his home.
Born in Jefferson County on June 16 1927 to Frank and Gertrude (Schemm) Langholff, he married Frieda Maasz on April 16 1955 at St John's Evangelical Lutheran Church in Whitewater.
Mr Langholff had been employed at Borg Textiles in Jefferson of 32 years, retiring in 1989. He also owned and operated Langholff's Orchard in rural Johnson Creek for more thatn 20 years.
He was a member of St John's Evangelical Lutheren Church in Jefferson.
Mr Langholff enjoyed the outdoors, hunting, gardening and woodworking.
Surviving are his wife, four sisters, Myrtle Griffin of Fort Atkinson, and Edna Cooper, Ruth Langholff and Bertha Langholff, all of Jefferson, two brothers, Frank and Erwin, both of Jefferson and many nieces and nephews and friends.
Funeral services will be held at 2 p.m. on Tuesday, March 25th, at St John's Evangelical Lutheren Church in Jefferson, with the Rev. Richard Launendorf officiating. Vurial will take place in Christberg Cemetery in Jefferson.
Friends may call at the church on Tuesday from noon until the time of services.
Memorials may be made at St John's Evangelical Lutheran Church in Jefferson.
The Olsen Funeral Home of Jefferson is handeling arrangements.
From the Daily Jefferson Newspaper March 24 1997 page 5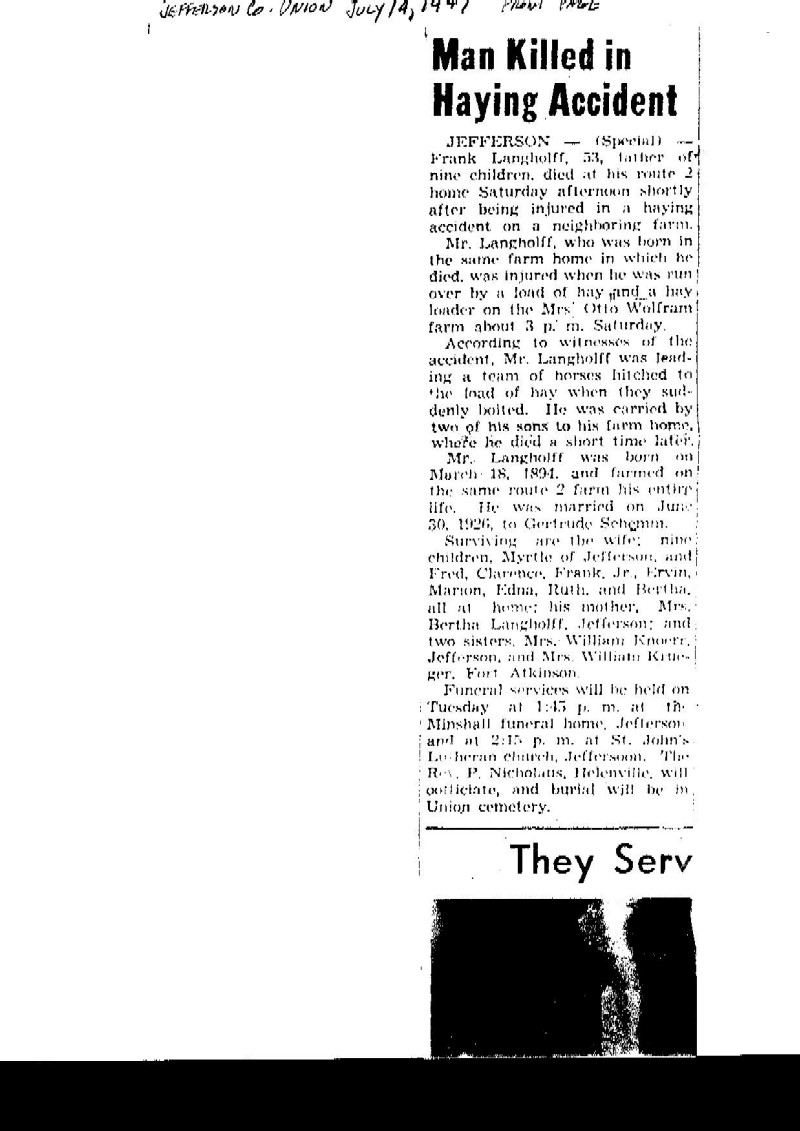 Last Update Thursday, 12-Aug-2010 19:35:33 EDT

WIGenWeb State Coordinator:

Tina Vickery
WIGenWeb Assistante State Coordinator: Marcia Ann Kuehl
Copyright 2010 by the WIGenWeb Team. All rights reserved. Copyright of submitted items belongs to those
responsible for their authorship or creation unless otherwise assigned.