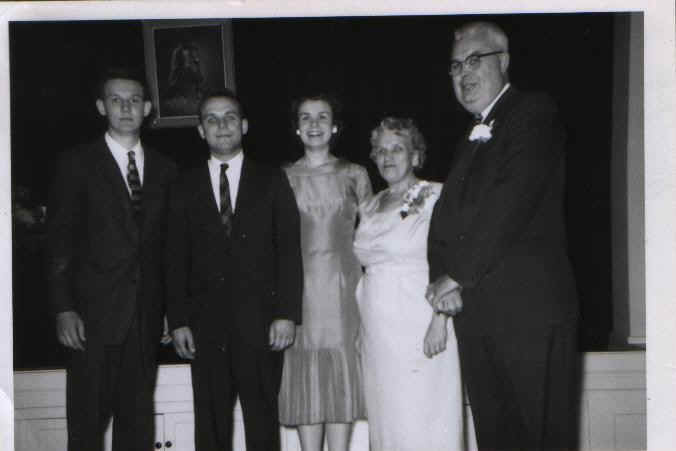 This Photo is of Dempster Lawrence Wandschneider and his wife Mildred Johanna Holtz and their three children Joanne Mae, James Lee and John Frederich and taken on the 25th wedding anniversary of Dempster and Mildred.
Dempster was born April 20 1908 in Fort Atkinson the son of Fred Wandschneider and Charlotte Ernestine Wilhelmina Langholf
He married Mildred June 15 1933 in M E Church in Waukesha Co Wisconsin
Dempster passed away June 30 1975 in Hartford Washington Co Wisconsin, and is buried in Pleasant Hill Cemetery in Hartford Washington Co Wisconsin
Last Update Thursday, 12-Aug-2010 19:44:37 EDT

WIGenWeb State Coordinator:

Tina Vickery
WIGenWeb Assistante State Coordinator: Marcia Ann Kuehl
Copyright 2010 by the WIGenWeb Team. All rights reserved. Copyright of submitted items belongs to those
responsible for their authorship or creation unless otherwise assigned.