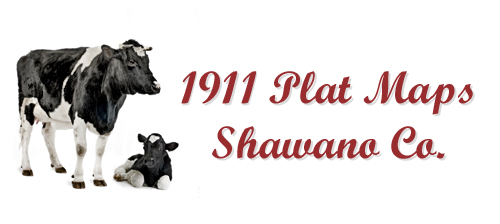 ---
Welcome to our new 1911 Plat Map page... when I started with the Shawano GenWeb Project in 2001, our neighbour to the east Rita Neustifter, along with the folks at the FHC in Shawano, helped with the 1911 plat maps -- many thanks for their help with the images. Since then, we redesigned the pages when we acquired clearer images from other sources, resulting in the images being larger and more easily navigated -- many thanks to RMC for his help in the new design, layout and scans.
This page contains "thumbnails" of the many photographs inside the 1911 Shawano Plat Map book -- and you thought it only contained MAPS!! There are some great older PHOTOGRAPHS you might not find anywhere else, along with ADVERTISEMENTS for local businesses.
Here's a great find as well -- a photo apparently taken circa 1911 of the older Shawano pioneer settlers and the date they arrived. Awesome picture and we've enhanced it to make it a better view. Click on ANY thumbnail to show a larger view. Thumbnails make it possible to keep this page as

fast loading as we can, while showing all the pics.
Settlers on the adjacent picture include:
OLD SETTLERS RE-UNION, SHAWANO COUNTY
The following is the name and date of settlement: J. L. Whitehouse, 1852; J. Winans, 1854; J. Robinson, 1855; D. Wescott, 1851; W. Ross, 1858; A. Morgan, 1856; J. Brooks, 1856; A. Peterson, 1855; M. Wescott, 1853; A. Hammond, 1855; C. Warrington, 1857; W. H. Parker, 1857; J Gauthier, 1852; S. Wilbur, 1853: N. Wilbur, 1857; P. Ackerman, 1854; A. Porter, 1857; M Brooks, 1858; A. McCullough, 1854; J. Allender, 1853; D. Krake, 1853; O. Andrews, 1856; J. Olmsted, 1854; C. Brooks. 1858; C. M. Upham, 1858; S. Field, 1852; F. Otter, 1858; L. Huntington, 1856; B. Condor, 1858; M. Whitehouse, 1851; M. Omlsted, 1851; M. Biebelhausen, 1852; M. Winans, 1853; E. Parker, 1851; L. Fink, 1853; J. Kerr, 1853.
And, even if your family was not here in 1911, check the plat maps to see who owned the property in 1911 and MAYBE the residence/farm is photographed below. Clearly, not all the homes/farms were photographed but you might just get lucky.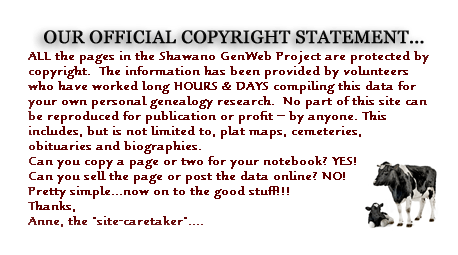 ---
| | | | | |
| --- | --- | --- | --- | --- |
| | | | | |
| C H McDonald | J A Peplinski | J F Winans | F A Jaeckel | E V Werner |
| | | | | |
| | | | | |
| A H Gustman | J C Luebke | A F Anderson | L D Roberts | G L Maas |
| | | | | |
| | | | | |
| W B Peterson | S Johnsen | F K Raniszewski | W Blum | A Beversdorf |
| | | | | |
| | | | | |
| A Miller | F L Boyce | J J Klovdahl | B A Cady | C F Dillett |
| | | | | |
| | | | | |
| M Schuh | A Kuckuk | F Ainsworth | C O Eberlein | M/M C Leiskau |
| | | | | |
| | | | | |
| J Bibelhausen | O O Wiegand | A Peterson | H W Griswold | S K Adams |
| | | | | |
| | | | | |
| J W Curtis | M/M J Lehman | W Gjermundson Family | F Liscombe | A Meifert |
| | | | | |
| | | | | |
| C Johnson | M/M A Matz | M/M G Zander | A Floo Family | A Schenk |
| | | | | |
| | | | | |
| J W Nemetz Res. | Pulaski Bank | H C Toelle Res. | H F Schultz Res. | |
---

Courthouse
A B Larson Family
H Krueger Family
L Reinert Family
M/M P Martens
L & J Hutchins
G Mogensen Family
M/M H A Curtis
H G Kolpack Res.
M/M F Steinke
M/M C A Lehman
M/M R Schardt
J Grill Family
C F Schenk Family
W Hiller Family
F W Kringel
Marion Bank
O C Hansen Creamery
F J Jeske Store
Bowler Buffet-Schenk
Bonduel House-Martin
C Engel Store
Wolf River Paper
C W Ganschow Store
F J Martin Res.
E Pockat Res.
G H Goldrick Res.
Mrs. J Dieck Res.
S Pockat Res.
F Schreier Res.
Dr. C L Vaughan Res.
A Marquardt Res.
F Frailing Family
D Perry Res.
P A Dillenburg Res.
C G Melhorn Res.
H Schroeder Res.
M Schuh Res.
H Hopke Res.
H Meifert Res.
R B Gumaer Res.
C A Holm Res.
J Porter Res.
L Blunk Res.
J Peterson Res.
J Foss Res.
H Ziemer Res.
H Fuhrman Res.
F Buss Res.
A Menzel Res.
L Lieske
W Buss Res.
F Bartelme Res.
J B Stewart Res.
F J Buss Res.
O F Gogolin Res.
H Krumbach Res.
W Ziemer Res.
J Carlson Res.
A W Parker
C Zuehlke Res.
H F Miller Res.
F Liesch Res.
C F Frailing Res.
D E Craw
G Kuehn Res.
A Ninman Res.
B E Kohasky
J Grill Res.
A W Zenisek
C L Just
Shaw. Co Adv. - Scott
A Trieglaff Res.
W W Crofoot Res.
G Haeberlein Res.
C Menzel Res.
W Wenzel Res.
H Klawiter Res.
F Waidelich Res.
M Baumann Res.
Pulaski Post Office
E Spiegel Res.
H Spiegel Res.
W Selle Res.
A Wesener Res.
M S Simpson Res.
C Fink Res.
H Kersten Res.
G Popp Res.
A Wegner Res.
A Herr Res.
O Seefeldt Res.
A Spitzer Res.
A H Peterson Creamery
F Noffke Res.
A Buss Res.
T A Loken Res.
F Krueger Res.
R P Nelson Res.
F Steege Res.
C G Schenk Res.
E W Frailing Res.
F J Strauss Res.
J W Buss Res.
A Nischke Res.
G Posselt Res.
I L Isaacson Res.
Larson Brick & Tile
A Kregel Res.
P Bazile Res.
L Reinert Res.
N Madson Res.
A C Mailahn Res.
P J Heinl Res. & Store
A Preuss Res.
J A Winans Res.
H R Cornelius Res.
E Buettner Res.
G Schultz Res.
F Krasin Res.
W Parker Res.
J Hansen Res.
J Sherlock Res.
C Hennig Res.
J C Bauerfeind Res.
A Noach Family
E Catencamp Res.
O Holm Res.
J Graham Res.
E H Erb Res.
A E Luepke
W N Darling
J M Olson
J Hennig & Lake
T Meyer Res.
G H Frazer
---

---