Ho-Chunk or Winnebago (as they are commonly called) are a tribe of Native Americans native to what are now Wisconsin & Illinois. The term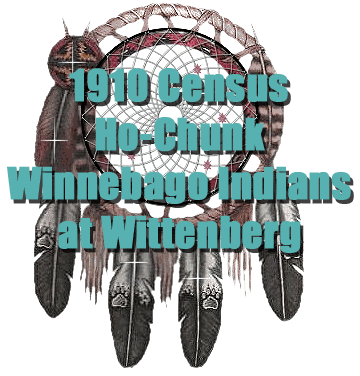 "Winnebago" originally came from a name given to them by neighbouring Algonquian tribes. The more correct, but less common English name for the tribe is "Ho-Chunk" from their original native name meaning "big fish people". The big fish in this case is probably sturgeon, once abundant in Lake Winnebago. The tribe located primarily in Wisconsin changed its official name in 1994 to the Ho-Chunk Sovereign Nation (meaning People of the Big Voice).
Census of the Winnebago Indians of the Wittenberg Agency taken on June 30 1910 by E. J. Bost Superintendent
NOTE: Listed in this census index are the "English Names" about 1250+ -- if you locate someone that you would like the Native American/Indian name for, just email me and I'll try to locate it in the census. Approximately 90% of the names also have Indian Names.
The following information was given in the original census: Indian name, English name, Relationship to Head of Household, Age, Sex. I tried to group these in families per the census but in some cases, the relationships seem not to match the household -- I'm not sure if this is because the census taker wasn't clear on the unit or if Native American culture and family structure is not what we typically see in censuses.
PART II

English Name
Spouse/Parent
Relationship
Birth
Mary Littlebear
Widow
circa 1855
Thomas Littlebear
Mary
Son
circa 1894
Daniel Littlebear
Single
circa 1891
Amos Littlebear
Flora
Husband
circa 1888
Flora Littlebear
Amos
Wife
circa 1889
Moses Littlebear
Amos
Son
circa 1907
Adam Littlebear
Elen B
Husband
circa 1885
Elen B Littlebear
Adam
Wife
circa 1877
Harvey Blackcoon
Adam
Step Son
circa 1904
Lena Littlebear
Adam
Daughter
circa 1907
Lucy Littlebear
Adam
Daughter
circa 1909
Fred Littlegeorge
Alice
Husband
circa 1850
Alice Littlegeorge
Fred
Wife
circa 1854
Alma Littlegeorge
Fred
Daughter
circa 1900
George Littlegeorge
Lucy
Husband
circa 1885
Lucy Littlegeorge
George
Wife
circa 1886
Florence Littlegeorge
George
Daughter
circa 1905
Jane Littlegeorge
George
Daughter
circa 1907
Dora Littlegeorge
George
Daughter
circa 1909
Sam Littlegeorge
Dora M
Husband
circa 1875
Dora M Littlegeorge
Sam
Wife
circa 1863
Annie Mike
Sam
Step Daughter
circa 1895
John Littlejohn
Widower
circa 1825
Edward Littlejohn
Single
circa 1886
Albert Littlejohn
Single
circa 1882
Matt Littlejohn
Jane
Husband
circa 1860
Jane Littlejohn
Matt
Wife
circa 1861
Lizzie Littlejohn
Matt
Daughter
circa 1893
Ella Littlejohn
Matt
Daughter
circa 1891
Green Littlejohn
Single
circa 1886
Mary Littleman
Widow
circa 1833
Mrs. E Nook MA He Win
Kah Littlethunder
Mary
Wife
circa 1860
Frank Littlesnake
Single
circa 1883
Bettie Littlesoldier
Widow
circa 1845
John Littlewolf
Widower
circa 1868
Tracy Littlewolf
John
Daughter
circa 1900
Alex Lonetree
Husband
circa 1866
George Lonetree
Single
circa 1889
Hugh Lonetree
Lucy T
Husband
circa 1890
Lucy T Lonetree
Hugh
Wife
circa 1893
Clay Longmarsh
Bessie H
Single
circa 1888
Bessie H Longtail
Clay
Wife
circa 1891
John H Longtail
Orphan
circa 1893
Frank Longthunder
Single
circa 1880
Louis Lookingglass
Mary T
Single
circa 1873
Mary T Lowe
Louis
Wife
circa 1864
Sam Lowe
Louis
Son
circa 1892
Lucy Lowe
Louis
Daughter
circa 1894
Annie Lowe
Louis
Daughter
circa 1896
Dora Lowe
Louis
Daughter
circa 1900
Minnie Lowe
Louis
Daughter
circa 1901
Theodore Lowe
Louis
Son
circa 1904
Gilbert Lowe
Single
circa 1890
Albert T Lowe
Single
circa 1888
Charlie R Lowe
Single
circa 1872
Hester Lowery
Widow
circa 1830
Emma Lowery
Widow
circa 1848
Mattie Lowery
Adopted Daughter
circa 1900
Mary Lyons
Widow
circa 1840
George Lyons
Widower
circa 1868
Martin Lyons
George
Son
circa 1894
Bessie Lyons
George
Daughter
circa 1895
Lydia Lyons
George
Daughter
circa 1897
Daniel Lyons
George
Son
circa 1899
Mary Man
John
Widow
circa 1851
John Man
Mary
Husband
circa 1881
James Manly Senior
Nancy
Husband
circa 1862
Nancy Manly
James
Wife
circa 1844
Ella Manly
James
Daughter
circa 1893
James Manly Junior
Lucy
Husband
circa 1882
Lucy Manly
James
Wife
circa 1885
Mary Manly
James
Daughter
circa 1900
Dora Manly
James
Daughter
circa 1905
Daniel Manly
James
Son
circa 1909
Pat Manly
Grace W
Husband
circa 1889
Grace W Manly
Pat
Wife
circa 1890
Chester Manly
Pat
Son
circa 1906
Randall Manly
Pat
Son
circa 1908
Ruth Manly
Pat
Daughter
circa 1910
Newton Manly
Mary S
Husband
circa 1885
Mary S Manly
Newton
Wife
circa 1872
George Snowball
Newton
Step Son
circa 1899
Mary L Marsey
William
Widow
circa 1870
William Marsey
Mary L
Husband
circa 1868
Dora Hopinkah
Niece
circa 1904
Minnie Hopinkah
Niece
circa 1901
Betsy Johnson
Niece
circa 1896
Annie Marsey
Kate
Single
circa 1889
Kate Marsey
Annie
Wife
circa 1887
Henry Mike
Lucy
Husband
circa 1866
Lucy Mike
Henry
Wife
circa 1865
Clara Mike
Henry
Step Daughter
circa 1899
William Mike
Henry
Son
circa 1905
Howard Mike
Henry
Son
circa 1906
Agnes Mike
Henry
Daughter
circa 1896
John Mike Jr.
Kate
Husband
circa 1863
Kate Mike
John
Wife
circa 1862
Ada Mike
John
Daughter
circa 1894
Dewey Mike
John
Son
circa 1899
George Mike
John
Son
circa 1901
Peter Mike
John
Son
circa 1903
Allen Mike
John
Son
circa 1904
Thomas Mike
John
Son
circa 1906
Lizzie Mike
Single
circa 1891
Paul J Mike
Husband
circa 1884
Belle Mike
Single
circa 1888
Fred Miner
Carrie
Husband
circa 1864
Carrie Miner
Fred
Wife
circa 1864
Flora Miner
Fred
Daughter
circa 1892
George Miner
Fred
Son
circa 1894
William Miner
Fred
Son
circa 1896
Melvin Miner
Fred
Son
circa 1900
Minnie Miner
Fred
Wife
circa 1861
Mary Miner
Fred
Daughter
circa 1892
Grace Miner
Fred
Daughter
circa 1895
Winfield Miner
Fred
Son
circa 1897
Victor Miner
Fred
Son
circa 1903
Scott Mokey
Gertie
Husband
circa 1873
Gertie Mokey
Scott
Wife
circa 1867
Florence Mokey
Scott,
Daughter
circa 1900
Helen Blowsnake
Adopted Daughter
circa 1905
Thomas Monegar
Single
circa 1891
Susan Money
Widow
circa 1820
Abner Nash
Lucy
Husband
circa 1830
Lucy Nash
Abner
Wife
circa 1846
Annie Nash
Charles
Single
circa 1887
Charles Opinkah
Annie
Husband
circa 1889
George Otter
Widower
circa 1843
George Otter Junior
Ida
Husband
circa 1879
Ida Otter
George
Wife
circa 1885
Sarah Otter
George,
Daughter
circa 1908
Lena Pettibone
Single
circa 1888
Grover Pettibone
Single
circa 1890
Asher Pettibone
Single
circa 1889
Mary Pettibone
Widow
circa 1840
Jake Pettibone
Mary
Husband
circa 1865
Mary Pettibone
Jake
Wife
circa 1858
Ellen Pettibone
Jake
Daughter
circa 1892
Joseph Pettibone
Jake
Son
circa 1894
Sam Pettibone
Jake
Son
circa 1896
Lulu Rockman
Jake
Granddaughter
circa 1900
Arne Thundercloud
Adopted Son
circa 1901
Mary Y Pidgeon
Widow
circa 1843
Fred Yellowthunder
Mary Y
Son
circa 1892
John Pidgeon
Annie W
Husband
circa 1875
Annie W Pidgeon
John
Wife
circa 1877
Marie Pidgeon
John
Daughter
circa 1903
Ella Pidgeon
John
Daughter
circa 1905
James Pidgeon
John
Son
circa 1908
Tom Pine
Widower
circa 1844
Bettie Playhouse
Thomas
Widow
circa 1840
Thomas Prescott
Bettie
Husband
circa 1874
Margaret B Prescott
circa 1870
Amos Prescott
circa 1905
Suise Hopinkah
Amos
Daughter
circa 1897
Theresa J Prescott
Widow
circa 1826
Mrs. Pretty Hair
Widow
circa 1822
Jerry Prettyman
Single
circa 1880
Jacob Prettyman
Minnie J
Single
circa 1890
Minnie J Priest
Jacob
Wife
circa 1874
Ada Priest
Jacob
Daughter
circa 1904
Lucy Priest
Jacob
Daughter
circa 1907
Puss Rainwalker
Annie D
Single
circa 1889
Annie D Rave
Puss
Wife
circa 1883
Asher Rave
Puss
Son
circa 1901
Neala Rave
Puss
Daughter
circa 1904
James Rave
Puss
Son
circa 1906
Samuel Rave
Puss
Son
circa 1908
Annie S Rave
Puss
Wife
circa 1883
Helen Rave
Puss
Daughter
circa 1904
Theodore Rave
Puss
Son
circa 1906
Jennie Rave
Puss
Daughter
circa 1909
Frank Redbird
Husband
circa 1881
Peter Redbird
Frank
Son
circa 1906
Louisa Redbird
Wife
circa 1879
Alice Redbird
Frank
Daughter
circa 1905
Sarah Redbird
Single
circa 1889
Spot Redbird
Brother
circa 1895
Stella Redbird
Sister
circa 1899
John Redcloud
Francis
Husband
circa 1855
Francis Redcloud
John
Wife
circa 1875
Frank Redcloud
John
Son
circa 1894
Mike Redcloud
John
Son
circa 1896
Mrs. Archangle Reed
Widow
circa 1833
Charley Redeagle
Sadie
Husband
circa 1872
Sadie Redeagle
Charley
Wife
circa 1876
Winnie Redeagle
Charley
Daughter
circa 1903
Maud Redeagle
Charley
Daughter
circa 1906
Jennie Redeagle
Charley
Daughter
circa 1908
George Redeagle
Single
circa 1874
Sue Redhorn
Widow
circa 1834
Mary Redhorn
Widow
circa 1860
George Redhorn
Mary
Son
circa 1899
Sam Redhorn
Single
circa 1889
Peter Rockman
Single
circa 1873
Ora L Rockman
Emily L
Single
circa 1873
Emily L Rousseau
Ora L
Wife
circa 1882
Little Sam
Margaret
Husband
circa 1869
Margaret Sam
Little
Wife
circa 1867
Lee Sam
Little
Son
circa 1893
Bessie Sine
Adopted Daughter
circa 1895
Alice L Saunders
Wife
circa 1878
Lottie Humphrey
Alice L
Daughter
circa 1904
Ella Humphrey
Alice L
Daughter
circa 1905
James Lincoln Jr
Alice L
Son
circa 1910
George Seymour
Ella B
Husband
circa 1884
Ella B Seymour
George
Wife
circa 1886
Mrs. See NE He Mon E Win Kah Sherman
Widow
circa 1832
John Sherman
Carrie
Husband
circa 1857
Carrie Sherman
John
Wife
circa 1866
Minnie Sherman
Single
circa 1888
Bill Shorthorn
Mary B
Husband
circa 1857
Mary B Shorthorn
Bill
Wife
circa 1863
James Sine
Ellen
Husband
circa 1851
Ellen Sine
James
Wife
circa 1856
James Sine Jr
James
Son
circa 1894
Henry Sine
Husband
circa 1890
Annie Sine
Henry
Daughter
circa 1909
Charlie Sine Jr
Husband
circa 1888
George Sine
Single
circa 1878
Charles Sine Sr
Single
circa 1872
Frank Sine
Widower
circa 1861
Lucy Sine
Frank
Daughter
circa 1899
Leonora Smalley
Wife
circa 1886
Clara N Smalley
Leonora
Daughter
circa 1901
Robert V Smalley
Leonora
Son
circa 1904
Agnes N Smalley
Leonora
Daughter
circa 1906
Lucy M Smalley
Leonora
Daughter
circa 1909
Frank Smith
Jane S
Husband
circa 1866
Jane S Smith
Frank
Wife
circa 1858
Fred Sam Smith
Frank
Son
circa 1899
James Sam Smith
Frank
Son
circa 1900
Annie Smith
Single
circa 1889
Edward Smith
Widower
circa 1867
Emma Smith
Widow
circa 1872
Joe Smith
Emma
Son
circa 1896
Esther Smith
Emma
Daughter
circa 1899
Mary Smith
Emma
Daughter
circa 1901
John Smith
Widower
circa 1871
Thomas Smith
John
Son
circa 1898
Jim Smith
Mary
Husband
circa 1869
Mary Smith
Jim
Wife
circa 1858
Annie Smith
Jim
Wife
circa 1873
Robinson Smith
Jim
Son
circa 1901
Mary Smith
Jim
Daughter
circa 1903
Henry Smith
Jane
Husband
circa 1850
Jane Smith
Henry
Wife
circa 1849
Jessie Smith
Henry
Wife
circa 1889
Frank R Smith
Widower
circa 1873
Paul Spear Smith
Frank R
Son
circa 1897
Big Smoke
Widower
circa 1835
Charley E Smoke
Lou
Husband
circa 1863
Lou Smoke
Charley E
Wife
circa 1867
James Smoke
Charley E
Son
circa 1898
Lela Smoke
Charley E
Daughter
circa 1904
Henry Smoke
Charley E
Son
circa 1907
Anna Smoke
Single
circa 1886
John Smoke
Mary D
Husband
circa 1875
Mary D Smoke
John
Wife
circa 1875
Hilda Smoke
John
Daughter
circa 1903
Dewey Smoke
John
Son
circa 1905
Fred Snake
Widower
circa 1836
Henry Snake
Annie Y
Husband
circa 1881
Annie Y Snake
Henry
Wife
circa 1882
Mary Snowball
Wife
circa 1855
Bright F Snowball
Jane
Husband
circa 1832
Jane Snowball
Bright F
Wife
circa 1855
Frank Snowball
Husband
circa 1859
George D Snowball
Single
circa 1880
Clay D Snowball
Husband
circa 1886
John Soldier
Jane T
Husband
circa 1848
Jane T Soldier
John
Wife
circa 1851
Moses Soldier
John
Son
circa 1892
Sue Southwind
Widow
circa 1831
John Spear
Widower
circa 1845
John Stacy
Martha
Husband
circa 1867
Martha Stacy
John
Wife
circa 1870
Joseph Stacy
John
Son
circa 1893
John Stacy
John
Son
circa 1899
Alvin Stacy
John
Son
circa 1904
Helen Stacy
John
Daughter
circa 1907
Emma Stacy
John
Daughter
circa 1909
Henry Stacy
Single
circa 1886
Jesse Stacy
Henry
Son
circa 1895
Maud Lookingglass
Henry
Daughter
circa 1899
Charles Stacy
Fannie
Husband
circa 1843
Fannie Stacy
Charles
Wife
circa 1843
Badsoldier Stacy
Stella B
Husband
circa 1882
Stella B Stacy
Badsoldier
Wife
circa 1883
Phillip Stacy
Badsoldier
Son
circa 1907
Theodore Stacy
Badsoldier
Son
circa 1909
Ora L Stacy
Badsoldier
Wife
circa 1885
Hilda Stacy
Badsoldier
Daughter
circa 1905
Jim Standingwater
Ellen D
Husband
circa 1858
Ellen D Standingwater
Jim
Wife
circa 1875
Mike Standingwater
Jim
Son
circa 1897
George Standingwater
Mary
Husband
circa 1868
Mary Standingwater
George
Wife
circa 1857
May Snowball
Adopted Daughter
circa 1903
Frank Standingwater
Single
circa 1877
Otto Standstraight
Martha
Husband
circa 1854
Martha Standstraight
Otto
Wife
circa 1861
Alice Standstraight
Otto
Wife
circa 1883
Leonard H Standstraight
Otto
Son
circa 1903
Lydia Blowsnake
Otto
Daughter
circa 1906
Will Stohegah
Rosie M
Husband
circa 1873
Rosie M Stohegah
Will
Wife
circa 1869
Lizzie Stohegah
Will
Daughter
circa 1899
Lucy Stohegah
Will
Daughter
circa 1905
Elmer Stohegah
Will
Son
circa 1909
John Stohegah
Mary
Husband
circa 1840
Mary Stohegah
John
Wife
circa 1853
George Stohegah
John
Son
circa 1892
Lucy Stohegah
Single
circa 1881
George Storm
Jesse
Husband
circa 1873
Jesse Storm
George
Wife
circa 1885
Mary Storm
George
Daughter
circa 1905
Frank Storm
George
Son
circa 1907
Jack Swallow
Widower
circa 1835
John Swallow
Cutie D
Husband
circa 1874
Cutie D Swallow
John
Wife
circa 1872
Annie Y Swallow
Widow
circa 1876
Nancy Swallow
Widow
circa 1840
James Swallow
Mary
Husband
circa 1848
Mary Swallow
James
Wife
circa 1854
Henry Swallow
Orphan
circa 1901
Young Swan
Mary
Husband
circa 1854
Mary Swan
Young
Wife
circa 1855
George Swan
Young
Son
circa 1892
James Swan
Young
Son
circa 1894
Dora Swan
Single
circa 1886
Mrs. King Swan
Widow
circa 1849
Fred K Swan
Alice T
Husband
circa 1885
Alice T Swan
Fred K
Wife
circa 1886
Violet Swan
Fred K
Daughter
circa 1905
Thomas Swan
Fred K
Son
circa 1907
Susie Swan
Widow
circa 1875
Mary Swan
Susie
Daughter
circa 1905
Maud Swan
Susie
Daughter
circa 1909
NE Re He Kah
WA Nek Che Win Kah
Frank J Swan
Mary
Husband
circa 1863
Mary Swan
Frank J
Wife
circa 1873
John Thompson
Nora R
Husband
circa 1882
Nora R Thompson
John
Wife
circa 1892
Harry Thompson
Grace G
Husband
circa 1886
Grace G Thompson
Harry
Wife
circa 1890
Ole Thompson
Harry
Son
circa 1907
Jesse Thompson
Single
circa 1889
Bessy Thunder
Widow
circa 1827
Lucy Thunder
Widow
circa 1848
Thomas Thunder
Addie L
Husband
circa 1868
Addie L Thunder
Thomas
Wife
circa 1875
Gustave Thunder
Thomas
Son
circa 1902
Mary Thunder
Thomas
Daughter
circa 1908
Amelia Lewis
Thomas
Daughter
circa 1897
Bryan Lewis
Thomas
Son
circa 1900
Pinkah Lewis
Thomas
Daughter
circa 1903
Ben Lewis
Thomas
Son
circa 1905
Frank Thunder
Kate W
Single
circa 1875
Kate W Thunder
Frank
Wife
circa 1880
Joseph Thunder
Josie G
Husband
circa 1879
Josie G Thunder
Joseph
Wife
circa 1889
Will Thunder
Single
circa 1881
Johnie Thunder
Husband
circa 1884
Levi Thunder
Johnie
Son
circa 1909
William Thunder
Mollie
Husband
circa 1862
Mollie Thunder
William
Wife
circa 1862
Olena Thunder
William
Daughter
circa 1903
Tom B Thunder
Adopted Son
circa 1898
Kate Thunder
Single
circa 1890
Henry Thunder
Maggie
Husband
circa 1867
Maggie Thunder
Henry
Wife
circa 1871
Frank Thunder
Henry
Son
circa 1896
Nina Thunder
Henry
Daughter
circa 1908
May Thundercloud
Henry
Daughter
circa 1896
Jane Thunder
Widow
circa 1872
Peter Thunder
Single
circa 1889
Albert Thunder
Ella
Husband
circa 1881
Ella Thunder
Albert
Wife
circa 1881
Lloyd Thunder
Albert
Son
circa 1906
Marie Thunder
Albert
Daughter
circa 1907
Mrs. WA Munk Ska Win Kah Thunderchief
Widow
circa 1853
Harry Thunderchief
Son
circa 1892
Sam Thunderchief
Single
circa 1887
Tom Thunderchief
Mary S
Husband
circa 1876
Mary S Thunderchief
Tom
Wife
circa 1859
Duke S Thunderchief
Tom
Son
circa 1895
MA Zhee Wee Kah Thundercloud
Annie
Husband
circa 1850
Annie Thundercloud
Wife
circa 1866
Flora Thundercloud
Annie
Daughter
circa 1894
Ray Thundercloud
Annie
Son
circa 1897
Henry Thundercloud
Annie
Son
circa 1899
Daniel Thundercloud
Single
circa 1891
Dot Thundercloud
Single
circa 1890
Dora Thundercloud
Single
circa 1888
Adam Thundercloud
Sarah B
Husband
circa 1886
Sarah B Thundercloud
Adam
Wife
circa 1889
Harry B Thundercloud
Adam
Son
circa 1904
Rosa Thundercloud
Adam
Daughter
circa 1907
Green Thundercloud
Susie
Single
circa 1890
Susie Thundercloud
Green
Wife
circa 1875
Sam Thundercloud
Green
Son
circa 1896
Henry Thundercloud
Green
Son
circa 1899
Emma Henry
Green
Daughter
circa 1903
John Henry
Green
Son
circa 1905
Maggie Henry
Green
Daughter
circa 1907
Joe Thunderking
Annie
Husband
circa 1862
Annie Thunderking
Joe
Wife
circa 1858
Mary Trout
Widow
circa 1853
Billy Trout
Mary
Son
circa 1893
Mandy Trout
Single
circa 1885
Bow Trout
Emma T
Husband
circa 1877
Emma T Trout
Bow
Wife
circa 1886
Robert Trout
Bow
Son
circa 1903
Ada Trout
Bow
Daughter
circa 1905
James Two Crow
Sue
Husband
circa 1846
Sue Two Crow
James
Wife
circa 1857
Louise H Two Crow
Granddaughter
circa 1897
Maud Two Crow
Single
circa 1889
Frank Two Crow
Single
circa 1887
Tip Two Crow
Single
circa 1891
John Two Crow
Widower
circa 1857
Nancy Walker
Widow
circa 1855
Frances Walker
Nancy
Daughter
circa 1895
Tom Walker
Frances
Husband
circa 1879
Frances Walker
Tom
Wife
circa 1876
Ralph Walker
Tom
Son
circa 1904
Howard Walker
Tom
Son
circa 1906
Jim Walker
Husband
circa 1859
Mrs. Mon No Nump Pin E Win Kah Walker
Jim
Wife
circa 1862
George Walkingsmoke
Minnie W
Husband
circa 1854
Minnie W Walkingsmoke
George
Wife
circa 1859
William Walkingsmoke
George
Son
circa 1896
Flora Whitewing
George
Daughter
circa 1898
Axel Whitewing
George
Son
circa 1899
Belle Y Wallace
Widow
circa 1884
Tom Johnson
Belle Y
Son
circa 1902
Sam Wallace
Single
circa 1882
Fannie Wallace
Orphan
circa 1895
War Club
Sarah
Husband
circa 1850
Sarah War Club
War Club
Wife
circa 1854
John Long Marsh
War Club
Son
circa 1893
Susie Long Marsh
War Club
Daughter
circa 1897
Sue Waters
Widow
circa 1838
Charlie Waukon
Lou
Husband
circa 1863
Lou Waukon
Charlie
Wife
circa 1864
Gladis Waukon
Charlie
Daughter
circa 1903
Stephen Waukon
Single
circa 1891
John Waukon
Husband
circa 1872
William Waukon
Ruth W
Husband
circa 1876
Ruth W Waukon
William
Wife
circa 1882
Annie Waukon
William
Daughter
circa 1901
Mrs. Whirling Cloud
Widow
circa 1828
Alice Twocrow
Whirling Cloud
Gr Granddaughter
circa 1901
Jane White
Widow
circa 1820
Mrs. John White
Widow
circa 1839
Mrs. Dr. Che No Kee Cha Win Kah White
Widow
circa 1825
Dora White
Granddaughter
circa 1892
Long B White
Lizzie
Widower
circa 1857
Chauncey White
Long B
Son
circa 1892
James White
Long B
Son
circa 1896
Frank White
Long B
Son
circa 1898
Roy White
Long B
Son
circa 1900
Lizzie White
Long B
Wife
circa 1860
Susie White
Long B
Daughter
circa 1893
Owen White
Long B
Son
circa 1895
Mary White
Long B
Daughter
circa 1897
Edith White
Long B
Daughter
circa 1902
Ida White
Single
circa 1891
Mr. WA Ho Pin Nee Kah White
Anna
Husband
circa 1853
Anna White
Wife
circa 1859
Ray White
Anna
Son
circa 1893
Puss White
Anna
Daughter
circa 1895
Knute White
Anna
Son
circa 1902
Frank White
Single
circa 1882
Jim White
Kate
Husband
circa 1864
Kate White
Jim
Wife
circa 1868
Ella White
Jim
Daughter
circa 1893
Daisy White
Jim
Daughter
circa 1895
Viola White
Jim
Daughter
circa 1898
Mark White
Jim
Son
circa 1900
Lucy White
Jim
Daughter
circa 1903
Henry White
Jim
Son
circa 1907
Ulysses White
Mary Cloud
Husband
circa 1878
Mary Cloud White
Ulysses
Wife
circa 1876
Esther White
Ulysses
Daughter
circa 1905
Dora p Decorah
Ulysses
Daughter
circa 1905
Eunice White
Ulysses
Daughter
circa 1909
Kate B White
Ulysses
Wife
circa 1855
John A White
Single
circa 1891
Lee White
John
Single
circa 1888
Rachel Whitedeer
Wife
circa 1883
Austin Whitedeer
Lee
Son
circa 1904
Emma Whitedeer
Lee
Daughter
circa 1906
John Whitedeer
Lee
Son
circa 1910
Johanna Whitedeer
Lee
Daughter
circa 1910
John Whitedog
Husband
circa 1884
Fannie C Whitedog
Lee
Wife
circa 1880
Bernice Whitedog
Lee
Daughter
circa 1903
Edward Whitedog
Lee
Son
circa 1906
Julius Whitedog
Single
circa 1889
Charles White Eagle
Susie
Husband
circa 1858
Susie White Eagle
Charles
Wife
circa 1857
Alex White Eagle
Charles
Son
circa 1893
Winslow White Eagle
Charles
Son
circa 1897
Paul White Eagle
Charles
Son
circa 1900
Fred White Eagle
Single
circa 1891
Bill White Eagle
Single
circa 1889
Sanborn White Eagle
Single
circa 1887
Mike White Eagle
Single
circa 1885
George White Eagle
Minnie H
Single
circa 1881
Minnie H Whiteeagle
George
Wife
circa 1886
Fred Whiteeagle
George
Son
circa 1903
Jesse Whiteeagle
George
Son
circa 1906
Mary Whiteeagle
Widow
circa 1858
Bessie Whiteeagle
Mary
Daughter
circa 1893
Walter Whiteeagle
Annie
Single
circa 1886
Annie Whiteeagle
Walter
Wife
circa 1878
Floyd Whiteeagle
Walter
Son
circa 1896
Ada Whitefish
Wife
circa 1888
Lowell Whitefish
Ada
Son
circa 1907
Mary Whitefish
Orphan
circa 1893
Eliza Whitehawk
Widow
circa 1875
Reed Whitehawk
Eliza
Son
circa 1897
David Whitehawk
Eliza
Son
circa 1904
Jefferson Whitehawk
Eliza
Son
circa 1910
Walter Whitehawk
Eliza
Son
circa 1909
Mary Whitehawk
Single
circa 1891
Jim Whitepine
Pet
Husband
circa 1854
Pet Whitepine
Jim
Wife
circa 1856
James Whitepine
Single
circa 1882
Longtail Whiterabbit
Kate
Husband
circa 1845
Kate Whiterabbit
Longtail
Wife
circa 1851
Billy Whiterabbit
Mary
Husband
circa 1881
Mary Whiterabbit
Billy
Wife
circa 1887
Gilbert Whiterabbit
Billy
Son
circa 1908
Jake Whiterabbit
Alice
Husband
circa 1864
Alice Whiterabbit
Jake
Wife
circa 1863
Rosa Whiterabbit
Jake
Daughter
circa 1900
Lute Whiterabbit
Single
circa 1888
George Whitesnake
Single
circa 1889
Martha Whitespirit
Ida
Single
circa 1886
Ida Whitespirit
Martha
Wife
circa 1890
Dorcas Logan
Martha
Daughter
circa 1910
Dora Whitespot
Martha
Wife
circa 1857
WA Con Cha Ska Kah Whitethunder
Widower
circa 1848
Henry Whitethunder
Fannie W
Husband
circa 1870
Fannie W Whitethunder
Henry
Wife
circa 1879
Belle Whitethunder
Widow
circa 1864
Howard Whitethunder
Belle
Son
circa 1896
Hauk Cha Na Gin Kah Whitewing
Husband
circa 1857
Elijah Whitewing
Hannah W
Husband
circa 1890
Hannah W Whitewing
Elijah
Wife
circa 1890
Levina M Whitewing
Elijah
Daughter
circa 1909
George Whitewing Jr
Single
circa 1880
Tom Whitewater
May
Husband
circa 1861
May Whitewater
Tom
Wife
circa 1891
Fred Whitewater
Tom
Son
circa 1905
Mary Whitewater
Tom
Daughter
circa 1906
Frank Whitewater
Husband
circa 1870
Little William
Susie
Husband
circa 1859
Susie William
Little
Wife
circa 1858
Nellie Williams
Orphan
circa 1892
Frances Williams
Sister
circa 1894
Edward Williams
Brother
circa 1897
Charles Wilson
Ellen
Husband
circa 1860
Ellen Wilson
Charles
Wife
circa 1864
Rebecca Wilson
Charles
Daughter
circa 1892
Cynthia Wilson
Charles
Daughter
circa 1896
Laura Wilson
Charles
Daughter
circa 1898
Lena Wilson
Charles
Daughter
circa 1903
Fannie Wilson
Charles
Daughter
circa 1904
Olive Thunder Wilson
Adopted Daughter
circa 1897
William Wilson
Single
circa 1890
Edward Wilson
Single
circa 1888
Lucy Wilson
Louisa Grignon
Single
circa 1887
Louisa Grignon Wilson
Lucy
Wife
circa 1865
Sam Windblow
Annie
Husband
circa 1849
Annie Windblow
Sam
Wife
circa 1857
Mollie Windblow
Sam
Daughter
circa 1893
Fannie Windblow
Sam
Daughter
circa 1896
Walter Windblow
Libbie W
Husband
circa 1884
Libbie W Windblow
Walter
Wife
circa 1890
Howard Windblow
Walter
Son
circa 1907
Jesse Windblow
circa 1909
John Winneshiek
Lucy H
Husband
circa 1840
Lucy H Winneshiek
John
Wife
circa 1853
Bill Winneshiek
John
Son
circa 1893
Lilly Winneshiek
John
Daughter
circa 1895
Frank Winneshiek
Ida
Husband
circa 1879
Ida Winneshiek
Frank
Wife
circa 1890
Chris Winneshiek
Frank
Son
circa 1903
Sadie Winneshiek
Frank
Daughter
circa 1905
Frank G Winneshiek
Frank
Son
circa 1907
Maude Winneshiek
Frank
Daughter
circa 1910
Edward Winneshiek
Grace D
Husband
circa 1875
Grace D Winneshiek
Edward
Wife
circa 1877
Little Winneshiek
Liddy
Husband
circa 1850
Liddy Winneshiek
Little
Wife
circa 1862
Henry Winneshiek
Single
circa 1877
Rachel Winneshiek
Widow
circa 1855
Clay Winneshiek
Rachel
Son
circa 1892
Ellen Winneshiek
Rachel
Daughter
circa 1896
Fannie Winneshiek
Rachel
Daughter
circa 1899
Reuben Waukon
Grandson
circa 1902
Alliston Winneshiek
Single
circa 1890
Luther Winneshiek
Dora
Husband
circa 1883
Dora Winneshiek
Luther
Wife
circa 1889
Norman Winneshiek
Luther
Son
circa 1910
Will Winneshiek
Ruth
Husband
circa 1876
Ruth Winneshiek
Will
Wife
circa 1881
John Winneshiek
Will
Son
circa 1906
Charley Winneshiek
Esther
Husband
circa 1870
Esther Winneshiek
Charley
Wife
circa 1870
Lucy L Winneshiek
Charley
Wife
circa 1868
Grace Winneshiek
Orphan
circa 1898
David Wolf
Nellie
Single
circa 1886
Nellie Wolf
David
Wife
circa 1887
Lewis Yellowthunder
Nancy
Husband
circa 1845
Nancy Yellowthunder
Lewis
Wife
circa 1850
Frank Yellowthunder
Single
circa 1879
William Yellowthunder
Single
circa 1870
Joseph Yellowthunder
Single
circa 1888
Yau Con Cha Nee Ge Nee Kah Youngthunder
Mary
Husband
circa 1848
Mary Youngthunder
Wife
circa 1856
Pet Jennie Youngthunder
Single
circa 1890
Charlie Youngthunder
Single
circa 1888
William Youngthunder
Mary
Widower
circa 1870
Mary Youngthunder
William
Wife
circa 1870
Honey Youngthunder
William
Daughter
circa 1893
Edward Youngthunder
William
Son
circa 1897
Lucy Decorah
William
Daughter
circa 1902
Rosalie Beaver
William
Daughter
circa 1904
Lester Youngthunder
Single
circa 1891
Katie Youngthunder
Single
circa 1891