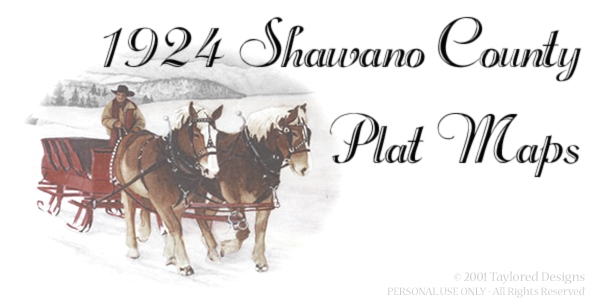 The ANGELICA TOWNSHIP map may take a while to load and is best viewed "maximized" computer screen width. I decided to keep the maps LARGE so that the names & details are easily read. This feature allows you to print the map FOR YOUR OWN PERSONAL USE.
AS YOU CAN SEE, WE NEED VOLUNTEERS TO INDEX THESE MAPS -- I CAN PROVIDE LARGER MAPS TO MAKE THIS EASIER ON THE EYES IF NEEDED.
If you have plat maps xeroxed, prior to 1930, and would like to share them, let me know! These maps can be a GREAT resource for land deeds when doing research & trying to locate those elusive relatives. The "key" at the bottom lists landowner and remember, plat maps are generally FARMLAND MAPS. ENJOY!
---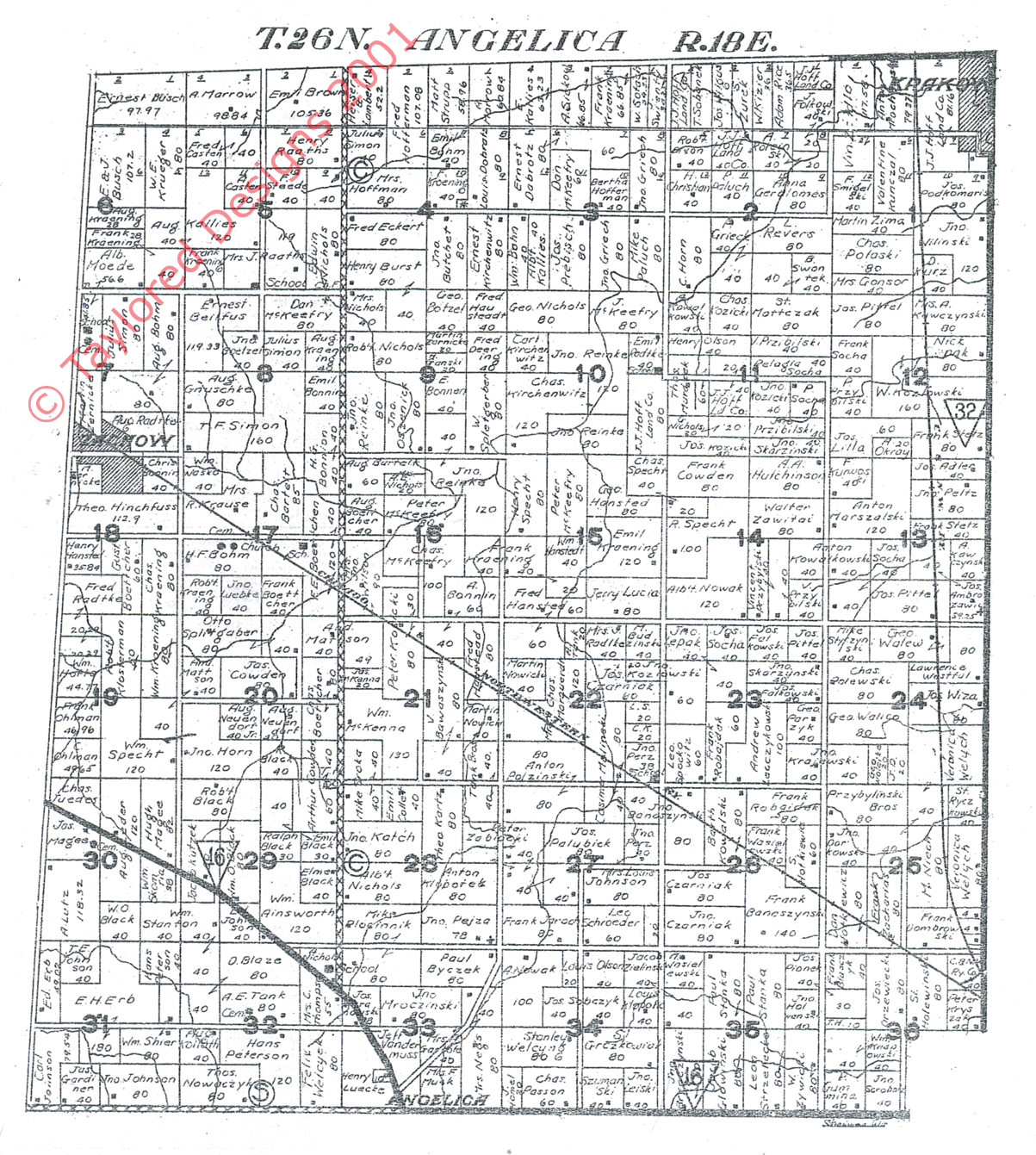 SECTION 1
J J HOFF Land Co
Jos PODKOMARIS
Valentine KUNCZAL
Anton MROCHOWSKI
F SMIGELSKI
KRAKOW
Vin ZA?DLO
Martin ZIMA
Chas POLASKI
Jno WILINSKI
D KURZ
Mrs GONSOR
St. Casimir Church





SECTION 2
J J HOFF Land Co
Adam RICE
W KIZIER
S ZUREK
Jos WILGUS
T SOBANEK
Robt DIXON
J FOLKOWSKI
A RORCINSKI
H CHRISTIAN
P PALUCH
Anna GERDLOMES
L REVERS
P GRIECK
B SWONTEK
C HORN
SECTION 3
J SWIENTY
W SOTACH
Frank KROENING
A SICKOW
E KALLIES
Jno GRIECH
Ernest DOBRATZ
Dan MCKEEFRY
Bertha HOFFERMAN
Mike PALUCH
Jos PREBISCH
Albt KALLIES
Wm BOHN


SECTION 4
HEISER & LAMBERT
Julius SIMON
Fred HOFFERMAN
Matt STRUPP
A MORROW
Mrs HOFFMAN (80)
Emil BOHM
F KROENING
Louis DOBRATZ
Fred ECKERT
Henry BURST (BOERST)
Jno BUTCHET
Ernest KIRCHENWITZ
SECTION 5
Emil BROWN
A MARROW
Henry RAATHS
Fred CASTEN
Aug KALLIES
A CASTEN
Frank KROENING
Mrs J RAATHS
School
Edwin NICHOLS
Cheese Factory
Julius SIMON
F STEEDE

SECTION 6
Ernest BUSCH
E & J BUSCH
W E KRUEGER
Aug KRAENING
Frank KRAENING
Aug KALLIES
Alb MOEDE





SECTION 7
Alb MOEDE
Julius SIMON
Aug BOHM
Martin ZERNICKE
Aug RADTKE
Zachow
School
St. Paul's Lutheran Cem.



SECTION 8
Ernest BEILFUS
Dan MCKEEFRY
Jno GOELZEL
Julius SIMON
Aug KRAENING
Aug GNUSCHKE
Emil BONNIN
T F SIMON
H G BONNIN


SECTION 9
Mrs NICHOLS
Henry BURST (BOERST)
Geo BOTZEL
Fred HANSTEADT
Robt NICHOLS
Martin ZERNICKE
H GANSKI
Fred DEERING
Jno REINKE
Jno OSZENICK
E BONNEN
W SPLITGERBER
SECTION 10
Geo NICHOLS
J MCKEEFRY
Carl KIRCHENWITZ
Jno REINKE
Emil RADTKE
School
Chas KIRCHENWITZ
J J HOFF Land Co




SECTION 11
A KOWALKOWSKI
Chas KOZICKI
St. MATTCZAK
Henry OLSON
J PRZYBILSKI
Thos MURDZEK
J J HOFF Land Co
Pelagia SOCHIA
Jno KOZICKI
P SOCHIA
G NICHOLS
Jno PRZIBILSKI
Jno SKARZINSKI
Jos KOZICKI
SECTION 12
Frank SOCHA
P PRZYBILSKI
W KOZLOWSKI
Jos LILLA
A OKRAY
Frank STETZ
Jos PITTEL
Mrs A. KOWCZYNSKI
Nick LEPAK





SECTION 13
F KURWOSKI
Jos ADLER
Anton MARSZALSKI
Jno PELTZ
Frank STETZ
Anton KOWALKOWSKI
Jos SOCHA
A KAWCZYNSKI
Jos AMBROZAWICZ
Jos PITTEL
Church
SECTION 14
Frank COWDEN
A A HUTCHINSON
Chas SPECHT
R SPECHT
Walter ZAWITAI
Albert NOWAK
Vincent PRZYBYLSKI
Anton KOWALKOWSKI


SECTION 15
Henry SPECHT
Peter MCKEEFRY
Geo HANSTED
Chas SPECHT
Emil KRAENING
Wm HANSTEDT
Frank KRAENING
Fred HANSTEDT
Jerry LUCIA

SECTION 16
SECTION 17
SECTION 18
SECTION 19
SECTION 20
SECTION 21
SECTION 22
SECTION 23
SECTION 24
SECTION 25
SECTION 26
SECTION 27
SECTION 28
SECTION 29
SECTION 30
SECTION 31
SECTION 32
SECTION 33
SECTION 34
SECTION 35
SECTION 36

© Taylored Designs 2010
All rights reserved.