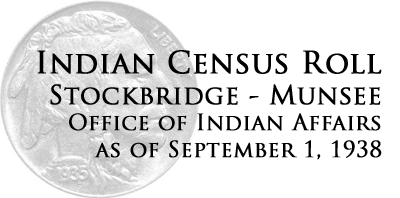 I receive emails quite frequently regarding Native American research... you approach it the same way you start any research -- begin with yourself and work backwards in history. And censuses are a GREAT way to do this. I refer to them as "cluster genealogy in its finest", meaning, if you find one person, you usually find the entire family.
And many thanks to Bob for transcribing this census for us... his only comment was that he wished he had done this census extraction 30 years ago, before he was working for the Gresham Co-op and Bob Miller would send him to Bowler on heating calls-- he recognized most of the people's names and finally he knows how they fit together! Thanks, Bob...
The 1938 Indian Census Roll was done "as of September 1, 1938" -- and the original copy lists more information. Bob has included names, birth dates, blood quantum % and relationships to get you started. And, the BIA has put out a nifty blood quantum chart that explains how the percentage is calculated. Click on the bottom of the page to see the chart - feel free to print it for your own personal use.
Copyrighted 2009 - RMC
| | | | | |
| --- | --- | --- | --- | --- |
| Surname | Given Name | Birthdate | Blood % | Rel. |
| Aaron | Leona | 4/2/1918 | 1/4 | HH |
| Aaron | Victor | 4/29/1903 | 7/8 | HH |
| Aaron | Wesley | 10/6/1897 | 7/8 | HH |
| Aaron (Gardner) | Iva | 7/3/1909 | Full | Wife |
| Belfeuil | Fred | | White | HH |
| Belfeuil (Tousey) | Effa | 3/19/1883 | 3/4 | Wife |
| Maxon | Lee | 12/23/1914 | 3/8 | Sso |
| Bennett | John, Francis | 12/1/1906 | 1/4 | HH |
| Bennett (Welch) | Dorothy, Edna B. | 10/22/1910 | 3/8 | Wife |
| Bennett | Elaine, Loretta | 12/21/1930 | 5/16 | Da |
| Bennett | Phyllis, Loraine | 1/22/1933 | 5/16 | Da |
| Bennett | Eugene, Gilbert | 1/30/1930 | 5/16 | So |
| Besaw | John | | 1/4 Menom | HH |
| Besaw (Chicks) | Anna | 2/10/1875 | 1/2 | Wife |
| Bogda | William | | White | HH |
| Bogda (Tousey) | Minerva | 2/6/1888 | 3/4 | Wife |
| Bogda | Ferdinand | 2/1/1916 | 3/8 | So |
| Bogda | Hildegard, Winona | 3/14/1918 | 3/8 | Da |
| Bogda | Vera, Dolly | 10/25/1921 | 3/8 | Da |
| Bogda | Melvin | 2/5/1908 | 3/8 | HH |
| Bogda (Miller) | Christine | 12/8/1907 | 3/4 | Wife |
| Bowman (Miller) | Enola | 6/27/1894 | Full | HH |
| Bowman | Claude | 12/9/1919 | 3/4 | So |
| Bowman | Eudora, Iris | 11/18/1928 | 3/4 | Da |
| Bowman | Robert, Clyde | 9/28/1933 | 3/4 | So |
| Bowman | Francis, Howard | 8/12/1907 | 3/4 | HH |
| Bowman | Herman | 1/11/1892 | 5/8 | HH |
| Bowman (Hill) | Florence | | 3/4 Oneida | Wife |
| Bowman | Orin | 6/30/1880 | 1/2 | HH |
| Bowman (Chicks) | Lucy | 1/1/1880 | Full | Wife |
| Bowman | Lawrence, Ora | 9/12/1908 | 3/4 | So |
| Bowman | Perry, Vilas | 11/1/1909 | 3/4 | So |
| Bowman | Orin, William | 5/22/1922 | 3/4 | So |
| Bruette (Gardner) | Alice | 1/31/1898 | 3/4 | HH |
| Bruette | Felix | 9/26/1920 | 1/2 | So |
| Bruette | Dorsey | 6/19/1922 | 1/2 | So |
| Bruette | Jeanette | 11/3/1924 | 1/2 | Da |
| Bruette | Annette | 9/28/1925 | 1/2 | Da |
| Bruette | Buela | 10/31/1928 | 1/2 | Da |
| Bruette | Eunice, Iona | 8/31/1919 | 3/4 | HH |
| Burr | Abner | 10/18/1893 | 1/4 | HH |
| Burr | Milo, Sheldon | 12/31/1919 | 1/2 | So |
| Burr (Palmer) | Charity, Mae | 3/21/1899 | 3/4 | HH |
| Burr | Clyde, Sherman | 6/15/1918 | 1/2 | So |
| Burr | Lewis | 4/12/1899 | 1/4 | HH |
| Burr (Chicks) | Mary Ann | 5/7/1901 | Full | Wife |
| Burr | Ralph, Norbert | 9/10/1918 | 3/4 | So |
| Burr | Laona, Sarah | 4/6/1920 | 3/4 | Da |
| Burr | Barga, Lorraine | 7/6/1921 | 3/4 | Da |
| Burr | June, Fay | 5/25/1923 | 3/4 | Da |
| Burr | Boyd, William | 1/12/1926 | 3/4 | So |
| Burr | Gordon | 9/26/1927 | 3/4 | So |
| Burr | Jerry | 9/24/1928 | 3/4 | So |
| Burr | Jeanette | 9/24/1928 | 3/4 | Da |
| Burr | Sidney | 12/29/1931 | 3/4 | So |
| Burr | Lewis Jr. | 12/19/1932 | 3/4 | So |
| Burr | Bernard | 2/22/1938 | 3/4 | So |
| Butler | Alfred, Louis | 2/3/1888 | 1/4 | HH |
| Butler | Donald | | 1/4 | HH |
| Bryan | Etta, Quinney | 1/26/1869 | 3/4 | HH |
| Chicks | John | 2/7/1877 | 1/2 | HH |
| Chicks | Joseph, Harry | 7/4/1895 | 1/2 | HH |
| Chicks (Davids) | Alice | 2/7/1893 | 5/8 | Wife |
| Chicks | Clarence A. | 7/27/1917 | 9/16 | So |
| Chicks | John N. | 10/2/1919 | 9/16 | So |
| Chicks | Stanley K. | 12/23/1921 | 9/16 | So |
| Chicks | Calvin A. | 5/19/1924 | 9/16 | So |
| Chicks | Arminta E. | 3/30/1926 | 9/16 | Da |
| Chicks | Sheldon A. | 12/20/1928 | 9/16 | So |
| Chicks | David D. | 2/26/1931 | 9/16 | So |
| Chicks | Aldine Ann | 1/3/1933 | 9/16 | Da |
| Chicks | Katherine | 9/1/1935 | 9/16 | Da |
| Church | Elmer, George | | 1/2 | HH |
| Church (Beilke) | Priscilla, Margaret | 6/3/1917 | Stk/Mun | Wife |
| Church | Verlie | 8/3/1937 | 1/4 | Da |
| Church | George | 2/17/1884 | 1/4 | HH |
| Church (Coyhs) | Bessie | 2/29/1884 | 3/4 | Wife |
| Church | Jason A. | 2/10/1911 | 1/2 | So |
| Church | Allie R. | 4/1/1913 | 1/2 | Da |
| Church | Arthur J. | 3/22/1914 | 1/2 | So |
| Church | Erma M | 4/13/1920 | 1/2 | Da |
| Church | Dewey | 12/4/1922 | 1/2 | So |
| Coyhis | Joseph, Harry | 1/31/1878 | 5/8 | HH |
| Coyhis (Hill) | Mary | | Oneida | Wife |
| Coyhis | Nancy | 8/8/1856 | 1/2 | HH |
| Cronce | Elizabeth, Mohawk | 9/20/1901 | 3/4 | HH |
| Cuish | Clark | 12/1/1854 | Full | HH |
| Cuish | Edgar | 1/24/1908 | Full | HH |
| Cuish | Edward | 2/1/1879 | Full | HH |
| Cuish (Chicks) | Luella | 7/24/1887 | Full | Wife |
| Cuish | Lucy | 8/20/1909 | Full | Da |
| Cuish | Nancy | 3/15/1924 | Full | Da |
| Cuish | Roger, Neil | 11/25/1937 | 5/8 | Adp. So |
| Cuish | Elna | 3/20/1938 | 7/8 | Grd. So |
| Cuish | Lawrence | 9/12/1910 | Full | HH |
| Cuish | Orval | 6/4/1883 | Full | HH |
| Davids | Earl, Dudley | 3/21/1902 | 5/8 | HH |
| Davids (Miller) | Lila | 4/20/1914 | 9/16 | Wife |
| Davids | Doreen, Phyllis | 8/31/1931 | 19/32 | Da |
| Davids | LeRoy, Dudley | 5/16/1933 | 19/32 | So |
| Davids | Norma, Jean | 10/3/1934 | 19/32 | Da |
| Davids | Carmen, Rochelle | 9/29/1935 | 19/32 | Da |
| Davids | Elmer | 6/14/1897 | 5/8 | HH |
| Davids (Eureka) | Jordan | 12/27/1895 | 3/4 | Wife |
| Davids | Bernice, B. | 9/1/1918 | 11/16 | Da |
| Davids | Margaret, M. | 7/29/1920 | 11/16 | Da |
| Davids | Dorothy W. | 5/2/1923 | 11/16 | Da |
| Davids | Marion L. | 5/6/1925 | 11/16 | Da |
| Davids | Lois A. | 8/3/1926 | 11/16 | Da |
| Davids | Glen L. | 4/9/1929 | 11/16 | So |
| Davids | Elmer L. Jr. | 9/8/1931 | 11/16 | So |
| Davids | Corrine J. | 8/20/1933 | 11/16 | Da |
| Davids | Bruce, Jordan | 12/22/1935 | 11/16 | So |
| Davids | Julius | 6/10/1893 | 5/8 | HH |
| Davids (Malone) | Jessie | | | Wife |
| Davids | Harvey | 2/3/1919 | 5/16 | So |
| Davids | Harold | 5/12/1913 | 5/16 | So |
| Davids | Arleene | 5/10/1915 | 5/16 | Da |
| Davids | Frederick | 7/30/1917 | 5/16 | So |
| Davids | Irma | 4/15/1930 | 5/16 | Da |
| Davids | Dorothy | 6/3/1936 | 5/16 | Da |
| Davids | Julius Jr. | 2/18/1938 | 5/16 | So |
| Davids | William, Frederick | 5/11/1892 | 1/2 | HH |
| Davids (Welch) | Mabel | 7/25/1892 | 1/2 | Wife |
| Davids | Malcolm | 1/19/1916 | 1/2 | So |
| Davids | Norman | 11/25/1918 | 1/2 | So |
| Davids | Wilma | 10/17/1925 | 1/2 | Da |
| Davids | Bessie | 10/27/1926 | 1/2 | Da |
| Davids | William, Kenneth | 10/14/1910 | 5/8 | HH |
| Davids (Miller) | Minerva | 3/25/1911 | 3/4 | Wife |
| Davids | Kermit, Kenneth | 9/4/1934 | 11/16 | So |
| Davids | Marilyn, Maxine | 8/21/1936 | 11/16 | Da |
| Davids | Ronald, Roger | 3/14/1938 | 11/16 | So |
| Doxtator | Edward | 4/17/1904 | Oneida/Fl | HH |
| Doxtator (Gardner) | Mildred | 10/21/1910 | Full | Wife |
| Doxtator | Deloris, Marie | 3/16/1934 | 1/2 | Da |
| Doxtator | Alphidine, Annette | 7/15/1935 | 1/2 | Da |
| Doxtator | Noreta, Mae | 11/26/1937 | 1/2 | Da |
| Doxtator | Abner | | Oneida | HH |
| Doxtator (Mohawk) | Emma | 1/16/1917 | 3/4 | Wife |
| Gardner | Adrian | 7/24/1907 | Full | HH |
| Gardner (Martin) | Angela | 2/28/1908 | 3/4 | Wife |
| Gardner | Richenda | 12/19/1935 | 7/8 | Da |
| Gardner | Herman | 8/23/1937 | 7/8 | So |
| Gardner | Charles | 7/8/1916 | 7/8 | HH |
| Gardner | Electa | 1/27/1869 | Full | HH |
| Gardner | Jenifer | 4/16/1875 | 1/2 | HH |
| Gardner (Moallister) | Lillie | 11/3/1872 | 7/8 | HH |
| Gardner | Nelson | 7/28/1884 | Full | HH |
| Gardner | Pearl | 3/9/1884 | Full | HH |
| Gardner (Konkapot) | Lida, May | 5/19/1880 | Full | Wife |
| Gardner | Lodena | 9/18/1906 | Full | Da |
| Gardner | Grady | 5/?8/1913 | Full | So |
| Gardner | Amy | 7/10/1915 | Full | Da |
| Gardner | Roland | 4/24/1880 | Full | HH |
| Gardner | Tom | 4/10/1912 | 7/8 | HH |
| Gardner | Winifred | 8/1/1908 | 1/2 | HH |
| Hammer | Clifford | 1/11/1903 | 7/8 | HH |
| Hammer (Doxtater) | Rose | 5/10/1898 | Oneid-Br 1/2 | Wife |
| Hammer | Clifford, Job | 12/24/1935 | 7/16 | So |
| Hammer | Nelson, John | 11/2/1937 | 7/16 | So |
| Doxtator | Bernard | 9/17/1918 | Oneid-Br 3/4 | Step So |
| Doxtator | Arnold | 7/24/1920 | Oneid-Br 3/4 | Step So |
| Doxtator | Benjamin, Victor | 4/5/1923 | Oneid-Br 3/4 | Step So |
| Doxtator | Clara | 3/3/1925 | Oneid-Br 3/4 | Step Da |
| Doxtator | Rose, Marie | 8/6/1927 | Oneid-Br 3/4 | Step Da |
| Doxtator | Irvin | 8/14/1929 | Oneid-Br 3/4 | Step So |
| Hammer (Bowman) | Jessie | 2/2/1884 | 1/2 | HH |
| Howe | Ovet | 2/8/1905 | 1/4 | HH |
| Jacobs | Howard | 2/31/1901 | 7/8 | HH |
| Jacobs | John | 3/24/1906 | 7/8 | HH |
| Jacobs | Walter | 11/15/1911 | 7/8 | HH |
| Jacobs (Martin) | Adelaide | 3/6/1911 | 3/4 | Wife |
| Jacobs | Lorna, Marie | 1/22/1934 | 13/16 | Da |
| Jacobs | Gerald, Leslie | 5/1/1936 | 13/16 | So |
| Jacobs | Vivian | 7/28/1920 | 7/8 | Sister |
| Jacobs | Lawrence | 6/9/1916 | 7/8 | Bro. |
| Johnson | Leonard | | Oneida | HH |
| Johnson (Mohawk) | Virginia | 1/3/1914 | Full | Wife |
| Johnson | George, Frederick | 9/17/1935 | 1/2 | So |
| Johnson | Verna, Charity | 11/27/1936 | 1/2 | Da |
| Jordan | Amos | | Chippewa | HH |
| Jordan (Howe) | Cornelia | 9/16/1866 | 1/2 | Wife |
| Krueger | Alfred | | White | HH |
| Krueger (Cuish) | Hazel | 2/8/1913 | Full | Wife |
| Leicher | Fred E. | 11/27/1893 | 1/8 | HH |
| Leicher (Quinney) | Ardie | 5/28/1897 | 5/8 | Wife |
| Leicher | Alma, Eunice | 12/12/1917 | 3/8 | Da |
| Leicher | Anita, Edith | 8/5/1920 | 3/8 | Da |
| Leicher | Frederic Jr. | 5/15/1926 | 3/8 | So |
| Leicher | Martha, Moon | 2/12/1867 | 1/4 | HH |
| Lemieux | Frank | | White | HH |
| Lemieux (Aaron) | Alvinus | 11/20/1901 | 3/4 | Wife |
| Lemieux | Medous, Arthur | 1/28/1921 | 3/8 | So |
| Lemieux | Donald, Frank | 9/15/1923 | 3/8 | So |
| Lemieux | Clyde, Edwin | 12/1/1925 | 3/8 | So |
| Lemieux | Myrtle, Shirley | 8/11/1927 | 3/8 | Da |
| Lemieux | John, Myrlin | 12/18/1930 | 3/8 | So |
| LeRoy | Louis | 2/18/1879 | 1/2 | HH |
| LeRoy (Hoffman) | Josephine | | White | Wife |
| Caroll | Arleen LeRoy | 2/9/1913 | 1/4 | Div. Da |
| Caroll | Arline D. | 9/28/1933 | 1/8 | Grd. Da |
| Caroll | Leland | 10/28/1935 | 1/8 | Grd. So |
| LeRoy | Louis Jr. | 5/1/1911 | 1/4 | HH |
| LeRoy | Lois J. | 11/13/1932 | 1/8 | Da |
| LeRoy | Joice J. | 9/19/1934 | 1/8 | Da |
| LeRoy | Ray | 2/15/1894 | 1/2 | HH |
| LeRoy (Waupoose) | Pauline | | Menom. | Wife |
| Little | Louis | | White | HH |
| Little (Miller) | Hilda | 6/8/1906 | 3/4 | Wife |
| Little | Merril, Lee | 10/12/1924 | 3/8 | So |
| Little | Lucille, Elaine | 11/1/1925 | 3/8 | Da |
| Little | Jane, Caroline | 2/11/1928 | 3/8 | Da |
| Little | Louis, Lyle | 1/7/1931 | 3/8 | So |
| Little | Shirley, Mae | 5/9/1932 | 3/8 | Da |
| Little | Curtis, Bernard | 12/23/1934 | 3/8 | So |
| Little | Wilbur | | White | HH |
| Little (Quinney) | Edith | 10/29/1894 | 5/8 | Wife |
| Little | Louise, Dorothy | 9/3/1925 | 5/16 | Da |
| Little | Wilford | 5/12/1927 | 5/16 | So |
| Little | Edith | 9/27/1930 | 5/16 | Da |
| Little | Harvey | 11/18/1928 | 5/16 | So |
| Magee | Bertha | 7/18/1917 | 3/8 | HH |
| Magee | Elwin | 10/29/1919 | 3/8 | Bro. |
| Magee | Irene | 9/17/1924 | 3/8 | Sister |
| Magee | Evelyn | 9/22/1928 | 3/8 | Sister |
| Magee | Patsy, Joan | 1/3/1936 | 9/16 | Da |
| Magee | Nellie | 4/1/1914 | 3/8 | HH |
| Magee | Bernard, Lyle | 12/21/1936 | 3/16 | So |
| Malone | Arthur | 2/22/1904 | 1/2 | HH |
| Malone (Welch) | Cleo | 11/2/1913 | Oneida 1/4 | Wife |
| Malone | Violet, Beverly | 10/11/1931 | 1/4 | Da |
| Malone | Loretta, Coleen | 10/16/1933 | 1/4 | Da |
| Malone | Evone, Eva | 2/11/1936 | 1/4 | Da |
| Malone | Vincent, Arthur | 12/11/1937 | 1/4 | So |
| Malone | James | 2/26/1886 | 1/4 | HH |
| Malone | Vera | 6/10/2020 | | Da |
| Malone | Cynthia | 2/16/1925 | | Da |
| Malone | John | 10/11/1883 | 1/4 | HH |
| Malone (Aaron) | Lenora | 10/31/1884 | 3/4 | Wife |
| Malone | Otho | 10/13/1910 | 1/2 | So |
| Malone | Stella M. | 1/23/1926 | 3/8 | Adop. Da |
| Malone | Otho | 12/29/1893 | 1/4 | HH |
| Malone | Olivia | 10/11/1919 | Stk/Mun | Da |
| Martin | Edwin | 9/1/1909 | 3/4 | HH |
| Martin (Tousey) | Margaret | 8/4/191? | 3/8 | Wife |
| Martin | Audrey, Lou | 6/12/1937 | 9/16 | Da |
| Martin | Joseph | 12/23/1880 | 1/2 | HH |
| Martin (Miller) | Florence | 8/3/1879 | Full | Wife |
| Martin | Victor | 10/5/1914 | 3/4 | So |
| Martin | Olga, Petrova | 6/23/1916 | 3/4 | Da |
| Martin | Henry, Wellington | 4/17/1918 | 3/4 | So |
| Martin | Harvey, Lincoln | 7/7/1920 | 3/4 | So |
| Martin | Mildred, Virginia | 2/28/1922 | 3/4 | Da |
| Martin | Lester | 4/1/1871 | 1/2 | HH |
| McAllister | George | 7/18/1875 | 1/2 | HH |
| McAllister | George S. | 8/10/1899 | 1/4 | HH |
| McAllister (Fischer) | Priscilla | | White | Wife |
| McAllister | Rosetta | 6/30/1920 | 1/8 | Da |
| McAllister | Jacquelin | 2/23/1930 | 1/8 | Da |
| Miller | Abram | 8/20/1886 | Full | HH |
| Miller (Abrams) | Aggist | 5/23/1893 | 3/4 | Wife |
| Miller | Almyra, Quinney | 7/2/1888 | 5/8 | HH |
| Miller | Arvid | 10/8/1908 | 11/16 | HH |
| Miller (Davids) | Bernice, Blanche | 9/1/1918 | 3/4 | Wife |
| Miller | Alfred, Emmerson | 10/22/1935 | 23/32 | So |
| Miller | Arvid, Emerald | 6/3/1937 | 23/32 | So |
| Miller | Avery | 11/11/1865 | 3/4 | HH |
| Schmidt | Garfield | 9/4/1926 | Stk/Mun | Grd. So |
| Miller | Carlton | 8/20/1882 | 3/4 | HH |
| Miller (Butler) | Dolly | 5/18/1892 | 1/4 | Wife |
| Peterson | Carrol, Benjamin | 7/13/1916 | 1/8 | Stp. So |
| Peterson | Salmar | 5/12/1918 | 1/8 | Stp. So |
| Peterson | Earl | 10/20/1919 | 1/8 | Stp. So |
| Peterson | Arnold | 9/10/1924 | 1/8 | Stp. So |
| Miller | Faun | 8/4/1928 | 5/8 | Da |
| Miller | Occum | 1/4/1933 | 5/8 | So |
| Miller | Patricia | 12/31/1935 | 5/8 | Da |
| Miller | Cassie, Church | 3/22/1886 | 1/4 | HH |
| Miller | Arnold, Ellsworth | 3/2/1914 | 5/8 | So |
| Miller | Clyde, Wellington | 3/21/2017 | 5/8 | So |
| Miller | Helen | 1/25/1923 | 5/8 | Da |
| Miller | Corlyes | 9/17/1913 | 7/8 | HH |
| Miller (Bowman) | Lucille | 6/10/1918 | Full | Wife |
| Miller | Douglas, Wayne | 2/19/1937 | 15/16 | So |
| Miller | Eda | 8/19/1911 | 3/4 | HH |
| Miller | Emerson | 9/23/1880 | 7/8 | HH |
| Miller | Hartie | 4/3/1875 | Full | HH |
| Miller | Herbert | 10/10/1893 | 3/4 | HH |
| Miller | Julia | 11/18/1868 | 1/2 | HH |
| Miller | Leonard, Emery | 6/9/1906 | 1/2 | HH |
| Miller (Tousey) | Leoris | 1/5/1914 | 3/4 | Wife |
| Miller | Leonard, Emery Jr. | 10/19/1931 | 5/8 | So |
| Miller | Earl, Eugene | 11/6/1935 | 5/8 | So |
| Miller | LeRoy, Dudley | 12/12/1903 | 3/4 | HH |
| Miller (Tousey) | Louanna | 5/2/1908 | 1/2 | Wife |
| Miller | Dewey, Virgil | 2/10/1926 | 5/8 | So |
| Miller | Roger, Aubry | 5/21/1927 | 5/8 | So |
| Miller | Imogene, Melissa | 1/24/1929 | 5/8 | Da |
| Miller | LeRoy Jr. | 6/17/1931 | 5/8 | So |
| Miller | Allan, Richard | 4/10/1933 | 5/8 | So |
| Miller | Noreen, June | 6/4/1934 | 5/8 | Da |
| Miller | Leon, McMullen | 8/1/1936 | 5/8 | So |
| Miller | Uwanda, Marie | 9/1/1937 | 5/8 | Da |
| Beaulieu | Mrs.(Boarding home) | care by | County | HH |
| Miller | Lois | 5/21/1921 | 1/2 | Orphan |
| Miller | Leonard, Earl | 1/21/1938 | 5/8 | So of Lois |
| Miller | Alberta | 4/21/1923 | 1/2 | Orphan |
| Miller | Myron | 3/8/1898 | Full | HH |
| Miller (Herves) | Genevieve | | White | Wife |
| Miller | Winona, Wanda | 3/9/1931 | 1/2 | Da |
| Miller | Myron Jr. | 8/23/1934 | 1/2 | So |
| Miller | Ataloa | 2/22/1938 | 1/2 | Da |
| Miller | Peter | 3/22/1883 | Full | HH |
| Miller | Richard | 6/25/1891 | 3/4 | HH |
| Miller | Julia, Almyra | 5/13/1936 | 3/8 | Da |
| Miller | Robert, Leo | 4/23/1911 | 11/16 | HH |
| Miller (Tousey) | Priscilla, Eureka | 7/20/1912 | 5/8 | Wife |
| Miller | Darlene, Dorothy | 7/7/1932 | 5/8 | Da |
| Miller | Sherman, LaNorman | 7/4/1934 | 5/8 | So |
| Miller | Ila, Jean | 1/13/1938 | 5/8 | Da |
| Miller | Roland, Emerson | 4/21/1918 | 9/16 | HH |
| Miller | Samuel | 5/7/1880 | Full | HH |
| Miller (Abrams) | Ardie | 8/16/1879 | 5/8 | Wife |
| Miller | Marvel | 7/24/1912 | 13/16 | So |
| Miller | Merritt | 4/12/1915 | 13/16 | So |
| Miller | Merton | 5/31/1920 | 13/16 | So |
| Miller | Tracy | 1/1/1891 | Full | HH |
| Miller | Vilas | 1/25/1914 | 3/4 | HH |
| Miller (Vele) | Valetta | 10/14/1919 | 1/2 | Wife |
| Miller | Sandra, Gladys | 5/10/1936 | 5/8 | Da |
| Miller | Webb | 4/5/1872 | Full | HH |
| Miller (Davids) | Bessie | 11/11/1875 | Full | Wife |
| Miller | William | 5/4/1883 | Full | HH |
| Moede | William | | White | HH |
| Moede (Miller) | Oleyna | 2/26/1905 | 5/8 | Wife |
| Doxtater | Joyce, Elaine | 2/28/1925 | 1/2 | Step Da |
| Moede | William, Junior | 11/10/1928 | 5/16 | So |
| Moede | Guy, Roger | 5/9/1931 | 5/16 | So |
| Moede | Joan, Marlyn | 10/17/1932 | 5/16 | Da |
| Moede | Harold, William | 2/1/1935 | 5/16 | So |
| Moede | Merle, Robert | 4/2/1937 | 5/16 | So |
| Mohawk | Laura | 1/9/1876 | Full | HH |
| Mohawk | Milford | 3/2/1911 | Full | HH |
| Mohawk (Welch) | Elizabeth | | Brtwn | Wife |
| Mohawk | Ella, Adina | 6/7/1936 | 1/2 | Da |
| Mohawk | George, Odealon | 5/15/1938 | 1/2 | So |
| Morgan | Alfred | 11/27/1898 | 1/8 | HH |
| Morgan (Doxtater) | Eva | | Oneida 1/2 | Wife |
| Morgan | Alphaleen | 9/2/1921 | 1/2 | Da |
| Morgan | Alphred Jr. | 10/13/1923 | 1/2 | So |
| Morgan | Earl | 6/28/1929 | 1/16 | So |
| Morgan | Austin | 3/16/1932 | 1/16 | So |
| Morgan | Harry | 12/26/1933 | 1/16 | So |
| Morgan | Kenneth | 7/24/1935 | 1/16 | So |
| Murphy | Fred | | White | HH |
| Murphy (Howe) | Jennie, May | 2/6/1901 | 1/4 | Wife |
| Murphy | Nora, Delcie | 3/20/1924 | 1/8 | Da |
| Murphy | Velma, Pearl | 9/25/1926 | 1/8 | Da |
| Murphy | Ole, Frederick | 6/16/1936 | 1/8 | So |
| Murphy | Leila, Sheriff | 44y | 3/4 | Wife |
| Murphy | Irvin | 22y | 3/8 | So |
| Murphy | Virgil | 18y | 3/8 | So |
| Murphy | Roger | 16y | 3/8 | So |
| Murphy | Everett | 14y | 3/8 | So |
| Ninham | Benjamin | | Oneida | HH |
| Ninham (Leicher) | Amie | 10/15/2014 | 3/8 | Wife |
| Ninham | Benjamin, Lyle | 11/27/1933 | 3/16 | So |
| Ninham | Joyce, Anita | 4/10/1935 | 3/16 | Da |
| Ninham | Buy, Benjamin | 7/25/1937 | 3/16 | So |
| Paris | Jessie, Fowler | 7/13/1863 | 7/8 | HH |
| Peters | Peter | | White | HH |
| Peters (Williams) | Alice | 11/3/1904 | 1/2 | Wife |
| Peters | Calvin | 10/6/1920 | 1/4 | So |
| Peters | Myrtle | 11/26/1922 | 1/4 | Da |
| Peters | Helen | 10/22/1924 | 1/4 | Da |
| Peters | Merton | 1/3/1926 | 1/4 | So |
| Peters | Albert | 1/26/1928 | 1/4 | So |
| Peters | Bessie | 8/1/1929 | 1/4 | Da |
| Peters | Marie | 6/8/1933 | 1/4 | Da |
| Petrick | Emil | | White | HH |
| Petrick (Cuish) | Nancy | 7/4/1908 | Full | Wife |
| LeBarge | Alex, Jack | 5/26/1925 | 1/2 | Step So |
| LeBarge | Lyle, Russel | 9/9/1930 | 1/2 | Step So |
| Pocan | Orlan, Junior | 12/1/1931 | 1/2 | Step So |
| Putnam | Dela, Putnam | 7/28/1863 | 1/4 | HH |
| Putnam | Melmouth, Lee | 11/1/1895 | 1/8 | So |
| Putnam | Elord | 9/10/1895 | 1/8 | HH |
| Putnam (Jourdan) | Wildie | 7/15/1900 | 3/4 | Wife |
| Putnam | Willard, Eugene | 9/23/1918 | 1/2 | So |
| Putnam | Oakland, Walter | 1/8/1921 | 1/2 | So |
| Putnam | Stephen | 10/26/1892 | 1/8 | HH |
| Putnam (Davids) | Thelma | 12/16/1901 | 5/8 | Wife |
| Putnam | Beryl, Della | 10/23/1920 | 3/8 | Da |
| Putnam | Vergie, Hope | 4/14/1922 | 3/8 | Da |
| Putnam | Ramona, Louise | 1/14/1929 | 3/8 | Da |
| Putnam | Betty, June | 6/12/1931 | 3/8 | Da |
| Putnam | Pauline, Blanche | 5/11/1933 | 3/8 | Da |
| Putnam | Beverly, Yvonne | 9/16/1935 | 3/8 | Da |
| Putnam | Alice, Marie | 9/14/1937 | 3/8 | Da |
| Putnam | Wesley | 6/25/1902 | 1/8 | HH |
| Pye | Arthur | 6/29/1881 | 3/4 | HH |
| Quinney | Glen | 3/22/1885 | 5/8 | HH |
| Quinney (Fowler) | Melissa | 9/19/1886 | 3/4 | Wife |
| Quinney | Earl | 9/23/1907 | 11/16 | So |
| Quinney | Elmer | 7/25/1909 | 11/16 | So |
| Quinney | Albert | 6/16/1934 | 11/32 | Grd. So |
| Quinney | Alice | 3/6/1915 | 11/16 | Da |
| Quinney | Melissa | 1/27/1937 | 11/32 | Grd. Da |
| Quinney | Ernestine, Evelyn | 11/5/1921 | 11/16 | Da |
| Quinney | Ardie | 6/9/1923 | 11/16 | Da |
| Quinney | Milford | 1/28/1875 | 3/4 | HH |
| Quinney | Rosie | 3/?5/1871 | 3/4 | HH |
| Reed | Edward | | White | HH |
| Reed (Reed) | Clotilda | 1/9/1890 | 1/4 | Wife |
| Reed | Martha, Herzog | | White | HH |
| Reed | Parsade | 6/26/1924 | 1/8 | So |
| Reed | James Jr. | 9/23/1927 | 1/8 | So |
| Reed | Stephen, Deloze | 12/8/1929 | 1/8 | So |
| Reed | Henry, Joseph | 6/7/1935 | 1/8 | So |
| Reed | Herman | 1/14/1938 | 1/8 | So |
| Richards | Edith, Cuish | 7/5/1907 | Full | HH |
| Richards | Ellsworth, Harold | 6/23/1928 | 1/2 | So |
| Robinson | Frederick L. | 6/6/1882 | 1/2 | HH |
| Robinson | Gordon | 8/14/1911 | 7/16 | HH |
| Robinson | Marion L. | 3/21/1905 | 1/4 | HH |
| Robinson (Sears) | Nina | | | Wife |
| Robinson | Joan, Don | 11/16/1933 | 1/8 | Da |
| Robinson | Travers, Orvis | 11/6/1935 | 1/8 | So |
| Rudosell | Theodore | | White | HH |
| Rudosell (Miller) | Imelda | 11/6/1910 | 3/4 | Wife |
| Rudosell | Keith | 1/18/1934 | 3/8 | So |
| Rudosell | Thomas | 6/19/1935 | 3/8 | So |
| Rudosell | Henry | 5/16/1936 | 3/8 | So |
| Rudosell | Michael | 7/29/1937 | 3/8 | So |
| Schooner | Theodore | 11/1/1879 | 3/4 | HH |
| Schultz | Oscar | | White | HH |
| Schultz (Putnam) | Kittie | 4/9/1899 | 1/8 | Wife |
| Shepard | Harry | | White | HH |
| Shepard (Yoccum) | Grace | 3/12/1891 | 7/8 | Wife |
| Shepard | Ruth, Meredith | 9/7/1919 | 7/16 | Da |
| Shepard | Gordon, David | 5/24/1921 | 7/16 | So |
| Shepard | Ira, Matthew | 3/10/1932 | 7/16 | So |
| Shawano County | Asylum | | | HH |
| Speck | Asa | 4/1/1875 | 3/4 | Patient |
| Stone | Joseph | | White | HH |
| Stone (Hammer) | Evelyn | 9/11/1879 | 1/2 | Wife |
| Strauss | Isabella, Tousey | 7/12/1882 | Full | HH |
| Tousey | Gretta | 7/12/1920 | Full | Niece |
| Tousey | Charles | 10/4/1879 | 3/4 | HH |
| Tousey | Daniel | 8/9/1881 | 3/4 | HH |
| Tousey | Garrison | 10/20/1911 | Full | HH |
| Tousey (Miller) | Anna | | White | Wife |
| Tousey | Thomas, Creighton | 2/22/1926 | White | Step So |
| Tousey | David | 8/19/1928 | White | Step So |
| Tousey | Darwin, Marcus | 11/11/1937 | 1/2 | So |
| Tousey | Gerwin | 11/11/1906 | 3/4 | HH |
| Tousey (Maxon) | Georgia | 11/16/1912 | 3/8 | Wife |
| Tousey | Guinevere, LaVern | 2/14/1929 | 9/16 | Da |
| Tousey | Donna, Gene | 8/12/1934 | 9/16 | Da |
| Tousey | John | 8/10/1887 | 3/4 | HH |
| Tousey (Little) | Blanche | | White | Wife |
| Tousey | Gordon | 5/8/1911 | 3/8 | So |
| Tousey | Gilbert | 12/9/1919 | 3/8 | So |
| Tousey | Ervin, Wallace | 7/3/1921 | 3/8 | So |
| Tousey | Ruby, Fay | 5/13/1923 | 3/8 | Da |
| Tousey | Bessie, Martel | 6/21/1924 | 3/8 | Da |
| Tousey | Mayme, Melva | 9/12/1930 | 3/8 | Da |
| Tousey | John Jr. | 5/24/1906 | 5/8 | HH |
| Tousey (Baird) | Eunice | | Oneida | Wife |
| Tousey | Mason | 1/29/1876 | 3/4 | HH |
| Tousey (Gardner) | Dulsey | 1/11/1887 | 3/4 | Wife |
| Tousey | Virginia | 6/30/1921 | 1/2 | Adp. Da |
| Tousey | Guy, Thomas | 1/10/1925 | 3/4 | So |
| Tousey | Margaret, Marie | 6/16/1927 | 3/4 | Da |
| Tousey | Dewey, Mason | 11/13/1929 | 3/4 | So |
| Tousey | McMullen | 2/14/1878 | 3/4 | HH |
| Tousey (Doxtater) | Elsie | 4/11/1892 | 1/2 | Wife |
| Tousey | Floyd | 10/31/1910 | 5/8 | So |
| Tousey | Vivian | 3/4/1920 | 9/16 | Adp. Da |
| Tousey | Milton | 5/14/1913 | 5/8 | HH |
| Tousey (Ninham) | Ozelda | | Oneida | Wife |
| Vele | Steve | | White | HH |
| Vele (Gardner) | Irene | 8/24/1901 | Full | Wife |
| Vele | Vera, Mary | 3/19/1925 | 1/2 | Da |
| Vele | Adrian, Steve | 6/8/1927 | 1/2 | So |
| Vele | Merton, Merl | 1/16/1930 | 1/2 | So |
| Vele | Tena, Mae | 5/25/1932 | 1/2 | Da |
| Vele | Iva, Vaughn | 5/21/1934 | 1/2 | Da |
| Vele | Betty, Rae | 11/30/1935 | 1/2 | Da |
| Vele | Allan, Merline | 4/30/1937 | 1/2 | So |
| Waupoose | Amos | | Menom. | HH |
| Waupoose (Cuish) | Gertrude | 7/14/1905 | Full | Wife |
| Welch | Zeblon | | Brtown | HH |
| Welch (Metoxen) | Charlotte | 9/18/1880 | 1/2 | Wife |
| Welch | Leona, Mae | 11/4/1913 | 1/2 | Da |
| Welch | Archie | | Brtown | HH |
| Welch (Bowman) | Mary, Jane | 2/26/1886 | 1/2 | Wife |
| Welch | Elmer | | Brtown | HH |
| Welch (Williams) | Melinda | 3/17/1900 | 1/2 | Wife |
| Huntington | Eugene | 9/24/1919 | 1/4 | Step So |
| Welch | Delbert, Earl | 4/18/1923 | 1/4 | So |
| Welch | Elmer, Clyde | 5/22/1927 | 1/4 | So |
| Welch | Ralph, Amour | 10/2/1928 | 1/4 | So |
| Welch | Emma, Jane | 8/11/1933 | 1/4 | Da |
| Welch | Aleta, Doris | 8/27/1936 | 1/4 | Da |
| Welch | Miles, Chester | 3/24/1917 | 1/2 | HH |
| Welch (Bowman) | Zena | 5/4/1915 | 3/4 | Wife |
| Welch | Thad | | Brtown | HH |
| Welch (Tousey) | Miriam | 12/8/1884 | 3/4 | Wife |
| Welch | Myron J. | 8/21/1894 | 1/2 | HH |
| Welch (Shephard) | Alice | | White | Wife |
| Welch | Leona, Irene | 5/1/1920 | 1/4 | Da |
| Welch | Margaret, Waneta | 3/24/1922 | 1/4 | Da |
| Welch | Merton, Russell | 2/25/1924 | 1/4 | So |
| Welch | Morris, Eugene | 7/21/1926 | 1/4 | So |
| Welch | Merle, Fidel | 5/11/1928 | 1/4 | So |
| Welch | Lulubelle | 2/25/1934 | 1/4 | Da |
| Welch | Myron B. | | Brtown | HH |
| Welch (Mohawk) | Lillian | 12/20/1905 | 1/2 | Wife |
| Welch | Keith, Dudley | 1/3/1937 | 1/4 | So |
| Wickman | Gilbert | | White | HH |
| Wickman (Maxon) | Uryth | 6/12/1910 | 3/8 | Wife |
| Wickman | Anita, Mae | 7/9/1929 | 3/16 | Da |
| Wickman | Donald, Gilbert | 7/5/1934 | 3/16 | So |
| Wickman | Lyle, Leo | 8/3/1936 | 3/16 | So |
| Wilber | Jeddediah | 1/11/1900 | 3/4 | HH |
| Wilber (Hill) | Ethel | | Oneida 3/4 | Wife |
| Wilber | John | | | HH |
| Wilber (McAllister) | Berthena | 11/13/1901 | 1/4 | Wife |
| Williams | Archie | 3/5/1882 | 7/8 | HH |
| Williams | Charles | 1/26/1880 | 7/8 | HH |
| Williams | Byron | 4/28/1898 | 1/2 | HH |
| Williams (Johnson) | Naomi | | Oneida 1/2 | Wife |
| Williams | Angeline | 9/20/1922 | Oneida 1/4 | Da |
| Williams | Byron Jr. | 12/8/1925 | Oneida 1/4 | So |
| Williams | Naomi, Beatrice | 2/1/1928 | 1/4 | Da |
| Williams | Priscilla | 4/19/1930 | 1/4 | Da |
| Williams | Albert | 6/29/1931 | 1/4 | So |
| Williams | Floyd | 2/16/1935 | 1/4 | So |
| Williams | Eli | 5/10/1936 | 1/4 | So |
| Yoccum | Adrian, Steve | 2/8/1869 | Full | HH |
| Yoccum | Nancy, Brushel | 5/23/1865 | 1/2 | HH |
| Zarback | Hattie, Miller | 11/14/1888 | 3/4 | HH |