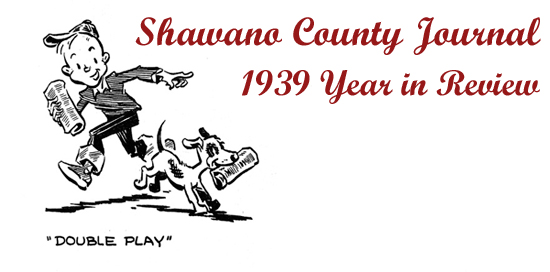 ---
Many thanks to our "Genie Angel B" who compiled this table for us from the Shawano County Journal, 1939. It is a "year in review" covering some marriages, deaths and funerals. We have opted not to list the births as 1939 is a little too recent for privacy issues.

And the code is: DTH = DEATH; MAR = MARRIAGE; FNRL = FUNERAL; ANN = ANNIVERSARY; NWSP = NEWSPAPER DATE If the person's age was listed, it is behind the first name, i.e. 81y

If you find your person in this listing, email us and we'll send you the newspaper clipping FREE OF CHARGE -- we don't dangle carrots and tell you what other libraries charge to make you think you're getting a deal with just charging you a portion of their fees... WE SEND IT FOR FREE! No strings or carrots attached! We do everything we can to keep GENEALOGY FREE AND ACCESSIBLE TO EVERYONE!

SURNAME
GIVEN NAME
TYPE

DATE

PLACE

NWSP

MENTIONED WITH
ADERMAN
William
DTH
5/24/1939
6/1/1939
ALBRECHT
Gertrude
MAR
6/18/1939
6/22/1939
Milton Eggert
ALFT
Mrs. Katherine, 81y
DTH
1/2/1939
Shawano
1/5/1939
ALLEN
Dorothy Mae
MAR
6/15/1939
Escanaba, MI
8/31/1939
Rush Niles
ANDERSON
Mrs. August, 82y
DTH
10/4/1939
10/5/1939
ARNDT
Roger
FNRL
7/22/1939
7/27/1939
ARONSON
Harry
MAR
4/30/1939
5/4/1939
Mary William
BANSER
Herbert
MAR
Bonduel
10/26/1939
Lucille Beilfuss
BEILFUSS
Lucille
MAR
Bonduel
10/26/1939
Herbert Banser
BEYER
Elmer
MAR
11/2/1939
Belle Plaine
11/9/1939
Madeline Montour
BILLMEYER
Edward G.
DTH
8/7/1939
Pine Lake
8/10/1939
BILLMEYER
Son, 4y
DTH
8/7/1939
Pine Lake
8/10/1939
BOCHER?
Grandma
DTH
1/22/1939
1/26/1939
Brief illness
BOERST
Wallace
DTH
4/25/1939
Green Valley
4/27/1939
Tragic accident
BOETTCHER
Mrs. August
FNRL
10/11/1939
Bonduel
10/12/1939
BOHM
Margaret
MAR
6/8/1939
6/15/1939
Gilbert Wastel
BOHN
Miss Evelyn
MAR
Bonduel
11/2/1939
Albert Debbon
BOYLE
Chas. Jr.
MAR
8/14/1939
8/17/1939
Chas. Boyle Jr.
BRACKOB
MAR
Neenah
7/13/1939
Huebner
BREI
Miss Anna Marie
MAR
8/14/1939
8/17/1939
Anna Marie Brei
BRUNNER
Anton
FNRL
2/14/1939
Leopolis
2/16/1939
BUCHHOLTZ
Frank, 79y
DTH
10/8/1939
Clintonville
10/12/1939
Belle Plaine pioneer
BUETTNER
Theodore F.
DTH
4/4/1939
Shawano
4/6/1939
Pioneer
BUETTNER
Mrs. Amelia
FNRL
6/25/1939
6/29/1939
BUHRANDT
Hildegard
MAR
5/18/1939
C. W. Pingel
BUSCH
Mrs. Augusta
FNRL
7/29/1939
8/3/1939
BUSCH
Emil
MAR
9/2/1939
Bonduel
9/7/1939
Ruth Eng
BUSS
Margaret
MAR
6/10/1939
Marion
6/15/1939
Arlin Laude
BUTH
Gordon
MAR
4/29/1939
6/8/1939
Elaine Gumtz
CASSENS
Miss Helen
MAR
6/8/1939
Stoney Hill
6/15/1939
Kenneth Schlytter
CERVENY
Mrs. Jacob
FNRL
3/27/1939
3/30/1939
CHAIMSON
Mrs. Max
FNRL
1/20/1939
1/26/1939
Milwaukee
CLEVELAND
Antonette
MAR
3/18/1939
3/23/1939
C. Douglas Robbins
COOPER
Mrs. Jay
FNRL
11/25/1939
11/16/1939
Kleven Funeral Home
DALLMAN
Mrs. Earl
DTH
6/7/1939
6/8/1939
Young mother
DARROW
Miss Alene
MAR
Green Bay
8/24/1939
Glen Edward Velia
DEBBON
Albert
MAR
Bonduel
11/2/1939
Evelyn Bohn
DIETZLER?
Mrs. Christine
FNRL
4/19/1939
4/20/1939
DINGLEDEIN
Mrs. George
FNRL
2/19/1939
Appleton
2/23/1939
Former Bonduel
DOBBS
Albert
FNRL
4/26/1939
4/27/1939
DOLAN
Francis
MAR
5/6/1939
5/11/1939
Marcella Gaulke
DREGER
Frederick
MAR
11/19/1938
1/5/1939
Myrtle Winter
EBERT
Mr. & Mrs. Aug.
ANN
12/6/1939
12/14/1939
50 years
EGGERT
Milton
MAR
6/18/1939
6/22/1939
Gertrude Albrecht
ENG
Miss Ruth
MAR
9/2/1939
Bonduel
9/7/1939
Emil Busch
ERDMAN
Anita
NEWS
Mattoon
2/9/1939
Hurt in accident
EVANS
Donald
MAR
4/12/1939
LaCrosse
4/20/1939
Marcella Hoff
FELTS
Sidney
MAR
11/12/1939
Bowler
11/16/1939
Hazel Sengstock
FERGUSON
Glenn F.
MAR
10/5/1939
Edna Matz
FLESSERT
William
DTH
11/13/1939
11/16/1939
FOWLES
Mrs. Cora
DTH
9/21/1939
Lingering illness
FRANCKOWIAK
Frank
MAR
7/10/1939
7/13/1939
Ruth Weber
FREIBERGER
Miss June
MAR
4/29/1939
Green Bay
5/11/1939
Wallace Wasserman
GARBRECHT
Paul J.
FNRL
6/5/1939
6/8/1939
GAULKE
Marcella
MAR
5/6/1939
5/11/1939
Francis Dolan
GILES
Mrs. Hattie, 69y
FNRL
2/28/1939
3/2/1939
GIPP
Rudolph Sr.
FNRL
Bonduel
9/14/1939
GODDAKE
Mr. & Mrs. C. P.
ANN
7/13/1939
25 years
GOERS
William Jr.
MAR
4/8/1939
4/6/1939
Emma Zahn
GOREE
Gladys Mae
MAR
California
7/20/1939
GREEN
Edward
FNRL
3/11/1939
Belle Plaine
3/9/1939
GREGOR
Anthony, 16y
DTH
6/23/1939
Shawano Lake
6/29/1939
Electrocuted
GUELLER
Howard
MAR
9/16/1939
9/21/1939
Mabel Jesse
GUENZEL
Charles
MAR
6/17/1939
6/22/1939
Lillian Schuster
GUMTZ
Elaine
MAR
4/29/1939
6/8/1939
Gordon Buth
HELLER
Kenneth
MAR
12/25/1938
1/12/1939
Marcella Kohn
HICKS
Elaine
MAR
4/20/1939
4/20/1939
Clarence Priem
HOFF
Marcella
MAR
4/12/1939
LaCrosse
4/20/1939
Donald Evans
HOFFMAN
Katherine
MAR
8/9/1939
Gresham
8/10/1939
Alfred Kuhn
HOFFMAN
Louis
DTH
8/29/1939
Belle Plaine
8/31/1939
Former sheriff
HOFFMAN
Irene
MAR
9/30/1939
Belle Plaine
10/5/1939
William Krull
HUEBNER
MAR
Neenah
7/13/1939
Brackrob
JANSSEN
Edward W., 52y
DTH
2/18/1939
2/23/1939
Heart attack
JESKE
Mrs. William
DTH
1/26/1939
2/2/1939
Four days illness
JESKE
Gust
FNRL
12/18/1939
12/21/1939
JESSE
Mrs. Mary
FNRL
2/1/1939
Shawano
2/2/1939
Pioneer
JESSE
Mabel
MAR
9/16/1939
9/21/1939
Howard Gueller
JOHNSON
Miss Lydia
MAR
3/13/1939
Iron Mtn, MI
3/16/1939
Karl F. Schweers
KAMMERMAN
Agnes
MAR
9/16/1939
Spruce, WI
9/21/1939
Eldred Schuster
KARTH FUNERAL
NEWS
11/9/1939
30 years
KITZROW
Mrs. John
FNRL
7/7/1939
7/6/1939
of Milwaukee
KOBS
Ervin, 45y
DTH
Cecil
1/5/1939
Stroke
KOENIG
Ervin
MAR
5/21/1939
5/25/1939
Mabel Raddant
KOHN
Marcella
MAR
12/25/1938
Advance
1/12/1939
Kenneth Heller
KORT
Mrs. William
FNRL
2/6/1939
2/9/1939
KRAUSE
Viola
MAR
6/23/1939
6/29/1939
Leo Otto
KREITZER
Mrs. A.
FNRL
1/8/1939
Gresham
1/12/1939
KREITZER
Ignatius
DTH
7/7/1939
7/13/1939
KRULL
William
MAR
9/30/1939
Belle Plaine
10/5/1939
Irene Hoffman
KUCKUK
Mr. & Mrs. Anton
ANN
10/20/1939
10/26/1939
54 years
KUESTER
Fred
DTH
1/23/1939
Shawano
1/26/1939
Pioneer
KUESTER
Jeanne, 18y
DTH
8/7/1939
Indiana
8/10/1939
KUHN
Alfred
MAR
8/9/1939
Gresham
8/10/1939
Katherine Hoffman
KUNSCHKE
Mrs. Gottlieb, 45y
FNRL
8/18/1939
8/17/1939
KUPSKY
Ferdinand, 79y
DTH
12/20/1939
12/21/1939
LAATSCH
Mr. & Mrs. Fred
ANN
4/2/1939
4/6/1939
59 years
LANE
L. J.
FNRL
7/31/1939
8/3/1939
Consolidated Badger
LAUDE
Arlin
MAR
6/10/1939
Marion
6/15/1939
Margaret Buss
LAURITZEN
Mrs. Caroline
FNRL
8/9/1939
8/10/1939
LAUX
Clarence
MAR
10/7/1939
10/12/1939
Viola Lieg
LIEG
James
MAR
4/11/1939
Milwaukee
4/20/1939
Darlene Linquist
LIEG
Miss Viola
MAR
10/7/1939
10/12/1939
Clarence Laux
LIESCH
Miss Edeline
MAR
11/2/1939
Howard Young
LINDQUIST
Miss Darlene
MAR
4/11/1939
Milwaukee
4/20/1939
James Lieg
Littman
Mrs. William
DTH
1/3/1939
Shawano
1/5/1939
LOHRENGAL
Mrs. William, 61y
DTH
5/5/1939
5/11/1939
LUCKENBACH
Atty. Orville S.
MAR
8/24/1939
Wausau
8/31/1939
Janice Whitman
LUEKE
Mrs. Charles
FNRL
11/15/1939
11/16/1939
MALMSTADT
George
FNRL
11/20/1939
11/23/1939
MATZ
Miss Edna
MAR
10/5/1939
G;enn F. Ferguson
MELHORN
Charles
FNRL
10/9/1939
10/12/1939
St. James Church
MENACHER
MAR
9/25/1939
9/28/1939
Sacred Heart Church
MEYER
Theodore
DTH
12/6/1939
12/7/1939
Farm home
MONTOUR
Miss Madeline
MAR
11/2/1939
Belle Plaine
11/9/1939
Elmer Beyer
NACHTWEY
Francis, 50y
DTH
10/17/1939
10/19/1939
NAGEL
Mrs. Katie, 71y
DTH
11/3/1939
11/9/1939
NELSON
Mr. & Mrs. John
ANN
4/22/1939
Bonduel
4/27/1939
50 years
NILES
Rush
MAR
6/15/1939
Escanaba, MI
8/31/1939
Dorothy Mae Allen
NORDSTROM
Miss Bertha
MAR
4/14/1939
Minnesota
4/27/1939
Rev. V. L. Peterson
NORDWIG
Mrs. H., 68y
DTH
6/27/1939
6/29/1939
O'BRIEN
Miss Catherine
MAR
7/2/1939
7/6/1939
Donald C. Wege
O'BRIEN
Donald
MAR
9/3/1939
St. Paul's Church
9/7/1939
Dorothy Pingel
OLSON
MAR
9/25/1939
9/28/1939
Sacred Heart Church
OTTO
Miss Adeline
MAR
4/7/1939
4/13/1939
Donald Robbins
OTTO
Leo
MAR
6/23/1939
6/29/1939
Viola Krause
PEEBLES
Miss Genevieve
MAR
7/16/1939
7/20/1939
Norman Prusik
PETERSON
Rev. V. L.
MAR
4/14/1939
Minnesota
4/27/1939
Bertha Nordstrom
PINGEL
C. W.
MAR
5/18/1939
Hildegard Buhrandt
PINGEL
Mrs. Dorothy
MAR
9/3/1939
St. Paul's Church
9/7/1939
Donald O'Brien
POPPE
Dr. Frederick
FNRL
1/3/1939
Pulcifer
1/5/1939
PORTER
Mrs. McKinley
DTH
Belle Plaine
11/2/1939
House fire
PRIEM
Clarence
MAR
4/20/1939
4/20/1939
Elaine Hicks
PRIEM
Mrs. Carl
FNRL
9/1/1939
Shawano
8/31/1939
St. James Church
PRUSIK
Norman
MAR
7/16/1939
7/20/1939
Genevieve Peebles
PUKALL
Marion
NEWS
Mattoon
2/9/1939
Hurt in accident
RADDANT
Mabel
MAR
5/21/1939
5/25/1939
Ervin Koenig
RAMLOW
Clifton
MAR
Wis. Rapids
10/19/1939
Hollie Sturmer
RICHARDSON
Don
MAR
California
7/20/1939
ROBBINS
C. Douglas
MAR
3/18/1939
3/23/1939
Antonette Cleveland
ROBBINS
Donald
MAR
4/7/1939
4/13/1939
Adeline Otto
ROBERTS
Mrs. L. D., 86y
DTH
4/3/1939
Shawano
4/6/1939
Pioneer
ROUSE
Ben
DTH
6/18/1939
Belle Plaine
6/22/1939
Pioneer
SACRED HEART
NEWS
10/19/1939
50 years old
SCHAFBERGER
Mrs.
FNRL
7/8/1939
7/6/1939
SCHENK
Carl F.
DTH
9/25/1939
9/28/1939
Bowler pioneer
SCHLYTTER
Kenneth
MAR
6/8/1939
Stoney Hill
6/15/1939
Helen Cassens
SCHOENICKE
Frederick
DTH
3/18/1939
Shawano
3/23/1939
Daughter's home
SCHUH
Irene
MAR
12/1/1939
12/7/1939
David Tomashek
SCHUMAKER
Mrs. L. P.
DTH
2/15/1939
2/16/1939
Lingering illness
SCHUMAKER
Levi P.
FNRL
12/1/1939
11/30/1939
SCHUSTER
Lillian
MAR
6/17/1939
6/22/1939
Charles Guenzel
SCHUSTER
Lorraine, 9y
DTH
9/12/1939
Richmond
9/14/1939
SCHUSTER
Eldred
MAR
9/16/1939
Spruce, WI
9/21/1939
Agnes Kammerman
SCHWEERS
Karl F.
MAR
3/13/1939
Iron Mtn, MI
3/16/1939
Lydia Johnson
SEMRAD
Miss Antonette
FNRL
7/13/1939
7/13/1939
SENGSTOCK
Hazel
MAR
11/12/1939
Bowler
11/16/1939
Sidney Felts
SPANG
John
FNRL
8/21/1939
8/24/1939
Sacred Heart Church
SPERBERG
Mr. & Mrs. Wm.
ANN
7/16/1939
Red River
7/20/1939
60 years
STAIDL
Mrs. G.
FNRL
11/16/1939
1/19/1939
STEINBERG
William, 92y
FNRL
11/2/1939
11/2/1939
St. James Church
STEINKE
Marvin
MAR
12/10/1939
12/14/1939
Crystal Wege
STRENG
Richard, 48y
DTH
1/26/1939
Fire Tragedy
STRENG
2 children
DTH
1/26/1939
Fire Tragedy
STUMPF
Mr. & Mrs. Fred
ANN
1/17/1939
1/19/1939
25 years
STURMER
Miss Hollie
MAR
Wis. Rapids
10/19/1939
Clifton Ramlow
TEETZEN
William, 81y
DTH
10/26/1939
11/2/1939
Pioneer farmer
TEWS
Robert
FNRL
6/1/1939
6/1/1939
TOMASHEK
David
MAR
12/1/1939
12/7/1939
Irene Schuh
TOURTILLOT
J. H.
DTH
7/17/1939
Keshena
7/20/1939
VELIA
Glen Edward
MAR
Green Bay
8/24/1939
Alene Darrow
WAELCHLI
Mrs. Fred
FNRL
9/12/1939
9/14/1939
First Presbyterian Ch.
WALKER
Mrs. George
DTH
5/6/1939
6/1/1939
WASSERMAN
Wallace
MAR
4/29/1939
Green Bay
5/11/1939
June Freiberger
WASTEL
Gilbert
MAR
6/8/1939
6/15/1939
Margaret Bohm
WAVRUNEK
Thomas
FNRL
5/17/1939
5/18/1939
WEBER
Ruth
MAR
7/10/1939
7/13/1939
Frank Franckowiak
WEDGWOOD
Dick, 83y
DTH
5/31/1939
6/1/1939
WEGE
Donald C.
MAR
7/2/1939
7/6/1939
Catherine O'Brien
WEGE
Crystal
MAR
12/10/1939
12/14/1939
Marvin Steinke
WEIGAND
O. O.
DTH
5/17/1939
5/18/1939
WEISSENBORN
Edward
FNRL
5/13/1939
5/18/1939
Pioneer
WERTH
Mrs. Mathilda
DTH
11/16/1939
11/23/1939
WESTPHAL
Fred Jr.
MAR
9/7/1939
Bonduel
9/14/1939
Irene Zernicke
WHITMAN
Miss Janice
MAR
8/24/1939
Wausau
8/31/1939
Orville S. Luckenbach
WILKIE
Mrs. Jeretta
DTH
11/25/1939
Shawano
11/30/1939
WILLIAM
Miss Mary
MAR
4/30/1939
5/4/1939
Harry Aronson
WILSON
John H., 37y
DTH
3/27/1939
3/30/1939
WINANS
Grandma, 99y
DTH
5/7/1939
Shawano
5/11/1939
Pioneer
Winter
Myrtle
MAR
11/19/1938
1/5/1939
Frederick Dreger
WOLFGRAM
Otto
FNRL
6/7/1939
6/8/1939
WURL
Mrs. Fred, 78y
DTH
3/26/1939
Belle Plaine
3/30/1939
YOUNG
Howard
MAR
11/2/1939
Edeline Liesch
ZACHOW
William C.
DTH
4/29/1939
5/4/1939
Pioneer
ZAHN
Miss Emma
MAR
4/8/1939
4/6/1939
William Goers Jr.
ZAHN
Emgard
MAR
7/15/1939
7/27/1939
Herbert Zimdars
ZERNICKE
Irene
MAR
9/7/1939
Bonduel
9/14/1939
Fred Westphal Jr.
ZIMDARS
Herbert
MAR
7/15/1939
7/27/1939
Emgard Zahn