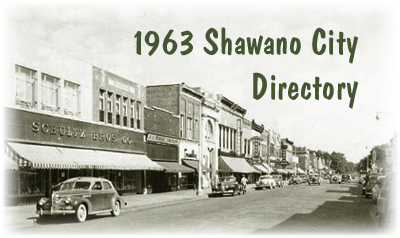 The CITY DIRECTORIES are a great resource to genealogists. People occasionally get these confused with CITY TELEPHONE DIRECTORIES -- which these are not. The early CITY DIRECTORIES in the US started in the 1700's and included the person's name, occupation and address. The 1963 Shawano City Directory includes a little more... wife's name & occupation, if there were children under 18 years old in the household, they are listed with their ages and the very last four digit numbers in the entry is the PHONE number... the area code 715 and the prefix 526 was understood.
What makes this valuable? Not only does it list the residence & occupations, it lists the FAMILY STRUCTURE UNDER 18 -- the last "published census" is 1930, so this is an early glimpse at the family unit.

NOTE: When designing this page, the original plan was to list the actual pages and just scan them in as jpegs and move onto the next Shawano GenWeb Project. BUT, the down-side of scanning the page in is that the names will not show up in our SEARCH ENGINE as the page is seen as a picture, not as text. So, I've scanned the pages in and used a computer program to "read" the entries -- the OCR program is not always 100% accurate so I have listed the actual page scan first and the text in the lines below it. If you find an entry that you want to see the actual page for the EXACT CORRECT ENTRY, just scroll UP to the PAGE LINK and click on it.

MORRIN Michael B (Joanne M) marine engr American Export Co-New York 604 S Lincoln 2063A Ch: Suzanne 5, Debra 3
MORRIS Oliver W rtrd 822 S Smalley 2953A
MORROW Clyde F (Adela A) box sismn Iwen Box & Veneer Co 412 W Division@ 5445 MORTON Abbie 136 5 Sawyer 3853A
MOSHER George (Fay M) rtrd 320 E Division 2249
MOSHER Kenneth emp Weber Veneer & Plywood Co res Cecil Wis
MOSHER Raymond G owner Mosher's Carpet Service 320 E Division 2249A
MOSHER'S CARPET SERVICE Raymond G Mosher owner 320 E Division 2249
MOUILLE Ethel I 915 E Maurer 3553A Ch: Cheri Ann 16, Sandra Lee 16
MOUM Everett K (Betty) sismn Capitol Records 307 5 Lincoln 2967A Ch: Mike 15, Kris 11
MRAZ Mary 125k Main 3201A
MUCK Walter H (Esther L) rtrd 1008 S LaFayette® 4074Z
MUEHL FENTON P (E BONNEVIERE) OWNER MUEHL'S FURNITURE & FLOOR COVER- ING-OWNER MUEHL'S WAREHOUSE-CLK CHRISTIAN SCIENCE SOCIETY OF SHAWANO 614 S SMALLEY® 3525 CH; PHILIP 16, RICHARD 14
MUEHL'S FURNITURE & FLOOR COVERING FENTON P MUEHL, OWNER
201-203 N MAIN ST PHONE LA 6-3535
MUEHL'S WAREHOUSE Fenton P Muehi owner 200 N Washington
MUELLENBACH Gilbert M (Evelyn K) guidance counselor Sr High Sch 1128 S Lincoln® 3543 Ch: Gilberta 12
MUELLER Harry A (Dorothy A) ship cik Shawano Paper Mills 214 N LaFayette® 3530 Ch: Lana 16, Darlene 7
MUELLER Herbert A (Freida L) owner Reisner Dairy Supply Co 420 S Sawyer 3941A
MUELLER Herman C rtrd 329 S Washington®
MUELlER Paul August (Hertha E) rtrd 416 S Union® 4209
MUNDT Mary A C (wid W H) 309 5 Main 3633A
MURASKI Cyril A (Eva A pt tm baby sitter) trk drvr Shawano Equity Co-op 411 S Bartlett© 4481A Ch: Rosalyn 17
MURDOCK BARBER SHOP Lester Otto owner 111k S Main
MURDOCK Earl L rtrd 317 W Eagle® 3050A
MURDOCK Kent L (Betty An) carrier USPO 411 Fairview Way® 3343 Ch: Randall 11, Todd 9, Jodie 7, Thomas 2
MURPHY Mrs 106k S Main
MURPHY James C emp Hotz Mfg Co 312k N Franklin 2O34
MURPHY Russell C (Mildred A clk Koepsel's Book & Gift Shop) plant supt Hotz Mfg Co 312k N Franklin© 20342
MURPHY Virgil emp A & P Tea Co
MURRAY Richard F (Annette V) shoe slsmn Sheboygan Slipper 417 W 3rd St 2274 Ch: Mary Jo 8, Maureen 6, John 5, Marie 3
MUSCH Raymond (Lucille clk III Shawano Cty Welfare Dept) res Cecil Wis
MUSIC CENTER Harold Kane owner 105 N Main 5567
MUSKAVITCH Joseph J (Anna M) rtrd 211 5 HamlIn® 2559J
MYERS Thomas B (Chrystal M) mtcemn Eagleknit Inc 111k w Green Bay 5679A
MYRLAND Vernon G (Dorothy L) owner-mgr Spurgeon's Store 910 5 Hamlin® 3218A Ch: Susan 11, Linda 9, Brian 5
NABER Alex H rtrd 430 S Sawyer® 2224 NABER & CO C F Naber pres 301 E 5th St 5212A
NABER C F pres Naber & Co River Heights 4580A
NABER John D (Margaret) emp Naber & Co 125 S Franklin® 4922A Ch: Charles 12, Thomas 10, Andrew 8, Martha 5, Mary 4, Paul 3, Therese 1
NACHTWEY Clarence L (Hulda A) rtrd 719 S Weed® 5420A
NACHTWEY Ervin lathe opr Iwen Box & Veneer Co 226 E Center 4561Z
NACHTWEY Jack B owner Jack Nachtwey Insurance 116 N Washington® 4829A
NACHTWEY JACK INSURANCE Jack B Nachtwey owner 116 N Washington 4829Z
NACHTWEY Jean M ofc wkr Social Security Ofc-Green Bay 719 S Weed 5420A
NACHTWEY ROGER D (REVA M) ThEASURER CITY OF SHAWANO 112 W 4TH© 3336A
NADLER Alvin F (Lilly B clk Stop & Shop—Bonduel) mgr Texaco Service Station 811 S Smalley 3048A
NADLER Jewel D ofc clk Badger Breeders Co-op 811 5 Smalley 3O48Z
NAEYAERT JEROME G (LEONA M SECY-TREAS MAC'S OIL CO INC) PRES MAC'S OIL CO INC-LESSEE MAC'S OIL CO INC STA #2 412 FA WAY® 5695A CH: THOMAS 8, JEROME JR 4
NAPARALLA Clara (wid Joseph) 406 E Lieg 4965A
NAT & DON'S SKELLY SERVICE o OIL COMPANY TIRES, FUEL OIL NATHANIEL A BEATTIE AND DONALD SCHRO PARTNERS 5TH ST AT N MAIN PHONE 526-2629
NAT & DON'S OIL CO SERV STA NATHANIEL A BEATTIE & DONALD SCHROEDER PARTNERS 107 E 5TH ST 2629A
NATIONAL GUARDIAN LIFE INSURANCE ELROY D SCHUELKE AGENT 414 W RICHMOND 52112
NATZKE George J (Hertha M pt tm steno) rtrd 317 W PlcnIc© 4747A
NAU John H Rev (Henrietta F) rtrd 940 S Hamlin® 2079A
NEECK Herbert F (Mildred A) shoe dept mgr Lauerman's 1007 5 RIver 2O64Z
NEILSON Dorothy area elem supv Jt Sch Dist #8 128 5 LaFayette 259O2
NELSON Cheryl emp Hanson Glove Co 411 N Franklin 5756i
NELSON Elmo 0 (Bernice E) mech Goers Bros Garage 411 N Franklin 5756 Ch: Elmo 10
NELSON Fred D (Alice) patrolmn Shawano Cty Hwy Dept res Tigerton Wis
NELSON Robert E (Helen M ofc clk Badger Breeders Co-op) groc cik Baker's Super Valu 214 E Maurer® 55022 Ch: David 1
NELSON Ronald tch-Gresham 136 5 Franklin 2835
NEMETZ Donald G (Marion E teller Shawano Nail Bank) surveyor Wis State Hwy Comm 821 E Lieg 3763 Ch: Susan 5, Sheryl 2
NEMETZ Robert E (Betty M) grader opr Shawano Cty Hwy Dept 1135 S Cleveland© 20542 Ch: Randal 6, Kathleen 3
NEUMAN Viola A (wid Ernest) 817 E Green Bay 3077A
NEUMEIER George (Emaline serv dept Paul Host Chevrolet Sales) res Gresham Wis
NEUMEIER Lawrence J (Angeline) patrolmn Shawano Cty Hwy Dept res Gresham Wis
NEUSTAEDTER George emp Consolidated Badger Co—op res Cecil Wis
NEWCOMB Marel C owner Newcomb's Radio & TV 538 5 MaIn 5547Z
NEWCOMB Richard A (Dorothy P) plant engr Shawano Paper Mills 325 5 Washington® 2428 Ch: Joel 7, James 9, Janet 13
NEWCOMB'S RADIO & T V repair Marel C Newcomb owner 538 5 Main 5547A
NEWTON Clarence A (Genevieve M) tch Sr High Sch 801 W Eagle 59712
NEWTON George H (Lena C) trk fleet supv Consolidated Badger Co-op 508 N LaFayette® 2367A Ch: Jolene 16
NICHOLAUS Edward (Ottille pt tm domestic) rtrd 607 W 2nd St® 4338A
NICHOLAUS Raymond E (Irene I slswmn F W Woolworth Co) evaporator case packer Consolidated Badger Co-op 805 E Lieg® 4564A Ch: Janice 12
NICHOLS Elmer S (Mabel A) rtrd 209 S Smalley® 4544A
NICOLAI Claire F (Bernetta R) slsmn Service Home Center 136 E Division 52151 Ch: T J 13, Amara 5
NICOLAI Vivian F (wid Henry) 126 E Division®
NIEMEYER Edna S (wid Henry) 421 W Green Bay® 3856®
NIEMI Arvo (Jane emp Eagleknit mc) emp Armored Carrier Corp 426 5 Andrews 5934A Ch: Alvin 16
NIEMUTH Ida B (wid Pratt) 214k N Main
NIEMUTH Joseph F (Emma A) rtrd 607k W 2nd St 4339®
NIEMUTH Randall A USMC 337 Fairview Way 2666A
NIETZER Theodore (Louise) serv dept emp Mont Ward Bx 36 Gresham Wis
NIKOLAY Caroline M typist Walirich Agency 401 N Bartlett® 4535A
NILES Naoma L ofc wk 114k N Washington 3851A
NISCHKE Con (Lois emp Cantwell-Peterson Clinic)
NOBLE Betty emp Wis Finance Corp 319 Hamlin
NOHR Robert G (Evelyn A) emp Weber Veneer & Plywood 907 S Sawyer® 4048A
NOMMENSEN Olga C (wid Fred C) 214 S Sawyer® 4151A
NOOYEN John 1236 S Franklin® 5733A
NORDWIG David (Shirley) emp Hotz Mfg Co Rt 2
NORDWIG Ellen 424k S Main 3219®
NORDWIG Gilbert T (Angeline bkpr Goers Bros Garage) emp Weber Veneer & Plywood 823 E 5th St® 3655® Ch: Brett 11
NORM'S LUNCH restr Norman Perleberg owner 223 E Green Bay 4594®
NORTH AIRE SPORTSWEAR 1381 E Green Bay 3725A
NORTHWESTERN MUTUAL LIFE INSURANCE CO Leland Kamps agt 214k S Main 5601®
NORTON Dewey L (Rita H steno) mgr Paul Host Sinclair Serv Sta 103k S Franklin 5764®
NOTTLEMAN George (Martha 5) cook L & L Ranch 411 5 Lincoln® 3034A
NOWACZYK Ches ter F (Leona M partner Shawano Rest Home) partner Shawano Rest Home 331 5 Main® 3529A
NUSKE Alma emp Shawano Lndry & Dry Clnrs
NUSKE George E (Sadie A) partner George Nuske Real Estate 314 N Bartlett® 2816® Ch: Daniel 16
NUSKE George E Jr (Arleen) partner George Nuske Real Estate 154 10th Clintonville Wis NUSKE GEORGE REAL ESTATE ri est & auctions George E Nuske & George E Nuske Jr partners 314 N Bartlett 2816®
NUTT Theodore P (Alice) rtrd 513 E Green Bay® 2409A
NYSTED Herman rtrd 1219 5 Franklin®
OBERLE Lowell J (Joan L) emp Shawano Paper Mills 1022 S Cleveland 4975® Ch: Michael 7, Steven 6, Cheryl 1
OBERLE Raymond A (Gladys M) supt Shawano Paper Mills 1044 5 Cleveland® 4830®
O'BRIEN Arnold B assessor City of Shawano-emp Shawano Paper Mills 927 S LaFayette® 3364®
O'BRIEN Charles E tch Preble High Sch 202 W Wescott 4558®
O'BRIEN Donald K (Dorothy M sis cik) owner O'Brien's Superette 615 S Main® 3213® Ch: Mary 17
O'BRIEN Edward M (Martha M emp Howard & Gilbert Produce) emp Shawano Street Dept 202 W Wescott® 4558A
O'BRIEN Ellen (wid William 5) 332 5 Washington® 3744®
O'BRIEN'S SUPERETTE groc Donald K O'Brien owner 615 S Main 3213®
O'CONNER Irene L (wid John) 232k S Main 4945A
O'CONNOR Phyllis Mrs cook Town Club 409 5 Hamlin Ch: Marie O'Connor 4, Jeanette Vigue 17, Betty Vigue 16, Mitchell Vigue 14, Barbara Vigue 12, Brenda Vigue 11, James Vigue 9, Ronnie Vigue 8, Mark Vlgue 6
O'DONNELL Dennis J Dr (Mary E) dentist (ole) 127k S Main 3314A (res) 412 N Bartlett® 2939A Ch: Bridgett 14
OELRICH Lloyd A (Marilyn pt tin tch St James Lutheran Sch) tch St James Lutheran Sch 308 E Center 3061A Ch: Melodie 1
OERTE L Howard L Jr (Jane A) farm management agt Shawano Cty Ext Ofc 611 S Franklin 5o74 Ch: Maria lnf
OESTREICH Albert (Clara) patrolmn Shawano Cty Hwy Dept res Wlttenberg Wis
OGDEN William B (Cleo M) 404 W Richmond® 44461\
OLSEN Donald H (Jean F) tch Shawano Sr High Sch 1015 S Unlon@ 3934Z Ch: Steven 8, Christine 7, Deborah 2
OLSEN Willard N (Rachael B secy-treas Heritage Hardwoods mc) pres Heritage Hardwoods Inc 1136 S Evergreen 4660A
OLSON Clifford rtrd 312 S Hamlln@ 5937A
OLSON Ida J (wid Otto) 505 5 Weed® 2932i
OLSON Irwin N (Laura D emp antique shop) owner Shawano Insurance Agency 604 W 5th St® 2412A Ch: Judith 17
OLSON Martin (Alice E deputy cty elk Shawano County) Rt 2 Bonduel Win
OLSON Robert A (Ruth G ofc wkr Consolidated Badger Co-op) circulation mgr Shawano Evening Leader 1011 5 LaFayette® 3753A Ch: David 9
OLSON Vergil W shop wkr Moede & Sons 418 S Main® 2050A
UPPER WILLIAM (ALICE) DIRECTOR CIVIL DEFENSE SHAWANO COUNTY RT 1 BIRNAMWOOD 3632A
ORVIS Pauline M (wid Justin K) 1239 5 LaFayette®
OSBORN Albert J (Leona M) partner & geni mgr Hotz Mfg Co 132 S Franklin® 4223A Ch: Alice 15
OSBORN Gail H studt 132 S Franklin 4223
OTTO Adolph (Lucille) 918 S Weed®
OTTO Elmer J rtrd 601 E 5th St® 47O12
OTTO Emil E (Adele) rtrd 313 W Pine® 4430A
OTTO Fritz C (Mabel E slswmn Schultz Bros) emp Shawano Street Dept 311 W Division 5269A
OTTO Henry W (Elsie A) rtrd 220 S Hamlin® 3072A
OTTO Leo (Viola) jan Shawano Cty Hwy Dept 120 RIver Heights 2649A
OTTO Leonard emp John Kadletz Lumber Co 221 E Richmond
OTTO Lester F (Ethel recep Trapp Studio) owner Murdock Barber Shop 617 5 Union
OTTO Victor A (Debris M emp Eagleknit mc) emp Owen's Mink Ranch 227 E Richmond Ch: Peggy Ann 13, Bonny Jean 11, Steven Michael 2
OWEN Daniel J emp Hotz 1Mg Co 1121 S LaFayette 5256A
OWEN Roger J (Dorothy L) formn Weber Veneer & Plywood Co 1121 5 LaFayette® 5256A
OWENS Emma (wid Ray F) 129k N Main 3882A
OWENS Verona V (wid Dr R J) library asst Shawano City-Cty Library 319 W Swan 3536A Ch: Ramona 13, Carmen 6
PACKARD Emma A (wid Charles) 1103 S Franklin® 4036A
PAGE Anna (wid Blame) 111 S Franklin® 5O33
PAGE Edward G (Adala M) mech Sharnoco Ford-flremn City of Shawano 316 S Hamlin 475 8
PAHL Florence M (wid Frank) hsekpr Karth Funeral Home 941 S LaFayette@ 4572A
PAHL Julia R (wid Fred) 215 E Randall® 2972A
PAHLOW Edward A (Bernice B) emp Weber Veneer & Plywood Co 628 Schurz@ 5735A Ch: Jeff 4, Mike 2
PAHLOW Harry E (Inez V) interior decorator & sign painter 204 S Lincoln 4654J
PAHLOW Helene (wid August) 134 S Humphrey Circle 545 8J
PAHOLKE Adolph J (Rose) emp Iwen Box & Veneer Co Rt 1 Cecil Wis
PAHR Eleanor M (wid Arthur L) repr Baldwin Piano Co 132 S Smalley@ 4O34
PAISER Arlie J (Emma E) owner Paiser Upholstery 205 S Union@ 284O Ch: Alice 16
PAISER Joseph J (Iris F pt tm btcn Brath's Bty Shop) emp Phenix Mfg Co 911 S LaFayette@ 4762 Ch: Kristi 2
PAISER Mabel M companion 719 S Franklin 5253A
PAISER Paul J emp Howard & Gilbert 205 S Union 2840A
PAISER Sylvester (Irma tch Lincoln Elem Sch) res Gresham Wis
PAISER UPHOLSTERY Arlie J Paiser owner 205 5 Union 284O
PALLISTER George R mgr Eagleknit Inc 926 5 Lincoln@ 5196A
PALMER Bruce R (Sally E) policemn & firemn City of Shawano-agt Milwaukee Journal-Sentinel 523 Fairview Way® 4835A Ch: Daniel 16, Stephan 14, Brian 11
PALMER Clara E (wid Richard) 213 E Center® 4839A
PALMER Cornelius emp John Kadletz Lumber Co
PALMQUIST Louise J Mrs 1007 5 Weed®
PANKOW Meta M (wid John) 518 W Lieg 3558A
PAPE Fred F (Marian J ofc clk Mont Ward) rt slsmn Coca-Cola Bottling Co 120 5 Sawyer 5550A
PAPENDORF Elmer A owner Papendorl's Grocery & Service Station 1041 5 Main 3712A
PAPENDORF Hattie L clk Town & Country Clnrs 1046 5 Main@ 2293A
PAPENDORF'S GROCERY & SERVICE STATION Elmer A Papendorl owner 1043 S Main 3712A
PARIS Vincent L (Elaine 5) recruiter U S Recruiting Sin 507 N Franklin@ 3455A Ch: Kathleen 15, Mark 11, Mathew 3, Patricia m
PARKER Joe C (Willamette M) genl mgr Menomonee Enterprises-Neopil 401 5 Lincoln@ 4517A
PARKER Roland A (Theresa L) supv Wis Finance Corp 818 E 5th St® 3076A Ch: Craig 14, Paul 12, Mark 11, James 8, Mary 4, Roland 2
PARKER Rosalie M medical technologist St Joseph Hosp-Marshfield 401 S Lincoln 4517
PARKER Sam M (Viola C) bridge crew supv Soo Line RR 464 Fairview Way@ 3344
PARNELL ANDREW (DOROTHY) JUDGE SHAWANO COUNTY CIRCUIT COURT res APPLETON
PARSCH Daniel studt Concordia Jr Coll-Milwaukee 325 5 Andrews 2227
PARSCH David studt Concordia Sr Coll-Ft Wayne Ind 325 5 Andrews 22271
PARSCH HAROLD U REV (DORIS R WTRS CHEF'S INN) PASTOR EVANGELICAL LUTHERAN CHURCH OF ST JAMES 325 S ANDREWS 2227Z CH: DEBORAH 12
PARSCH Timothy studt Concordia High Sch-Milwaukee 325 5 Andrews 2227A
PARSON Clifford L (Kay J secy Shawano Cty Clk) ship clk Weber Veneer & Plywood Co 219 W Green Bay 281O2 Ch: Mike 3
PARSON Lester C (Blanche L slswmn Rognlien Drug Co) emp Weber Veneer & Plywood Co 1207 5 Franklin® 2643A
PASSEHL Clarence emp Goers Bros Garage res Clintonville Wis
PASSON Bruno S (Grace E mach opr Eagleknit Inc) genl wk Weber Veneer & Plywood Co 614 5 Washington 5742A Ch: Keith 12, Michael 11, Eugene 10, Kenneth 8, Jeffrey 6, Carol 4
PATERICK Dorothy J (wid Norman) tch Lincoln Elem Sch 1133 5 Union® 3377 Ch: Diane 17, James 15
PATERICK Michael USN 1133 S Union 3377A
PATERICK Thomas coll studt 1133 5 Union 3377A
PAUL'S SHOE SERVICE shoe repair Paul Senzig owner 113 S Main
PEACE UNITED CHURCH OF CHRIST Walter H Wasckerle pastor 208 E Maurer 2916A
PEARSON Gerald L studt Wis State Coll 533 5 Washington 5358
PECORE John R (Leone M slswmn J C Penney Co emp Shawano Cty Hwy Dept 418 Riverside Dr© 2526 Ch: Jeffrey 15
PECORE Mary Beth studt 418 Riverside Dr 2526A
PECORE Patricia Ann studt 418 Riverside Dr 2526A
PEDERSEN Erhardt (Tihie slswmn Farmers Hardware mc) emp Shawano Water & Light Dept 317 E Division® 4501A
PEDERSEN John (Margaret) rtrd 817 W Picnic® 2342A
PEDERSEN Robert W (Elaine L) civil engr & land surveyor 114 Circle Dr©2827Z Ch: Steven 9
PEGORSCH Fred J (Grace M Jan Jr High Sch) rtrd 416 S Bartlett 2353
PENN Lois L (wid John) desk clk Bilmay Motor Hotel 720 W Richmond 3733
PENN John T US Army Security 720 W Richmond 3733A
PENN Kristin J studt Univ of Dubuque-lowa 720 W Richmond 3733A
PENN Richard B 115 Presbyterian 5848Z
PENN Ruth (wid Lyle) 115 Presbyterian 5848Z
PENNEY J C CO dry goods Fayette C Daniels mgr 137 S Main 3911A
PEPLINSKI John R (Elaine W) agt General Life Ins 704 W 1st St@ 5373A Ch: Kim 8, Scott 4
PERKINS GLUE CO div Spencer Chemical Co Ferd Bogda mgr 218 E Richmond 2516A
PERLEBERG August 223 E Green Bay 4594L
PERLEBERG Norman A (Alice) owner Norm's Lunch 223 E Green Bay® 4594A Ch: Linda 16
PERRIGO JOHN (JEANETTE) OFCR SHAWANO COUNTY PROBATION DEPT 1208 W NEW YORK ST OSHKOSH WIS
PERRY Henry R (Mathilda L) rtrd 716 E Maurer® 3576A
PERRY Robert emp Weber Veneer & Plywood Co Rt 1 Gresham Wis
PERSCHBACHER Harvey line crew formn City of Shawano 403 E Green Bay 5368A
PERSINSKE Eva M Mrs owner Eva's Beauty Salon 408 W Picnic® 5130A Ch: Steven 17, Walter 12
PETERMAN Edward W (Anna I) carp Feltz Constn Co 608 5 Bartlett® 4326A
PETERMAN Ewald C (Tena) rtrd 916 5 Bartlett®
PETERMAN Francis A (Patricia B) gluer Iwen Box & Veneer Co 604 W 1st St Ch: Audrey 4, Charlotte 3, Steven 2, David 1
PETER George W (Helen J) clk USPO 201 W 4th St 5455A Ch: George Jr 16 (pt tm atndt Dan's Sinclair Serv), Patricia 8
PETERMAN Hilda L (wid Adolph) 626 5 Hamlin® 3645
PETERMAN Ira (Hazel wtrs Bilmay Motor Hotel) emp Graf Lumber Co—Cecil 507 E Center® 22612
PETERMAN Lonnie 507 E Center 2261
PETERMAN Roger E (Esther M wtrs Bilmay Motor Hotel-pt tm wtrs Town Club) 417 W Richmond® Ch: Dennis 9, Kenneth 8, Douglas 5, David 3, Diane 1
PETERMAN Wilbert F (Virginia) powder plant emp Consolidated Badger Co-op 412k S Andrews 5143A Ch: Glenn 16, James 10, Diane 9
PETERS Albert (Marion emp Bess's Bty Salon) res Gresham Wis
PETERS Carl A (Alice E teller Shawano Natl Bank) deputy cty treas Shawano Cty 1104 5 Franklin® 2865A Ch: Michael 5, Patrick 2
PETERS Frieda B (wid Edward) 112 S Hamlin® 25642
PETERS John W (Erna E) engr Soo Line RR Co 403 S Union® 3533A Ch: Patricia 17
PETERS Reinhold (Alma J) rtrd 815 5 River®
PETERS Wilma C 6224 5 Union 2419A
PETERSEN Mathilda J (wid Neil W) 522k S Lincoln 4271A
PETERSON Della E (wid Melvin Sr) 713 WI Picnic® 4658A
PETERSON Elsie (wid Oscar) 115k E Maurer
PETERSON Eugene V USMC 201 W Richmond
PETERSON Harold V (Margaret L) owner Peterson's Trading Post 201 W Richmond® Ch: Geraldine 17, Marilyn 9, Bruce 7
PETERSON Ira (Hazel wtrs Bilmay Motor Hotel)
PETERSON Jensine 426k S Main
PETERSON Lyndle W Dr (Rosella) phys & surg Cantwell-Peterson Clinic (ofc) 117 E Green Bay 3131A (res) 117 Hotz Ct® 4723A
PETERSON Marguerite (wid Lewis) ofc mgr Dearco Glass .& Paint Store 1129 5 Lincoln® 3624 Ch: Kim 16
PETERSON Melvin A (Mary T) mgr Ansorge Distributing Co-Gillett 230 5 Washington® 2028A Ch: Kathleen 11
PETERSON Oscar E (Esther) rtrd 103 5 Franklin® 2733A
PETERSON Peter J (Ida) rtrd 914 Prospect® 2453A
PETERSON Ward F (Grace J pt tm emp Shawano Canning Co) sht mU mech Gehrke & Montour Sheet Metal Co 1139 5 Bartlett® 3063A Ch: Richard 16, Patricia 13, Kristine 9, Michael 4
PETERSON Ward R studt 1139 5 Bartlett 3O63Z
PEVONKA Clarence J (Jean M cik Grover's Badger Paint Store) trk drvr Consolidated Badger Co-op 944 S Main® 4073A
PEVONKA Dennis E (Lucille M ofc clk Chaimson's Inc) formn Four Wheel Drive 703 S Hamlin 4641i
PEVONKA Milton D (Valerie M chkr IGA Foodliner) emp Consoljdated Badger Co-op 1107 S Union® 2417Z Ch: Mary Jo 15
PEVONKA Orville M (Irene L) inspr State of Wis Weights & Measures 825 E Green Bay 3301A Ch: Marcia 1
PFAU Leroy 0 (Erma A) elecn Arnie's Electric Service 715 F Oak 4755A
PFLIEGER Jerome C (Betty L paper chemist Shawano Paper Mills 626 5 Franklin 5807A Ch: Susan 4, Jean 3, Mike 2, Laurie ml
PHENIX MANUFACTURING CO mfg of overhead garage doors E D Fellman Sr pres William F Feliman vice pres E D Feilman Jr secy Feed J Glasl supt
801 5 Evergreen 3211
PHILIPP Janice wtrs Mike & Ann's L & L Ranch 1132 5 Evergreen 4333®
PHILIPP Jo Ann wtrs 1132 5 Evergreen 4333A
PHILIPP Michael J (Anna M) owner Mike & Ann's L & L Ranch 1132 S Evergreen® 4333A Ch: Michele 17, Michael 13
PHILLIPPI Joseph N (Clara A) powder plant emp Consolidated Badger Co-op 739 5 Wash- ington® 5273A
PHILLIPS 66 BULK PLANT N Hamlin
PICK Gustav A (Louise H) rtrd 312 5 Sawyer® 4296A
PICKERING Anna A (wid Marvin) 208 N Washington 4347
PICKETT GLADDON W (MARY) VICE PRES SHAWANO CANNING CO res DELRAY BEACH FLORIDA
PIEHL Alfred L (Josephine E) rtrd 1114 5 Lincoln® 5259A
PIEPER Donald R (Nora L) carp Bob Kroenke Constn Co 908 5 Sawyer 5267Z Ch: Donna 16, Gerald 12
PIEPER Marvin E asst refinisher Pieper's Refinishing 4l8WSwan 4695A
PIEPER Melvin R (Delphaine partner Pieper's Refinishing) partner Pieper's Refinishing- plywood patch Weber Veneer & Plywood Co 418 W Swan® 4695A
PIEPER Robert J (Joyce E bkpr Sr High Sch) patrolmn City of Shawano-pt tm atndt Shell Gas Sta 403 5 Washington® 3966Z Ch: Joel 3, Jay 7, Jayne 9, John 11
PIEPER Willard E (LaVonne E mach opr Eagleknit mc) asst splicing mach opr Marion Plywood & Veneer 722 5 Franklin 5917J
PIEPER'S REFINISHING woodwork refinishing Melvin R & Delphaine Pieper partners 418 W Swan 4695
PIERCE Paul emp Wis State Conserv Dept 621 S Smalley
PIERCE Virginia Mrs 621 Smalley Ch: Patrick 12, Susan 9, Nicholaus 16
PIERRE Alvin F (Rose C elk Chaimson's mc) territorial mgr Minneapolis Moline Co 373 Fairview Way® 4824A
PIERRE Ronald G USA 373 Falrview Way 4824
PINGEL HAROLD J (MABEL L COOK SR HIGH SCH) CHIEF OF POLICE CITY OF SHAWANO 921 5 SAWYER® 4046A
PINGEL Martin H (Laura A lndrs Shawano Community Hosp) woodcutter 413 N LaFayette® Ch: Corvin 13
PINGEL William A studt 921 5 Sawyer 4046A
PINGLE ROBERT (PATRICIA RECREATION DIR CITY OF SHAWANO) DIST REPR ALLIS CHALMERS 226 MADER CIRCLE 5205A CII: IREGeRY 11, BRETT 6
PITT Allen A (Dora) agt Rural Ins Co res Bonduel Wis
PLASS Clara B Mrs cook Shawano Cty Hosp 233 S Andrews 2262A
PLATTE Rodney (Jean reg nurse Shawano Community Hosp) 60 13th St Clintonville Wis
PLAUTZ Robert L (Mary H mgr Brath's Bty Salon) emp Phenix Mfg Co 211 S Lincoln® 4210A Ch: Donald 15, Kathleen 13
PLESHEK Alfred D (Elsie L) owner Al Pleshek's Bar 705 S Smalley® 4438A PLESHEK Charles sta atndt Equity Oil Co—op res Bonduel Wis PLESHEK Ed J (Irene E) emp Shawano Cty Hwy Dept 926 5 Weed® 4374
PLESHEK Edward L Jr (Kay F wtrs Continental Supper Club) mt ctr Liebmann Packing Co Green Bay 519 5 Union® 4649A Ch: PauJ 9, Polly 8, Peter 6, Phyllis 4, Patrick 3, Preston 1
PLESHEK John G (Lucille E pt tm emp Howard & Gilbert) emp Shawano Paper Mills 311 E Richmond® 5450®
PLESHEK Lloyd 311 E Richmond 5450A
PLESHEK Mary Rae steno Aid Assn for Lutherans 635 5 MaIn 4341A
PLESHEK Ray E (Lorraine M) owner Ray Pleshek's 400 Bar 635 5 Main® 4341®
PLESHEK Roger emp Iwen Box & Veneer Co 311 E Richmond 5450A
PLESHEK Russel (Mary emp Consolidated Badger Co-op) formn Llebmann Packing Co Green Bay 214 E Center 3635A Ch: Cathy 7, Joan 5, Karen 2
PLESHEK'S AL BAR tavern Alfred D Pleshek owneri34 S Washington 4328
PLESHEK'S RAY 400 BAR tavern Ray E Pleshek owner 635 5 Main 3331
PLOEGER Edwin (Enid L groc elk Wian's Discount Grocers) mtce wk Consolidated Badger Co-op 334 5 Washington 3743A Ch: Lynda 14
PLUDEMAN Bernhardt G (Agnes B nurses aide Shawano Community Hosp) elk USPO 407 5 Main® 3320® Ch: David 17
PLUDEMAN Marion M (wid Ervin) slswmn Schultz Bros 213 E Randall 2971 Ch: Deborah A 7
PLUDEMAN Mary studt Univ of Wis 407 5 Main 3320A
PLUDEMAN Merlin R (Joann J) emp Phenix Mfg Co 126 E Maurer Ch: Jeffrey 1
PLUDEMAN Patrick E USA 407 5 Main 332O
PLUGER Betty Mrs house maid Bilmay Motor Hotel 518 5 Washington 414?A Ch: Arthur 16, Richard 15, Janls 14, James 11, Dennis 10
POCKAT Charles A (Marie A) rtrd 1131 5 Franklin® 3728®
POLZIN Harold (Gladys bty opr Eva's Bty Salon) Rt 1 White Clay Lake Cecil Wis
POLZIN John A (Dejon L sub tch) tch Jr High Sch 517 N Franklin 2018A Ch: Priscilla 4, Mary Lynn inf
POLZIN Maynard E (Yvonne G IBM opr Badger Breeders Co-op) mason & carp 912 5 Bartlett ® 5076A Ch: Lori 3, Cathy 1
PONSCHOK Fred E (Shirley M) tch Sha'wano Sr High Sch 114 W Stevens 3564 Ch: John 8, David 6, Mary Beth 3
POPELKA Charley (Rose C) rtrd 404k E Division
POPELKA Cordella M (wid Adolph) 515k E 5th St® 4774
POPELKA Wallace S (Lorraine E) shop formn Farmers Implement Co 832 Park Ave® 3296® Ch: Jerome 9, Barbara 4
POPP Agnes (wid Frank) 112 5 Smalley® 2837
POPP Alfred J (Kathryn R) power plant opr Shawano Paper Mills 1217 S Bartlett@ 3358Zi
Ch: Alfred Jr 14, David 12, John 8, Joann 7, MIchael 4
POPP Howard W emp Colson's Furs 1019 5 LaFayette 4472
POPP Irvin rtrd 317 Wescott
POPP Marvin L (Judith M) emp City of Shawano 1015 S LaFayette@390OIl Ch: Kurt 4, Cheryll 2, Justine 1
POPP Robert A studt Voc Sch-Green Bay 1217 S Bartlett 3358A
POPP Viola 317 Wescott©
POPP Walter A (Sybil A emp Eagleknlt Inc) formn Shawano Street Dept 1019 S LaFayette® 4472A Ch: Albert H 17
POPP William delmn Gottschalk's Clnrs 112 S Smalley 2837A
POPPE Betsy N (wid Ulrlck) 503k S Main (apt) 4O40il
PORATH Earl I (Arlene M supv Eagleknit mc) slsmn Wis Auto Supply 936 5 Washington® 4242A Ch: Roger 16, Tom 13
PORTER Charles A (Emma L) rtrd 935 5 Smalley® 3014
PORTER McKinley rtrd 1107 5 Smalley®
POWELL Raymond R (Viola A wtrs) emp Weber Veneer & Plywood Co 1138 E Richmond® 4627A Ch: Leon 16, Keith 14, Connie 10, ValerIe 6
POWELL Carol emp Hanson Glove Co-Clintonville 1138 E Richmond 4627A
POWERS Mike mem Bd of Dirs Shawano Community Hosp Rt 1 PulaskI Wis
PRAHL William (Selma) trk drvr Shawano Cty Hwy Dept res Cecil Wis
PRAST Maud E (wid Godfrey) 208 N Washington® 2552A
PRELLWITZ Roger B (LaVonne M) cust Shawano Community Hall & Recreation Center 217 5 Andrews 2739 Ch: Kathy 7, Kevin 4
PRESLICKA Joseph G (Ruth) owner Slick's Tire & Radiator Service 115 N Andrews (trlr®) 5131A
PRESLICKA Raymond F (Hope) owner Preslicka Tailor Shop 224 E 5th St® 3033
PRESLICKA TAILOR SHOP Raymond F Preslicka owner 213 N Main
PREY Anna B (wid Bernard) 512 5 LIncoln 4452J
PREY Anna M (wid Emil) 931 S LaFayette®
PREY Herbert 0 (Anna M emp Shawano Cty Hosp) welder 806 W Picnic 2869A
PREY John C (Clara E) mach opr Weber Veneer & Plywood Co 512 Fairview Way® 4239A
PRICKETTE Douglas E (Sandra M) mill wkr Shawano Paper Mills 414k N Main 2890 Ch: Alicia 1
PRICKETTE Roger J studt 415 W 5th St 2846il
PRICKETTE Walter F (Anne B nurses aide Shawano Community Hosp) cement fnshr Dey's Inc 415 W 5th St® 2846 Ch: Thomas 14, Sandra 11, Lana 10, Jeffrey 4
PRIEM Carl M (Doris J) cost supv Hotz Mfg Co 413 E Division® 54651 Ch: Robert 15
PRIEM Clarence J (Elaine emp Cantwell-Peterson Clinic) emp Consolidated Badger Co-op 803 5 Main® 2472A
PRIEM Elsie F (wid John) 803 5 MaIn® 24722
PRIEM Eugene W (Rosalie M) 120k S Sawyer Ch: Richard A 6, Eugene W 5, Randolph A 3, Deborah 2
PRIEM Margaret (wid Sam) owner Priem's Store 603 E Center 4367A
PRIEM Nora Mrs 108k S Lincoln
PRIEM Viola W bkpr Goers Bros Garage 616 S Lincoln®
PRIEM'S STORE groc Mrs Margaret Priem owner 520 E Center 4015A
PRIES APPAREL SHOP women's clothing lone Gehrt mgr 113 S Main
PRILWITZ Eliza C hsekpr 115 N Bartlett 5839
PRODELL Alfred A (Gertrude E cook Sr High Sch) rtrd 122 S Smalley® 3718
PRODUCTION CREDIT ASSN OF ANTIGO farm loans James Prosser pres Arthur Heistad mgr 221 E Division 4714A
PROSS Eulalia 104k S Smalley 5223®
PROSS Leo S rtrd 104k S Smalley 5223
PROSSER James pres Production Credit Assn of Antigo
PRUSIK Adolph J (Otelia L) rtrd 817 E Maurer®
PRUSIK ernard A (Jeanette L cutting dept Eagleknit mc) supv Badger Breeders Co-op 305 Arlington® 2667® Ch: Dennis 14
PRUSIK Joseph J lathe opr Weber Veneer & Plywood Co 918 E Lieg® 4327®
PULCIFER Josephine E 223 W 5th St® 5101®
PUTNAM Willard emp Shawano Equity Co-op Rt 1 Gresham Wis
PUTZ George emp Shawano Paper Mills 1024 S Water®
PUTZ George H Sr (Bertha) rtrd 814 W Wescott®
PUTZ James J emp Howard & Gilbert 814 W Wescott
PUTZ Norma M 814 W Wescott
QUAST Alex (Babe) emp Consolidated Badger Co-op 508 5 Franklin® Ch: Weston 12, Georgiana 10, Leone 16
QUAST James W 401 Anderson
QUEVILLON Audrey C (wid Joseph) 939 5 Andrews® 48O4 Ch: Margaret 17
QUEVILLON Robert H baker Bestler's Bakery-Appleton 939 5 Andrews 4804A
QUICK Madelyn (wid Glenn) 228k S Washington 4628A
QUINN Francis E (Cecile Ann) livestock buyer Dubuque Packing Co 506 W 4th St 4407A Ch: Dennis 13, Dianne 10
R & R BOWLING LANES Edward C Reichel owner 604 5 MaIn 5480A
RAASCH Arline G 830 Prospect 3272®
RAASCH Dora A 230 E Maurer
RAASCH Marvin (Wandá) slsmn Suring Mileage-emp City Dairy Prospect Ave
RAASCH Mainnie 125k S Main 3201A
RAASCH Ronald E emp Eagleknit Inc 830 Prospect 3272A
RAASCH William A (Lois L) asmblr Phenox Mfg Co 830 Prospect® 3272A
RABE Leon M (Judith A secy Andrews & Aschenbrener) car upholsterer Newart's Auto Top & Trim 801k E Randall Ch: Jeffery Scott 1
RADARTE William G (Jeanne M) USN 921k E Maurer 5956A Ch: Rod 4, Catherine 2, Alexis m
RADDANT Anna (wid Adolph) 113 E Randall® 2273A
RADDANT Donald D (Verna M) trk drvr Mac's Oil Co 314 E Division® 2366A Ch: Krlsty 9, Rickey 7, Randy 3
RADDANT Harold rtrd 608 Maiden Ln 2290A
RADDANT Hugo H (Marie M) rtrd 1012 5 Washington® 5350Z
RADDANT James E (Marilyn J bulk plant mgr Mac's Oil Co 723 W Picnic 5711A Ch: Michael 2, Jody 1
RADDANT Louis A (Susan J private tutor) rtrd 120 S Andrews 41222
RADDANT Marvin C (Donna J) emp Weber Veneer & Plywood Co 1016 5 Washington 2750 Ch: Marsha 12, Terry 7, Vicky 6, Julie 4, Lorl 3, Kim m
RADDANT Reginald R (Joyce M serv repr Urban Tel Corp) Installer Urban Tel Corp 909 S Hamlin® 5432A Ch: Susan 8
RADDANT Roger emp Hotz Mfg Co 210 Zingler®
RADDANT V (Helen) partner Hotz Mfg Co res Ladysmith Wis
RADES BAR & BOWLING Vilas A Rades owner 136 5 Main 3613A
RADES Beatrice P slswmn Gottschalk's Fashlonette 201k W 4th St 4349A
RADES Carmen K 810 E Randall 3958A
RADES Diane 201k W 4th St 4349A
RADES Duane J (Bernadette emp Rades Bar & Bowling) bartender Rades Bar & Bowling 819 E Randall® 3060A Ch: Debra 7, Lynn 5, Tomi 3, Michael mi
RADES Elmer 229 E Green Bay 8691A
RADES Eugene D studt 732 5 Hamlin
RADES Gwendolyn A studt nurse-Boston 216 S Hamlin 3413A
RADES James studt 201k W 4th St 4349A
RADES Richard A USA 732 5 Hamlin
RADES Roberta K 216 5 Hamlin 3413A
RADES Roy R (Mabel Y barmaid Donald Duck's Bar) lbr inspr John Kadletz Lumber Co 732 S Hamlin® Ch: Mary 17, Bonnie 15, LInda 13, Cheryl 10
RADES Rueben M (Kathryn cook Sunset Diner) owner Sunset Diner-mgr Bus 216 5 Hamlin® 3413A Ch: Joanne 16, Gregory 13
RADES Vilas A (Hildegard A) owner Rades Bar & Bowling 810 E Randall® 3958A RADTKE CARL K (ROSE M VICE PRES RADTKE ELECTRIC SERVICE INC) PRES RADTKE ELECTRIC SERVICE INC 1107 S LINCOLN® 43692 CH: THOMAS 15, DONALD 14, MARYANN12, PEi CAROLYN2
RADTKE Carole IBM opr Badger Breeders Co-op 117 N Bartlett 2747
RADTKE Catherine (wid Carl) 207 W Richmond® 3739A
RADTKE Clifford H (Maybell M) buttermkr Consolidated Badger Co-op 817 S. Washington® 2734 Ch: Lo Ann 14, PatrIcia 5
RADTKE ELECTRIC SERVICE INC . ELECTRICAL CONTRACTORS CARL K
RADTKE, PRESIDENT; ROSE RADTKE VICE PRESIDENT; DELORES R
RADTKE , SECRETARY; MILTON H RAbTKE, TREASURER 617 S MAIN ST
PHONE 526-3811
RADTKE Henry J (Hattie A) rtrd 705 W Picnic® 4058
RADTKE Keith studt Oshkosh 1107 S Lincoln 4369
RADTKE Kenneth C studt Oshkosh 1107 S Lincoln 4369A
RADTKE Martin F (Emma A) carp Hoffman Constn Co 915 S Union® 3978A Ch: Sherry 15
RADTKE MILTON H (DELORES R SECY RADTKE ELECThIC SERVICE INC) TREAS RADTKE ELECTRIC SERVICE INC 448 FAIRVIEW WAY® 5457i CH: RICHARD 3, ELIZABETH 1
RAE Ken J (Ann M) medical techn Shawano Community Hosp 311 W 3rd St 5638i Ch: Bruce 5, Shella 3, Lisa 3, Brenda 2, MIchael 1, Suzanne tel
RAETHER Louise M 603 W Richmond® 2349A
RAGUSE Richard E constn wk 417 5 Sawyer
RAGUSE William H Sr (Violet) carp 417 S Sawyer
RAMLET Marie 218k E Center 3375A
RAMLET William D (Anne M) tch Jr High Sch 422 S Bartlett 5514 Ch: Ellen 15, RIta 14, William 12, Robert 11, ElIzabeth 7, PhIlip 3
RAMLOW Oscar W (Helen L) rtrd 110 N Washington 3837A
RANSON Howard owner Sundial Laundromat res Beaver Dam Wis
RAPAICH Melvin E (Leverne J) trk drvr Consolidated Badger Co-op 511 E Lieg® 3676A Ch: Terrance 16, WIlliam 8, Coral 6
RASCH Marvin L (Wanda M repr Play House Toy Co) field repr Lubrication Engineers 824 Prospect 4700A Ch: Juanita 4
RASMUSSEN Charles W (Marjorie M secy Lincoln Elem Sch) slsmn Paul Host Chevrolet Sales 320 W Dank® 4096A Ch: David 14, Carol 11
RASMUSSEN John rtrd 503 W Richmond®
RATNER Stanley J (Dorothy) owner Washerette res Balsam Row 2786Z
REBHOLZ Charles J (Florence E clk Schultz Bros) rtrd 412 W 1st St® 4748A Ch: William 16
REBHOLZ Jane 412 W 1st St 4748A
REBHOLZ Karen 412 W 1st St 4748A
RED OWL STORES INC groc Fmanuel Tate mgr 209 S Main 5111A
REDMAN Carl H Sr (Hattie E) rtrd 126 S Andrews® 3451A
REED Vernon E (Ruth bkpr Citizens State Bank-organist First United Presbyterian Church) asst cty supv Farmers Home Admn 404 5 Franklin 2815A
REEDY Lawrence F (Mildred E cook Schultz Bros) emp Consolidated Badger Co-op 404 Riverside Dr® 4973®
REETZ Marlin A (Marcella electronic press hlpr Iwen Box & Veneer Co) electronic mach opr Iwen Box & Veneer Co 706 E Center® 4365A Ch: Robert 16
REETZ Milton W (Louise F tch St James Lutheran Sch) formn Iwen Box & Veneer Co 945 S Andrews® 4072A Ch: James 14
REEVES John E (Osca A) rtrd 404 5 Lincoln 5593A
REGLING'S GREENHOUSE • FLORIST, GREENHOUSE CHARLES A STJMNICHT AND SHERRY L SUMNICHT, PARTNERS 401 W 3RD ST PHONE 526-2031
REIBLE Gilbert L (Bessle E owner King's Hotel) farmer-pres Howard & Gilbert Poultry - partner Full-O-Pep Whse 229 E Green Bay® 5023A Ch: Michele 15, Paula 13
REICH Paul H (Betty J) state traffic patrol ofcr State of Wis 1220 5 LaFayette® 51262 Ch: Kim 12, Kurt 10, James 2
REICHEL Charles E studt Concordia Coll-Ft Wayne ted 714 5 LaFayette 5489A
REICHEL Charlotte tch Jr High Sch 201 5 Bartlett 3022A
REICHEL Edward C (Eleanor) owner R & R Bowling Lanes 714 5 LaFayette® 5489A Ch: Daniel 14
REICHEL Herman 0 (Cora M) rtrd 417 5 Andrews® 5247
REICHEL William C rtrd 201 S Bartlett® 3O222
REILLY John E (Eleanor K paitner Crescent Theatre) partner Crescent Theatre-tch Sr High Sch 22O S Main® 4315A Ch: Ann 9, Sean Elizabeth 7
REIMER Albert rtrd 1007 5 Weed
REINERT Gladys L (wid Armin E) 510 W 3rd St® 3035A
REINERT Armin R mech engr New London Engineering 510 W 3rd St 3035A
REINERT Llewellyn F (Anna Mae H) emp Clhb 43 124 E Randall® 5141A Ch: Mary 14, Cathy 11, Vicky 8, Joey 6, Tony 3
REINHOLZ Herman A (Wanda) rtrd 228 5 Main® 4944i
REINHOLZ Oscar E (Shirley M) owner Reinholz Shoe Store-alderman City of Shawano 232 5 Main 4946A
REINHOLZ SHOE STORE Oscar E Reinholz owner 228 5 Main
REINKE Edward R (Anne M emp Eagleknit mc) beer distrth 914 N Frankflnil 52252 Ch: Charles 16
REINKE Emil A (Alvina A) rtrd 613 W 3rd St® 5353A
RE1NKE Emil G (Ethel C) plywood grader Weber Veneer & Plywood 821 Prospect®
REINKE Kenneth (Esther) emp Hotz Mfg Co Rt 2 Clintonville Win
REINKE Matt E (LaVerne J clk Heinz Drug Store) shop mgr Kleeman's Meat Market 508 S Lincoln® 4449A
REINKE Ralph E (Frieda M) mech Shawano Cty Hwy Dept 1012 S Main® 5237A
REINKE Rueben emp Hotz Mfg Co Rt 2 Marion Wis
REISNER Adolph W (Fern C) owner Reisner Tavern 127 5 Smalley® 4502A
REISNER Clarence F (Martha) sls wk DeLavel Sales 305 5 Smalley® 4335A
REISNER DAIRY SUPPLY CO Herbert Mueller owner 116 W Division 4715A
REISNER Louis (Geneva) bartender Reisner Tavern
REISNER TAVERN Adolph W Reisner owner 115 N Main 3912A
RELSNER Walter F (Bernice E) dairy inspr US Dept Agr 615 W 1st St® 5374®
REITZKE June emp IGA Foodiliner
REMITZ James R (Mary J) slsmn Wis Gas Co 402 5 Humphrey Circle® 5637A Ch: Michael 2, Rick 1
REMMEL Edwin H (Hazel M) rtrd 617 5 LaFayette®
RENSBERGER Jerry D (Sandra) tch Sch Dist #8 115 5 Hamlin 3051A Ch: Ronda 3, Cynida inf
RENTMEESTER James (Mary) case wkr Shawano Cty Welfare Dept 817 W Beacon New London Wis
RETAIL CREDIT 132k S Main
RETAIL LUMBER & SUPPLY CO LUMBER, BUILDING MATERIALS GLENN K HARTMAN, PRESIDENT AND MANAGER; SERA A HARTMAN, VICE PRESI DENT 111 W RICHMOND ST PHONE 526-3814
RETTLER Giles J (Bernice M catalog desk clk J C Penney Co) pres Shawano Tire Co Inc pres Shawano Tire Co Station 421 E Stevens® 3982A Ch: Nick 17, Monica 14, Cynthia 13
RETTLER Mary E studt Oshkosh State Tch Coll 421 E Stevens 3982A
RETTLER Thomas G USA 421 E Stevens 3982A
RETZLAFF Alma I emp Iwen Box & Veneer Co 711 5 Lincoln 4309®
RETZLAFF Carl F (Ruth B) rtrd 1204 Sawyer® 5220®
RETZLAFF Donna L baby sitter Sheldon Rusch 1114 5 LaFayette
RETZLAFF Edgar C Sr (Lorraine I lndry wk) milk tester DHIA 803 E 5th St Ch: Edgar Jr 14, Ricky Ray 13, Richard Roland 10, Linda Lou 8
RETZLAFF Selma I emp Iwen Box & Veneer Co 711 5 Lincoln 43O92
REUTER Thomas E (Ellen J) emp Eagleknit Inc 120 E Maurer® 5836A Ch: Timothy 10, Jane 8, Michael 6, Mary Pat 5
RHODE Caroline emp IGA Foodliner
RICHARDS Carl G (Irene M emp Mehlberg Bakery) jan Cantwell-Peterson Clinic 1016 5 Weed® 3550A
RICHARDS Marilyn R tch Lincoln Elem Sch 724 5 Hamlin 3365A
RICHARDS Meta A (wid Sidney F) cik J C Penney Co 724 5 Hamlin® 3365A
RICHARDS Oley E (Alice M) beveler Hotz Mfg Co 603 5 LaFayette® 5589A
RICHARDS Ora C (Irene 0) rtrd 115 5 Andrews® 27642
RICHARDS Thomas L (Betty L) emp Shawano Cty Hosp 904 S Weed (trlr®) Ch: Nancy 1, Rhonda inf
RICHTER Doris B recep Dr Dennis O'Donnell 115 S Sawyer 5360® RICHTER Harvey emp Gottschalk Clnrs res Bonduel Wis
RICHTER William A (Hedwig F) pt tm hlpr City Athletic Field 922 5 Sawyer® 4464®
RICKARD R K (CLARE) MGR MONTGOMERY WARD & CO 218 N FRANKLIN 4971®
RIENKE Charles H (Sherry A) emp Eagleknit Inc 903k S Andrews 5713A Ch: Traci inf
RIESENBERG Earl W (Lorraine W) inspr Four Wheel Drive-Clintonville 610k Pine®
RILEY Gerald W (Edith A) certif pub acct 417 E Division 2653 RIMESTAD Raymond L (Alma B bkpr Shawano Community Hosp) acct Dey's Inc 1011 5
Washington© 3841A Ch: Sheila 13, Cheri 11
RINDT Gust 0 (Gladys A owner & mgr Glad-Dee's Beauty Salon) bartneder Pleshek's 400 Bar 931 S Sawyer® 2668A
RINDT Kenneth H (Marie H) wire chief Urban Tel Corp 418 5 LaFayette® 5424 Ch: Terry Dean 2
RINDT Thomas E USN 931 5 Sawyer 2668A
RINEHARD-SCHRANK AGENCY Insurance Arvin L Schrank owner 517 5 Main 5305A
RINGEL Florence E (wid Herman) 517 5 Washington® 4858A
RINGEL Stella E (wid Louis A) owner Ringel's Custom Drapery 117 N Bartlett® 2747A
RINGEL'S CUSTOM DRAPERY Mrs Stella E Ringel owner 117 N Bartlett 2747A
RISKE Frank H (Lula A) rtrd 418 W 1st St
RISKE Robert F emp Hotz Mfg Co 1010 N Franklin 3845A
RITE LUGGAGE Anthony Braun owner 107 N Main 5719A
RIVARD Edna L (wid Raymond) 219 5 Union 27851\
ROBBINS Carrie (wid Myron) 331 5 Main 3529®
ROBINSON Roberta M emp Shawano Cty Hosp 714k S Union Ch: Roland 15, Earl 10
ROBINSON Daniel W (Lois M) owner Dan's S inclair Service 114 N Washington
ROBSON Roger C (Marion P) mgr Equity Co-op Livestock Auction Market-Bonduel 311 S LaFayette® 4008A
ROCHELMEYER Martha H (wid Bruno) 1221 5 LaFayette®
RODEFER Richard E (Mary A) slsmn DeZurik Corp 114 5 Sawyer 5009A Ch: Beth Ann 7
RODER Frank A (Marjorie M) rtrd 918 5 Smalley®
ROEPKE Anna A (wid Paul C) 515 5 Smalley® 4940A
ROGGENBUCK Alfred A (Emilia R) feed grinder Bakk&s Feed & Seed Mill 937 5 Sawyer® 4007A
ROGGENBUCK Gerhardt E (Arline M) serum drvr Badger Breeders Co-op 418 E Stevens® 3045A Ch: Lynn p4, David 12, Gail 9, Dale 9, Jane 4, Dean 4
ROGGENBUCK Wilbur E (Florence clk Priem's Store) partsmn Farmers Implement 1013 E Stevens® 5423A Ch: Larry 15, Judith 13, Glenn 10, Diane 4
ROGNLIEN DRUG CO INC Otto A Rognlien pres Thelia Rognlien secy-treas 117 5 Main 2011®
ROGNLIEN Otto A (Thelia secy-treas Rognlien Drug Co mc) pres Rognlien Drug Co Inc 420 5 Lincoln® 2921A
ROHDE Harvey M (Caroline H emp IGA Foodliner) emp Weber Veneer & Plywood Co 721 Maiden Ln® 3366A Ch: Wayne 15, Eugene 14
ROHLOFF Emma (wid Herman) 331 5 Main 3529®
ROMANE Arthur F (Michele A) slsmn Keystone Steel & Wire Co 316 E Green Bay 5812Z Ch: Rhonda 3, Rodney 3
ROOD Christ (Claire H) rtrd 932 5 Smalley® 2519A
ROSCHI Ella M (wid Robert) 911 5 Lutz 3546A
ROSE Norma H (wid Herbert J) 128 5 LaFayette® 2590A
ROSE Richard H (Nancy E) drvr Coca-Cola Bottling Co 1213 5 Bartlett® Ch: Lorene 2, Angela 1
ROSENBERG Carl R (Dorothy) rtmn Morning Glory Dairy 1211 E Lieg® 2452A Ch: William 16, Michael 13, Ricky 6
ROSENBERG Edward USA 1211 E Lieg 2452A
ROSENBERG Frieda I (wid Alfred W) secy St James Lutheran Ch 134 5 Humphrey Circle® 5458A
ROSENBERG Irvin H (Shirley M) owner Shawano News Agency-sub clk USPO 931 5 Lutz® 3742A Ch: Peggy 13, Tern 9
ROSENBERG Lydia W (wid Robert) 708 S Union® 3340A
ROSENBERG Mary Ann 1211 E Lieg 2452A
ROSENBERG Maynard C (Annette E cutter Eagleknit mc) pressmn Shawano Evening Leader 1423 Waukechon Rd® 5705® Ch: Randy 3
ROSENOW August (Amelia) rtrd 1111 S LaFayette®
ROSENOW Ellsworth F (Carrie E) emp Weber Veneer & Plywood Co 1046 5 Evergreen® 4273A Ch: Brett 9
ROSENOW Lyle H (Marian H) sewer & water crew City of Shawano 420 W Division 5405A Ch: Sharon 12, Curtis 11
ROSENOW Norbert emp Clintonville 216k E Division 4435A
ROSENOW Vernal (Marge catalog elk Mont Ward) res Bonduel Wis
ROSENOW Walter F (Anna W) millwright Shawano Paper Mills 619 W Rlchmond©
ROSIN Adolph rtrd 402 S Hamlin
ROSIN Clara B 402 S Hamlin®
ROSIN Dorothy M tch Lincoln Elem Sch 925 5 Lutz 51552
ROSIN EDWARD R (PEARL R) TREAS & MGR SHAWANO EQUITY CO-OP 925 5 SAWYER® 3767A CH: JOHN 14
ROSIN William A (Amelia W) rtrd 925 5 Lutz® 5155
ROSIN William E sis clk Automotive Supply Co 925 S Sawyer 3767A
ROSNOW Jerry A (Gulnevere) owner Jerry's Live Bait & Liquor Store-aldermn City of Shawano 1040 E Green Bay® 5414A Ch: Jan MarIe 11, Tern Lynn 9, WIlliam Arthur 7
ROSS Henry I (Evelyn C tch Music Center) tray slsmn 732 S Lincoln® 4681A Ch: Martin 12
ROSS Laura R (wid Harry) 918 5 Lutz® 5057A
ROSSOW Edward rtrd 314 W Pine 2861A
ROSSOW Ray R (Rosetta I) shopmn Moede & Sons 708 S Franklin® 4856A
ROTH Clara A (wid William) 214k N Main
ROTH Samuel H Jr (Doris E) company repr Starline Barn Equipment Co 1022 S Main® 5922A Ch: Ellen 14, Jeffrey 10, Gary 9, Warren 7
ROTTER Robert J (Carol V) butcher Packerland Packing Co 1121 S Lincoln® 4377A Ch: Steven 8, ChrIstine 6
ROY'S SERVICE STATION Roy Mahringer & Clarence Neitzel partners 1050 E Green Bay 3914A
RUCH Lena P (wid Herman) emp Shawano Canning Co 1123 S Bartlett
RUCH Paul D studt 1123 S Bartlett
RUECHEL William A (Marie L) rtrd 821 S Smalley® 2955A
RUECHEL WILLIAM E JR (GERTRUDE L) ASST CASHIER SHAWANO NATIONAL BANK 520 W RICHMOND® 5200A CH: DAVID 7, DONALD 3
RUNGE Charles 0 (Amelia A) rtrd 321 E Center® 3448A
RUNGE Herbert W (Kathryn M slswmn Runge Jewelry & Gift Store) owner Runge Jewelry & Gift Store 342 5 Washington® 5139A
RUNGE James B fDarlene A) watchmkr Runge Jewelry & Gift Store 204 S Andrews® 4817A Ch: David 4 Mary 2, Ruth Ann 1
RUNGE JEWELRY & GIFT STORE Herbert W Runge owner 208 S Main 23322
RUNGE John F (Emma M) pt tm wk Gehrke & Montour Sheet Metal 215 S Lincoln® 344Oi
RUNGE Keith A mech Nat & Don Station 116 5 HamlIn 3073A
RUNGE Mary A (wid Adolph) jan Shawano Paper Mills 116 5 HamlIn® 3073A Ch: Dennis 16
RUNGE William L (Ruth L) jeweler Runge Jewelry & Gift Store 925 E 5th St® 4942A Ch: Todd 4, Troy 2
RUNKEL Alma A (wid Peter) 311 E Green Bay® 4066A
RURAL INSURANCE CO Karl Korting & Allen Pitt agents 112k S Main 2091A
RUSCH Carl E (Lila E) owner Oakdale Mink Ranch 921 5 WashIngton® Ch: Sheila 14, William 13
RUSCH Dennis A (Rita A) boner Packerland Packing Co-Green Bay 511 S Union 5722A Ch: Jeffrey 2, JodI 1 • .
RUSCH Eugene J (Bonnie A) emp Badger Breeders Co-op 609 E 5th St® 5953i Ch: Randall inf RU Harold A (MarJ one M repr Avon Prods) utilitymn Wis Gas Co 1031 5 Sawyer® 4542A Ch: James 15, John 11, DanIel 8, Marianne 6, RIchard 2
RUSCH Henry A (Alma A) flremn & engr Hotz Mig Co 1025 5 MaIn® 2964Z
RUSCH Herman (Augusta) rtrd 1024 5 WashIngton® 4768A
RUSCH Isabel W (wid Albert) 4011 5 Andrews 2O71i
RUSCH James L (Loretta D) rtmn Village Farm Dairy 415 W 3rd St Ch: James 8, Robert 7, Dawn 6, Mary Ellen 5, Wayne 3
RUSCH Nell B emp Colson Furs 921 5 Washington RUSCH Robert J (Ellen M) rtrd 310 Zingler®
RUSCH Sheldon (Marlene K emp Eagleknlt Inc) emp Vanderpool's Mink Ranch 1114 S LaFay ette Ch: TIna 2, Tern 1
RUSSELL Arthur H (Josephine K) rtrd 307 W Richmond
RUSSELL Leroy H (Elizabeth M cik Vern's Groc Store) 1132 5 Bartlett® 3065A
RUSSELL'S antiques & food 151 S Main
RUZICKA Joe F (Linda) rtrd 516 S Lincoln@
BYMER Mark rtrd 518 S Union@ 2465
RYSEWYK Albert J (Charlotte E) linemn City of Shawano 1003 S Weed© 3248A Ch: Linda 5,Cindy 5
SACRED HEART CATHOLIC CHURCH Rev Joseph C Schaefer pastor 314 S Main 5329A
SACRED HEART CATHOLIC SCHOOL Sister Helen Clare prin 124 E Center 5328A
SACRED HEART RECTORY Rev Gerard Joseph Van Nuland pastor Reverend Jerome Taddy asst pastor 322 S Main 2023A
SADLER David E (Delilah A) emp Consolidated Badger Co-op 1106 S Weed© Ch: David Jr 17, Lawrence 16, James 14, Michael 13, Joseph 12 , Gregory
SAGER Alma A (wid John R) 218 F Center® 4134A
SAHLOFF Fredreick A (Irene M) emp Hotz Mfg Co 112O S LaFayette©
SAHLOFF Harry F rtrd 1108 S Franklin®
SAHLOFF Raymond A (Martha) mach opr Hotz Mfg Co 935 S Andrews®
ST JAMES LUTHERAN SCHOOL W E Jiede prln 320 S Andrews 4213A
ST JOHN EPISCOPAL CHURCH Rev John 0 Bruce pastor 139 S Smalley 3686A
SALLIS Helen A (wid Clarence) 611 S Bartlett® 5524A
SALZMAN Amelia H (wid August) 127k S Andrews 5417A
SALZMAN Harry R (Hazel L typist Shawano Cty Welfare Dept) mgr Consolidated Serv Stations 614 S Weed 5263A
SALZMAN Judith L btcn Brath's Bty Shop 614 S Weed 5263Z
SALZMAN Laura L (wid John A) 712 S Smalley® 3O19
SALZMAN Susan A studt nurse St Mary's Hosp-Wausau 614 S Weed 5263A
SALZMANN Alma M (wid John) 627 S Union® 5231A
SALZMANN Lloyd H (Arlene E pt tm bkpr Jr High Sch) carrier USPO 915 S Andrews® 44 Ch: Dianne 14, Beth 13, Lee 9, Jan 3
SALZMANN Roy A (Elfiera H recep Shawano Paper Mills) emp Municipal Electric 421 E Zingler 3944 Ch: John 13, Richard 10
SAMP Ervin L (Bernice I) asst supt Shawano Paper Mills 1017 S Bartlett® 3842A Ch: Marlene 15, Shelby 13, Daniel 10, Christine inf
SAMP Rose (wid Robert) 811 S Main®
SAMP William A (Dorothy) rtrd 10354 S Main 4406A
SANDER August 0 (Lucille E corn dept emp Urban Tel Corp) mgr Urban Tel Corp 912 S Main® 5252A
SANDERS James S (Donna J) slsmn Fuller Brush Co 6094 W Eagle 5818A Ch: Anthony inf
SANDS Russell H (Alyce F) rtrd 935 S Evergreen® 2382A
SAUER Anna M (wid Robert) 417k W 3rd St 3768
SAUNDERS Jon L (Katherine 5) agt Metropolitan Life Ins Co 1131 S Cleveland® 4458A Ch: Terry 8, Kay 7, Karen 5, Greg 2
SAWYER NORMAN D (CHARLOTTE M LIBRARIAN SHAWANO LIBRARY) AGRL EXT AGT SHAWANO CTY-UNIV OF WIS 1017 S SAWYER® 2276A
SAXE Darrell planer Hotz Mfg Co 2164 E Division 4435A
SCANLAN Bernard P Dr (Valera) optometrist (ofc) 1274 S Main 4790A (res) 368 Fairview Way® 4798A Ch: Pamela 15
SCANLAN Patrick studt Marquette Univ 368 Falrview Way 4798A
SCHAEFER Joanne tch Jr High Sch 116 S LaFayette 3021
SCHAEFER Joseph C Rev pastor Sacred Heart Catholic Church 322 S Main 2O23
SCHAEWE Manda M emp Howard & Gilbert Poultry 1312 S Sawyer Ch: Debra 8, David 6, Dawn 5
SCHAFBERGER Bernard J (Kathryn A) machine tndr Shawano Paper Mills 615 W Richmond® 3961 Ch: Patricia 13
SCHANDT Alma E (wid Paul) 321 E Green Bay® 3852®
SCHARDT Chester W (Agnes C) emp Lonesome Pine Mink Ranch 1134 S Smalley® 3334® Ch: Mary Lee 15, Marjorie Lou 6
SCHARDT Walter E (Mary Ann) emp Lonesome Pine Mink Ranch 1130 S Smalley® 5604A Ch: Daniel 1
SCHAUDER Arnold A (Iva F emp Schauder's Shoe Store emp Schauder's Shoe Store 228 S Sawyer® 4033®
SCHAUDER Cassy J studt Univ of Wis 416 5 Sawyer 5240A
SCHAUDER FRANKLIN A (ALICE) PARTNER SCHAUDER'S SHOE STORE 403 FAIRVIEW WAY® 4656® CH: FRANCES 12, GAIL 9, PETER 7
SCHAUDER GLENN H (HARRIET M) PARTNER SCHAUDER'S SHOE STORE 226 E MAURER® 4726 CH: CHRISTINE 13, CANDICE 12, STEVEN 9
SCHAUDER LEROY W (BETTY J) PARTNER SCHAUDER'S SHOE STORE 416 5 SAWYER® 524O CH: DEBORAH 11, JEFF 17
SCHAUDER William L studt Carroll Coll 403 Fairview Way 4656A
SCHAIJDER'S SHOE STORE FRANKLIN A SCHAUDER, LEROY W SCHAUDER
AND GLENN H SCHAUDER, PARTNERS 109-111 S MAIN ST PHONE 526-4413
SCHEER Rudy 0 911 5 Franklin®
SCHEfflER William R Jr (Joyce) owner Scheider's Meat Market Rt 3 2569A
SCHEIDER William R Sr (Augusta H) rtrd 408 5 Smalley® 2547®
SCHE1DER MEAT MARKET William R Scheider Jr owner 528 5 Main 4513®
SCHENK Anna pt tip domestic wk 730 5 Cleveland 3866A
SCHENK Martin W clipper opr Iwen Box & Veneer Co 732 S Cleveland®
SCHENK Reirihart W 'Pete" (Lucy M) veneer grader Weber Veneer & Plywood Co 730 5 Cleveland® 3866® Ch: Arthur 16
SCHERBARTH Margaret 1227 5 LaFayette® 5301A
SCHERER Roy J (Dorothy F) owner & mgr Jack Scherer's Bar 922 S Main® 4249®
SCHERER'S JACK BAR Roy J Scherer owner & mgr 111 5 Washington 3629®
SCHEWE Henry A (Pearl A baby sitter) welder Four Wheel Drive-Clintonville 925 N Franklin® 3376 Ch: Bonnie 13, Diane 11
SCHILLING Albert E (Eva) sch bus drvr Grosskopf 224 5 Andrews® 5464A
SCHLUETER Frieda (wid George) 805 E Randall® 3959®
SCFIMEISSER Emily (wid Alfred) 444 5 Franklin® 3534®
SCHMEISSER Hatti M (wid Walter C) 528 SHamlin® 5357A
SCHMEISSER Ralph L (Arline F) printer Shawano Evening Leader-firemn City of Shawano 335 5 Washington® 4153® Ch: Lynn 12, Steven 9, Jean 5
SCHMELING Albert (Nancy) tch St James Lutheran Sch 3O3 E Center 5538®
SCHMIDT Alma E (wid William) 218 5 Andrews
SCHMIDT Arthur J (Marie H) rtrd 621 W 2nd St® 2633A
SCHMIDT Clarence F (Mildred tch Sch Dist #8) lab techn Consolidated Badger Co-op 1022 S Sawyer® 4457 Ch: Michael 15, William 6
SCHMIDT Fred H (Anna L) rtrd 401 5 Andrews® 4448A
SCHMIDT Henry (Alvina) rtrd 1029 5 Main® 2620®
SCHMIDT Hulda 3O8 S Union® 3212t
SCHMIDT James W (Barbara L) ins adjuster Home Mutual-Appleton 1006 S Cleveland® 4618® Ch: Jay 3, Jeff 2, Janet 1
SCHMIDT Lawrence H (Irene) owner Schmidt's Bar 512 5 Union 5053®
SCHMIDT Norman A (Florence) section formn C&NW RR 619 E Center® 2871® Ch: Michael 13, Susan 12, Linda 8
SCHMIDT Viola emp Kenney's Supper Club
SCHMIDT Walter A (Elise RI rtrd 1005 S Lincoln® 4371®
SCHMIDT Warren H (Bernadette L) constn wk F F Maigel Constn Co-Wisconsin Rapids 710 S Bartlett Ch: Maureen 7, Joanne 4, Raymond 2, James 1
SCHMIDT'S BAR Lawrence H Schmidt owner 110 5 MaIn 4694®
SCHMITT Milton J (Janice M) tch Jr High Sch 1023 S Cleveland® 3461® Ch: Jeffrey 7, Jon 4
SCHNEIDER A H MONUMENT CO HATTIE A SCHNEIDER OWNER; GEORGE A SCHNEIDER, MANAGER 518 E GREEN BAY ST PHON 526-2613
SCHNEIDER GEORGE A (SHThLEY A BKPR A H SCHNEIDER MONUMENT CO) MGR A H SCHNEIDER MONUMENT CO 1011 5 ANDREWS® 4837® CH: DEBORAH LYNN 12, ALAN 9, JEFFREY 6
SCHNEIDER HATTIE A (WID A H) OWNER A H SCHNEIDER MONUMENT CO 514 E GREEN BAY 2613A
SCHNEIDER Noreen 424k S Sawyer 3219A
SCHNEPF Jolane L secy American Ins Co-Milwaukee 627 Schurz 3751®
SCHNEPF Joseph P (ElaIne H)slsmn Hilex Co 627 Schurz® 3751® Ch: Joseph A 11, James 5
SCHNESE Louis C Jr (June M) rtmn Morning Glory Dairy 413 S Union® 4601A
Ch: Barbara 17, Patti 13, Rick 12, Jayne 3
SCHNIEDER Elmer (Bernice nurs es aide Shawano Community Hosp) appliance techri Schroeder TV Bx 132 Cecil Wis
SCHNORR DAN A REV (LOIS) PASTOR EVANGELICAL LUTHERAN CHURCH OF ST JAMES 321 5 ANDREWS 5315® CH: MARK 3, PAUL 1
SCHOEDEL Donald 0 (Bernice T clk-typist Shawano Cty Welfare Dept) 4-H 2lub agt Shawano Cty 506 E Elizabeth® 3761®
SCHOENBERGER Nancy bkpr Citizens State Bank res Gresham Wis
SCHOENFELD James E (Delores) constn wk 1229 5 Franklin® 4131® Ch: Linda 12, William 9, lnf
SCHOENFELD Lloyd H (Edna M) carp Gambsky Constn-Neenah & Menasha 1120 5 River® 4651® Ch: Lloyd Jr 15, David 13, Mary 9, Julie 3
SCHOENTICK Eldon G (Marcella M) trk drvr Zimmerman's 408k W 1st St 5930® Ch: Wayne 15, Jerome 10, Keith 2, Rachel inf
SCHOENICK Gust H rtrd 1032 5 Main 3838®
SCHOENICK Roland W (Verna) emp Shawano Cty Hwy Dept Rt 1 Eland Wis
SCHOENING Chester R (Stella M) emp Shawano Paper Mills 1115 5 Barrlett@ 2656t
SCHOENING Donald R (Theresa M) saw opr Heritage Mfg Co 607 S Union® 5737A Ch: Mike 9, Kathy 8, Chris 5
SCHOENING Floyd C emp Weber Veneer & Plywood Co 316 E Maurer® 4727® Ch: Marshal 14, Floyd Jr 17
SCHOENING Wayne F cik Farmers Hardware 316 E Maurer 4727®
SCHOEPKE Ida D (wid Harry W) recep Dr A J Sebesta 932 S Sawyer® 4068®
SCHOFF Arthur M (Mary A) tch Lincoln Elem Sch 418 W Pine 2253A Ch: Peggy 11, Patrick 10, Jackie 8
SCHOMMER Bradford G studt Marquette Univ 511 Fairview Way 5469A
SCHOMMER Florian C (Lorraine A) owner Buck's Liquor Store 511 Falrview Way® 5469® Ch: Douglas 15, Mary Ann 9, Barbara Jean 6
SCHRADER Lee M (Ethel Ml mgr Gambles Store 212 W 3rd St® 3622A Ch: Jan 17, Robert 9
SCHRADER Sherrill 212 W 3rd St 3622®
SCHRANK Arvin L (Marion J) owner Rinehard-Schrank Agency 517 5 Main 5305® Ch: Pamela 12, Sherry 10, Debbie 8, Candy 6
SCHREIBER Harold emp Hotz Mfg Co
SCHRIEBER Lester N (Marjorie J) emp Phenix Mfg Co 513 Anderson® Ch: Brenda 5, Steven 3, Kristi 2
SCHREIBER Merlin L (Janice M) trk drvr John Guex 1011 5 Lutz 4482® Ch: Jeffrey 9, Jan 2, Judy kit
SCHREIBER Norman A (Nora E jan & cook Lincoln Elem Sch) 712 S Hamlin® Ch: Beatrice 16, Wayne 14, Kathy 13, Richard 6
SCHREIBER Roger M (Goldie D) emp Consolidated Badger Co-op 918 5 River@ Ch: Charla 7, Randy 6, Cheryl 4
SCHREIBER Victor J (Mildred L steno Shawano Cty Sheriff's Ofc & Shawano Cty Traffic Dept) barber Fox Point Barber Shop-Neenah 415 W Wescott© 36682 Ch: Sally 16
SCHREIER Ella (wid Henry) 116 E Lieg® 5152A
SCHROEDER Albert W (Frieda A) rtrd 319 W Swan® 55862
SCHROEDER Archie W (Inez L bkpr Schroeder TV & Appliances) owner Schroeder TV & Appliances 142 5 Bartlett® 4260A Ch: Polly 16 (pt tm nurses aide Shawano Community Hosp), Peter 12, Patti 9
SCHROEDER Beth E (wid Herman) 522 5 Sawyer
SCHROEDER Charles emp Selmer Constn Co-Green Bay 413k w Division 34381 SCHROEDER Clara H (wid Clarence) bkpr Chaimson's Inc 413k W Division 3438 SCHROEDER David E (Patsy wtrs Schultz Bros) emp Dey's Inc 115k S Main 5617A
SCHROEDER DONALD (MONNA) PARTNER NAT & DON'S OIL CO-PARTNER NAT & DON'S SKELLY SERVICE RT 2 2974A
SCHROEDER Ernst J 811 Olson® SCHROEDER Evan D mason & carp 522 S Sawyer
SCHROEDER Harley A emp Consolidated Badger Co-op 941 5 River
SCHROEDER Jessie (wid August) 402 W 5th St® 3818A
SCHROEDER Lillie A (wid William) 941 5 RIver® SCHROEDER MARVIN L (VIRGINIA) OWNER SCHROEDER'S GROCERY-OWNER
SCHROEDER'S INSURANCE 219 ANDERSON® 2529A CH: LARRY 17
SCHROEDER Mathilda A (wid Herman) 623 E Randall® 5356A
SCHROEDER Meta M (wid Charles A) 1184 N Andrews 2450A
SCHROEDER TV & APPLIANCES Archie W Schroeder owner 204 S Main 2331A
SCHROEDER'S GROCERY GROCERY STORE MARVIN L SCHROEDER, OWNER 219 ANDERSON AVE PHONE 526-2529
SCHROEDER'S INSURANCE INSURANCE-GENERAL CASUALTY, FIRE, THEFT, AUTO, HOSPITALIZATION, ACCIDENT k4D HEALTH MARVIN L SCHROEDER, OWNER 219 ANDERSON AVE PHONE 526-2529
SCHUELKE ELROY D (PATRICIA E) AGENT NATIONAL GUARDIAN LIFE IN-
SURANCE (OFC) 414 W RICHMOND ST PHONE 526-5211 & (RES) 414 W RICHMOND ST® PHONE 526-5211 CHILDREN: JAN 11, PEGGY 10, STEVEN 7,
SCOTT 6
SCHUELKE Jerome V Dr (Beverly) chiropractor (ofc & res) 106 5 Franklin® 4613A Ch: Jean 7 , Peter 5 , Marcus 3, Roxanne 1 , Kathryn lnf SCHUETTPELZ Emil M rtrd 118 5 Andrews 5775
SCHUETTPELZ Walter F (Irene atndt Shawano Cty Hosp) atndt Shawano Cty Hosp 118 5 Andrews 5775®
SCHUETZKE Minna A (wid Frederick) 611 5 Bartlett 5524
SCHTJLER William C (Louise B) rtrd 215 N LaYayette® 2748A
SCHULKOSKI Richard rtrd 622 E Green Bay 4361A
SCHULTZ Arthur J (Rena E) pt tm plbr Moede & Sons 941 5 Sawyer® 3766A
SCHULTZ Arvin J mach Appleton Mfg Co 512 N LaFayette 3630A
SCHULTZ BROS CO variety store Richard Cook mgr 139 5 MaIn 4320®
SCHULTZ Christine (wid William) 826 5 Evergreen 5734Z
SCHULTZ Frank W (Agnes H) bartender Scherer's Bar 512 N LaFayette® 363OZ
SCHULTZ Fred (Leona nurses aide Shawano Community Hosp) emp Hotz Mfg Co 1219 5 River® 4584Z
SCHULTZ Henry E (Nancy K sis clk Thimke Jewelry Store) emp Hotz Mig Co 117k W Wescott 5976A
SCHULTZ Herman A (Anna M) rtrd 846 Prospect® 3271A
SCHULTZ John A (Shirley A) millwkr Phenix MIg Co 202 5 Lincoln 5610A Ch: Brian 4
SCHULTZ Leon G (ila M emp Eagleknit mc) emp Four Wheel Drive-Clintonville 931 5 Hamlin 2718 Ch: Darlene 16
SCHULTZ Lewis R (Janice D drapery smstrs Dahike Interior Decorating) emp Weber Veneer & Plywood Co 931 S Union® 5660A Ch: Robert 13
SCHULTZ Marvin W (Frieda) asst chief of police City of Shawano 634 Schurz® 3748
SCHULTZ Morris 0 (Ardis E) carp 618 S LaFayette 5065 Ch: William 16, Barbara 14, Diane 10
SCHULTZ Reynold W (Theresa) rtrd 941 5 Washington® 4419A
SCHULTZ Theodore C (Elsie H drapery smstrs Dahlke Interior Decorating) rtrd 925 S Union®
SCHULTZ Terry F atndt West Side Phillips 66 512 N LaFayette 3630A
SCHULTZ William E (Winifred) barber Embarrass Barber Shop 203 N Humphrey Circle® 4655
SCHULTZ William F USA 846 Prospect 3271A
SCHULTZ William F (Audrey emp Continental Club) emp Shawano Cty Hwy Dept 617 Schurz 4363A Ch: William L Jr 6, Karen Ann 8, Bruce 3, Debbie inf
SCHULZ Donald W Dr (Virginia C) phys & surg Marsh Clinic (ofc) 139k s Main 3138A & 3139 (res) 606 W Green Bay 4125A Ch: Mark 7, Robin 5, Kevin 3, Scott 1
SCHUMACHER Alvin P (Ida M) Jan Consolidated Badger Co-op 1207 5 Smalley® 3367A Ch: Daniel 15, Arnold 13
SCHUMACHER Jack J atty (ofc) 148k S Main 2814i (res) Green Bay Rd 3093t
SCHUMACHER Linda M (wid Max) maid Bilmay Motor Hotel 511 5 Washington® 4147A
SCHUMAKER Hildegarde L (wid Archie) 403 SHamlin
SCHUMAKER Pearl A (wid Grover H) 135 5 LaFayette® 4553
SCHUMAN Nels (Cora I domestic) rtrd 144 5 Sawyer 3662A
SCHUSTER Barbara A studt Accredited Sch of Cosmotology 412 W Picnic 4104i
SCHUSTER Betty R bkpr First National Bank 412 W Picnic 4104
SCHUSTER Ella A (wid Alanius A) 418 S LaFayette® 4282A
SCHUSTER Ray H (Irene E) owner Schuster's Home Appliance-mgr Lauerman's 412 W Picnic ® 4104Z Ch: Judy 16, Mary 14, Linda 9, Patty 5
SCHUSTER Richard H (Susan) mgr Schuster's Home Appliance 103 Lake Dr® 5032A
SCHUSTER'S HOME APPLIANCE elec appl Ray H Schuster owner Richard H Schuster mgr 121 S Main 3013A
SCHUTT Ervin A (Myrtle M desk cik Shawano Lndry) trk drvr John Kadletz Lumber Co 920 5 Evergreen® 4665A Ch: Sally 15
SCHUTT Frank F Sr (Amanda D) rtrd 610 5 Evergreen® 3750A
SCHUTT Henry W (Alma M) mach opr Hotz Mfg Co 731 Maiden Ln® Ch: Robert 16
SCHUTZ Mark E emp Shawano Paper Mills 511 S Franklin 2337A
SCHUTZ Pauline Naber (wid Benjamin) 511 5 Franklin® 2337A
SCHWANN Edwin B rtrd 209 S Andrews®
SCHWARTZ August F (Ida W) rtrd 607 W Green Bay® 2746A
SCHWARTZ Emil F (Lillie B) emp Phenix Mfg Co 116 S Weed® 5413 Ch: Charles Bruss 13
SCHWARTZ Herbert C (Martha A dietary aide Shawano Community Hosp) millwk John Kadletz Lumber Co 1126 5 Bartlett® 5724
SCHWEERS Lester D (Virginia L typist II Shawano Cty Dept of Public Welfare) credit mgr Consolidated Badger Co-op & alderman City of Shawano 112 N Franklin® 2834
SCHWEERS Pauline G (wid William) 126k E Green Bay® 3948
SCHWEITZER James coll studt Stevens Point 227 E Center 2832
SCHWEITZER Wilbert E (Esther A lndry wk Shawano Community Hosp) formn Dey's Inc 227 E Center® 2832A
SCHWENKE Lyle E (Selma L) emp Hotz Mig Co 919 N Franklin® 3318 Ch: Randall 9, Michael 7
SCHWENKNER Albert rtrd 846 Prospect
SCHWENKNER William A (Ottella E hsekpr Shawano Community Hosp) rtrd 1310 Waukechon Rd@ 2842
SCHWEPPE Harold B (Nellie) asst genl mgr Consolidated Badger Co-op 707 S LaFayette 492 12
SCHWIETZER Evert W (Lucille M) trk drvr Consolidated Badger Co-op 208 S Hamlin@ 2325A SCHWIETZER Harvey H (Marian G) trk drvr Tony Labinski Distrib Co 415 S Washington 4050 Ch: Jean 12, Jon 10, LInda 8, Connie 5, Susan 3, Sally 1
SCHWITZER George F (Marie L) painter 510 W 5th St® 4633A
SCHWTTZER George Jr (Lila clk Pries Apparel) constn wkr Dey's Ready Mix 301 S Hamlin 53492 Ch: Beverly 16
SCHWITZER Thomas L emp Gresham Paper Mill 510 W 5th St 4633
SCHWOBE Louise 0 (wid Joseph C) 713 E 5th St 3240
SCOTT Merlin J (Helen A) emp Hotz Mig Co 1120 S Water@ Ch: Paul 16, Stephen 10, James 9, Jerome 7, William 6, Charles 5, PatrIcia 4, Deborah 3
SEBESTA Alois J Dr (Bettyellen) phys & surg (ofc) 126k S Main 3313 & 35222 (res) Rt 2 P0 Bx 311
SEDERSTROM Elmer L (Loretta B) grade A plant emp Consolidated Badger Co-op 119 E Maurer® 5463/
SEDERSTROM Gerald L emp John Kadletz Lumber Co 620 W Richmond 4877A
SEDERSTROM Louis N (Thelma) rtrd 620 W Richmond 4877
SEEGER Harry F rtrd 920 N LaFayette® 5241
SEEHAFER Alvis J (Magdalene M cook Sisters of St Joseph) mech Lasch Motors 329 S Saw- yer 2272 Ch: James 17, Margaret 12
SEEHAFER Ben H (Ruby I) emp Weber Veneer & Plywood 217 W Wescott© 2674 Ch: Dale 14, Cheryl 6
SEEHAFER Gerald D emp Eagleknit Inc 205 W Stevens 4259A
SEEHAFER Leon V (Delilah E) emp Bakke's Feed & Seed Co 205 W Stevens® 4259A
SEEHAFER Robert L (Leah Rae) emp Heritage Hardwoods 121k S Washington 3346A Ch: Jamie Arm 1
SEERING William C (Esther E pt tm bkpr Dahike Upholstering-pt tm matron Shawano City- Cty Jail) jailer & desk sgt Shawano City-Cty Jail 423 S Franklin 244Ll
SEIFERT Leon E 107 S Andrews 4831A
SEIFERT Myrtle L (wid Otto) 107 5 Andrews® 4831A
SEIFERT Warren D (Ruth bkpr Spurgeon's Store) caretkr Woodlawn Cemetery 944 S Evergreen® 46071 Ch: James 15, Gerald 9
SELL Angeline L (wid Charles) 812 S LaFayette© 2946
SELL Lydia M (wid Alfred) 616 Schurz@
SELLE Harvard R (Ravena L indry wk Bilmay Motor Hotel) rprmn Ben Skalltzky 921 MaIden Ln 3607 Ch: James 14, Judy 11, Mark 6
SENN Forest V (Lorraine E) painter 1121 5 Bartlett® 2657A
SENZIG Jerry J (Kathleen M) 504k w Richmond 5703 Ch: Gregory J 1
SENZIG Norman (Adelaide) patrolmn Shawano Cty Hwy Dept res Bonduel Wis
SENZIG Paul B (Angeline H asst Paul's Shoe Service) owner Paul's Shoe Service 315 W Green Bay® 4863A
SEVENTH DAY ADVENTIST CHURCH E D Dirksen pastor cor of S River & W Wescott
SEYLER George W Sr (Amelia) rtrd 507 S Smalley® 5344il
SHAFFER Hortense E (wid Freeman) 1046k S Lutz 4943A
SHAMOCO FORD AUTOMOBILE DEALER-NEW AND USED CARS, SALES AND SERVICE GORDON KEYES, PRESIDENT; MARY KEYES, SECRETARY- TREASURER 201 E GREEN BAY ST PHONE 526-3124
SHAMOCO FORD USED CAR LOT Gordon Keyes owner 202 E Green Bay SHANAHAN Walter D (Florence L) rtrd 528k S Main 4795
SHANNON Bruce L (Alice E) stock clk IGA Foodliner 1504 Waukechon Rd® 5675A Ch: Steven Bruce inf
SHANNON Gordon F (Hazel V) painter 913 Olson® 3268A
SHANNON Gordon F Jr (Nancy A) emp Grosskopf Oil Sta 1111 S River® 5537 Ch: Laura 7, Michael 5, Gerald 3
SHANNON Wayne A (Ella May) emp Heritage Hardwoods 203k w 3rd St 5060A Ch: Patrick 1, Paul t
SHATRA Gabe (Ma rtrd 128 N Washington 3338A
SHAW Mary L 133 S Sawyer 3822
SHAWANO ABSTRACT COMPANY ABSTRACTERS TITLE INSURANCE ALVIN J ACHTEN, OWNER 101 N MAIN ST PHONE 52d-2511
SHAWANO ARCADE John S McMahon owner 122 S Main 5592A
SHAWANO AThLETIC FIELD Mrs Pat Pingle recreation dir R C Kroenke head cast cor E Lieg & S Main 5656A
SHAWANO AUTO PARTS Earl Roloff owner 939 E Green Bay 3020
SHAWANO BEAUTY SALON Marie Baum owner 109 E Division 3729A
SHAWANO CANNING CO CANNERS OF FRESH VEGETABLES ALLAN J
WEEMAN, PRESIDENT; GLADDON W PICKETT, VICE PRESIDENT; JACOB
J KLEIN, SECRETARY; KING M WEEMAN, TREASURER 41 5 E GREEN BAY
ST PHONE 526-3161
SHAWANO CHAMBER OF COMMERCE GORDON H KEYES, PRESIDENT; DOROThY R ELLIOTT, OFFICE MANAGER 323 5 MAIN ST PHONE
526-4111
SHAWANO CITY OF CITY HALL 213 E GREEN BAY ST PHONE 526-3512
ATTORNEY-LLOYD G ANDREWS 103 N MAIN ST PHONE 526-3191
CLERK-ARNOLD H KROHN CITY HALL PHONE 526-3512
COMMUNITY HALL - 115 E DWISION ST PHONE 526-5555
FIRE DEPARTMENT-MELVIN E KNOPE, CHIEF 122 N SAWYER ST PHONE 526-3434 MAYOR-EMIL E JUEDES 120 E RICHMOND ST PHONE 526-2811
MUNICIPAL JUDGE-ROBERT H FISCHER 311 N MAIN ST PHONE 526-2161
PARKING LOT - EAST DIVISION ST POLICE DEPARTMENT-HAROLD J PINGEL, CHIEF 117 W 3RD ST PHONE 526-3200 POWER HOUSE-FRANCIS (FRED) DUEBLER, SUPERINTENDENT 122 N SAWYER ST PHONE 526-2313
PUBLIC LJBRARY (CITY AND COUNTY)-ELLA VESLOK LIBRARIAN 128 S SAWYER ST PHONE 526-3829
RECREATION CENTER AND POOL-PATRICIA PINGLE, DIRECTOR 220 E DIVISION ST PHONE 526-5555
TREASURER-ROGER D NACHTWEY CITY HALL PHONE 526-3512
WATER AND ELECTRIC DEPARTMENT-FRED C DUEBLER, SUPERINTEN DENT CITY HALL PHONE 526-2191
SHAWANO CITY SEWAGE DISPOSAL PLANT Martin Zogiman opr S Smalley 2920 SHAWANO CIVIL DEFENSE William Opper dir 300 N Main 3106A
SHAWANO COMMUNITY HOSPITAL DONALD N JOHNSON, ADMINISTRATOR
309 N BARTLETT ST PHONE 526-2111
SHAWANO COUNTY OF
COURTHOUSE 311 N MAIN ST PHONE 526-2161
ABSTRACTER-KENNETH L MARTZKE COURTHOUSE PHONE 526-2161
AGRICULTURAL AGENT-NORMAN D SAWYER COURTHOUSE PHONE 526- 2161
BUILDING MAINTENANCE ENGINEER-EDWARD BARTELT COURTHOUSE PHONE 526-4629
CIRCUIT COURT-ANDREW PARNELL, JUDGE COURTHOUSE PHONE
526-2161
CIVIL DEFENSE EMERGENCY OPERATING CENTER-WILLIAM OPPER, DIRECTOR COURTHOUSE PHONE 526-3106
CLERK OF COURT-WILLIAM F KUMM COURTHOUSE PHONE 526-2161
COUNTY CLERK-NEIL R DRUCKREY COURTHOUSE PHONE 526-2161
COURT REPORTER BRANCH U-RUTH THOMAS COURTHOUSE PHONE
526-2161
DISTRICT ATTORNEY-MiCHAEL J EBERLEIN COURTHOUSE PHONE
526-2161
FAIR GROUNDS - E GREEN BAY ST
FARM BUREAU-GLADYCE KOEHLER, DIRECTOR; C B COONZ, PRESIDENT; MILTON MALUEG, VICE PRESIDENT; CLARENCE KUGEL, SECRETARY- TREASURER 112k S MAIN ST PHONE 526-2091
HIGHWAY COMMISSION-WILLARD TRINXO, COMMISSIONER COURTHOUSE PHONE 526-2161
HOME ECONOMIST-DARLENE G BREHEIM COURTHOUSE PHONE 526-2161
JUDGE BRANCH 1-C BERNARD DILLETT COURThOUSE PHONE 526-2161
JUDGE BRANCH II-R H FISCHER COURTHOUSE PHONE 526-2161
PROBATION OFFICER-JOHN PERREGO COURTHOUSE PHONE 526-2161
PUBLIC HEALTH NURSE-LAURA ADAMS COURTHOUSE PHONE 526-2161
PUBLIC LIBRARY (CITY AND COUNTY)- ELLA VESLOK., LIBRARIAN 128 S SAWYER ST PHONE 526-3829
PUBLIC WELFARE DEPARTMENT-LEO T JELINSKI, DIRECTOR COURT- HOUSE PHONE 526-2161
REGISTER IN PROBATE & COURT REPORTER BRANCH I-HELEN WAGNER COURTHOUSE PHONE 526-2161
REGISTER OF DEEDS-W W BERNDT COURTHOUSE PHONE 526-2161
SHERIFF'S OFFICE-CARL KRUEGER 400 N MAIN ST PHONE 526-3111
TAX DESCRIPTION AND PRINTING-LARVAN H STUEBS, COMMISSIONER COURTHOUSE PHONE 526-2161
TRAFFIC DEPARTMENT-EDWAJuD BARR, CHIEF 400 N MAIN ST PHONE
526-3111
TREASURER-GROVER BEVERSDORF COURTHOUSE PHONE 526-2161
VETERANS SERVICE OFFICER-ALLEN F KERSTEN COURTHOUSE PHONE
526-2161
SHAWANO COUNTY MACHINE SHOP Frank Mielke shop formn Richard Hoffman stock clk Jesse Franklin stock clk 117 W 3rd St 5229
SHAWANO EAGLES AERIE #2304 309 W Division
SHAWANO ELECTRIC MOTOR SERVICE INC Lloyd Thoreson pres Charles McBride secy treas 215 N Main 4016
SHAWANO EQUITY CO-OP * WALTER WOLF, PRESIDENT; EWALD MOEDE
VICE PRESIDENT; CHARLES BROCKMAN SECRETARY; EDWARD R RthIN, TREASURER AND MANAGER E SEWARD T PHONE 526-5115
SHAWANO EVENING LEADER ' NEWSPAPER JEANNE P DONALD, EDITOR AND PUBLISHER; WALTER S DONALD, ASSISTANT ADVERTISING MANAGER
113 E GREEN BAY ST PHONE 526-2121
SHAWANO FINANCE CORP Adolph Kiosterman secy-treas 121k S Main 3412
SHAWANO FUR STUDIO mfg custom furs Rudolph Feuerschutz owner 214 N Main 2414
SHAWANO HOTEL Morris Bystol owner 612 5 Main 8495L
SHAWANO IMPLEMENT CO John Deere implts Emil L Krueger owner 120-126 S Washington 3012
SHAWANO INSURANCE AGENCY I N Olson owner 109k S Main 3115A
SHAWANO JOURNAL PRINTING CO George Frank owner 325 S Main 2214A
SHAWANO JUNIOR HIGH SCHOOL Arnold Gruber prin 210 5 Franklin 3016Z
SHAWANO LAUNDRY & DRY CLEANERS Patrick Martin owner 229 E 5 th St 3913A
SHAWANO LIVESTOCK SHIPPING CORP cattle trucking David Beversdorf pres Henry Dillenberg secy-treas Eldor Kunschke mgr 212 S Bartlett 39932
SHAWANO MATTRESS CO Edward Tomashek owner 1003 5 Smalley 30642
SHAWANO NATIONAL BANK BANK, LOANS, SAVINGS CURTIS BLACK PRESIDENT; CARL F WILKE, VICE PRESIDENT AND CASHIER; WILLIAM E
RUECHEL JR, ASSISTANT CASHIER; CHARLES D MAROHL ASSISTANT
CASHIER 101 N MAIN ST PHONE 526-3177
SHAWANO NEWS AGENCY Irvin Rosenberg owner 138 5 Main
SHAWANO OIL CO Thomas Harvey owner 411 5 LaFayette
SHAWANO PAPER MILL DONALD W LOEFFLER SR, TREASURER ROUTE 3 PHONE 526-2181
SHAWANO PUBLIC SCHOOLS SUPERINTENDENT'S OFFICE Charles Hub supt John Tomasich business mgr 204-210 S Franklin 3195A
SHAWANO REST HOME nursing home Chester & Leona Nowaczyk partners 331 S Main 3529A
SHAWANO SAVINGS & LOAN ASSN E J Fenn secy & mgr 129 N Main 5128Z
SHAWANO SENIOR HIGH SCHOOL Everett F Thomas prin 1050 S Union 2175
SHAWANO SKELGAS • BOTTLED AND BULK GAS GERHARD W BELTZ, BRANCH MANAGER E GREEN BAY RD PHONE 526-2513
SHAWANO STANDARD SERVICE STATION Cinrles Carr owner 128 E Green Bay 4417
SHAWANO TERMINAL WAREHOUSE INC storage Emil Juedes pres 120 E Richmond 2811A
SHAWANO TIRE CO INC Giles Rettler pres John Kerry vice pres Arleigh Rolaff secy-treas 709 E Green Bay 2178A
SHAWANO TIRE CO STATION 606 E Green Bay 2179A
SHAWANO TIRE CO WAREHOUSE 71? E Green Bay
SHAWANO VETERINARY CLINIC Robert Fischer owner 945 E Green Bay 4190A
SHECTMAN MORRIS (GLARUS OWNER GLARUS) HARTMAN APTS RT 3 5422A
SHERVEN Dennis (Kathy) asst mgr Mont Ward 312k N Main
SHOPPER'S GUIDE • NEWSPAPER JOHN A KUCKUK, OWNER 109k S MAIN ST PHONE 526-2320
SHUTES Bessie M (wid William F) 719 S Franklin 5253Z
SICKINGER Edward J (Marie B) plant formn John Kadletz Lumber Co 1424 Waukechon Rd@ 4342A
SIEBER Roy L (Margaret T) rtrd 928 5 Main® 3634i
SIEBER Rueben L (Marjorie L) emp Shawano Street Dept 1132 5 Cleveland® 37572 Ch: Dennis 15, Gary 14, Diane 9, Terry 4
SIEBER Warren emp Shawano Cty Hwy Dept res Tilleda Wis
SIEDSCHLAG Clara E (wid Henry) 417 MI 2nd St® 3652A
SLEDSCHLAG Lydia H (wid Frank H) 319 S Lincoln®
SINCLA REFINING CO Ed Krenger owner 222k N Main 2813A
Sfl Larry A emp Hotz Mfg Co 1006 E Lieg
SINGER Lillian A (wid Rhinold) 722 S Union® 5938A
SINGER Wayne A (Beverly J H) roofer & furnace wk Melvin Knope 5O8 S Washington
SISTER Anthony Joseph Huelsing tch Sacred Heart Sch 317 S Sawyer 2927A
SISTER Gladys Francine Lafser tch Sacred Heart Sch 317 S Sawyer 2927A
SISTER Helen Clare Healy tch Sacred Heart Sch 317 S Sawyer 2927A
SISTER Jeanne Rene Mercier tch Sacred Heart Sch 317 5 Sawyer 2927A
SJSTER John Baptist Kamisato tch Sacred Heart Sch 317 S Sawyer 2927A
SISTER Victoria Joseph Treml tch Sacred Heart Sch 317 S Sawyer 2927A
SISTERS OF ST JOSEPH 317 S Sawyer 2927i
SKALESKI Joseph C emp American Motors-Milwaukee 714 W Picnic
SKALESKI Pauline M Mrs atndt Shawano Cty Hosp 714 W Picnic Ch: Virginia 16
SKALITZKY Alice Mrs emp Cantwell-Peterson Clinic 1119 5 Franklin 2563A Ch: Richard 17
SKALITZKY Ben F (Grace M) owner Ben Skalitzky Service-firemn City of Shawano 201 S Franklin 24712 Ch: Catherine 11, Gayle 8, Michael 5, Kristine 3, Tracy 2
SKALITZKY BEN SERVICE coin-opr dry clng Ben F Skalitzky owner 707 5 Washington 5120A SKALITZKY Cal J (Loretta E) emp Consolidated Badger Co-op 203 E 5th St® 46O8Z
Ch: Frederick 8, Ellen 7, Matthew 5, Calvin 4, Robert 2, Margaret Mary 1
SKALITZKY Dennis F (Karen K) driller Phenix Mfg Co 526 S Union 2715A
SKALITZKY Eugene F USA 1119 5 Franklin 2563A
SKALITZKY Helen G (wid Fred) 203 E 5th St® 4608A
SKALITZKY Henry B brakemn C&NW RR 203 E 5th St 4608A
SKALITZKY Philip J (Alice M) millwkr Shawano Paper Mills 501 5 Smalley 4077A Ch: Debra 7, Susan 4 SKREDE Rachel tch 128 N Washington 3338A
SLATER James H Sr (Marcella C chkr A & P Tea Co) mgr A & P Tea Co 1004 S Evergreen® 3467A
SLICK'S TIRE & RADIATOR SERVICE Joseph G Preslicka owner 115 N Andrews 5131
SMITH Arthur W (Anna A) rtrd 414 5 Main®
SMITH B C SALES & SERVICE office equipment Basil C Smith owner 606 E Lieg 5362A
SMITH Basil C (Elva M) owner B C Smith Sales & Service 606 E Lieg® 5362A
SMITH Beverly R tch Keshena 513k W Picnic 5954
SMITH Elmer boiler tndr & mtce Shawano Cty
SMITH Gerald C USAF 510 W 2nd St 4290A
SMITH Meleda H (wid Russell) wtrs Town Club 510 W 2nd St® 4290A Ch: Jeffrey 17
SMITH Robert emp Hotz Mig Co
SMITH Ruth B Mrs secy Dr W W Mitton 414 E Division 29652l Ch: Pat 17
SMITH Thomas N (Minnie L) rtrd 214 W 4th St® 4734A
SNAPP Leonard E (Carole P) dist supt Mich-Wis Pipeline 1019 5 River 5O24 Ch: Richard 16, Larry 12, Douglas 8, Cindy 6
SNYDER Evelyn pt tm wtrs & bartender Town Club Picnic St
SOMMERFIELD Sophia H (wid Fred C) 105 E Maurer 4468A
SOMMERS Edward H (Jeanette J) parts mgr Shamoco Ford 1041 S Andrews® 4956A Ch: Phyllis 15, Richard 10
SOMMERS Emma L 303 N Franklin® 5351
SOMMERS Hulda Mrs 317k S Andrews 4267A
SOMRAK John (Marie L) rtrd 941 5 Smalley®
SONDERS Ben (Anne J emp Sonders Furniture Co) owner Sonders Furniture Co 1036 5 Lutz® 4838A
SONDERS' FURNITUEE CO Ben Sonders owner 701 5 Main 3813
SONDERS Raymond H studt Univ of Wis 1036 5 Lutz 4838il
SO0 LINE RAILROAD DEPOT R E Lindroth agt 708 E Green Bay 20141
SORENSEN Leona 424 S Andrews® 5244
SOUFAL Gerald J (Carol M secy Orville Luckenbach) emp Wallrich Lumber Co 607 F Lieg® 2794 Ch: Kevin 5, Mary 4
SOUFAL Patrick J (Bonita P) sht mtl mech Mitchell Sheet Metal-Clintonville 503k w Rich- mond 5190t Ch: Cynthia 5
SOUTH MAIN PHILLIPS 66 SERVICE serv sta Franklin Boldig mgr 532 S Main 4929
SOYCK Donald A (Arlene S) formn Weber Veneer & Plywood Co 426 F Zingler® 4188A
SOYCK Donald A Jr 426 E Zingler 4188
SOYCK Robert L emp Urban Tel Corp 426 E Zingler 4188
SPECHT Diane E 514 S Andrews 3245®
SPECHT John A Jr emp Iwen Box & Veneer Co 514 S Andrews 3245
SPECHT John F (Edna E jan Shawano Cty Ct Hse) emp Weber Veneer & Plywood 514 S Andrews® 3245
SPECHT Louis F (Loretta tch) distrib Louis F Specht Shell Oil Co 114 N Humphrey Circle® 4529A
SPENCER John H (Leila) clk C&NW Ry Co 409 E Washington New London Wis
SPERBERG AGENCY THE INSURANCE TO FIT EVERY NEED HENRY SPER BERG OWNER; RONALD SPERBERG, AGENT 126k S MAIN ST PHONE
526-2421
SPERBERG Freida A (wid Frank) 217 W 3rd St 3717A
SPERBERG George H (Viola M nurses aide Shawano Community Hosp) crane opr Shawano Cty Hwy Dept 221 W 3rd St® 4939A Ch: Kathleen 11
SPERBERG Harry A (Beatrice M) contr 405 5 Andrews@ 2427®
SPERBERG HENRY (ELIZABETH) OWNER THE SPERBERG AGENCY 470 LAKE DR 2421A
SPERBERG Katherine C (wid Frank) 228k S Washington
SPERBERG Leroy J (Audrey A) road constn wk Harry A Sperberg 306 N Franklin 3847A Ch: Brian 2, Brenda 1
SPERBERG RONALD (SHARON) AGENT THE SPERBERG AGENCY res CECIL WIS 745-3151A
SPIEGEL Albert H (Ebba W nurses aide Shawano Community Hosp) ofc mgr Consolidated Badger Co-op 126 Circle Dr® 4643A Ch: Penelope 16, Julie 15, Jim 11
SPIEGELHOFF Dale R (Nancy L) tch Jr High Sch 818 5 Evergreen Ch: Matthew 2, Mark 1
SPLITGERBER Arnold W (Lora M) emp Foremost Dairies-Western Condensing Co 908 S Weed® 4375A
SPLITGERBER Robert J (Lorraine R) metermn City of Shawano 1003 5 Washington® 3556A Ch: LeRoy 17, Connie 3
SPLITTGERBER Alma B (wid Gust) 944 S Evergreen St® 4607®
SPLITTGERBER Carl A (Loies V) emp Bakke Feed & Seed Mill 934 5 Hamlin® 3596® Ch: Donna 5
SPOHN Albert P (Effie 5) rtrd 1116 5 Franklin® 5303A
SPURGEON'S STORE dept store Vernon Myrland mgr 127 5 Main 2315A
STACH Ella M (wid Herman) 330 5 Main 2770A
STACH William 0 (Mabel A bkpr Farmers Implement Co) lab supv Consolidated Badger Co-op 817 Prospect® 3578®
STAHLKOPF Ralph (Bernice) trkdrvr Shawano Cty Hwy Dept res Pulcifer Wis
STATDL David G (Vera bartender) 127 5 Andrews 5417A
STAN & BUD'S tavern & restr Stan Tischer & Clarence "Bud" Haupt partners 114 S Main 8592®
STANDARD OIL CO bulk plant Harry Katzenmeyer agt 203 Hill 3414
STARKS Harold J (Elaine C) emp Werbelow Beverages 941 5 Bartlett® 22542l Ch: James 16, Jeffrey 9
STEED Katheryn F (wid George) social wkr Shawano Cty Public Welfare Dept 112 N Franklin 2834A
STEEN Lester H (Ardis J colorist) tch Sch Dist #8 1021 5 Sawyer® 37361 Ch: Robert 7, William 2, Foster ch: Ellen Pahlow 14
STEFFEN Harvey A (Maralyn A) tch Jr -ligh Sch 942 S Sawyer® 5156A Ch: Randall 7, Cynthia 5, Lisa 1
STEFL Rudy (Carol M) emp Badger Breeders Co-op 922 5 Weed® 3357A
STEFONIAK Frank33l S Main 3529
STEINBERG Fred W (Agatha) rtrd 620 W 1st St® 5438A
STEINBERG Louis J (Florence M nurses aide Shawano Community Hosp) mech Shamoco Ford 112 S Lincoln® 4352A
STEINHARDT George J (Nell M) owner Shawano Warehouse & Cold Storage 314 5 Washington ® 2822®

RETURN TO THE SHAWANO GENWEB INDEX PAGE
copyrighted 2007 - atcz