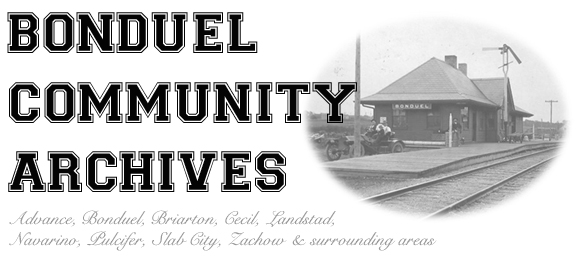 As a member of the Bonduel Community Archives (BCA for short) for several years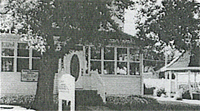 now, I thought I would do a web page explaining a little about the group and their holdings -- this is by no means an official page for the BCA -- just my attempt at some free advertisement for a group of GREAT, HARD-WORKING VOLUNTEERS. This Archive could possibly be one of Shawano County's BEST KEPT SECRETS!!!
A few months back, I received an email from a gentleman in Green Bay looking for some "local history" regarding the Bonduel Hotel. Oliver Griese is the son of one of the former owners, Charles Griese.
The following information was graciously researched by Bev Fink and the Bonduel Community Archives -- one of the many PERKS of being a BCA member is receiving a copy of their newsletter "The Historian". This newsletter is a real gem -- it covers local businesses, local folks and loaded with great historical & genealogical information, including the following data on the Bonduel Hotel.
---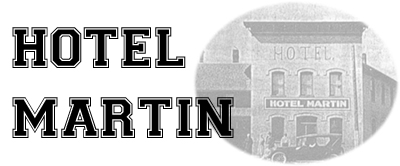 ---
BCA "The Historian"
VOLUME 4 NUMBER 3 -

WINTER 1996

GUST MARTIN HOTEL (The Bonduel House -

Gust Martin Prop, Bar room in connection.)

In 1877 Louis Bocher built a tavern with a second floor dance hall. He later added on, making it a hotel as well. This hotel was later owned by Kilen, Lemberg, Strahlow and then sold to Gust Martin.

The purchase of this hotel by Gust Martin took place in 1901 and he operated it for 25 years. His hotel was one of the most successful small town hotel businesses in the state and was well known by tourists.

Located at the corner of Green Bay St. and Appleton Street (Cecil St.), the Gust Martin hotel occupied a prime location. Through the early 1900's, this hotel catered to the many traveling salesmen who came in on the train and were transported by the Otto Brusewitz dray and livery operation into Bonduel. Those traveling through Bonduel on horse, or horse and carriage, and later automobile also quickly took note of this strategically located hotel and its fine service.

In the summer of 1909, Gust built a large brick barn behind the hotel, large enough to accommodate 60 horses. At the same time he tore down his ice house and made a new one in one of his stables. He also built a laundry house back of the hotel the same year.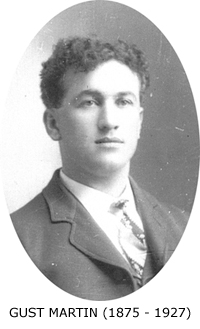 Martin's hospitality and famous chicken dinners became popular with local residents as well.
He sold his business to Charles Griese who took possession May 1, 1927.
BIBLIOGRAPHY
Gust Martin was born August 15, 1875 at Neurenberg, Pommern, Germany and came to America with his parents when he was six years old. They first settled in the Township of Hartland where they lived for a short period and then moved to the Township of Waukechon where he was reared to manhood. He attended the St. Paul's
Christian Day School and was confirmed by Rev. Ebert. He married Hattie Buelow of the Township of Washington, January 21, 1902. This marriage was blessed with seven children. He died July 16, 1927.
Gust served as a director of the Bonduel State Bank and was a good citizen of the village.
Photographs (thanks, Bev!)
If you have any you would like to add, just email me!
Return to SHAWANO INDEX PAGE - ATCz 2009