The LAKE DRIVE, Wescott Twp., CEMETERY PAGE has been compiled from various sources... Debbie has updated & compiled more names & data from many different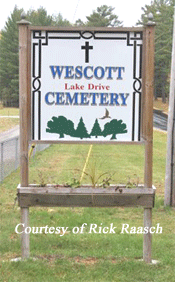 sources... a true compilation. If you have headstone information or obituaries that you would like linked to this page, email me and we'll add them. And many thanks to Debbie ©2006-2009 for all of her research on this cemetery -- this is one of several that Debbie has done for us. She saw we were just missing a couple from our CEMETERY PAGE and took up the challenge -- many thanks!
A little bit about the cemetery... Wescott Twp. was officially created in 1901, named after one of Shawano's pioneers, Chas. Wescott. The cemetery itself is a "newer" cemetery and by newer, I mean most of the interments are after the 1930s. This is DEFINITELY NOT A COMPLETE LISTING for this cemetery as graves are added continuously. If you have information about a person interred here but not listed here, please email me and we'll update the page. And if we have missed a veteran with our
, let me know and we'll correct it.
And, thanks to Rick Raasch who has sent in dozens of photographs. We can build virtual cemeteries, one photograph at a time!

---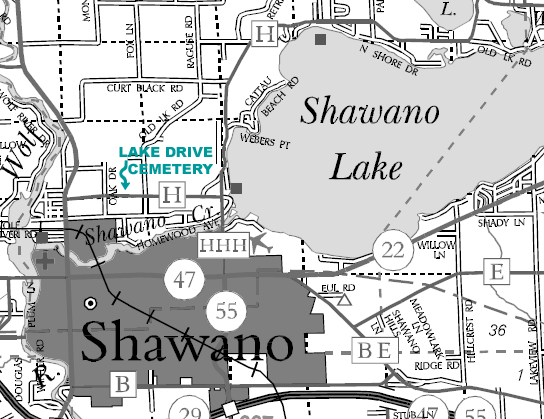 GPS Coordinates: Latitude: 44.79360, Longitude: -88.59470
NOTE: ossw = On Same Stone With w/ = with (buried next to) m. = married

SURNAME
GIVEN NAME
BIRTH DATE
DEATH DATE
ADDITIONAL INFORMATION
ACHENBACH
Walter J.
December 11, 1902
December 1, 1972
ADELBUSCH
Chester K.
July 5, 1924
July 31, 2002
married Joyce J. Kastner
AGGEN
Raymond E.
July 24, 1924
April 13, 2006
WWII US ARMY
ALLENDER
Dale Eugene
November 6, 1943
ALLENDER
Robert
August 22, 1949
Age 6 days
ANDERSON
Pauline A.
March 19, 1904
January 3, 1991
ANKER
Irvin E.
November 29, 1912
February 18, 1976
ossw Sylvia
ANKER
Sylvia R.
May 4, 1916
July 28, 1984
ossw Irvin
ARONSON
Harry
August 10, 1911
January 11, 1968
w/ Mary
ARONSON
Mary
January 2, 1916
March 16, 1969
w/ Harry
BARTLINE
Alfred F.
March 6, 1888
September 21, 1966
w/ Grace
BARTLINE
Grace A.
1890
February 27, 1971
w/ Alfred
BAUMBACH
Leida E.
May 2, 1913
June 15, 2008
nee FRUENDT
BAUMBACH
Oscar T.
November 24, 1907
July 12, 1989
m. Leida E.
BEAUMIER
Dominic J.
June 16, 1953
May 15, 2002
married Joan Ziemer
BEVERSDORF
Bernice
1919
nee KLEBERG
BEVERSDORF
Victor C.
July 19, 1918
July 14, 1969
ossw Bernice
BOELTER
Louise D.
July 26, 1900
June 15, 1991
w/ Rudolph
BOELTER
Rudolph G.
May 1, 1895
April 11, 1970
w/ Louise
BOHM
Donald Ervin
July 29, 1936
December 7, 1972
BOHM
Lester E.
1914
October 22, 1966
w/ Myrtle
BOHM
Myrtle J.
May 24, 1917
August 29, 1999
w/ Lester
BOHM
William
1890
June 3, 1959
BRACKOB
Emma
1890
January 24, 1973
ossw John
BRACKOB
John
1882
1953
ossw Emma
BRAUN
Beverly M.
October 29, 1926
August 6, 2006
nee LUBOW
BRAUN
Wallace A.
March 17, 1919
June 30, 2005
S SGT US ARMY WORLD WAR II
BREITRICK
Wallace E.
April 28, 1923
March 12, 2002
SGT US MARINE CORPS WORLD WAR II
BREYER
Jack J.
Januray 17, 1885
May 1, 1968
BREYER
Margaret
December 25, 1905
July 7, 1975
BRINGE
David L.
November 12, 1950
December 5, 2008
m. Dawn Brown
BRINGE
Robert J.
January 25, 1924
June 24, 2001
PFC US ARMY WORLD WAR II
BRODER
Alma
October 6, 1888
June 1, 1979
w/ George
BRODER
George J.
November 5, 1891
November 11, 1975
w/ Alma
BROWN
Edna M.
July 20, 1915
November 18, 2002
nee KERSTEN
BROWN
Jay C.
April 8, 1912
July 17, 1983
w/ Edna
BROWN
Jerry L.
1943
1968
w/ Jay & Edna
BRUGGINK
Eugene H.
February 6, 1924
May 17, 2004
3RD ASST ENGR US MERCHANT MARINE WORLD WAR II
BUCHHOLZ
Alma
1893
1970
w/ Walter
BUCHHOLZ
Harry
November 17, 1922
September 27, 2000
PFC US ARMY WORLD WAR II
BUCHHOLZ
Norine
1922
w/ Harry
BUCHHOLZ
Walter M.
May 2, 1896
March 23, 1988
w/ Alma
CARPENTER
Harry Jr.
December 27, 1919
October 25, 2001
SGT US ARMY AIR FORCES WORLD WAR II
CARPENTER
Vivian A.
November 3, 1919
March 19, 2005
nee OLSON
CARR
Faith
November 28, 1961
December 18, 1961
CASEY
Everett T.
January 9, 1904
March 21, 1977
WISCONSIN EC5 TECH SCH SQ AAF WWII
CHILDS
Susan C.
June 30, 1949
April 16, 2004
married Merlyn Childs
CONRAD
Gertrude
1902
w/ John P.
CONRAD
John P.
July 17, 1909
1974
w/ Gertrude
COPSEY
David J.
March 2, 1959
February 5, 2009
son of Kathleen & Everett
CULVER
Allen M.
1880
June 6, 1963
w/ Elizabeth
CULVER
Elizabeth
July 28, 1887
August 29, 1973
nee BARTELT
CULVER
Jean
July 10, 1924
August 18, 1947
w/ Lester
CULVER
Lester
February 6, 1909
January 26, 1980
w/ Jean
DARM
George G.
May 12, 1900
January 13, 1977
ossw Laura
DARM
Laura
1901
August 30, 1964
ossw George
DETTMAN
Hermene O.
December 22, 1890
November 24, 1962
w/ Oscar;nee GUENZEL
DETTMAN
Oscar C.
August 16, 1893
April 8, 1968
w/ Hermene
DEVER
Earl E.
March 15, 1902
August 1, 1978
w/ Elsie
DEVER
Elsie F.
December 25, 1905
August 1, 1987
w/ Earl
DEY
Dale L.
1954
November 4, 1973
Son of Darwin & Bernice
DEY
Ella M.
May 13, 1902
October 9, 1972
w/ Herman E.
DEY
Herman E.
January 21, 1902
September 27, 1972
w/ Ella M.
DOBBS
Louis
May 10, 1912
September 5, 1990
ossw Rose
DOBBS
Rose
January 12, 1922
October 17, 1971
ossw Louis
DODGSON
Sam
1878
1961
DORAN
Cecilia T.
June 2, 1912
August 26, 2002
nee SCHAFBERGER
DORAN
G. E.
Genevieve Ellen???
DRAKE
Edna V.
1892
July 12, 1970
nee CARTER
DRAKE
Irvin
April 3, 1916
August 19, 1993
US MERCHANT MARINES
DRAKE
Ray H.
September 19, 1887
February 23, 1970
ossw Edna
DRAKE
Victor
November 11, 1918
September 15, 1981
US ARMED FORCES
DRUCKREY
Helen Jean
June 11, 1928
July 20, 1989
w/ Roger
DRUCKREY
Roger A.
August 1, 1927
August 26, 1978
w/ Helen J.
EARLY
David O. Jr.
August 21, 1947
May 2, 2005
SP5 US ARMY VIETNAM
ECKLUND
Joyce A.
1914
August 10, 1966
Joyce THIES
ECKLUND
Nels A.
1882
1955
ossw Rose
ECKLUND
Rose
1891
1957
ossw Nels
EINREINER
John
June 1, 1899
July 14, 1981
Chicago Obituary
EINREINER
Kenneth S.
April 19, 1919
February 21, 1978
w/ Martha Oct. 4, 1941
EINREINER
Martha L.
January 1, 1921
March 18, 2003
w/ Kenneth S.
ERICKSON
Eric B.
February 2, 1907
August 11 , 1893
w/ Lilly F.
ERICKSON
Lilly F.
January 25, 1913
April 2, 1978
2nd husband Salzman
FELTZ
Otto
1884
1956
FEUERSCHUTZ
Charlotte
1909
1987
w/ Rudolf H.
FEUERSCHUTZ
Rudolf H.
1906
1991
FRANCIS
Lowell W. Jr.
September 13, 1958
Only Date Given
FRANK
Isabell
1915
1947
ossw Warren
FRANK
Warren S.
February 15, 1908
January 30, 1991
ossw Isabell
FRITZ
August H.
March 31, 1885
February 13, 1970
w/ Emily
FRITZ
Dewey A.
June 26, 1921
March 15, 1964
FRITZ
Emily
1883
May 16, 1960
w/ August
GESKE
Dorothy H.
November 5, 1918
February 7, 1988
ossw Raymond H.
GESKE
Raymond H.
February 15, 1911
October 31, 1970
ossw Dorothy
GLIENKE
Arthur
26 nov 1894
February 9, 1960
GORECKI
Barbara J.
October 14, 1937
March 14, 2007
nee STRUSS
GRAMZA
James R.
February 8, 1947
March 31, 2009
US ARMY VIETNAM
GROSSKOPF
Arbutus R.
1932
1998
GROSSKOPF
Frederick
1928
1984
GRUBER
Loraine
November 3, 1920
June 1, 1992
nee TEMPLE
GRUBER
Robert A.
February 13, 1919
September 23, 2005
married Lorraine
HAMANN
Charles J.
1896
July 11, 1974
w/ Edna
HAMANN
Edna Selma
February 6, 1903
January 24, 1985
w/ Charles
HAMER
Agnes S.
June 14, 1911
April 8, 2003
w/ Howard Edgar
HAMER
Howard Edgar
September 22, 1893
December 20, 1977
w/ Agnes S.
HANNEMAN
Lois Mae
1934
1958
Dau of Edna & Clarence
HANNEMANN
Edna
May 14, 1909
March 27, 2001
nee SCHUETTPELZ
HARING
Anna
February 2, 1895
June 3, 1978
ossw Kenneth
HARING
Kenneth
September 26, 1896
1968
ossw Anna
HARTMAN
Alfred C.
March 31, 1919
August 30, 2004
T SGT US ARMY WORLD WAR II
HARVEY
Gale F.
July 25, 1900
July 18, 1969
HAUK
Alyce
1902
July 12, 1965
ossw Floyd
HAUK
Floyd
January 31, 1899
March 2, 1982
ossw Alyce
HEFTRIG
Leona W.
February 3, 1915
March 21, 2002
nee MORRASCH
HEFTRIG
Raymond G.
July 20, 1913
May 20, 1980
ossw Leona W.
HEIN
Charles H.
1895
March 24, 1962
ossw Marie
HEIN
Marie
November 26, 1898
June 1, 1987
ossw Charles
HOFFMAN
Beatrice I.
1913
June 30, 1972
w/ Eugene
HOFFMAN
Eugene K.
June 16, 1911
October 17, 1981
w/ Beatrice
HOUPT
Ira B.
July 17, 1904
June 24, 1976
w/ Mabel
HOUPT
Mabel V.
August 8, 1908
March 10, 1984
w/ Ira B.
HOWSER
Evelyn
August 12, 1911
July 4, 1998
IHRCKE
Barbara F.
1941
April 10, 1966
Barbara TETTING
JACOBSON
Carl R.
June 27, 1898
April 15, 1971
w/ Jeanette
JACOBSON
Jeanette V.
August 21, 1910
March 15, 2000
w/ Carl
JAHNKE
Christ
December 25, 1891
November 5, 1975
JOHANNES
Arthur H.
October 22, 1895
May 30, 1966
JONES
Howard H.
February 23, 1926
December 14, 2002
RCT US ARMY KOREA
JONES
Russell W. Sr.
March 13, 1922
December 11, 1997
S1 US NAVY WORLD WAR II
JORGENSON
Alvin Martin
December 30, 1908
June 5, 2002
married Evelyn Berg
KEENEY
Dillard F.
July 8, 1911
June 14,1991
married: Eunice I.
KEENEY
Eunice I.
June 29, 1917
December28,1986
w/ Dillard F.
KNAUER
Charles
July 28, 1904
January 1, 1975
ossw Charlotte
KNAUER
Charlotte
August 22, 1907
October 28, 1975
ossw Charles
KNOPE
James M.
May 15, 1922
October 15, 1991
KNOPE
Margie M.
December 20, 1923
April 29, 2006
nee PARKER
KNUDSEN
Charles M.
1891
June 30, 1967
ossw Sigrid
KNUDSEN
Sigrid
1890
July 13, 1970
ossw Charles
KOWALESKI
Geraldine S.
August 15, 1930
October 6, 2002
married Roman "Ray"
KOWALESKI
Roman "Ray"
July 28, 1908
November 12, 1990
married Geraldine
KRUEGER
Albert E.
January 12, 1917
May 1, 2000
KRUEGER
Baby Boy
August 2, 1967
KRUEGER
Delmer E.
November 8, 1924
September 6, 2005
TEC 5 US ARMY WORLD WAR II
KRUEGER
Edwin M.
1934
1948
KRUEGER
Fred W.
June 12, 1924
November 12, 2003
S SGT US ARMY WORLD WAR II
KRUEGER
Gary J.
January 6, 1944
June 25, 2002
PVT US ARMY
KRUEGER
Gladys B.
May 9, 1898
November 4, 1979
nee WILSON
KRUEGER
Joy
1949
February 16, 1972
ossw Wesley
KRUEGER
Kim Marie
1958
March 9, 1955
w/ Joy & Wesley
KRUEGER
Lenora
1924
June 29, 1962
ossw Fred
KRUEGER
Marcella O.
August 17, 1915
Januray 15, 2001
nee MARANA
KRUEGER
Milton
April 23, 1901
February 22, 1983
m. Clara Norton
KRUEGER
Wesley
1946
ossw Joy
KRUEGER
William F.
July 21, 1896
October 12, 1981
w/ Gladys
KUEHN
Arnold R.
September 14, 1915
April 8, 1995
KUEHN
Martha L.
January 1, 1921
March 18, 2003
Boelter / Einreiner
KUZYCK
Alice Mae
September 5, 1972
w/ Anton
KUZYCK
Anton
December 25, 1870
April 20, 1965
w/ Alice Mae
KUZYCK
Eleanor
1882
1952
LA BODA
Charles
December 28, 1874
January 12, 1953
son of Mathias LA BODA
LAACK
Dorothy H.
March 9, 1912
February 19, 1988
w/ Edmund
LAACK
Edmund A.
August 27, 1907
February 2, 1981
w/ Dorothy
LAKE
Frank
1865
1945
ossw May
LAKE
Fred H.
May 23, 1896
April 1, 1975
w/ Fred
LAKE
Mabel A.
1915
1954
LAKE
May
1874
1950
nee HUNTER
LAKE
Olive
March 1896
May 15, 1964
nee NORTON
LARSEN
Ervin C.
December 28, 1922
January 16, 2001
married Herthal Krueger
LARSON
Carla M.
August 29, 1932
October 3, 2008
2nd m. Rev. Larson
LARSON
Myla Mae
1931
February 22, 1971
nee SCHRANK
LARSON
Rev. Elmer C.
November 29, 1929
November 6, 2008
w/ Myla Mae
LEMKE
Donna Rae
September 29, 1940
August 9, 2005
nee THORESON
LEMKE
Roland
December 20, 1937
4/?/1975
Buried in Rockford, IL
(Thanks Phyllis Thoreson Heitkamp)
LISCH
Irene
January 2, 1914
December 31, 1999
ossw William
LISCH
William
August 9, 1908
October 31, 1988
ossw Irene
LOEHLE
Curtis E.
1885
1948
w/ Hattie
LOEHLE
Hattie
w/ Curtis
LOW
Mary Elizabeth
October 31, 1941
December 10, 1941
MAHLOCH
Pamela Jean
January 11, 1947
February 25, 2002
nee BALDOCK
MARCKS
Colia G.
April 21,1886
November 28, 1967
ossw Frank; nee WILSON
MARCKS
Florence A.
September 16, 1917
November 14, 1972
ossw Thomas W.
MARCKS
Frank
1882
1953
ossw Colia
MARCKS
Thomas W.
September 1, 1914
May 17, 1982
ossw Florence
MAROTZ
Herbert H.
March 11, 1920
April 23, 2000
AERM2 US NAVY WORLD WAR II
MAROTZ
Marjorie E.
September 16, 1923
February 4, 2001
nee KOHN
MAROTZ
Thomas H.
1950
May 30, 1976
son of Herbert & Marjorie
MARQUARDT
Anna M.
1923
w/ Clifford F.
MARQUARDT
Clifford F.
March 25, 1918
December 24, 1978
w/ Anna M.
McBRIDE
Raymond
November 1, 1898
October 25, 1962
McCAULEY
Pauline
June 18, 1911
June 1, 1983
w/ Roy J.
McCAULEY
Roy J.
August 12, 1886
May 4, 1972
w/ Pauline
McDONALD
Alice May
1878
1950
MEVERDEN
Jerome E.
April 6, 1931
February 12, 2005
m. Delores Lohrengel
MEYER
Albert John
January 15, 1888
March 16, 1961
MIELKE
Arthur A.
1888
July 21, 1978
w/ Mary & Theodore
MIELKE
Charles
1880
1938
w/ Harriette
MIELKE
Harriette
1864
1946
w/ Charles
MIELKE
Mary K.
December 22, 1899
December 24, 1993
w/ Arthur & Theodore
MIELKE
Theodore
January 16, 1891
December 22, 1967
w/ Mary & Arthur
MILLER
Donald J.
October 12, 1919
October 1, 1998
CPL US ARMY WORLD WAR II
MILSAP
Douglas W.
October 13, 1920
October 15, 1972
w/ Wallace & Isabele
MILSAP
Isabele E.
September 2, 1894
September 6, 1985
w/ Douglas & Wallace
MILSAP
Wallace J.
31 August 31, 1895
June 26, 1968
WWII ARMY SGT
MOESCH
Clara
1881
December 18, 1965
ossw Henry
MOESCH
Elaine M.
August 6, 1913
February 17, 2006
nee OLSON
MOESCH
Gerald E.
January 22, 1936
February 5, 2008
US ARMY KOREA
MOESCH
Henry
1870
1955
ossw Clara
MOESCH
Joyce E.
October 9, 1942
November 16, 2000
nee DIEDRICH
MOESCH
Oscar
October 3, 1907
January 11, 1987
married Elaine M.
MOLTHEN
Fred
Januray 20, 1887
May 29, 1974
MOLTHEN
Jacob F.
January 19, 1887
May 28, 1974
CPL US ARMY
MOLTHEN
Mary A.
August 15, 1891
October 5, 1981
MONTOUR
Celia
1898
October 19, 1963
Cecilia nee FRITZ; ossw William L.
MONTOUR
Charles
July 2, 1949
74 yrs. 8 mos.
MONTOUR
Deborah Jane
July 22, 1953
March 6, 2000
nee FERRY
MONTOUR
Frances E.
August 31, 1913
August 29, 2001
nee SMITH
MONTOUR
Gordon R.
1905
September 29, 1961
MONTOUR
Minnie
1874
1956
w/ Charles
MONTOUR
Terry
1938
Only Date Given
MONTOUR
Tom
September 10, 1951
March 6, 2000
married Deborah Jane
MONTOUR
William L.
April 2, 1900
June 10, 1966
ossw Celia
MONTOURE
John C.
January 13, 1902
December 15, 1976
w/ Lorena
MONTOURE
Lorena J.
October 15, 1907
January 19, 1988
w/ John
MORK
Floyd M.
November 26, 1903
August 23, 1969
ossw Mary
MORK
Mary T.
1907
October 26, 1971
ossw Floyd
MURRAY
Nicholas J.
September 15, 1895
September 20, 1966
w/ Ottilla
MURRAY
Ottilla
January 18, 1898
September 8, 1975
w/ Nicholas
NORTON
Calvin "Art"
October 27, 1913
January 5, 1985
married Sadie
NORTON
Clyde E.
April 6, 1915
March 29, 1977
w/ Mary E.
NORTON
Dewey S.
June 24, 1900
February 27, 1974
w/ Effie M.
NORTON
Effie M.
July 6, 1908
March 21, 1993
w/ Dewey
NORTON
Hattie E.
August 15, 1907
Jul 1995
ossw/ Vernon
NORTON
Jessie C.
January 31, 1901
May 27, 1973
w/ William
NORTON
Mary Elizabeth
December 9, 1913
November 25, 1985
w/ Clyde E.
NORTON
Mattie E.
1889
October 6, 1960
w/ Ruby
NORTON
Richard C.
1938
1956
NORTON
Ruby F.
1891
April 30, 1972
w/ Mattie
NORTON
Sadie R.
November 29, 1919
February 15, 2008
nee LAKE
NORTON
Vernon F.
March 2, 1913
April 1, 1977
ossw/ Hattie
NORTON
William E.
1892
May 2, 1964
w/ Jessie
OHRMUNDT
Ervin A.
October 17, 1933
March 10, 1958
w/ Roland
OHRMUNDT
Roland
1900
1947
w/ Ervin
OLSON
Leona E.
1912
August 28, 1965
ossw Leslie
OLSON
Leslie J.
July 9, 1914
December 10, 1998
ossw Leona
OWENS
Emma
June 4, 1893
May 7, 1975
w/ Ray F.
OWENS
Ray F.
1890
1958
w/ Emma
OWENS
Ray J.
1914
1957
w/ Verona
OWENS
Verona
October 24, 1915
February 14, 2009
w/ Ray J.
OWENS
Verona Viola Flora
October 24, 1915
February 14, 2009
nee BUETTNER
PAPETTI
Joyce C.
November 10, 1937
April 13, 2005
nee BURRELL
PARKER
Lucy R.
May 10, 1900
December 24, 1976
PATTERSON
Leatrice Joan
September 30, 1937
May 10, 1996
nee ASKDAL
PATTERSON
Robert J.
March 13, 1931
January 8, 2007
married Leatrice
PAYNE
Elsie
1884
March 20, 1961
ossw Thomas
PAYNE
Thomas
May 10, 1897
April 20, 1976
ossw Elsie
PERSINSKE
Agnes
August 3, 1901
February 18, 1989
w/ Reinhart
PERSINSKE
Reinhart W.
February 3, 1890
September 23, 1962
w/ Agnes
PETERMAN
Louis F.
September 15, 1891
October 1, 1977
ossw Meta
PETERMAN
Meta H.
September 30, 1892
?20 March 1986?
ossw Louis
PETERSON
Allen C.
March 7, 1911
August 30, 1998
PFC US ARMY WORLD WAR II
PETERSON
Laura T.
1919
w/ Owen
PETERSON
Owen F.
March 28, 1920
February 4, 1964
w/ Laura
PETERSON
Richard W.
October 27, 1909
March 6, 2005
married Gladys S. Olson
PETRICH
Gertrude
1895
April 14, 1969
ossw Robert
PETRICH
Robert R.
April 2, 1895
April 30, 1975
ossw Gertrude
PHILLIPS
Arthur E.
1882
May 23, 1959
w/ Sadie
PHILLIPS
Sadie L.
1888
May 14, 1966
w/ Arthur
PIORKOWSKI
Carl W. L.
December 11, 1939
October 6, 2004
PVT US ARMY
PLUDEMAN
Agnes B.
November 6, 1917
January 12, 1983
w/ David & Bernard
PLUDEMAN
Bernard G.
December 22, 1912
October 29, 1968
w/ David & Agnes
PLUDEMAN
David A.
1946
February 5, 1976
w/ Bernard& Agnes
PONCHAUD
Clifford A. Sr.
June 25, 1926
July 8, 2007
m. Shirley Mae Dodt
PRANGE
Betty Jean
1928
w/ Charles E.
PRANGE
Charles E.
May 17, 1914
March 8, 1976
w/ Betty Jean
PRIEM
Emma M.
1885
1968
w/ Herman
PRIEM
Herman H.
1884
December 18, 1969
w/ Emma
RAASCH
Andre A.
January 11, 1938
January 26, 2004
w/ Phebe Ann "Dot"
RAASCH
Arnold A.
September 3, 1889
April 30, 1964
ossw Hattie
RAASCH
Edward H.
March 7, 1912
August 25, 2005
SGT US ARMY AIR FORCES WORLD WAR II
RAASCH
Gladys M.
1922
1983
w/ Ralph T.
RAASCH
Hattie H.
May 17, 1895
February 1, 1986
nee MIELKE
RAASCH
Lucille M.
1924
March 6, 1969
w/ Edward H.
RAASCH
Paul M.
1962
July 25, 1967
RAASCH
Phebe Ann "Dot"
October 13, 1938
February 27, 2002
w/ Andre A.
RAASCH
Ralph T.
1917
1989
w/ Gladys M.
RADDANT
Laura
1900
1966
ossw Robert
RADDANT
Robert
October 6, 1895
November 2, 1963
ossw Laura
RADKE
Anna M.
1876
January 28, 1966
w/ Ferdinand
RADKE
Ferdinand
1857
1940
w/ Anna
RAEDER
Edward W.
June 9, 1893
May 11, 1952
w/ Flora
RAEDER
Flora D.
1903
February 26, 1962
w/ Edward
RAEDER
Leland G.
October 22, 1947
September 7, 2006
son of Wm. & Lily
RAEDER
Leland Jr.
November 7, 1972
Only Date Given
RAEDER
Lillie A.
1903
April 16, 1969
ossw William
RAEDER
Robert E.
October 20, 1927
May 22, 2001
PFC US ARMY WORLD WAR II
RAEDER
William
September 14, 1894
August 1, 1975
ossw Lillie
RAGUSE
Richard E.
April 25, 1935
February 10, 1973
w/ William & Violet
RAGUSE
Violet Sophia
April 12, 1901
February 15, 1968
nee CARTER
RAGUSE
William H.
March 27, 1891
March 31, 1978
w/ Violet & Richard
RAGUSE
William R.
January 28, 1927
April 27, 2001
S2 US NAVY WORLD WAR II
REDLIN
Betty L.
December 29, 1938
May 12, 2002
nee ROBERTS
REDLIN
Roy G.
May 7, 1934
September 23, 2000
AO2 US NAVY KOREA
REINKE
Frederick P. Jr.
December 2, 1916
July 7, 1997
TEC 5 US ARMY WORLD WAR II
REYES
Rhonda Mae
1955
March 21, 1961
REZABEK
Edward
September 17, 1928
May 11, 1995
REZABEK
Nancy Ann
March 14, 1933
September 5, 2006
nee RISNY
RHODES
Ralph Henry
March 12, 1904
October 6, 1978
RICHARDS
Arthur J.
June 14, 1896
March 13, 1961
RICHARDS
Casper W.
August 7, 1910
January 1, 1960
RIGGIO
Francis T.
April 6, 1941
January 11, 2008
son of John & Julianna
RISKE
Frank
June 29, 1879
9/?/1968
ROBBINS
Fred
1894
1946
ROBBINS
Herbert M.
June 9, 1896
October 29, 1968
w/ Olga
ROBBINS
Meta
1897
March 5, 1972
ROBBINS
Olga
January 7, 1899
January 22, 1978
nee SCHEIL
ROBBINS
Shirley J.
January 19, 1922
February 13, 2008
nee DRAPER
ROCKMAN
Peder H.
February 26, 1880
March 31, 1952
ROCKNER
Irma
1904
May 24, 1971
ossw Lloyd
ROCKNER
Lloyd A.
September 26, 1901
June 17, 1971
ossw Irma
ROHDE
Benjamin F.
March 21, 1972
Only Date
ROSS
Jess L.
1878
1942
RUSCH
Ellen M.
March 23, 1890
December 15, 1969
ossw Robert
RUSCH
Mathilda
1890
June 12, 1970
ossw Paul
RUSCH
Paul
May 3, 1890
September 1, 1969
ossw Mathilda
RUSCH
Robert
April 14, 1888
June 15, 1966
ossw Ellen
SCHEIL
William
1872
1939
SCHMIDT
Esther A.
August 23, 1918
April 5, 1998
nee KAROLCZAK
SCHMUDE
Dora H.
1889
January 29, 1959
SCHMUDE-OTTO
SCHMUDE
Earl R.
August 13, 1892
February 7, 1969
w/ Dora
SCHOENFELD
James Butler
October 8, 1963
November 4, 1963
SCHRANK
Alfred
March 22, 1907
December 4, 1989
ossw Connie
SCHRANK
Connie H.
January 4, 1908
May 15, 2000
nee HELGESON
SCHULTZ
Dorothy J.
1910
1996
w/ William F.
SCHULTZ
Emil
1891
1955
SCHULTZ
William F.
1902
1999
w/ Dorothy J.
SCHULTZ
William F. Jr.
October 12, 1932
July 7, 1998
A1C US AIR FORCE KOREA
SEIDLER
Elaine M.
June 10, 1933
November 11, 2007
nee DANIEL
SEIDLER
Melvin
March 6, 1930
May 14, 2007
married Elaine M.
SEIDLER
Melvin J.
March 6, 1930
May 13, 2007
US ARMY KOREA
SHEPARD
Calista
August 18, 1903
December 1, 1974
ossw James
SHEPARD
James
August 20, 1902
February 1, 1986
ossw Calista
SKALITZKY
Bernice E.
November 8, 1910
January 7, 1977
w/ Ferdinand
SKALITZKY
Ferdinand W.
April 11, 1908
May 30, 1986
w/ Bernice
SMITH
Ella Mae
January 30, 1917
March 8, 2005
nee BABCOCK
SMITH
James J.
July 29, 1916
February 10, 2000
PFC US ARMY WORLD WAR II
SMITH
James John
July 29, 1916
February 10, 2000
married Ella Mae
SOMERLOT
Julia
1877
March 9, 1961
SORENSON
Laura
1896
1968
w/ Rudolph
SORENSON
Robert W.
1923
March 29, 1967
SORENSON
Rudolph
August 27, 1895
December 20, 1970
w/ Laura
SPOHN
Albert P.
April 5, 1891
May 19, 1978
w/ Effie S.
SPOHN
Anthony Albert
January 22, 1943
April 2, 1959
Son of ? & Rose Louise
SPOHN
Effie S.
April 12, 1900
October 28, 1981
nee MOESCH
ST. CLAIR
Edith
August 11, 1912
November 6, 1975
ossw Eugene
ST. CLAIR
Eugene
1876
March 26, 1965
ossw Edith
STANIFORTH
Beatrice K.
1927
w/ Thomas; nee SMITH
STANIFORTH
Cecelia
March 25, 1898
May 1, 1967
w/ Thomas P.
STANIFORTH
Thomas J.
January 6, 1924
March 29, 2002
WWII Marine Corps
STANIFORTH
Thomas P.
February 27, 1905
April 22, 1905
w/ Cecelia
STARK
Evelyn
1915
2008
nee Bergner
STARK
Joseph
1902
1992
married Evelyn June 30, 1945
STAUB
Doris E.
1923
w/ Rueben P.
STAUB
Rueben P.
September 5, 1923
December 6, 1969
w/ Doris E.
STEINHARDT
Clayton
May 12, 1912
February 15, 1999
ossw Isabel
STEINHARDT
George
December 3, 1881
December 16 1973
ossw Nell
STEINHARDT
Isabel
1914
March 12, 1976
ossw Clayton
STEINHARDT
Nell M.
March 3, 1883
September 3, 1977
ossw George
STRAUSS
Berthold
1868
1954
STRAUSS
Caroline A.
August 8, 1902
November 2, 2001
Dau of Berthold & Emma
STRAUSS
Eleanor Louise
October 31, 1922
November 5, 1982
Headstone is pretty fieldstone w/ white heart
STRAUSS
Emma
1876
1952
nee SCHUETTPELZ
STRAUSS
Franklin Emil
October 23, 1915
May 7, 1982
ossw Eleanor Louise nee Beversdorf
STRAUSS
Henry F.
February 12, 1896
June 4, 1965

Wisconsin PFC Co. E 9 Ammo TN 9 Div. World War I

STRAUSS
Irene
June 29, 1914
May 26, 2001
Dau of Berthold & Emma
STRAUSS
Margie S.
March 18, 1922
June 4, 2001
nee DENN
STROEBEL
Dolores Ann
February 12, 1931
August 15, 2003
nee BUECHLER
STROEBEL
Frederick H.
July 3, 1929
February 24, 1992
m. Dolores Ann
SUEHRING
Hildegard M.
March 26, 1919
January 24, 2002
nee EHLERT
TEMPLE
Arnold S.
June 24, 1888
June 13, 1977
ossw Bertha
TEMPLE
Bertha
May 14, 1891
August 18, 1976
ossw Arnold
TEMPLIN
Elbert
August 30, 1912
June 3, 1985
TEMPLIN
Isabel
August 22, 1915
March 14, 2003
nee BEILKE
THIEDE
Adolph R.
January 20, 1893
November 1, 1970
ossw/ Mandie
THIEDE
Mandie W.
November 13, 1891
November 1, 1986
ossw/ Adolph
THOMPSON
Lois "Lulu"
September 6, 1944
May 17, 2000
nee DOBBS
THOMPSON
Sadie M.
January 12, 1932
January 11, 1996
w/ William H.
THOMPSON
William H. Jr.
1927
1973
m. Sadie nee NORTON
THORESON
Everett
April 4, 1916
December 10, 1978
THORESON
Shirley N.
June 10, 1910
May 5, 1989
ossw/ Viola
THORESON
Viola M.
May 15, 1913
September 8, 1997
(Thanks Phyllis Thoreson Heitkamp)
THORESON
Floyd A.
March 4, 1905
September 9, 1981
ossw/ Eunice L.
THORESON
Eunice L.
July 8, 1915
December 27, 1998
(Thanks Phyllis Thoreson Heitkamp)
THORNE
Dora
1901
1955
ossw John
THORNE
John V.
June 25, 1894
January 25, 1973
ossw Dora
TILLIGKEIT
Frank Robert
1910
December 22, 1961
TIMM
Bertha
1880
August 24, 1964
ossw William
TIMM
William
1875
1953
ossw Bertha
TIMM
William J.
May 8, 1875
August 7, 1953
m. Bertha Erdman
TINSMAN
Delores C.
November 14, 1915
November 6, 2000
nee BRAATZ
TISCHHAUSER
Alice M.
1924
1957
TOURTILLOTT
Hellen M.
1908
November 22, 1972
TOWNE
Susan
January 1, 1896
December 29, 1970
Mother
TREPTOW
Terri Lee
1950
1952
VERHEIN
Beverly R.
August 18, 1930
March 2, 2007
nee NELSON
VERHEIN
Russell
April 6, 1926
August 15, 1989
married Beverly
VIERBRICKER
Bernard
1872
1941
VOGT
Arthur C.
July 20, 1917
June 4, 1984
married Irene
VOGT
Irene
September 11, 1921
July 19, 2000
nee HANNEMAN
WASSENBERG
George H.
February 10, 1913
February 22, 2001
married Olive Beckman
WASSENBERG
Olive G.
March 25, 1913
February 26, 2004
nee BECKMAN
WEITERMAN
Donald K.
July 29, 1932
July 2, 1999
A1C US AIR FORCE KOREA
WILBER
Alex
March 3, 1899
February 12, 1971
WILBER
Amos J.
September 15, 1914
October 24, 1957
w/ Delilah
WILBER
Delilah
November 1, 1914
March 11, 2001
w/ Amos
WILBER
Delilah M.
November 1, 1914
March 12, 2001
nee RAASCH
WILBER
Mary
February 28, 1965
WILBER
Mary E.
September 1, 1925
November 13, 2002
nee STEVENS
WILBER
Robert A. Sr.
December 15, 1911
July 18, 1986
WILKS
George
Age 4 years 8 mos.
August 1861
Son of W. & H. A.
WILKS
James
Age 7 years 6 mos.
July 1, 1861
Son of W. & H. A.
WILLET
Baby Boy
1953
WILLET
Dawn Marie
1957
WILLET
Frances A.
1919
1966
WILLET
George D.
1910
WILLIAMSON
Samuel H.
August 27, 1885
April 19, 1959
WILSON
Frieda L.
May 14, 1897
July 12, 1978
ossw Thomas; nee FROEMMING
WILSON
Thomas H.
January 22, 1896
September 27, 1959
ossw Frieda
WIRTZ
Alma J.
February 15, 1918
June 14, 1975
ossw Mitchell
WIRTZ
Clara
April 2, 1882
January 15, 1968
ossw Edward
WIRTZ
Edward F.
1881
March 30, 1962
ossw Clara
WIRTZ
Mitchell R.
July 23, 1912
November 1, 1977
ossw Alma
WOODS
Frank LeRoy
January 19, 1874
June 21, 1956
w/ Tena
WOODS
Tena
1888
July 3, 1960
w/ Frank LeRoy
ZIEMER
Ernst W.
1899
April 19, 1963
ossw Margaret
ZIEMER
Margaret
June 27, 1905
May 26, 1983
ossw Ernst
ZIMMERMANN
Lydia B.
July 28, 1902
w/ Walter
ZIMMERMANN
Mildred
March 20, 1919
October 5, 2003
nee ROBBINS
ZIMMERMANN
Walter L.
September 8, 1899
February 13, 1969
w/ Lydia
Debbie ©2006-2009 - ALL RIGHTS RESERVED