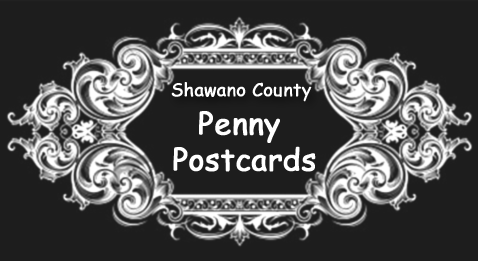 I simply LOVE old postcards... I remember as a little girl, looking through musty and dusty shoeboxes in the basement, wondering about the faces & places of a past era. WHO were these people & WHAT were their lives like? And WHERE were these places? It wasn't until many years later that I realized these were "Penny Postcards" because they required just 1¢ to mail. Now, with the age of faxes and emails, who even gets a written letter anymore, not to mention a card with the sender's family or town pictured on it. This truly is a long lost art of a simpler era... ENJOY THE POSTCARDS and if you have ANY you would like to share, just email me!

The first postcard in the United States was created in 1893 to advertise the World's Columbian Exposition in Chicago. Shortly thereafter the United States government, via the United States Postal Service, allowed printers to publish a 1-cent postcard (the "Penny Postcard"). A correspondent's writing was allowed only on the front side of these cards.
1901 brought cards with the word "Post Card" printed on the reverse (the side without the picture). Written messages were still restricted to the front side, with the entire back dedicated to the address. This "undivided back" is what gives this postcard era its name.

The "divided back" card, with space for a message on the address side, came into use in the United States in 1907. The back is divided into two sections, the left section being used for the message and the right for the address. Thus began the Golden Age of American postcards, which lasted until about 1915, when World War I blocked the import of the fine German-printed cards.

The "white border" era, named for obvious reasons, lasted from about 1916 to 1930. The "linen card" era lasted from about 1931 to the early 1950's, when cards were primarily printed on papers with a textured surface similar to linen cloth. The last and current postcard era, which began about 1939, is the "chrome" era, however these types of cards didn't begin to dominate until about 1950. The images on these cards are generally based on colored photographs, and are readily identified by the glossy appearance given by the paper's coating.

And, here's how to navigate the site... when I first started this, we had a few postcards and it didn't make too much sense to organize them by areas -- Live and Learn (big grin). So, now to make navigating the site easier, I've added a drop down box where you can select the AREA... it'll take you to the page(s) where the postcards are displayed. What you will see are THUMBNAILS -- just click on the small thumbnail picture to see the LARGER ORIGINAL SCAN. And we ALWAYS welcome your additional postcards!
Enjoy!