Many thanks to Tina for sending in this picture. We have no clue to the identity -- Tina found it at a Milwaukee consignment shop and sent it in to the Shawano GenWeb Project to try to find out who the young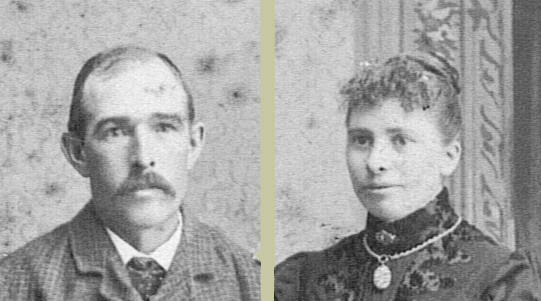 couple were. Because our site has about 1000 hits per week, she thought we might have an excellent chance at finding out who these folks were. The studio was C. A. Spicer - Clintonville & Wittenberg.
Tina, we appreciate the chance to help with this project and we welcome any other "yet-to-be-identified" pictures that our researchers would like to share. Tina just scanned in the photo and we did the rest...
We've enlarged the photo to show the details of the faces... also, just click on the above photo to see the larger original -- and I LOVE that dress! So very detailed & lovely! We "guessed" this as being wedding photograph as the young woman does have a simple gold band on her hand...
If you can identify the couple, just send me an email and we'll update the page. Anne