As much as can be determined from the meager church records of the congregation, in the forthcoming August of this year it will be 40 years since Lutherans of Shawano and vicinity were provided by Lutheran pastors with Word and Sacrament.
The first pastor to assume spiritual responsibility for local Lutherans was Pastor P.H. Dicke, who, according to a church record book of that time, here performed the first child baptism August 18, 1867. He continued to serve Lutheran families of this area for the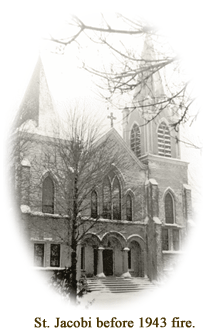 following ten years, in addition to his many other small congregations and preaching places. His successor was Pastor Stute, who served local Lutherans three years, 1877 – 1880.
Pastor C. F. Ebert, who already served Belle Plaine and Bonduel, now took over the pastoral duties for the Shawano Lutherans, and served them faithfully for 8 years, from 1880 – 1888. Thereupon the congregation decided to call its own resident pastor. This they did by calling candidate Pastor Theo. Nickel directly from Concordia Seminary, St. Louis. The congregation, at the time of the call had a voting membership of 24. Three years later, in 1891, the voting membership had grown to 51, in addition to 9 nonvoters and 17 women (independent).
Up to now the pastors had given the children rudimentary religious instruction and Christian training, particularly preparing them for confirmation, but Pastor Nickel, who had started a parochial school in 1889 and taught it for ten years, prevailed on the congregation to call a regular Christian day-school teacher. Accordingly, Herman Gehner, who had just graduated from Addison Teachers College, was called as the first regular teacher of St. Jakobi Congregation, and installed into office by Pastor Nickel on January 2, 1898. Teacher Gehner opened school January 10 with an attendance of 59 pupils.
Pastor Nickel served the local congregation for 13 years, from 1888 – 1901, when he received a call from the Lutheran congregation in Eudenda, Australia, which he accepted.
Pastor E. Hanow, who had left the Eudenda congregation and returned to the United States for health reasons, was called to be Pastor Nickel's successor. Pastor E. Hanow served St. Jakobi up to New Year's Day, 1906, a period of 5 years (1901 – 1905)
St. Jakobi congregation now sent a call to Pastor Fr. F. Selle, Instructor at the Lutheran Academy, Wittenberg, Wisconsin, which he accepted. He was installed by Pastor Carpinsky of Belle Plaine on Pentecost Sunday in June, 1906.
The current statistics of the congregation are as follows:
Pastor: Fr. F. Selle
Teachers: Herman Gehner; Frieda Mueller. School attendance = 96
Church Elders : Alb. Gustmann, Carl Dallmann, Gust. Handt
School Board: Wm. Steinberg, Franz Jaeckel, Carl Ramlow
Trustees: Aug. Mayer, Wm. Schenk, Wm. Trapp
Treasurer: Herman Krause
Collection of Offerings: Ramlow, Boettcher, Schoenrock
Church Janitor: Alb. Gustmann
Secretary: Wm. Regling
Voting Membership of the congregation
| | | | |
| --- | --- | --- | --- |
| 1. Alb. Beversdorf | 26. John Ludwig | 51. Fred Steinke | 76. Martin Baumann |
| 2. Fr. Berndt | 27. Emil Lauersdorf | 52. Wm. Staub | 77. Herman Buth |
| 3. Carl Dallmann | 28. Aug. Meyer | 53. Carl Schoenrock | 78. Ferd. Boettcher |
| 4. H. Debban | 29. Aug. Mielke | 54. Carl Stach | 79. Jul. Beversdorf |
| 5. Alb. Dobbs | 30. Frank Mielke | 55. John Schreiber | 80. Wm. Beversdorf |
| 6. Wm. Dobbs | 31. W.H.G. Mueller | 56. Fried. Strausz | 81. Aug. Littmann |
| 7. Aug. Dobbs | 32. Chas. Mehlhorn | 57. John Steffrie | 82. Bern. Nikolaus |
| 8. Carl Golleir | 33. Otto Moede | 58. Herm. Schroeder | 83. Alb. Kuhn |
| 9. Alb. Gustmann | 34. Herm. Marotz | 59. Alb. Sommers | 84. Fred Ollmann |
| 10. Wm. Hacker | 35. Carl Pahl | 60. Gust Seloeneck | 85. Otto Ollmann |
| 11. Julius Hahn | 36. Aug. Peters | 61. Lewis Schultz | 86.Fritz Umland |
| 12. John Horn | 37. Carl Peters | 62. John Spohn | 87. Aug. Beyer |
| 13. Wm. Horn | 38. Herm. Raddant | 63. Chas. Schultz | 88. Lorenz Schenk |
| 14. Wm. Hermann | 39. C.G. Raddant | 64. Wm. Schmidt | 89.Wm. Schenk |
| 15. H. Haut | 40. Wm. Raddant | 65. Emil Schmeisser | 90. Aug. Forsch |
| 16. Anton Hartmann | 41. Wm. Regling | 66. Julius Schultz | 91. Otto Forsch |
| 17. F.A. Jaeckel | 42. Otto Regling | 67. Wm. Trapp | 92. Ed. Zingler |
| 18. Geo. Klebesadel | 43. Carl Ramlow | 68. Carl Trippel | 93. Jul Zingler |
| 19. C. Klems | 44. Wm. Reichel | 69. John Tiemer | 94. Gust Zingler |
| 20. Herm. Krause | 45. Carl Runge | 70. Carl Wenzel | 95. Wm. Zahn |
| 21. Rud. Krause | 46. R.P. Rohloff | 71. Wm. Wenzel | 96. H.F. Zernicke |
| 22. Carl Krause | 47. C.A. Raisler | 72. Aug. Soycke | 97. Otto Gottschalk |
| 23. Lewis Krueger | 48. Gust Raasch | 73. Gust Handt | 98. Teacher Gehner |
| 24. Gust Kleemann | 49. Wm. Steinberg | 74. Carl Gehrke | 99. Pastor F. Selle |
| 25. Herm. Krening | 50. Fred Steinberg | 75. John Glawe | |
Non-voting male members approx. 35; Female members approx. 30

Members of the Building Committee: C.A. Raisler, Fr. Steinke, Geo. Klebesadel, G. Kleemann, Alb. Gustmann, Herm Raddant, Aug. Beyer, Fr. F. Selle

Architect: C.C. Fritz Building Contractor: G.H. Fleck
Laying of Foundation: Regling Bros.

The dimensions of the new church were 110 ft. by 52 ft., with an anticipated seating capacity of approx. 800 persons.

The New School
This year also saw the erection of a new two-story Christian day school, 30 ft. by 54 ft. The members of the building committee for this project were: F. Jaeckel, Carl Schoenrock, Wm. Horn, Wm. Mueller, Aug. Beyer, Gust. Handt, Herm. Marotz, Teacher Gehner and Pastor Selle.
The building plans were designed by architect C.C. Fritz and the building contractor was G.H. Fleck. The masons for this project were William and John Horn.

Ladies Aid
St. Jakobi congregation has had a Ladies Aid for a number of years. The following is its present membership:
1. President: Miss B.C. Raddant
2. Vice President: Mrs. Franz Jaeckel
3. Treasurer: Mrs. Teacher Gehner
4. Secretary: Mrs. Albert Gustmann
5. Mrs. Bertha Klebesadel
18. Mrs. Klostermann
31. Mrs. Pastor Selle
6. Mrs. Garbrecht
19. Mrs. Kleemann
32. Mrs. Bedeau
7. Mrs. Netzul
20. Mrs. Buth
33. Mrs. Kessler
8. Mrs. Sommers
21. Mrs. R.P. Rohloff
34. Mrs. Mittelstaedt
9. Mrs. Fried. Schwerrs
22. Mrs. Werbelow
35. Mrs. Mueller
10. Mrs. Reichel
23. Mrs. Lewis Kruueger
36. Mrs. Marotz
11. Mrs. John Horn
24. Mrs. C.H. Raddant
37. Mrs. Schewe
12. Mrs. Jul. Raddant
25. Mrs. Alb. Beyer
38. Mrs. Mahringer
13. Mrs. Staub
26. Mrs. Glawe
39. Mrs. R. Faushe
*14. Miss Rubush
27. Mrs. Herm. Krause
40. Mrs. Wm. Raddant
15. Mrs. Wm. Horn
28. Mrs. Fr. Rohloff
41. Mrs. Ramlow
16. Mrs. Brenner
29. Mrs. Fr. Dengel
42. Mrs. Wm. Regling
17. Mrs. Weinig
30. Mrs. Hy. Dengel
43. Mrs. Glifford
* #14 &#18 are exchanged.
THE CONSTITUTION OF THE LADIES AID

1. The name of this organization is: The Ladies (& Jungfrauen) Society of the Evang. Luth. St. Jakobi Congregation of Shawano, Shawano Co., Wis.
2. The aims and objectives of this organization are:
a. mutual encouragement in Christian living
b. group sharing of edifying, entertaining and instructional experiences, and participating in charitable endeavors.
3. Only women of the congregation, faithful in Word and Sacrament, may be received as members.
4. Meetings take place the first Thursday of each month. Sessions begin at 2 o'clock and close at 5. The president is in charge of the opening and the closing of sessions.
5. Dues are 10 cents per month.
6. Election of officers takes place in the first meeting of a new year. The four officers to be elected are: president, vice president, secretary and treasurer.
7. The president acts as chairperson during meetings; the secretary keeps a record of the minutes of each meeting; and the treasurer has charge of all monetary assets of the organization and must give quarterly reports. Money may be paid out only when countersigned by the president.
8. A committee of 3 is elected every six months, who may be contacted in cases of sickness.

Top Officials in the year 1907 were:
President of the U. S.: Theodor Roosevelt
Governor of Wisconsin: Davidson
Mayor of Shawano: Edward Sommers
---
The foregoing report was written in the German language in 1907 by Pastor Fr. F. Selle to be enclosed in the cornerstone of the new church.
They were translated in 1987 by Teacher Hilbert A. Handrich for the occasion of the cornerstone laying of the new narthex of the church.
This document was retyped and provided by Paul Wollangk, archivist at St. James Lutheran Church and teacher at the Christian Day School of the congregation.

N.B. Teachers Gehner, St. Jakobi. Shawano; Mundinger, St. Paul, Bonduel; and Wm. Handrich, St. Martin, Clintonville were
close, personal friends, dating back to their Addison Teachers College years in the late 1890's, and now the three teachers
had their choirs participating in the festival church dedication services. The translator of the foregoing report, son of Teacher Wm. Handrich, was then a 2-year-old toddler, but very likely a very lively participant in the festivities. H.A.H
N.B. The typist taught at St. James with H.A. Handrich from 1968-1972 and knew him during his retirement in Shawano celebrating his 90th birthday with him and other faculty members as well as serving on a committee with him for the 90th anniversary of the school. P.W.
---