The World War II Memorial in Washington D. C. honors the 16 million who served in the armed forces of the U.S., the more than 400,000 who died, and all who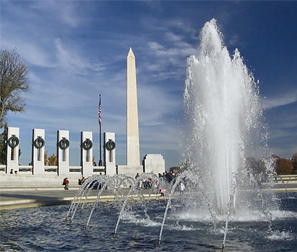 supported the war effort from home. Compared to the other memorials in Washington, D. C., the WWII Memorial is LARGE -- it sits on 7.4 acres. The actual memorial includes 56 tall white pillars arranged in 2 semi circles. Each identical 17 foot tall white pillar is inscribed with the name of one of the 48 U.S. states of 1945, as well as the District of Columbia, the Alaska Territory and Territory of Hawaii, the Commonwealth of the Philippines, Puerto Rico, Guam, American Samoa, and the U.S. Virgin Islands. The northern arch is inscribed with "Atlantic"; the southern one, "Pacific." Each white pillar is adorned with a bronze & granite wreathe. Spectacular in its elegant & majestic, yet simplistic, design.

Many thanks to Mary at the NARA for sending this project to us... please feel free to use it for your PERSONAL research and/or use on your official Wisconsin GenWeb Project sites.