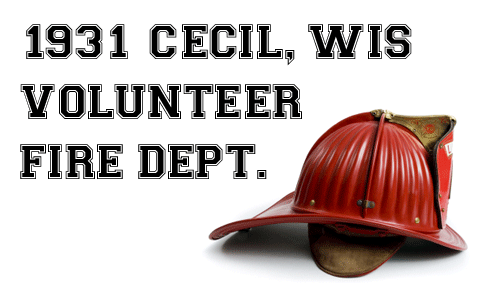 ---
This has to be one of my best finds as of late -- while up on eBay, I found a postcard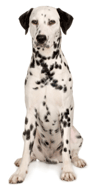 of the 1931 Cecil Volunteer Fire Department at Camp Tivoli just outside Cecil. Very cool as it was but it still gets even better! The postcard was sent to my mother's first cousin Walter Laedtke while he was serving in the military aboard the USS Wyoming!
So here it is folks -- and I'm hoping you can help identify the people in the picture. Picture Postcards are so very awesome but even better yet is when you can attach a name to the face. And like the sender of the card says "You know most of these people..." Just send me an email with the correct number and name and we'll update this page -- I'm HOPING we can identify most of these men!
Also, if you know more information on Camp Tivoli, I'd like to add that to the page as well. Camp Tivoli was on Loon Lake, near Shawano Lake in Wisconsin -- it was once the oldest Catholic boys camp in the Midwest and was founded in 1925 by Walter E. Scott. A short distance away was Camp Tekawitha which was the girl's camp.
And, if you have any single or group photos or postcards that you would like to share and have identified by our researchers online, just email me for the details!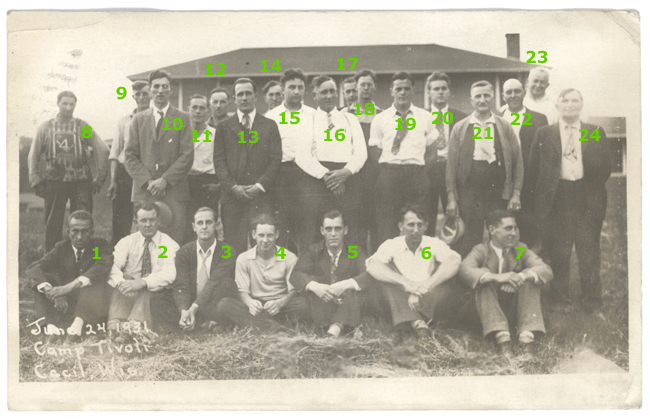 Click here for a LARGER version of this picture for easier identification.
And if you know the identity of any of these men, please email me and we'll add their names to their photos!
UNIDENTIFIED #1
JOE PETERMAN?
Cecil Postmaster
UNIDENTIFIED #2

UNIDENTIFIED #3

UNIDENTIFIED #4

UNIDENTIFIED #5

IDENTIFIED #6
Ruben Schmidt
UNIDENTIFIED #7

UNIDENTIFIED #8

UNIDENTIFIED #9

UNIDENTIFIED #10

UNIDENTIFIED #11

UNIDENTIFIED #12

UNIDENTIFIED #13

UNIDENTIFIED #14

UNIDENTIFIED #15

UNIDENTIFIED #16

UNIDENTIFIED #17

UNIDENTIFIED #18
(wearing eyeglasses?)

UNIDENTIFIED #19

UNIDENTIFIED #20

UNIDENTIFIED #21
(possible mustache?)

UNIDENTIFIED #22

UNIDENTIFIED #23

UNIDENTIFIED #24
---
Postcard Back:
Postmarked August 7, 1931 4 p.m. Cecil, Wis.
"Hello Walt, The _ _ _ _ of the Cecil V. Fire Dept. B _ _ _ _ _ _ _ _ _ at Camp Tivoli, June 12th. You know most of them. Best Regards, From Mrs. _ _ _ _ eSebellen
Mr. Walter A. Laedtke
Marine Detachment
U.S.S. Wyoming
c/o N. Y. Postmaster
New York, N. Y.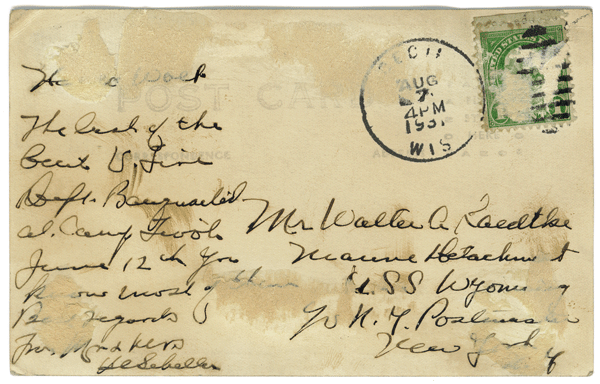 ---