In the late 1800s in Shawano county, FAMILY CEMETERIES were a very common occurrence and this is the perfect example of one. The following is an excerpt from Memories of Old Angelica that explains the history completely...
"Another cemetery, Rest Haven, as told to me by Mrs. Kenneth Magee, is one of the earliest burial plots in this township. An 1873 date carved on a gravestone there is misleading because this child, Willie Magee, who died of scarlet fever, was first buried in Shawano and later moved to a plot of land set aside jointly by the Prickett and Magee families, where their land joined and adjacent to the old Military Road from Shawano to Fort Howard, to be used as a burial ground.
The Prickett side was Catholic and mainly people of Indian heritage while the Magee side was Protestant. Both sides were considered family plots; though when the relationships are checked, it is apparent that many buried here are related by ties of friendship or marriage only.
James Magee and his brothers and sisters owned a lot of land along the Military Road on either side of the Prickett farm and around the little cemetery. There is a log house still standing a short distance east of the cemetery which was built by these early settlers from Canada by way of Two Rivers to Angelica.
There is little doubt that the cemetery is old and many legends have grown up around it that are impossible to verify or disprove. Many are logical and fitting to the times historically so they could well be true but we have no way of proving them.
As the years went by, the cemetery grew slowly but it was carefully tended. The Prickett family and relatives moved away and their side began to fall into neglect.
Jay Lutsey, whose mother was a Magee, was instrumental in incorporating this cemetery and in building a little chapel. He gave the cash for the building and members of the cemetery association gave the labor necessary to build it. An additional piece of land was given by Hugh Magee, Jr. to enlarge the cemetery.
Before the incorporation of the cemetery and for many years after, Robert A. Magee, at first alone and later with his wife Olga, devoted a great deal of time and care to the cemetery and since their death others of the family have continued this tradition."
Since this is a compiled listing using obituaries, etc., if your relative is interred here, we'll add them to the list, just email me. And many thanks to Debbie ©2009 for compiling and sending this in to us -- this is one of several that Debbie has done for us.
THIS PAGE IS NOT TO BE COPIED IN ANY MANNER and RE-POSTED & RE-COPYRIGHTED TO ANY OTHER SITES. This is a BLATANT VIOLATION of US COPYRIGHT LAWS. Debbie ©2009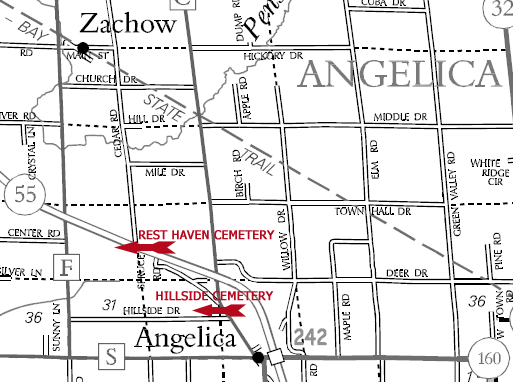 GPS Coordinates: Latitude: 44.69780, Longitude: -88.35440
NOTE: ossw = on the same stone with

| | | | |
| --- | --- | --- | --- |
| SURNAME | GIVEN NAME | BIRTH - DEATH DATES | ADDITIONAL INFO |
| Bruce | John | 29 Mar 1861-4 Dec 1923 | Father, ossw Sophia |
| Bruce | Sophia | 30 Sep 1862-7 May 1946 | Mother, ossw John |
| Cochawan | Joseph | Oct 1839-9 Oct 18?? | Last 2 digits hard to read |
| Kazmar | Edward M. | 1895 - 1957 | |
| Kazmar | Lydia W. | 1892 - 1966 | |
| Kazmar | Pauline Ann | 1930 - 1933 | Dau. of Edward & Lydia |
| KLAETSCH | Elizabeth M. | 21 Sep 1918-22 Nov 1999 | ossw Leslie E. |
| KLAETSCH | Leslie E. | 31 Dec 1915-31 Oct 1997 | ossw Elizabeth; Married 6/30/1942 |
| Lutsey | Avis | 1863 - 1868 | Dau of Thos. & Christiana Lutsey |
| Lutsey | Bessie | 1890 - 1969 | ossw Hugh |
| LUTSEY | Catherine | 1861 - 1928 | ossw Thomas H. |
| Lutsey | Elizabeth | 1856 - 1939 | Mother, ossw Miles P. |
| Lutsey | Hugh | 1889 - 1974 | ossw Bessie |
| Lutsey | James E. | 1887 - 1926 | |
| LUTSEY | James Earl | 30 Apr 1919-12 July 2006 | Wendt Funeral Home |
| Lutsey | Jay | 1880 - 1962 | Father; ossw Nellie |
| Lutsey | Mary A. | 1891 - 1891 | Dau of TH & CJ |
| Lutsey | Miles P. | 1856 - 1939 | Father, ossw Elizabeth |
| Lutsey | Nellie | 1882 - 1953 | Mother; ossw Jay |
| Lutsey | Talbert | 1896 - 1944 | |
| Lutsey | Thomas H. | 1855 - 1920 | ossw Catherine |
| Lutsey | W. Leroy | 1882 - 1939 | ossw Olga & Robert |
| LUTSEY | Winifred E. | 1914 - 1977 | |
| Magee | Ann L. | 1899 - 1979 | ossw James P. |
| MAGEE | Anthony Hugh (child) | 30 Apr 1991 | Son of Keith & Kathi |
| MAGEE | Curtis H. | 18 July 1923-1 Nov 2004 | ossw Orriene E.; Blessed with our children Darryl, Keith, David, Kevin & Dean |
| Magee | Elizabeth | 1875 - 1947 | ossw Hugh Sr. |
| MAGEE | Elwood C. | 26 May 1922-12 Feb. 2007 | |
| MAGEE | Gloria A. | 1931 - | ossw Marshall W. |
| MAGEE | Grace | 1915 - 2004 | ossw Robert |
| MAGEE | Hugh B. | 1900 - 1987 | ossw Irene A. |
| Magee | Hugh Sr. | 1869 - 1951 | ossw Elizabeth |
| MAGEE | Irene A. | 1902 - 2002 | ossw Hugh B. |
| MAGEE | Irene A. | 13 Feb 1902-16 Jan 2002 | nee Thompson |
| Magee | James C. | 1835 - 1916 | ossw Wife Mary Ann |
| Magee | James P. | 1899 - 1980 | ossw Ann L. |
| MAGEE | Kenneth E. | 11 Jan 1906-18 Jan 1992 | ossw Mary Louise |
| Magee | Kenneth Jr. | 11 July 1949-15 July 1949 | (infant) |
| Magee | Mae Beth | 1936 - 1946 | |
| MAGEE | Marshall W. | 1925 - 1992 | ossw Gloria A. |
| Magee | Martha | 2 Feb 1887-13 Apr 1907 | Wife of T. L. Magee |
| Magee | Mary Ann | 1841 - 1919 | ossw James P. |
| Magee | Mary Ellen | 1906 - 1964 | Mother; ossw William D. |
| MAGEE | Mary Louise | 27 Sep 1910-23 Nov 1992 | ossw Kenneth E. |
| Magee | Maye | 1888 - 1953 | Mother; ossw Richard Magee |
| Magee | Olga | 1885 - 1966 | nee Lutsey; ossw W. Leroy & Robert A. |
| MAGEE | Orriene E. | 2 Mar 1927- | ossw Curtis; Married 3/2/1946 |
| Magee | Richard | 1876 - 1925 | Father; ossw Maye |
| MAGEE | Robert | 1908 - 1984 | ossw Grace |
| Magee | Robert A. | 1873 - 1965 | ossw Olga & W. Leroy |
| MAGEE | Russell | 1903 - 1904 | |
| MAGEE | Wallace H. | 19 Apr 1929-22 July 2006 | |
| Magee | William D. | 1902 - 1976 | Father; ossw Mary Ellen |
| Martin | Ella | 1891 - 1968 | ossw James |
| Martin | James | 1886 - 1963 | ossw Ella |
| McMILLAN | Donald J. | 1907 - 1985 | ossw Florence |
| McMILLAN | Florence | 1906 - 2003 | ossw Donald J. |
| McMILLAN | Lyle | 1909 - 1983 | ossw Margaret |
| McMILLAN | Margaret | 1912 - 1983 | ossw Lyle |
| McMillian | Lillian | 1882 - 1953 | nee Lutsey; Mother |
| McMillian | Mary | 1852 - 1938 | Dau of Thos. & Christiana Lutsey |
| MORRIS | Catherine M. | 20 Apr 1932- | ossw Robert J.; Married 6/13/1953 |
| MORRIS | Robert J. | 30 Nov 1926-28 Oct 2003 | Husband of Catherine Magee |
| MORRIS | Robert J. | 30 Nov 1926-28 Oct 2003 | US Army WWII |
| MORRISEY | Homer F. | 1904 - 1983 | ossw Maude E. |
| MORRISEY | Maude E. | 1912 - 1996 | ossw Homer F. |
| NYS | James W. | 4 Apr 1932-3 Feb 1992 | |
| Prickett | Harry L. | 1877 - 1953 | |
| Prickett | Talbert C. | 7 Aug 1821-23 Feb 1891 | |
| Prickett | Thomas | d. 1927 | Only date on stone |
| Runge | Catherine | 1904 - 1974 | ossw William H. |
| RUNGE | Catherine M. | 13 July 1904-15 July 1974 | nee Magee |
| Runge | William H. | 1899 - 1983 | ossw Catherine |
| SCHMITT | Andrew Scott | 12 Mar 1993 | Infant |
| TERRIEN | Earl C. | 1895 - 1980 | ossw Mae C. |
| TERRIEN | Mae C. | 1897 - 1995 | ossw Earl C. |
| WATERMAN | Petra | 1879 - 1903 | Dau of Carrie Blichfeldt |
| Zernicke | Leonard C. | 1894 - 1970 | ossw Pearl E. |
| Zernicke | Pearl E. | 1895 - 1982 | ossw Leonard C. |