When I taught genealogy classes, another one of my classes that would fill up in quickly was my class on DEAD ENDS... As I find time, I'll be adding different tips -- this week it is breaking apart an obituary... We all collect them but do we really know what we can glean from them if we REALLY LOOK?

This short 6 sentenced obituary of my Great-Grandmother provides a WEALTH OF INFORMATION and an abundance of clues to help you avoid the literal DEAD ENDS -- you just need to read between the lines!

Newspapers provide a window into the lives of our ancestors through advertisements of popular products, local area news columns, notices of births, deaths and marriages, long-forgotten news items pertinent to the day, as well as the more common obituaries. At a minimum, an obituary is a notice in the newspaper of a death and funeral arrangements. But it can be much more: a record of the extended family – both living and dead and it can be a compelling story of a life. Since most of us will never be famous to appear in books & biographies, I like to consider an obituary a common person's biography.

Let's start by clarifying the different types of sources in genealogy before we begin. There are basically three kinds of sources. There is a primary source, a secondary source, and a questionable source. A primary source is a piece of information or a document that was generated in the presence of the person it involves, like a marriage certificate. A secondary source would be a source that was generated for a person after they died or outside of their presence, like an obituary. A questionable source is when someone tells you a story or when you download a gedcom from online. Most obituaries fall into the classification of SECONDARY SOURCES... and even if you do write your own obit, SOME of it will still be a secondary source -- you died, you didn't finish it. A genealogist will appreciate information from all three sources and will weigh the information's accuracy on the type of source from which it was acquired. Just because it is in an obituary doesn't make it so!

OK, on to Great-Grandmother's obituary. The adjacent obituary was very typical of ones found in the Shawano area in the 1920's for the average woman. Prior to 1920, you might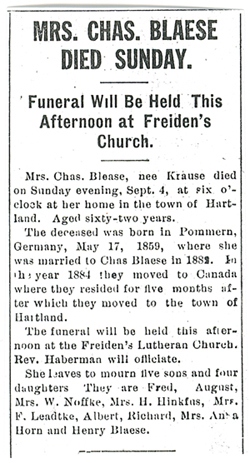 have had a couple lines in the LOCAL NEWS section of the paper mentioning the person had passed and was missed by her husband and children... and maybe where the funeral had been held as well as a list of people who attended from far-away places... and even those are great, too. But within the 6 sentences in this obit, I'll show you how you can put together the TERRIFIC CLUES to get you past a literal DEAD END.
SOURCE: Bonduel Times, 8 September 1921
(Note: If you need an obit from the eastern side of the county, contact the Bonduel Community Archives! They have access to The Bonduel Times 1909-1971 and that covered quite a large area. They do charge a small copy fee BUT every last dime is spent on the Bonduel Community Archives -- no one makes any money here! This covers their copying costs to make sure this service is available to you in the future as well as providing for preserving these records... they are not subsidized by a church. If they ask for copying costs, please consider giving them a little more! Great folks! and it's tax deductible.)
1) "MRS. CHAS. BLAESE"... what we find from this line is that she was married to Chas. BLAESE... most married women were referred to as Mrs. ____. My own mother ALWAYS signed documents Mrs. Fred Taylor... she would sign a personal letter Dorothy Taylor but married women were referred to as Mrs. ____. One generation later, I can't remember ever signing my name as Mrs. Czaplewski... it's always been Anne Taylor-Czaplewski. Mrs. Czaplewski was my mother-in-law...(grin) So, likewise, Henrietta's first name is not even mentioned in her own obituary.
2) "Funeral will be held this afternoon at Frieden's Lutheran Church"... this tells us that she was probably buried at Frieden's and most likely this is where she attended church the last few years of her life. Great place to check CEMETERY RECORDS for who else is buried in the plot she is interred in as well as nearby graves. And, as in her case, further inspection of the CHURCH RECORDS show that her children were baptized in this parish as well. Also, it provided the clue she was Lutheran -- if her children were not listed in Frieden's, one would search the Bonduel area Lutheran churches as well.
3) "Mrs. Chas Blaese, nee Krause"... perfect! You now have a MAIDEN NAME... not as perfect as having her first name provided and "daughter of the late Carl & Dorothea Krause", but it's a great resource.
4) "died on Sunday evening, Sept 4, as six o'clock at her home in the town of Hartland"... first, this gives us the EXACT death date -- September 4, 1921 (from the newspaper date) allowing us to now locate the DEATH CERTIFICATE for Mrs. Blaese. This also provides another lead to start looking for LAND RECORDS for property owned by Chas. BLAESE...
5) Sixty two years old... in this case, it goes on to give the BIRTH DATE but if it didn't, 62 years old will give you a good idea of a birth date.
6) "The deceased was born in Pommern, Germany, May 17, 1859, where she was married to Chas Blaese in 1882." -- PAY DIRT! You have an exact BIRTH DATE as well as a BIRTH PLACE... and MARRIAGE DATE when she married her husband... Pommern is like saying "born in Wisconsin" in looking for German records but it is a start!
7) "In the year 1884 they moved to Canada where they resided for five months, after which they moved to the town of Hartland." This beats looking through random volumes of the Filby's Germans to America! You know the couple was married just 2 years and then ventured to America via Canada. With little effort I located IMMIGRATION RECORDS and I found them on the SS Frisia that sailed from Hamburg to NYC -- they continued on to Canada with members of Henrietta's family, including her mother, Dorothea Krause -- but no children are mentioned in regards to Carl & Henrietta. Also, this played an important clue for me in locating all the birth/baptismal records for their children. A very pregnant Henrietta arrived in Ottawa, Canada March 1884 and had their first son in June 1884. The obit says they relocated to Hartland Twp. 5 months after they arrived in Canada -- August 1884. This means they were in Wisconsin for the 1885, 1895, 1900, 1905, 1910, and 1920 censuses... and when you locate Chas. (Carl) Blaese in the censuses, you will find his wife's first name is Henrietta and you also find in the 1910 census that she had 12 children with 9 living. Family members always said she had lost 2 children prior to coming to America. We later find that she married in late 1882 and unless she had twins, she only had 1 child in Germany if you do the math, as is the case. We find burial information for children #7 & #8 in Bonduel. So, indeed, she only had 12 children... "only"...(grin)
8) "She leaves to mourn five sons and four daughters. They are Fred, August, Mrs. W. Noffke, Mrs. H. Hinkfuss, Mrs. F. Laedtke, Albert, Richard, Mrs. Anna Horn, and Henry Blaese." This is a little confusing here as hubby Carl survives her as he passes away in 1945. Again, this is why it is a secondary source -- it's an omission in wording by whoever wrote the obit at the newspaper -- the Bonduel Times published the obit but usually the funeral home supplied the information. As for the children, it supplies you with names (and sometimes places) where you can continue your research. Women's names are sometimes hard to uncover, but with the censuses for 1920 and 1930, we readily can find the husband's name and the family unit. And we also can see that Carl Blaese is listed as a widower in 1930.
And we learned all this through simple clues provided in a 6 sentence obituary! But, you are still doubting this as this was a family member and I KNEW "the rest of the story"? OK... at this point I would ask the class for one of their "DEAD END" obits... so what I did this time is I went to the Schmidt-Schulta Funeral Home site and found a random obit -- and I mean random... no clue who this person is at all... so here's the 4 sentence obituary... and if you find a clue I missed, email me and we'll add it!
Emma Nemetz
(Died April 14, 1933)

Emma (Pleshek) Nemetz died April 14, 1933.
She was united in marriage to Joseph Nemetz. He survives.
In addition to her husband, survivors include two children, Walter Nemetz and Nora Umland.
1) DEATH DATE is April 14, 1933... you should be able to obtain a DEATH CERTIFICATE from the Shawano courthouse which might possibly list parents and her BIRTH DATE and BIRTH PLACE. It will also list where she is buried... which might provide a lead as to the faith/religion of the family... leading to possible churches they might have attended... and additional family members interred in the cemetery.
2) MAIDEN NAME is Pleshek... husband is Joseph NEMETZ... the 1930 census (closest to the year she passed) shows Joe R. NEMETZ and his wife Emma living in Bowler. Emma is 47 years old, making her birth about 1883... Emma was married when she was 17 -- making the marriage date right around the 1900 census. She was born in Wisconsin but her parents were both from Czechoslovakia. Hubby Joe shows that the same marriage info so one can assume this is the first marriage for both. Their son Ernie who is 30 is also living with them. The 1930 census also shows that they own their own home, making a search for LAND RECORDS for Joseph NEMETZ a possibility as well. The 1920 census lists Emma (38 years old) & Joseph R. NEMETZ, occupation Saloon Keeper, living in Bowler, Almon Twp. They have 4 children listed: Ernie, 21 years; Edward, 19 years; Nora, 15 years; and Walter, 13 years; -- all the children were born in Wisconsin. Back another 10 years, Emma & Joseph NEMITZ are again in Bowler, Almon Twp., -- Emma & Joseph have been married for 11 years (about 1899) and they have the four children as listed above... Emma has had 4 children with all 4 living in 1910. Joseph is again a saloon keeper and owns his own saloon. And we go back again to 1900 census, where we find Emma & Joseph w/ Ernie & Edward living in Waukechon Twp. Emma lists her birth date as August 1881 and she has had 2 children with both living in 1900 -- and married for 2 years. Oldest child is born November 1898... this gives you a clue as to where to look for MARRIAGE INFO... I'm guessing here at November 1897 -- I know this rule doesn't hold fast to every case, but it's a good guess to start. As for her parents, they SHOULD be listed on Emma's marriage certificate as well as her death certificate. If not, I would look to see which Pleshek families were in the Waukechon area on the 1898 Plat Maps. In scanning the 1898 maps for Waukechon, I find John Pleshek #80, Jacob Pleshek #102, Joseph Pleshek #105, Frank Pleshek #108 and J. NEMITS #109 -- and an obit on Jacob, Joseph or Frank might turn up a surviving daughter named Emma Nemetz... had the 1890 census survived, you could have searched it to find a child named Emma Pleshek in her parents household...
3) Surviving children: Walter & Nora... from previous census info, we know that two of Emma's children died between the 1920 census and her death in 1933.
And, I intentionally did this without checking the Shawano site or message boards...that would have made it way too easy! After checking the Shawano GenWeb site, I found Emma & Joseph buried in the Forest - Birnamwood Cemetery, along with their children Edward (1899 - 1929) and Walter (1906 - 1979). A trip up to the Shawano Message Boards revealed there are other researchers who have info on this family that are willing to share data. And, a final trip to ancestry.com, this time to the World Tree Database, finds Emma PLESHEK (born 8 Aug 1882), wife of Joseph NEMETZ, daughter of Jacob PLESHEK and Catherine TOMASHEK.
Now, start going back over those obits you have stored in shoeboxes because you might very well have the clues you are looking for in your possession already... to help you past the literal DEAD ENDS.
QUESTIONS? We're here 7 days a week and would love to help! And if this page helps you develop a strategy, let us know as well so we'll post more like it.
Next time... Where to find maiden names?