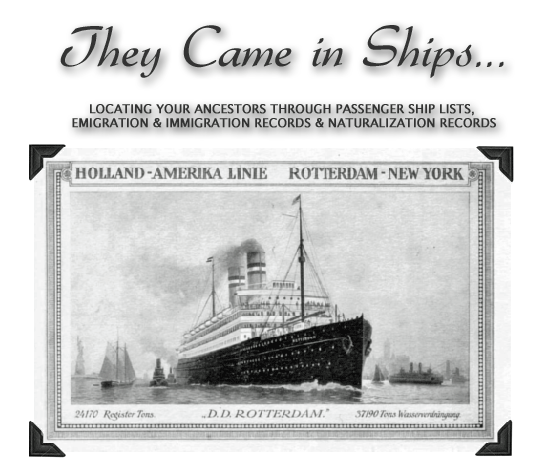 Since trying to locate the TOWNS/VILLAGES of origin is one of our main goals as genealogists, this web page will be a help for other researchers -- it should save people time so they don't have to reinvent the wheel in their research. And, you never know who might contact you from the other side of the pond wondering if this is where their family came to in the US many years ago!
Here's where you can submit your ancestor's immigration information -- just send it to Anne and we'll get it posted to the page here. And you don't have to have all the columns known -- and because this isn't carved in stone, you can change it or update it at anytime with an email.
NOTE: We've extended this database to include the neighbouring counties of Waupaca and Oconto, since borders changed over the years and people moved from town to town, occasionally crossing county lines.. i.e. Underhill & Gillett to Cecil, etc.
NEW ADDITION: If I have located the Passenger Ship List, it's linked to the surname. And I'll be adding photographs of the ships as I locate them as well! The photographs are located on the left bottom of the page -- just click the link and you'll see a scanned image.

SURNAME
FIRST NAME
PLACE OF ORIGIN
DEPARTURE PORT
SHIP NAME
ARRIVAL DATE
ARRIVAL PORT
SUBMITTED
ANDERSEN

Anders P

Rold, Aalborg,Denmark
Aug 1888
ANDERSEN

Johanne

Marie
Lyngby, Aalborg
Liverpool, England
Umbria
31 Mar 1902
New York City
Danish Emigration
BARNES
Ottawa, Canada
1863
AnnEllen
BARTELT
Gottlieb,Dorothea,Franz&Ferdinand
Stargart, Pommern
Stettin, Germany
SS Humboldt
30 Apr 1873
New York City
Anne
BENJAMINSEN (BENSON)
Rakel
Velfjord, Nordland, Norway
Trondheim, Norway
SS Empress of Britain
Aug 27, 1908
Quebec, Canada
Jane
BENJAMINSEN
Magnus & Julie Steffendtr & children
Velfjord, Nordland, Norway
Trondheim, Norway
SS Thingvalla
August 17, 1888
New York City
Ken
BERNDT
Johann & children
Pommern / Kr. Stolp
Bremen, Germany
SS Auguste
26 May 1873
New York City
Anne
BLAESE
Carl & Henrietta & KRAUSE family
Pommern
Hamburg, Germany
SS Frisia
26 Mar 1884
New York City
Anne
CARLSSON
Johann
Sverrig,Denmark
Oct 1889
Danish Emigration
COOK
Mary, Henry & Ishmael
Glamorgan, Wales
SS Tropic
4 Mar 1834
Susan
DRUCKREY
Christopher & wife Johanne
Germany
Hamburg, Germany
John Bertram
15 Jan 1870
New York City
EBBENSEN

Karin M

København,Denmark
Liverpool, England
SS Alaska
11 Jul 1887
New York City
Danish Emigration
GEHM
Amandus, Wilhelmine & Richard
Kreis Cammin
Bremen, Germany
Western Metropolis
11 Jun 1867
New York City
GEHRMAN
Jacob,Augusta & 5 children
West Prussia
Bremen, Germany
Mosel
20 Oct 1873
New York City
Sue
GJERMUNDSEN
Jorgen, Ingeborg & family
Hafstad, Norway
Liverpool, England
S.S. Helvetia
26 April 1871
New York City
Jennifer
Gundersen-Nordvik (Gunderson)
Nils & Ella Julia & 4 children
Herøy, Nordland, Norway
Liverpool, England
SS Polynesian
June 14, 1882
Quebec, Canada
Jane
Gundersen-Nordvik (Gunderson)
Nyfeldt Eldor
Herøy, Nordland, Norway
Liverpool, England
SS Polynesian
June 14, 1882
Quebec, Canada
Jane
HANSEN
Caroline Amalie
HARK
Daniel
Breman, Germany
S.S. Rhynland
Nov 11, 1896
Philadelphia
Daryl
HAUGEN
Elle
Velfjord, Nordland, Norway
Trondheim, Norway
SS Empress of Britain
Aug 27, 1908
Quebec, Canada
Jane
HAUGEN (HOGAN)
Irgens
Velfjord, Nordland, Norway
Trondheim, Norway
SS Empress of Britain
Aug 27, 1908
Quebec, Canada
Jane
HAUGEN (HOGAN)
Ivarna (Verna)
Velfjord, Nordland, Norway
Trondheim, Norway
SS Empress of Britain
Aug 27, 1908
Quebec, Canada
Jane
HAUGEN
Johan (John)
Velfjord, Nordland, Norway
Kristiania, Norway
SS Cedric
Oct 15, 1906
New York City
Jane
HELWIG
Carolyn
Nieszawa, Poland-Russia
S.S. Italia
Sept, 28, 1898
Philadelphia
Daryl
HETZEL
Nicolaus
Germany
Bremen, Germany
SS Weser
30 Sep 1871
New York City
Jessica
HOEFS
Carl, Wilhelmina & family; Auguste
Barow, Prussia
Bremen, Germany
SS Allemannia
29 Oct. 1866
New York City
Mary Ann
JACOBSEN
Emma
Tveden, Aalborg,Denmark
Aug 1888
Danish Emigration
JENSEN
Christen
Hadsund,Aalborg,Denmark
Thingvalla?
1892
New York City
Danish Emigration
JENSEN
Hanne
Seest, Veile,Denmark
Copenhagen, Denmark
Hekla
19 Nov 1888
New York City
Danish Emigration
JENSEN
Maren
Rostrup, Aalborg
Jul 1892
Danish Emigration
JOHNSON
Frank
Sverrig,Denmark
Liverpool, England
Adriatic
20 Mar 1908
New York City
Danish Emigration
Johansen-Haugen (Johnson)
Johan (John)
Velfjord, Nordland, Norway
Liverpool, England
SS Empress of Britain
13 Sep 1907
Quebec, Canada
Jane
LAEDTKE
Ernst WIlhelm
Kreis Cammin
Bremen, Germany
Western Metropolis
11 Jun 1867
New York City
Anne
LARSSON-ROOTH
Hans & Karen & family
Lillhardal, Sweden
Bremen > Southhampton
Werra
13 Oct 1883
New York City
Dorothy
LAURITZEN
Jens, Jensine & Julia
Storvorde,Aalborg,Denmark
Thingvalla
May 1890
Danish Emigration
LEISKAU
Elizabeth (nee Blank)& 4 children
Riesenkirch,Rosenberg,W.Prussia
Liverpool/London
S.S. The Queen
7 Dec 1875
New York City
Sue
LEISKAU
Gottfried
Riesenkirch,Rosenberg,W.Prussia
Bremen
S.S. Deutschland
23 Aug 1873
New York City
Sue
LINKE
Stefan & Karolina & family
London
Alsatia
4 June 1881
New York City
Danish Emigration
MADSEN
Hans Christen
Kobenhavn
Thingvalla
Oct 1891
New York City
Danish Emigration
MARICQ
Anne-Josephe & children
Grez-Doiceau, Belgium
Antwerp, Belgium
Henry Reed
14 Dec 1855
New York City
Helen
NOFFKE
Carl & Fredericke & family
Roggatz, Pommern
Bremen, Germany
SS Leipzig
18 Apr 1886
Baltimore
Anne
OLSEN
Johan C. & Helmine S. Ingebrigtsdatter & infant
Brønnøy, Nordland, Norway
Namsøs-Bødø, Norway
Bark Johan
July 14th, 1868
Quebec, Canada
Jane
PETERSON
Andrew B(erge)
Berge, Voss, Hordaland Norway
Bergen, Norway
Hercules
July 29 1844
New York City
Kathy
PETERSON
Andrew [Andreas] & Dorothea & 8 children
Drammen, Norway
Drammen, Norway
Clipper Flora
June 23, 1871
Quebec, Canada
Wayne
PUKALL
Christian & Louise (nee Leiskau)
Gr.Rohdau,Rosenberg,W.Prussia
Bremen, Germany
S.S. Hansa
25 June 1872
New York City
Sue
RUHBUSCH
Christian Fr. & Anna Marie & 3 children
Cossin,Pyritz,Pommern
Bremen, Germany
Bark Gutenberg
11 Aug 1865
Baltimore
Sue
ROBENHAGEN
Aage Vald
Årestrup,Aalborg,Denmark
Copenhagen, Denmark
Oscar II
22 Mar 1906
New York City
ROBENHAGEN
Clara
Årestrup,Aalborg,Denmark
Copenhagen, Denmark
Oscar II
21 Oct 1902
New York City
ROBENHAGEN
Olga Henr. & Maren
Årestrup,Aalborg,Denmark
Copenhagen, Denmark
United States
13 Nov 1906
New York City
RUSSELL
Ottawa, Canada
1863
AnnEllen
SAWICKI
Alexander & Juliana & family
Posen?, Prussia
approx. 1868
Mary
SCHENK
Dorothea & adult children
Prussia
Bremen, Germany
N. G. Bark Columbus
1 Sept 1868
New York City
Sue
SCHENK
Wm Aug, Caroline & family
Prussia
Bremen, Germany
Steamship Malta
10 Aug 1868
New York City
Sue
SCHROEDER
Wilhelm & Wilhelmina & family
Prussia
Hamburg > Havre
SS Gellert
25 Aug 1880
New York City
SORENSEN
Anton Marinus
Storarden,Aalborg,Denmark
Thingvalla
May 1890
SORENSEN
Johanne Andrea
Bælum,Aalborg,Denmark
Copenhagen
Norge
May 30, 1892
NYC>Shawano
SORENSEN
Karl Jorgen
Birkelse,Aalborg,Denmark
April 1905
SORENSEN
Niels Christian
Stororten, Aalborg,Denmark
Copnehagen
Feb 1902
STOCK
Christian WIlhelm
Pommern
Stettin, Prussia
Sylvester
8 Sep 1843
New York City
Anne
STREI
August
Germany
Bremen, Germany
SS Hohenstaufen
20 April 1884
NYC>Baltimore
TESCHKE
Fred & Louisa & family
Wuertenberg?
Bremen, Germany
America
28 May 1869
New York City
Anne
WERNER
Heinrich & Bertha & children
Hirschberg, Germany
Hamburg, Germany
SS Scandia
27 Aug 1891
New York City
Anne
WOHLFEIL
Carl & Gottliebe (nee Pukall)
Ziegahnen,Kr.Marienburg,WP
Bremen, Germany
Donau
July 1869
New York City
Sue
PHOTOGRAPHS OF PASSENGER SHIPS:
| | | | | | | | | | |
| --- | --- | --- | --- | --- | --- | --- | --- | --- | --- |
| Henry Reed | SS Leipzig | S.S. Hansa | Bark Gutenberg | S.S. Helvetia | Alsatia | Steamship Malta | N. G. Bark Columbus | United States | |
| America | SS Hohenstaufen | Sylvester | Norge | Oscar II | Umbria | SS Humboldt | SS Auguste | Hekla | |
| John Bertram | Western Metropolis | S.S. Deutschland | Mosel | | | | | | |
| | | | | | | | | | |
| | | | | | | | | | |
| | | | | | | | | | |
RETURN TO THE SHAWANO INDEX PAGE
OFFICIAL COPYRIGHT NOTICE
All design, layout, graphics, photographs, and text appearing on any/all of the SHAWANO GENWEB PROJECT PAGES are protected by copyright since the moment they were created. These pages are for your OWN PERSONAL USE -- any other use or distribution is prohibited without express written permission by me. ALL ShawanoGenWeb Project pages are covered under U.S. copyright laws and we will enforce our copyrights. Thanks for respecting thousands of volunteer hours in making these pages available to you. Anne Taylor-Czaplewski