Originally Copied in 1981 by Kenneth Salzman, updated in 2003 by Dave Maas,
(and again updated in 2009 by Debbie Schmidt.)



Thanks, Dave, for sending this in to us!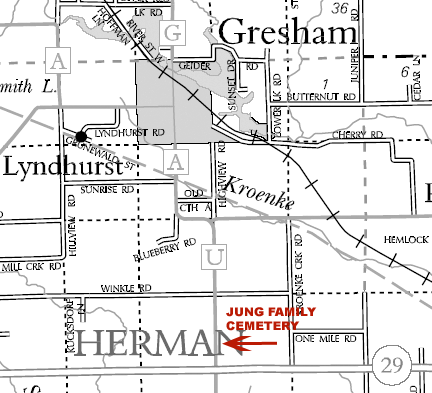 Located just south of Gresham on County Hwy U...
right side of the road if you are heading north from Hwy 29.
Note: A few years ago, someone moved headstones from the Old Sander's Cemetery to the Jung Family Cemetery. The Old Sander's Cemetery was in Section 35, Herman Twp. but has long since been plowed over -- the headstones have been stacked on a tree stump in the Jung Cemetery.
And abbreviations we used: w/o = wife of f/o = frau of s/o = son of d/o = daughter of
t/o = tocher of