Donna has sent in this delightful collection of old photographs that she located. Most of the wedding portraits are unknown, but we're hoping someone can put names to these faces -- the portraits are beautiful. If there is any writing on the back of the pics, Donna has included that info, too.
This was in the note sent by Donna:
I am trying to find any information on Delmore (Delmar) HUDSON and family -- he is my husband's grandfather who married Ida CHRISTEN in 1903 in Shawano. Ida & their baby left for Washington state and in 1905, he married Emma KRAKE. Delmore's sister Ada married a BLAZIER. I have Delmore's parents, Mary Allen and Charles HUDSON and his grandparents were Anna MEYER and Thomas HUDSON.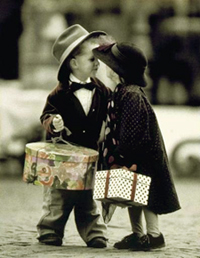 Photo by Kim Anderson