--

We're very grateful to the Shawano FHC for sending the following cemetery listing. The original cemetery was walked in 1980 by Kenneth Salzman.

Location: On River Bank Road, ¼ mile east of county Highway D, in section 25 Pella Township.

"Shawano County Journal, Friday, Oct. 3, 1879, Belle Plaine
There was a large gathering at the dedication of the Gernan Methodist Church on the farm of Mr. Sell, just over the town-line in Pella. The services were conducted by Rev. Mr. Koontz, the pastor, assisted by clergymen from New London, Hartland and other places. There were about two hundred persons present. Mr. Sell deserves more than ordinary credit, having built nearly all the church with his own money. The size of the building is 22x40, fourteen feet between floor and ceiling, is neatly painted outside, the walls papered, and is ceiled overhead. We hope Mr. Sell may live long to worship God in this church according to the dictates of his conscience."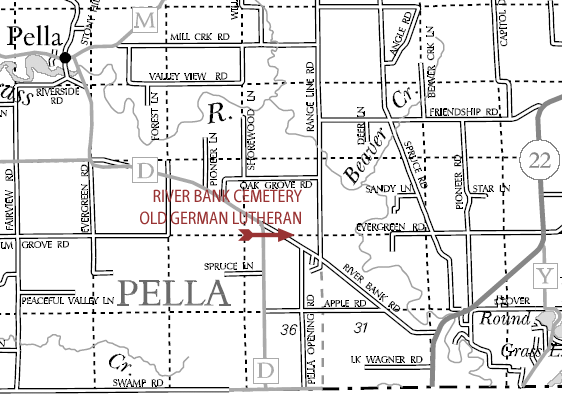 UPDATE: The cemetery is now called RIVERBANK CEMETERY and Jennifer Hoffman has photographed headstones. We've updated this page to reflect these additional and corrected headstones. -- Thanks, Jenny!
Newspaper Item: Scout Project Leads to Cemetery Cleanup (Pat Bohm, Eagle Scout) Very Nice Job, Pat!!!