1921 VALLEY VIEW SCHOOL - GRANT TWP.

A special THANKS! to Shawano FHC for sharing this photo with us!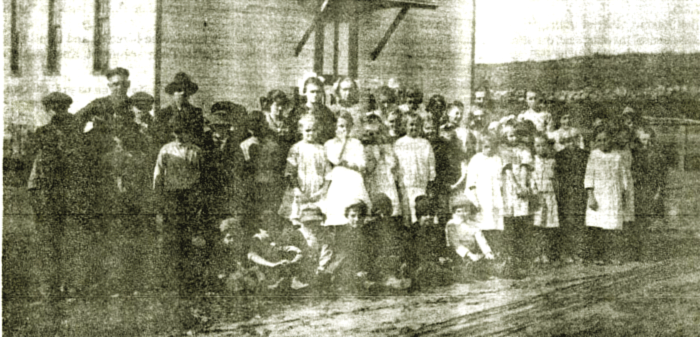 When I first saw this scanned in photo, I wondered if it would be worth posting -- and then I saw the documented names. Even though the photo is rough, the names might help area researchers make a connection.

Nov. 28, 1921 Teacher was Chalmers McGraham
L-R back row, C. McGraham, Herman Laatsch, Lawrence Voight, Harvey Radke, Lily Frailing, Louise Kamradt, Emma Harder, Mildren Voight, Marie Westphal, Olga Frailing, Agnus Brandenburg, Flossie Radke, Earl Lentz, Martin Wudstrack.
Inset row 2, Christ Voight, William Klingbeil, Walter Voight. Second row Herman Westphal, Edward Wilkie, Fred Tiege, Edwin Laatsch, Elmer Stuhr, Adela Voight, Margret Klingbeil, Edna Voight, Hannah Haase, Laura Frailing, Lucille Hafmeister, Malinda Voight; Short inset row, Violet Westphal, Alice Sell, Lucille Zuhse, Norma Dieck, Dorothy Hafmeister, Goldabell Sell, Angeline Luchterhand, Victor Niemuth, Franklin Braun, Carl Brandenburg; front row, Harold Laatsch, Andrew Westphal, Harry Frailing, Paul Frailing, Orin Niemuth, Vernon Niemuth and Orville Menzel.