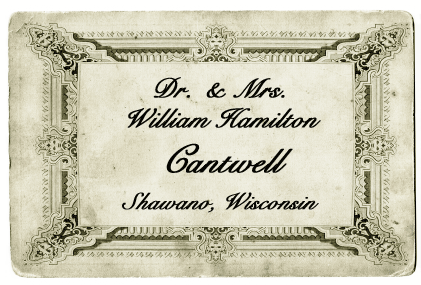 Many thanks to Sally Cantwell Basting for sharing her great family memorabilia with us. People familiar with Shawano history will recognize the Cantwell, as well as the Hayter surname. I remember our family having been patients of two generations of Dr. Cantwell's and the Cantwell-Peterson Clinic on East Green Bay Street.
Thanks again Sally for the great photos & documentation. If you have information you would like to share on the Hayter and Cantwell lines, just email it in and we'll post it. Thanks!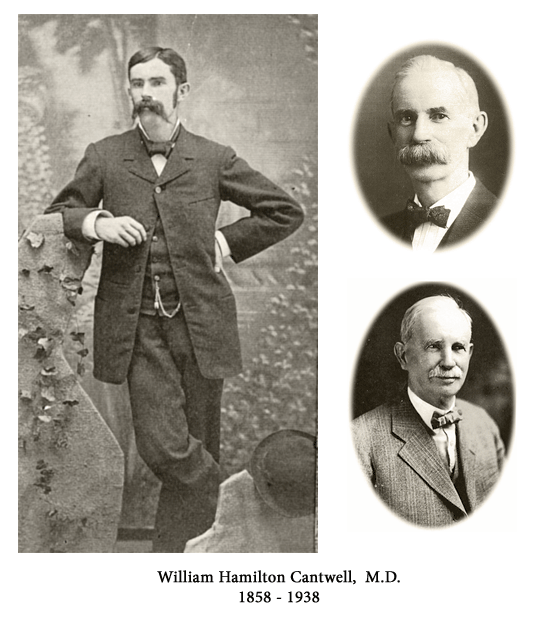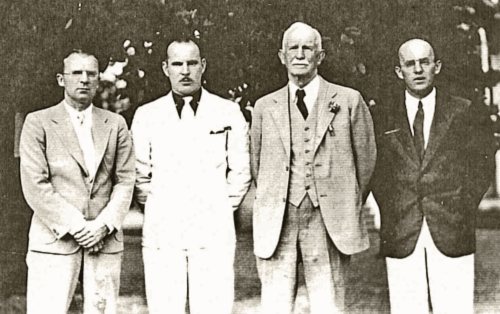 Roger Cantwell, Arthur Cantwell, William Hamilton Cantwell, and Bill Cantwell


PHOTOS

Cantwell Marker (Woodlawn Cemetery)
Alice Davis Cantwell (1905 - 1994) (Woodlawn Cemetery)
Arthur Allen Cantwell Sr., MD. (1899 - 1970) (Woodlawn Cemetery)
Arthur Allen Cantwell, Jr., MD. (1936 - 2003) (Woodlawn Cemetery)
Nellie Hayter (d. May 29, 1882) - child of H & R. E. Hayter (Woodlawn Cemetery)
Grace Hayter (d. May 17, 1882) - child of H & R. E. Hayter (Woodlawn Cemetery)
Marie K. Hayter (d. Feb 20, 1888) - wife of H. C. Hayter (Woodlawn Cemetery)
Henry Hayter (Nov 30, 1826 - Nov 2?, 1909) (Woodlawn Cemetery)
Rebecca Hayter (Mar 26?, 1843 - Feb ?, 1920) (Woodlawn Cemetery)
CEMETERY INFORMATION

Lot 41 Woodlawn Cemetery: Cantwell Family Marker--10 plots
1)
William Hamilton Cantwell MD, 1858-1938 Country doctor for over 50 yrs.
Born in Milwaukee, WI of Rodger and Mary McDonald Cantwell. Irish
Section A, lot 41, C65W4 (photo)
2)
Harriet Hayter Cantwell, 1864-1961.
Pioneer family--3rd graduating class of SHS
3)
William H. Cantwell, July 21 1894-May 25 1961, WWI vet: Pvt veterinary Corps School Board President
4)
Bess Burns Cantwell, wife of WHC Jr. , born Viola, WI. 24 Jan 1898-21 Dec 1995 organist Methodist Church for 30 yrs, active in local and state Women's Clubs, A 41S. 4 ft
5)
Alice Harriet Cantwell Bowler, Jul 31, 1925-Feb 3, 2006 daughter of Bill & Bess
6)
Roger Clifton Cantwell, M.D., 1896-1973. A-41-N 1 gr NW2
Internist at Cantwell-Peterson Clinic for over 50 yrs.
7)
Cora Ayer Cantwell, wife of Roger, 29 Jun1894 -14 Oct 1980,
born: Nebraska, A-41-CGN 4' Wrote "Our Family--and How It Grew" in 1960 about the Cantwell, Hayter, Ayer, Lee families, our first genealogy.
8)
Roger C. Cantwell Jr. 17 Jun 1923-Ap 23 1997 Journalist, WI State Journal, sports and city editor. WWII veteran Battle of the Bulge. A41CGN4'
9)
Kathryn Mitchell Cantwell, Rog Jr's wife (living)
10)
Richard Lee Cantwell, 21 Jun 1925-12 Oct 1954 WWII veteran, Hospital Ship.
Dick was killed in a plane crash in the Milwaukee Harbor.
Sacred
Heart Cemetery
1)
Lot 270 N Hill: Shanahan Graves
Mary Cantwell Shanahan: 1846-17 Apr 1878
Cornelius Shanahan, son of CM Shanahan 20 Jun 1875-14 Mar 1878
died of scarlet fever a month before his mother.
Cornelius Shanahan, Sr. 1835-21 Aug 1910
2)
Lot 244 N Hill:
Mary Shanahan Dodge: 26 Sept 1872-21 May 1937
Lorenzo Dodge: 15 Mar 1873-2 Mar 1932
Mary Julia Dodge: 18 Oct 1905-4 Sept 1928
3)
Lot 224 N Hill:
Edgar Hill:5 Sep1856-8 Feb 1942
Jane (Jennie) Cantwell Hill:30 Mar 1856-20 Dec 1933


OBITUARIES

Arthur Allen CANTWELL Jr. (1936 - 2003)
Green Bay Press Gazette
July 3, 2003

Cantwell, Arthur Allen Jr., M.D.

Arthur Allen Cantwell, Jr., M.D., age 67 of Shawano died on Tuesday, July 1, 2003 at his home. Born on January 8, 1936 in Shawano he was the son of the late Arthur A. and Alice (Davis) Cantwell, Sr., M.D. He graduated from Shawano High School in 1954, from the University of Wisconsin, Madison with a B.S. degree and from Northwestern Medical School, Chicago with his M.D. degree in 1961. He served his internship at Cook County Hospital, Chicago in 1962. He served in the U.S. Air Force from 1962-1964 as a Flight Surgeon. He surved his surgical residency at Santa Barbara, Calif., Cottage-County Hospitals from 1964 to 1968. He began his 30 year surgical practice in Shawano in 1968, practicing with his father and uncle and following in the footsteps of his grandfather as a third generation Shawano physician. He was a devoted and loving husband and father. He was very dedicated to his patients and his practice. He loved the community of Shawano and the outdoors and valued family and friends. He will be dearly missed. He married Carol Anne Gagnon on January 20, 1962, in Skokie, Ill. He was a member of the First Presbyterian Church, Shawano, the Shawano Rotary Club, Fellow American College of Surgeons, the Shawano Medical Center Foundation, Shawano Park and Recreation Board, and the Shawano Medical Center Board.

Survivors include: his wife, Carol, 2 daughters; Lisa Anne Cantwell of Milwaukee, Cathleen Alice (George) Kanellos of Indianapolis, Ind., a son, Arthur Allen Cantwell Ill. of Chicago; 2 brothers, William (Cassy) Cantwell Ill. of Shawano, John (Marilyn) Cantwell, M.D., of Atlanta, a sister, Sally (Tom) Basting of Madison, his mother-in-law, Anne Gagnon of Coudersport, Penn.

Funeral services will be held at 11 a.m. on Saturday, July 5, 2003, at the First Presbyterian Church, Shawano with Rev. Susan Phillips and Rev. Len Evers officiating. Burial will be in the Woodlawn Cemetery. Friends may call at the Swedberg Funeral Home, Shawano on Friday from 4 to 6 p.m. and at the church on Saturday from 9 a.m. until the time of the services.

In lieu of flowers, memorials can be given to the Presbyterian Church, Shawano Community Hospital Foundation or the Shawano Recreation Center in memory of Arthur A. Cantwell, Jr., M.D.


Henry HAYTER
SHAWANO COUNTY ADVOCATE
Tuesday, Nov. 30, 1909

HENRY HAYTER DIED SUNDAY MORNING WAS ONE OF SHAWANO'S HIGHLY RESPECTED CITIZENS.WAS VETERAN OF CIVIL WAR

While the death of Henry Hayter has been expected the past two months, the announcement of his death early Sunday morning was a shock to his many friends through out the city. He has been sick for the past three months and gradually failing and the end came peacefully Sunday morning at 2:15.

Henry Hayter was born in England, Nov. 30th, 1826, and came to this country when 3 years old, with his parents, who settled in Hartford, Conn., and would have been 83 years of age today, the day that he is laid away to rest. When he was a small boy his parents moved to Pontiac, Mich., where he resided a few years and when a young man moved to Detroit, where he worked for a number of years for a firm, buying furs. He came to Wisconsin in the early fifties and settled in Oshkosh. He was married in '61 to Miss Rebecca Craig, and five children were born to them, a son died in infancy, and two daughters died in Shawano in 1871. Only one son, H. C. Hayter, and one daughter, Mrs. W. H. Cantwell, besides the widow, are left to mourn his departure. He also left 7 grandchildren.

Mr. Hayter enlisted during the early part of the Civil War and was sergeant of Co. B 3rd Wis. Vol. and was severely injured by being blown up at Harper's Ferry. He never fully recovered from his injuries. He came to Shawano in the early seventies and for a number of years drove stage and carried the mail between Shawano and Langlade. He was mayor of Shawano for two terms, the first time being 26 years ago. On July 16, 1875, Mr. Hayter joined the Odd Fellows lodge of this city and was an active member for many years and always took a deep interest in the order. The lodge will have charge of the funeral this afternoon, and Rev. McGreaham, pastor of the Presbyterian church will deliver the sermon. The deceased was one of Shawano's highly respected citizens. He was ever faithful in all his trusts and always had a good word to say to all. By his pleasant manner he won his way into the hearts of hundreds of friends who will regret to learn of his death. He passed the three score and ten and has gone to his home above. The friends of the family sympathize with them in their loss. The funeral will be at the house at 2:00 and interment in the city cemetery.