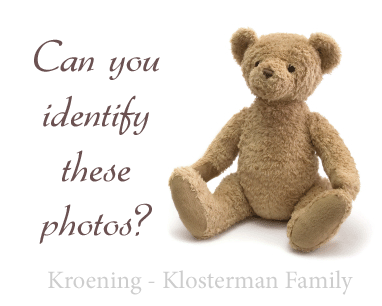 Casey sent in the following very old photographs and is wondering if anyone can help identify them. She sent the following information:
I have been working on my family history for years. I received these photos from my Grandmother and I am unable to identify the individuals. I was told they are my great grandmother Dora Kroening Klosterman, but I don't think both of them are. I was wondering if you could help to identify them or give me some ideas on how to find out who they are.

Thanks-
Casey Arrowood
Casey, thanks so much for the great pictures -- we value & cherish old photographs here on the Shawano site and wish we had more people sending them in.
A little info on Dora KLOSTERMAN nee Kroening -- born 28 Oct 1909 to Emil and Anna (Hanstadt) Kroening in Angelica Twp. She married Herman KLOSTERMAN on 17 February 1931. Dora passed away 10 October 1982 and is buried in Shawano, WI.

The photographs included in this group are as follows:
(Click on the photo for the LARGER SCAN to help you identify the faces.)
RETURN TO THE SHAWANO PHOTO PAGE