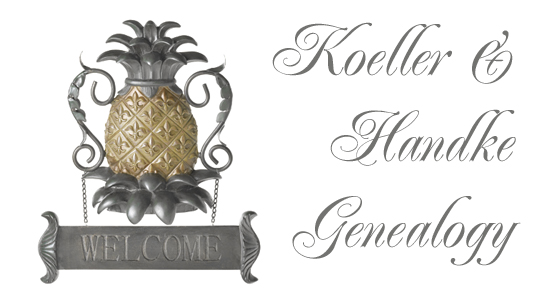 ---
A very WARM WELCOME to the Koeller & Handke Genealogy Page courtesy of Karolyn. Karolyn (Korth) Capion is the great-granddaughter of Hermann Frederick Koller and Emilia Augusta Handke, early pioneer settlers of the Town of Pella. Karolyn has what most of us spend decades trying to locate -- our great-grandparents WEDDING CERTIFICATE! And she has sent in a scan for the site! It is LARGE and it is AWESOME!

The Koeller & Handke families were from Germany and immigrated to Wisconsin. The Koeller family settled in the Pella Twp. area, while the Wilhelm & Albertine Handke family immigrated about 1869 and settle in Belle Plaine Twp. Herman F. W. & Emilia Augusta (Handke) Koeller would remain in Pella Twp. for their entire lives with both of their final resting places (St. Peter Lutheran Cemetery, Pella Opening) being near their homestead property where they raised their family.

Hermann & Emilia Koeller had six children:

William H. Koeller was born March 3, 1878 and was married to Martha Barkow. Martha died April 21, 1960 and William died February 13, 1964 in Clintonville, Waupaca County - no children. William & Martha are buried at St. Peter Lutheran Cemetery, Pella Opening.
Franz A. Koeller was born February 3, 1880 and died April 28, 1881. Frank is buried at St. Peter Lutheran Cemetery, Pella Opening.
Minna (Minnie) Koeller was born August 12, 1882 and was married to Otto Fredrick. They had five children: Beatrice (m. Ben Hoppe); Anita (m. Clarence Teske); Lester; Gilbert; and Leo. Minna died June 21, 1960 in Clintonville, Waupaca County.
Emil A. Koeller was born November 16, 1884 and was married Ella Fredrick. Emil died June 21, 1965 in Wausau, Marathon County.
Bertha L. Koeller was born June 9, 1888 and was married to Robert Korth. They had four children: Marcella (m. Elmer Teske); Arwerd (m. Lillian Menge); Orlin (m. Lucille Lehman); and Ivan (m. Norma Pahl). Bertha died April 22, 1963 in Clintonville, Waupaca County.
Meta Koeller was born November 26, 1889 and was married to Albert Korth. They had four children: Silas (m. Irene Teske); Melda (m. Leo Born); Verna (m. Julius Barkow); and Edna (m. Ernest Barkow). Meta died December 26, 1983 in Shawano County. Meta & Albert are buried at St. Peter Lutheran Cemetery, Pella Opening.

Some of the surnames shown in Karolyn's Pedigree Chart include KORTH, KLUG, KRIECKHAFER, KOEHLER, HERZIG, HANDKE, REIMER, MENGE, HENKEL, MICHEL & BAER. If these are your families as well, Karolyn would appreciate hearing from you.

Small world... while I was working on this page, I started to get this deja vu experience that I had already worked on some of the families... and the web page I completed prior to Karolyn's was a page for Ann Erdmann Hayworth with her Erdmann-Kohn Families. After rechecking, the families do overlap! Both have families KOELLER, KORTH and HANDKE surnames. Both of these ladies would be great resources to contact if these are your families!
---
WEDDING CERTIFICATE:
Karolyn points out that her great-grandparents Hermann Frederick Koller and Emilia Augusta Handke were married BEFORE St. Peter's Lutheran Church in Pella Opening was official. At the time of the marriage, Pastor Gustus Barth preached at the District #2 school house on County Highway D where the families of Pella Opening would travel for their services. She is almost certain that this is where the marriage took place on Friday, April 13, 1877. By the fall of 1878, Hermann Koeller had donated an acre of land for church purposes. Karolyn's other great-grandfather, Edward Korth, was also a signer of the resolutions that started St. Peter's Lutheran Church in Pella Opening. And here's that great old marriage certificate -- click here for the LARGER PDF scan.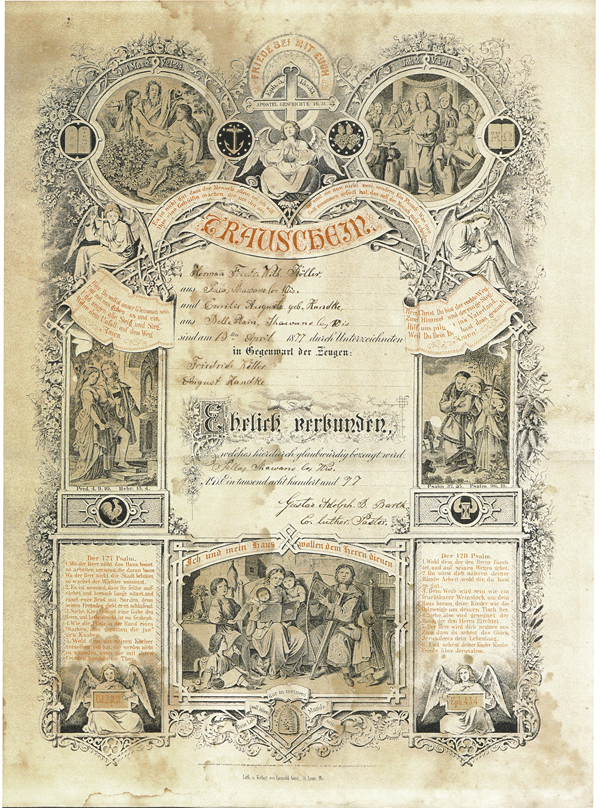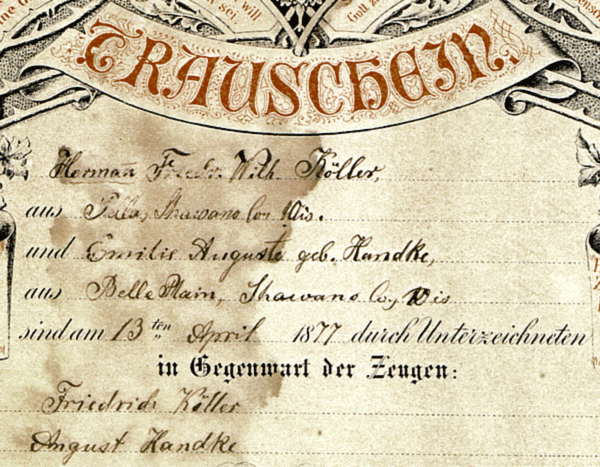 ---
PEDIGREE CHART - PDF VIEW (larger and more easily read)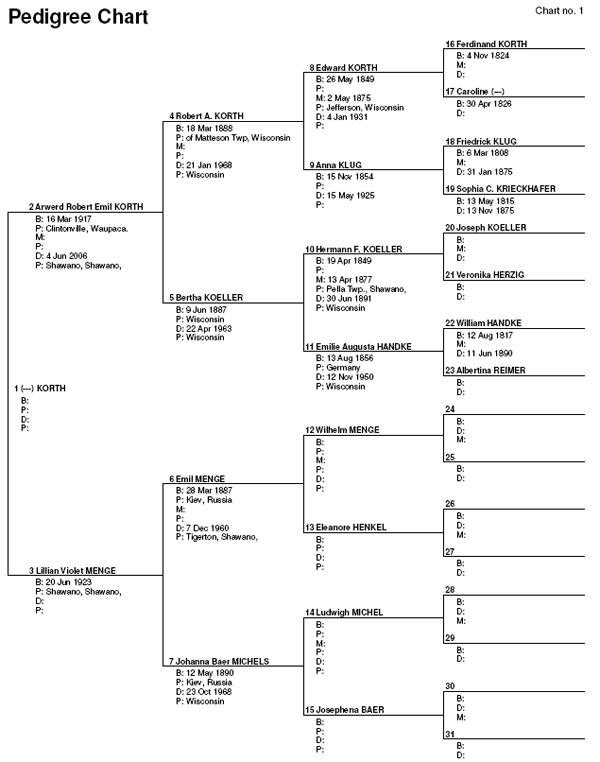 ---
OBITUARIES
---
Shawano Leader
Tuesday, June 06, 2006

Arwerd Robert Emil Korth

Arwerd Robert Emil Korth, age 89, Shawano, passed away on Sunday, June 4, 2006, at the Evergreen Care Center in Shawano, where he had been a resident for the past five days.

Arwerd was born March 16, 1917, in Embarrass, a son of the late Robert and Bertha (Koeller) Korth. He attended country schools in Pella Opening and Embarrass. Following school he was employed as a farm hand for several years. On Jan. 31, 1942, he was united in marriage to the former Lillian Menge at the parsonage of Zion Lutheran Church in Embarrass. The couple lived in Embarrass after being married where Arwerd was working at the Farmers Milling Company. They later moved to Tigerton. While living in Tigerton, Arwerd worked with his father-in-law on a mink ranch and trout farm. The couple then moved to Clintonville and later Shawano, where they have resided for the past 30 years. Arwerd had been employed as a machinist at the Four Wheel Drive in Clintonville, retiring in 1982.

He was a member of St. James Lutheran Church in Shawano. He enjoyed gardening, reading, and working on puzzles.

Survivors include: his beloved wife of 64 years, Lillian Korth of Shawano; two daughters, Karolyn (Michael) Capion of Green Bay, Jeanne (Dennis) Lilly of Manawa; two sons, Karson (Merry) Korth of Clintonville, Keith Korth of Sturgeon Bay; four grandchildren, Kerry (Richard Hawpetoss) Capion, Colen Capion, Kelly Korth, Daniel Korth; many nieces and nephews. Arwerd was preceded in death by: two brothers; one sister.

Funeral services will be held on Wednesday, June 7, at 11 a.m. at St. James Lutheran Church in Shawano with Pastor Ronald Raddatz officiating. Interment will be in the Zion Lutheran Cemetery in Embarrass. Relatives and friends may call at St. James Lutheran Church on Wednesday from 10 a.m. until the hour of services. Schroeder-Mickelson Funeral Service of Shawano is in charge of the arrangements.
---
ADDITIONAL ITEMS
---
Memorial Card
Mrs. Emilia Koeller

1880 Federal Census
Pella Twp. - KOELLER

1900 Federal Census
Pella Twp. - KOELLER

1870 Federal Census
Belle Plaine - HANDKE

Herman Koeller Homestead
1911 Plat Map
Pella Twp. Section 36
St. Peter's Church/Cemetery is on the edge of the property.
---
Many thanks again, Karolyn!