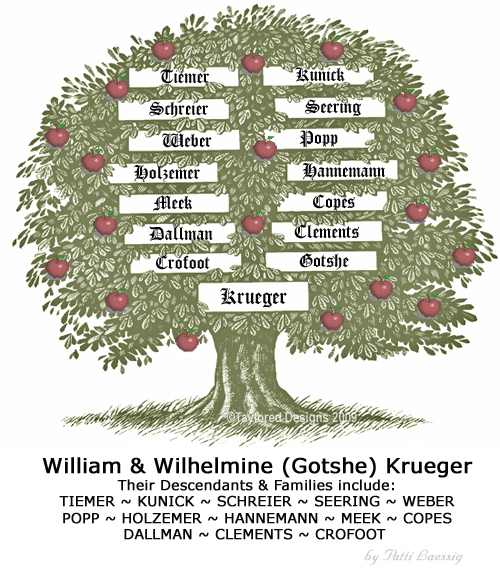 ---
Patti has sent in her genealogy with some great old photos of the Krueger-Gotshe families from the Bonduel area as well as her families from the western portion of Shawano County. Her "detective work" regarding the Mattoon Mercantile mystery put a
smile on my face -- today, we carefully look at cars and license plates in the background of photos... Patti put the pieces together comparing horse and carriage... and when you see the photos, it clearly is the same horse & carriage! And I'm sure Patti's cousin Stella is pleased with the beautiful tribute to her... she sounds like a memorable lady!

Patti's families immigrated from Germany to Washington County, WI and then later moved on to Hartland Twp., Shawano County, WI... with some families later moving to Marathon and Lincoln counties. In one of Patti's emails, she mentioned which of her photos was one of her favorite: "The photo of Stella & Emil walking down highway 97 towards home, is one of my all-time favorite photos!!! That house on the left side in that photo is where I grew up. My grandparents built the house, then my parents bought it, and that was my childhood home." So, I've made that the first photo (adjacent) on the page -- it's my favorite of the collection, too, as it seems to tells its own story. It almost allows you to step back in time and you can almost feel like you are walking behind them... as they make their way home... talking about the news from town... and the work to be done the following day at home... enjoying each others companionship... very nice picture indeed!

And Patti welcomes additional information and would love to hear from any researchers regarding her families... again, Patti, nicely done! Here's a link to Patti's own webpage "Patti's Ponderings and Putterings" - neat title!

Families include Krueger, Gotshe, Tiemer, Kunick, Schreier, Seering, Weber, Popp, Holzemer, Hannemann, Meek, Copes, Dallman, Clements and Crofoot
---

---
Wm. & Anna (Krueger) Seering
Married April 23, 1902 in Shawano Co.
(Sister of Clara Krueger Weber
Aunt of Stella Weber Popp)

Mr. & Mrs. Louis Krueger
(Brother of Clara Krueger Weber
Uncle of Stella Weber Popp)

---

---

Emil & Stella (Weber) Popp

Pete & Clara (Krueger) Weber
Married June 14, 1903

---

---

Mary Seering
(Stella Weber Popp's aunt)

Mr. & Mrs. Albert Lutzke
Bonduel, Wisconsin

---

---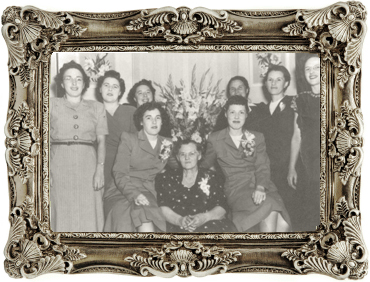 Anna Seering and family from Bonduel, Wisconsin
---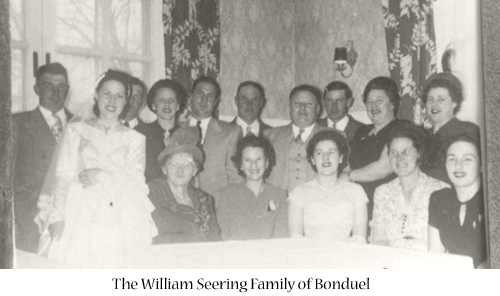 ---

---
The Mattoon Mercantile Mystery ~SOLVED!!!~
By Patti Laessig February 14, 2009
It was 1982 when I was accompanied by a friend with a 35mm camera and a tri-pod to the home of my two bachelor uncles who had a trunk full of family photographs preserved by my grandmother, Mary Weber Laessig. She was the daughter of Webertown's founders, Christian and Anna (Kaiser) Weber, and the second wife of my grandfather, Frank (Francis Hubert) Laessig. The Michael and Elisabeth (Kaiser) Weber family immigrated from Freudenburg, a small village near Trier in Germany in 1865 relocating to Centerville in Manitowoc County. Michael and Elisabeth Weber's family consisted of nine children: Magdalena born 22 May 1842, Christian born 12 Oct 1845, Michael born 30 Apr 1848, Elisabetha born 17 Mar 1851, Johann born 24 Oct 1854, Angela born 04 Nov 1855, Henry born in 1860, Franz born 08 May 1864, and Peter born in 1867. To my knowledge, Magdalena, Christian, Michael, Henry, and Peter lived to adulthood.
Also immigrating to Wisconsin were some of the Kaisers. Andreas Kaiser came to America arriving in 1856, having also left Freudenburg, Germany on June 24, 1856.
Andreas first went to Ashford and established a farm there, where his son Nicholas remained to carry on the operation of the farm. There are records showing Andreas may have gone to Manitowoc County for a time, as his brother Jacob located there along with other relatives. Eventually he came to Marathon County in order to buy affordable land so his remaining sons could have farms and establish themselves in that area of Wisconsin.
According to the Kaiser family, Andreas Kaiser came to America with his three brothers and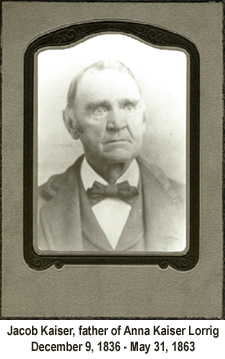 one sister. I have found information to confirm and locate three brothers, but there is evidence a brother Christianus also came with them but no information on him has been found. Andreas' brother John went to live in Cadott, Chippewa County, Wisconsin. John was born in 1830 and died in 1908. He married Appolonia Esslinger. Nicholas Kaiser born 11 Sep 1824, married Margaretha Esslinger, and Andreas Kaiser born 18 Jan 1815 married Magdalena Esslinger. The Kaisers brothers married the Esslinger sisters, daughters of Mathias Eselinger[sic] and Catharina Zehren. Their sister, Anna Esslinger born in 1814 married Nicholas Weber. One son, Peter Esslinger, born 13 May 1826, married Anna Esser and made their home in Stanley, Chippewa Co., Wisconsin.
Jacob Kaiser, half brother of Andreas went to Athens, Marathon County, Wisconsin according to family... however he was found to have been in Manitowoc County and his descendants were found living in the Milwaukee, Wisconsin area. Jacob, son of Nicholaus Kaiser and Margaretha Kaiser (nee Kaiser) married Magdalena Weber, 21 May 1863 at Centerville, Manitowoc County, Wisconsin. She was the eldest daughter of the Michael and Elisabeth (Kaiser) Weber mentioned earlier.
I didn't know any of this information when we began laying the photographs one by one on the floor, getting them in focus under the camera on the tri-pod and creating a snap shot of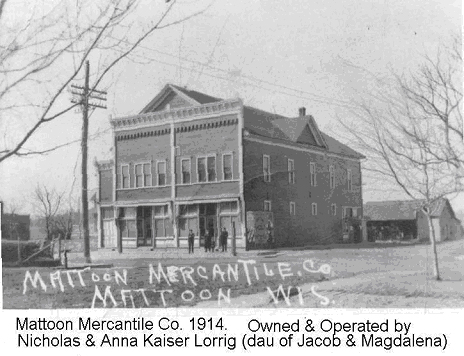 each one. What a treasure I had in that gift from my uncles, allowing us to copy those pictures.
One photo in particular was an enigma. That of a grand old building labeled "The Mattoon Mercantile." No one could tell me the significance of it. From time to time I would come across the photo in my album and read with curiosity the note written on the back, "At one time owned by Christian Weber's sister, married to Mr. Kaiser." I made a few futile attempts to contact people in regard to the photo, but for years there was no information to be found.
Eventually with the advent of computers, I put queries around looking for information and still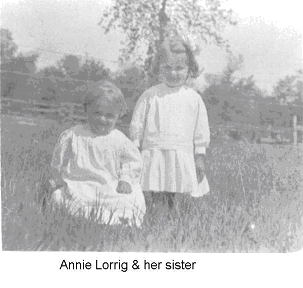 no further data could be found. Then a shirt-tail cousin sent me a copy of Peter Weber's Last Will & Testament, containing a list of heirs he left his property to. The cousin had figured out where most of the descendants of the Weber/Kaiser clan fit, but there were some names neither he nor I recognized.
In the trunk I found a photo of two little girls, with the name "Annie Lorrig" on it.
It took us three trips to the uncles to copy all the photos in the trunk, and each time we visited we chatted about the various photos, speculating on who they all were. It would take many years to identify them, and only a very few remain without names.
In a final attempt to solve the mystery of the Mattoon Mercantile photo, I posted queries listing the names Kaiser, Weber, and Lorrig. This was the right combination, and responses began to come and answers to long asked questions began to emerge, thanks to fellow researchers kind enough to assist.
One clue lead to a website that was created by Robert Lorrig. http://freepages.genealogy.rootsweb.ancestry.com/~antigowis/mattoon/lorrig.html
On his website I found a photo of Francis Lorrig (Robert Lorrig photo), same horse & buggy,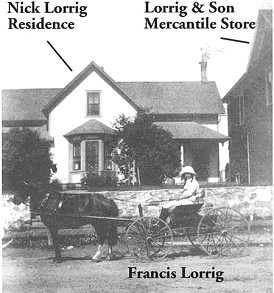 same retaining wall as my photo of Mrs. Tuc Lorrig.
I was very excited when I saw this photo, as I recognized the horse and buggy and the retaining wall in front of the house. I had copied a post card sent to my great grandfather from "Mrs. Tuc Lorrig" with a lady in a horse-drawn carriage in front of a retaining wall. The photo I had copied was of a different woman in the same carriage. Mrs. Tuc Lorrig.
Eventually I learned that Nicholas Lorrig was the owner-operator of the Mercantile, and his wife's name was Anna Kaiser. Shortly thereafter, a kind soul looked up the death certificates of the couple and there it listed Anna Kaiser's parents, Jacob Kaiser and Magdalena Weber. Immediately I knew where Anna Kaiser fit into the family and that she was not only my great aunt, but doubly so because her father, Jacob, and my great great grandfather, Andreas, were half brothers, and her mother, Magdalena Weber, and my great grandfather, Christian Weber, were brother and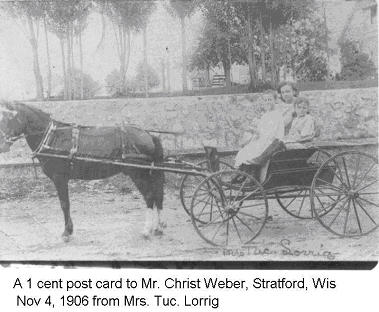 sister. Thus proving the notation on the photo…"Sister to Christian Weber married a Mr. Kaiser" … and it was their daughter Anna and her husband Nicholas Lorrig who operated the Mattoon Mercantile.
Soon more information was found posted by Robert J. Lorrig at Ancestry.com and from that I was able to fill in a lot of the missing information, as well as confirm what I already knew to be true. Plus I was able to make contact with Robert and exchange information with him, and solve his mystery as to the ancestry of his grandmother, Anna Kaiser Lorrig.
It was through the efforts of many people, including myself, that all the pieces of this puzzle finally came together. It really pays to never give up.

For more information on these families contact Patti Laessig at anaquea@dwave.net or pattilaessig@yahoo.com

---

---
by Patti Laessig February 14, 2009
One of the most colorful people I remember from my childhood, was my dad's first cousin, Stella Weber Popp. "Stell" to everyone who knew her. Stell was a loving and friendly woman, having left her hometown of "Webertown" after her marriage to Emil Popp, relocating north to Tomahawk in Lincoln County, Wisconsin where they raised their family.
Stell had an outgoing personality, and when she entered the room her presence would be felt. She commanded attention and with her genuine interest in her loved ones, she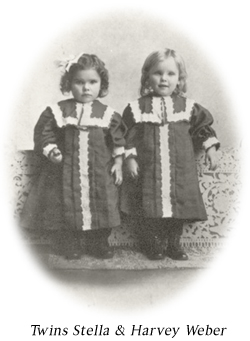 was a welcome visitor.
On a rare occasion we would get a visit from Stell, and I would sit quietly listening to the adults talk and joke around.
On a still more rare occasion, we would take a long drive to Tomahawk and visit with Stell in her little log cabin house out on highway 8. I marveled at the huge logs that made up the little house.
Stella grew up at Webertown with her parents Peter W. Weber and Clara Amelia Krueger Weber. She was born January 26, 1905 in Eau Pleine Township [Webertown], along with her twin brother, Harvey. There were many other siblings too.
There are delightful photos of these young twins, dressed alike as much as brother and sister can be dressed alike, and in those days they dressed quite similarly. The one with bow in her hair is Stella.
As youngsters, Stella and Harvey proudly show their contribution to the family dining table.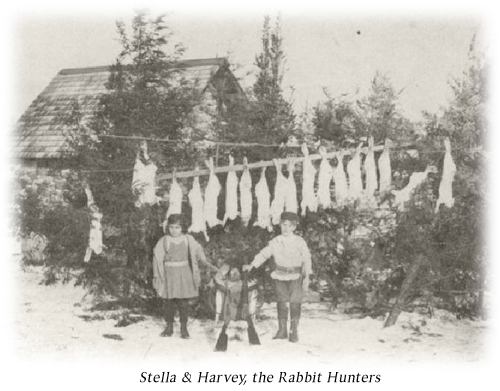 Still later in her young life, Stella was a helper to her dad in his Saloon, the Pete Weber Saloon. There is a semi-well known photo that appeared in a newspaper some years ago as unidentified, which was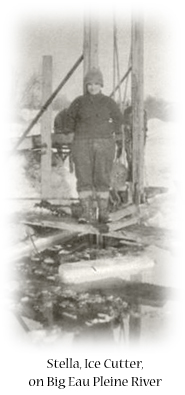 that of Stella bartending in her father's tavern. One such photo hangs in the student center at the University of Wisconsin at Stevens Point, Wisconsin.
After the death of her father, Stella's mother, Clara Krueger Weber took over the operation of the tavern. It was a tedious task, but necessary to support herself and her children.
"Aunt Clary" as she was known to my dad and his generation, worked long and hard to support her family. My dad would tell stories about the various encounters she experienced, with not-so-nice vagrant-type men who would distract her while someone stole the pot of stew from the stove… there's even a newspaper write-up about those scoundrels.
Though Aunt Clary was gone long before I began gathering her family history, and I don't remember ever meeting her, her legacy lives on in her descendants, and the memories of a long-gone pioneer town named after Clara's husband's father, Christian Weber, who settled just south of the Big Eau Pleine River and built his little town along with his family and friends. In that little town was a Catholic church named Holy Trinity, founded by Mr. Weber and others, and a Lutheran church, a general store founded and operated by Mike Wagner, and various other businesses that provided the needed services of the people of that era. Peter W. Weber, Clara's husband took over the proprietorship of the Saloon, but also was the local ice cutter, providing ice to the settlement. There are photos of Stella as a young girl out on the ice with the ice cutting equipment. There was also lumberjacking, providing logs to the Weber sawmill, and others in the vicinity, as well as lumber to build their homes and out buildings.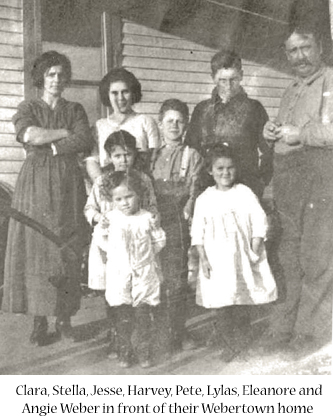 Early, untimely deaths were not uncommon in those days. Two of Clara and Peter's children, Delores and Lester died on March 28, 1912 of what was called black diphtheria. There were Jenny, Johnny, Loretta, Jesse, Lylas, Angie, Lester Lloyd, June who died at birth in 1919, Melvin and Elinore, known as "Girlie". To my knowledge, Stella, Harvey, Jesse, Lylas, Angie, Lester Lloyd, Melvin and Elinore grew to adulthood.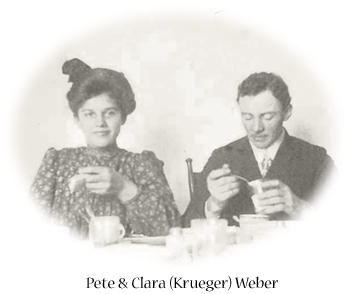 There was a lot of hard work to be done to sustain a family in those days, as all goods had to be either hand made or purchased on the meager earnings of these early settlers of the area. There was seasonal work that had to be done, such as ice cutting at the river, hauling it to the area people, wood cutting for fuel, lumbering for sale to the lumber companies and local mills. Farming was becoming a way of life for many of the area people once the land was cleared.
Most saloons served meals so one could stop for refreshment and at the same time enjoy sustenance. In those days, ladies did not go into the barrooms. There were rooms off to one side where they would gather and visit while the men shared their stories and company at the bar, often lined with spittoons for their well chewed tobacco. It was a gross task to clean them, Stella told me. She managed to get stuck with that nasty clean-up job.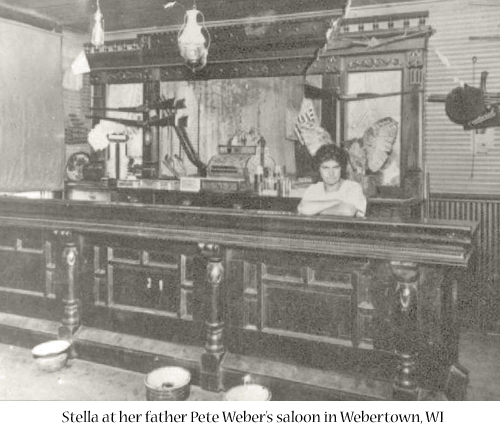 On June 23, 1926 Stella Weber and Emil Popp were married. They raised a family of five sons.
I was fortunate to have had the opportunity to visit with Stella in her later years and listen to her reminisce about the days of her childhood and young adulthood. Many of her fond memories were shared with me so that I could record them for posterity. She also had a collection of photos she allowed me to copy, some one-of-a-kind heirlooms, such as the one of her standing on the ice cutting rig.
The old saloon building is long gone, as are the early settlers of that bye-gone era. Many of the people living there today have little recollection of the settlement that flourished along the Big Eau Pleine River in Eau Pleine Township in Marathon County, Wisconsin. What is left are faded photos in old obscure albums and a few notes jotted here and there to bring back the memories of those who lived and prospered here, and who have long since gone on their way.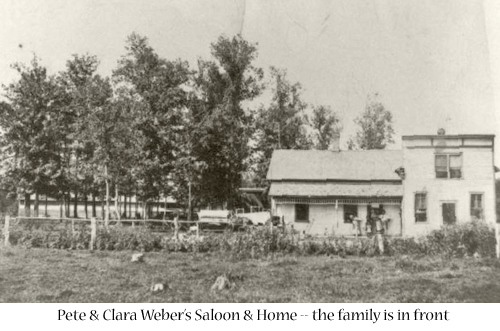 For further information on the Peter W. Weber ~ Clara A. Krueger family, contact Patti Laessig at anaquea@dwave.net or pattilaessig@yahoo.com.

---

---

Descendants of William Krueger
(For a very COMPLETE PDF FILE with notes, click here...)
Descendants of Christianus Kaiser
(PDF FILE)
---

---
Chicago: J.H. Beers & Co. 1895
Commemorative Biographical Record of the Upper Wisconsin Counties of Waupaca, Portage, Wood, Marathon, Lincoln, Oneida, Vilas, Langlade and Shawano, containing biological sketches of Prominent and Representative Citizens, and many of the early settled families. Pgs 936 - 37

WILLIAM SEERING is a self-made man, who has worked his way upward to a position of affluence unaided save by his own perseverance, diligence and good management. The record of such a man should serve as a source of encouragement to others, and it is with pleasure that we present the sketch of his life to our readers

Mr. Seering was born in Prussia, November 18, 1839, son of Gotfried Seering, farmer and miller, who in later life engaged in hotel keeping. Gotfried Seering was married in his native land to Miss Sophia Hoffman, and ere leaving Germany they became the parents of three sons and two daughters. The father was at one time possessed of a comfortable competence, but during the revolution of 1848 his property was all swept away, and he then concluded to come to the United States. In the spring of 1850 he embarked with his family at Hamburg on the "North America," which reached New York after a voyage of thirty-three days, a remarkably short voyage for that period. He made his way to Milwaukee, Wis., leaving his family there for a short time while he went to Mayville, Dodge county, to find a relative. Thither he took his family in a wagon, and for about a year was employed in a distillery in Mayville, after which he purchased forty acres of new land, building thereon a log cabin. He then began the cultivation of his farm, and as his financial resources increased extended its boundaries by additional purchase. The children of the family were: William; August, a farmer of Hartland township, Shawano county; Julius, a farmer of Dodge county, Wis.; Louisa, wife of August Waner, of Dodge county; one daughter who died in Milwaukee soon after the arrival of the family in this country; Amelia, wife of William Swan, of Dodge county; and Carl, who died at the age of fourteen years. The father spent the last seven years of his life at the home of his daughter, Mrs. Swan, his wife passing away five years before him. Both were members of the Lutheran Church, and were laid to rest in Woodland Cemetery. The father had prospered in his undertakings, and by persistent labor had acquired a good farm.

The schoolhouse where William Seering pursued his studies was far distant from his home, and, as his services were needed on the farm, his educational privileges were, in consequence, limited, but he has always been a warm friend of education, and as a school director has done effective service in its interest. He early became familiar with the hardships and experiences of frontier life, and with the arduous task of developing a new farm, giving the benefit of his services to his father most of the time until his marriage. At the age of twenty-two, in Williamstown, Dodge county, Mr. Seering wedded Caroline Uhlerich. His father then gave him a wagon and yoke of oxen, and in 1861 he came to Shawano county, where the year before he had purchased a tract of government land in Section 15, Hartland township. The household goods were moved in a wagon drawn by oxen, and they were ten days on the road, being obliged to cut their way through the woods in order to reach their farm. He built a log house, 20 x 24 feet, and here began life in true pioneer style. A year and a half later his wife died, and, as his own health was poor, he returned to his parents' home in Dodge county, remaining with them until his second marriage. On July 3, 1867, in Mayville, Wis., he wedded Miss Johanna Petermann, who was born in Germany June 3, 1848, a daughter of Christian Petermann, a farmer, with whom she came to this country at the age of eighteen years. Again Mr. Seering made the trip with a wagon and ox-team to his farm in Hartland township, and has since made his home thereon. He now has 160 acres of rich land, of which 130 acres are under a high state of cultivation­in fact, his farm is the best in Hartland township, it being assessed higher than any other. The buildings upon the place stand as monuments to his thrift and enterprise, and are modern in structure, and models of convenience. His fine brick residence was erected in 1880, and the other improvements are in keeping with the home.

The children of Mr. and Mrs. Seering are Albert, a merchant of Bonduel; Frank, who clerks in his father's store; Emma, wife of Herman Siebert; and Robert, Charley, Helen and Elizabeth, at home. Mr. Seering has always been a Democrat, and has served altogether for fifteen years as supervisor, and for nine years as school treasurer. In August, 1892, in company with Frank Siebert, he purchased the mercantile business of Philip Meyer, of Bonduel, of which he is now the sole proprietor. He possesses excellent business ability, and his enterprise and well-directed efforts have brought to him a high degree of prosperity, which he well merits. He and his wife are members of the Lutheran Church.
---