A little about Leona... she was born January 15, 1911 in Bonduel, the daughter of John and Laura (Gerndt) Luepke. Leona was deaf and also unable to speak - and apparently her sister Hildegard was deaf as well. Her parents are found in the censuses for Hartland Twp. but the 1920 & 1930 censuses find Leona living in Deaf Schools. The 1920 census has her attending an Evangelical Lutheran School in Detroit, Michigan and the 1930 census has Leona and her sister Hildegard listed at the Wisconsin School for the Deaf in Delavan, Walworth County, WI.

Her father John Luepke's parents were William Luepke (or Luebke) and Wilhelmine Friedericke Brusewitz and her mother Laura Gerndt Luepke's parents were Herman Gerndt and Emelia Prochnow. Just those couple of family lines will be of great interest to our Hartland Township researchers and since she loved photography, this collection is a great find.

Leona's obituary: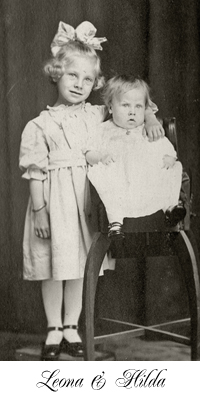 Hoewisch, Leona C.
Saturday, January 03, 2004
Milwaukee Journal Sentinel
Hoewisch, Leona C. New London. Age 92, passed away on Friday, January 2, 2004 at New London Family Medical Center. She was born on January 15, 1911 in Bonduel, daughter of the late John and Laura (Gerndt) Luepke. On September 29, 1979 she was united in marriage to Werner D. Hoewisch. He preceded her in death in 1986. Leona worked at Villa St. Vincent in New London for many years. She is survived by a stepdaughter Judy Hoewisch, California; a stepson David (Kay) Hoewisch, California and their children, Ethan and Meghan. Leona is further survived by numerous cousins, brothers-in-law, sisters-in-law, other relatives and friends. She is preceded in death by a sister, Hildegard. Funeral services will be held on Monday, January 5, 2004 at 2:30 PM at Emanuel Lutheran Church in New London with Rev. W. "Bud" Palmer officiating. Burial will be in the church from 1 pm until the time of service. Cline & Hanson Funeral Home 209 W. Cook St., New London 920- 982-3232
***
Laura Luepke (13 July 1885 - 22 April 1974) and John Carl Luepke (12 May 1883 - 23 March 1971) are both buried in Emanuel Lutheran Cemetery, Lebanon Twp., Waupaca County.
Appleton Post Crescent ~ April 23, 1974
Laura (Mrs. John) Luepke
609 Smith St. New London

Age 88, passed away Monday evening in New London following a brief illness. She was born July 13, 1885 in the Township of Lebanon. She was a member of the Emmanuel Lutheran Church and the Ladies Aide.
Survivors include two daughters, Miss Leona Luepke, Miss Hildegard Luepke, both New London; a brother Louis Gerndt, New London; many nieces and nephews. She was preceded in death by her husband in 1971. Funeral services will be held at 2 pm Thursday at Emmanual Lutheran Church, New London with the Rev F.W. Heidemann officiating. Burial with be in the Lutheran Cemetery. (courtesy of Deb)
Hildegard Luepke (Nov. 25, 1916 - Feb. 14, 1987) in Milwaukee, Wisconsin
Obituary: Appleton Post Crescent / February 16, 1987

Formerly of New London, age 70, died in Milwaukee Saturday, February 14at 7:00 , 1987. Mrs. Luepke was a member of Emmanuel Lutheran Church, New London. Survivors include a sister Leona Hoewisch, Milwaukee; cousins Shirley and Harry Tech, New London. Committal services will be at 7:30 Tuesday at Borchardt and Moder Funeral Home, New London. Interment will be in the Emmanual Lutheran Cemetery. Friends may call at the Borchardt and Moder Funeral Home on Tuesday 4-7:30 pm (courtesy of Deb)
William Luepke (24 Dec 1841 - 10 Aug 1912) & Wilhelmine Friedericke Brusewitz
(1 May 1850 - 21 Mar 1912)
(Leona's paternal grandparents)

Wilhelmine Brehmer Brusewitz (1821 - 1884)
(Leona's paternal great-grandmother)

John Carl Luepke (1883 - 1971),
Bonduel, Wisconsin
(Leona's father)

Confirmation - July 5, 1924
Leona & Pastor W. Glelowon
(Detroit School for the Deaf?)

---

---
Louis A. Luepke
August Hensel
Leona & Hilda
Our home on the farm

---

---

---

---

Herman, Henry, John & Lewis Luepke
John Carl Luepke
WWI Draft Reg. Card
1900 Hartland Twp.
Wilhelm Luepke
1910 Hartland Twp.
John Luepke

---

---

---

---

1920 Hartland Twp.
John C. Luepke
1930 Hartland Twp.
John Luepke
1920 Detroit Deaf Sch.
Leona Luepke
1930 State Deaf Sch.
Leona & Hildegard

---

---

---

---
The following are pictures that were near and dear to Leona... unfortunately, there isn't any writing or documentation on most of them. BUT... there is a chance that YOU might know these folks... if you can identify them, email me and we'll update the page. Since Leona spent a large portion of her childhood living away from home at school, some of these might well be pictures of "home" that she carried with her or that her family sent to her at school. Click on any of the pictures for the LARGER VIEW.

Note: When I started reading about Leona, I kept thinking how sad this was that she was both deaf & mute... and that her sister was also... and how much of life she must have missed... and how sad this must have been for her mother & father... and then I started looking at the pics Xen sent in... this family was anything but sad... these photos show a loving, hard working, caring family and two happy little girls despite their handicaps. Picture after picture of Leona shows the same cheerful little girl with a wonderful smile... and the people who cared for her have the same happy smiles -- considering she grew up between WWI & during the Great Depression when life was hard & money scarce, I am in awe of the many pictures of common simple things - a little boy with his dog sled, Leona on a slide, Leona?'s first Easter, and there is a precious photo of a young father and his baby...

Xen, thanks so much for sharing Leona with us!
NEWSPAPER ITEMS...
VOLKSBOTE WOCHENBLATT
Thursday, March 28, 1912

Frau WILHELMINE FRIEDERICKE , nee BRUSEWITZ, an old settler in Bonduel, died on 21 March (1912). She was born on 1 May 1850 bei Stargort in Pommern. She came to America as a child and was married in 1869 in Lebanon, Wis. From there she came to Town Hartland where she lived til now. She had 11 children of which 8 are living. She is also survived by her husband, 19 grandchildren, 2 brothers and 2 sisters. The funeral was held on 25 March in Bonduel.

St. Paul's Lutheran Cemetery, Bonduel:
| | | | |
| --- | --- | --- | --- |
| LUEPKE | Wilhelm | 24 Dec 1841 - 10 Aug 1912 | Father |
| LUEPKE | Wilhelmine | 1 May 1850 - 21 Mar 1912 | Mother |
---
---
XenŠ2009 All rights reserved.