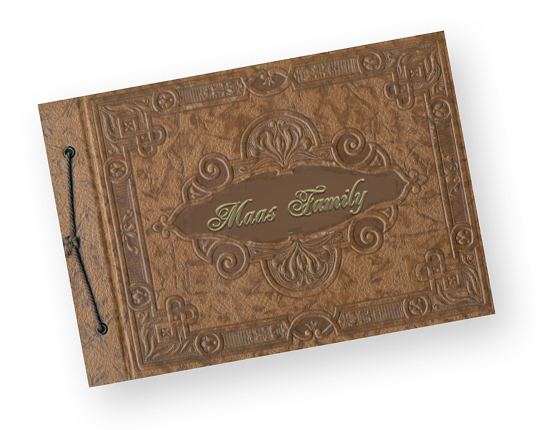 ---
Dave and his wife have been "kindred spirits" to the Shawano GenWeb Project from "In The Beginning..." so it is with much pleasure that we're able to do this page. Dave is still living out West, but in the summertime, they vacation at their home in Shawano County... and they frequent estate sales, auctions, etc. If there is an unwanted or unloved photo on the auction block, they purchase it and hope to find the rightful owners.

Current names they are researching are: Marohl, Braun, Poppendorf, Rohloff, Buelter, Maas, Hoeffs, Plantikow, Ebert, Krueger, Teshke, Radtke, Yuenger, Wescott, Mosling, Bahr, and Schenk. Some of these families overlap into Oconto/Outagamie/Waupaca counties.

Dave, thanks for the great additions to the site and hopefully, we'll get families to claim their parents & grandparents and get them where they belong!

*** First section is Dave's FAMILY PICTURES... the last section is for the photos that NEED FAMILIES TO LOVE THEM! And be sure to click on ANY of the pictures to see the larger original pictures -- Dave has added information to the original pictures! Dave also would appreciate any feedback from families represented in the photographs he has sent in... AND if you are lucky enough to have found your family here, they are free to the families if they wish to have them - all you have to do is email Dave & send him the postage. If you live in the Shawano area, Dave can deliver them personally next time he is back. Dave, mega thanks for your kindness to share pictures plus to rescue stray ones & try to locate their rightful owners. We need more "Genie Angels" like you & your wife!

---
Dave's family photos...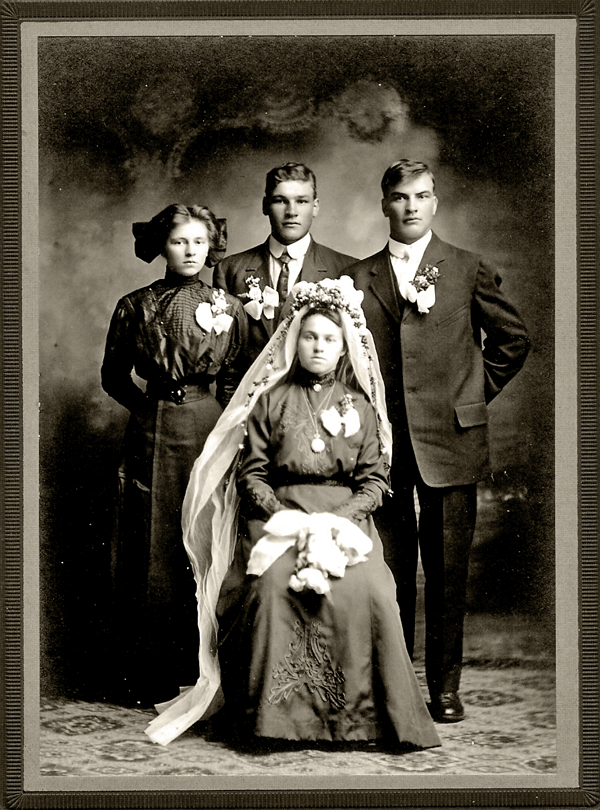 Dave's Grandparents Wedding Photograph
Herman E. and Ella Eliza (Giessel) Maas
November 1st, 1910 in Pella, Shawano County
The attendants are Alma Hoeffs & Hubert Maas (Herman's brother).
Ella (bride) is seated and Herman (groom) is to the far right of the picture.
Herman and Ella (Giessel) Maas are Dave's grandparents, Hubert Maas is Herman's brother.

Ella Giessel (b. 3 Jan 1890, Seneca, Shawano Co, Wisconsin d. 10 Jul 1992, Bowler, Shawano Co, Wisconsin) was the daughter of Wilhelm and Marie Elizabeth "Eliza" (Hoeffs) Giessel.
Alma Hoeffs (b.17 Jun 1893, Belle Plaine, Shawano Co, Wisconsin d. 5 Jun1975, Wisconsin) is a cousin of my grandmother Ella Giessel, Alma's parents were August Hoeffs and Bertha Buelow who lived in Belle Plaine, Shawano Co, Wisconsin.

Alma married Arthur Heinrich Schultz on 14 Oct 1919, at Bonduel, Shawano Co, Wisconsin
---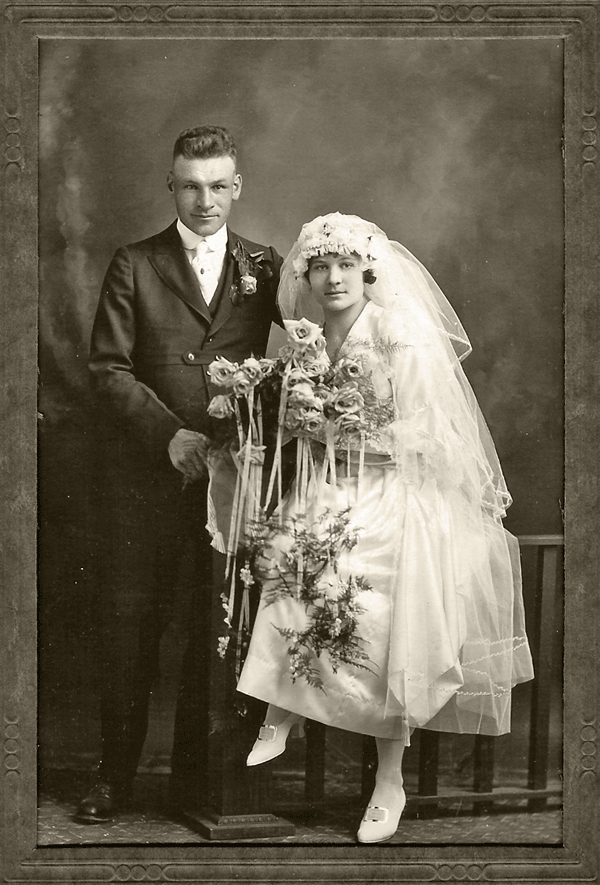 Hubert Charles and Ella (Schenk) Maas
April 21st, 1920 in Seneca, Shawano County
---
The following are the photos that are looking for LOVED FAMILIES... and click on the images to see the larger original picture (most have notes, etc.)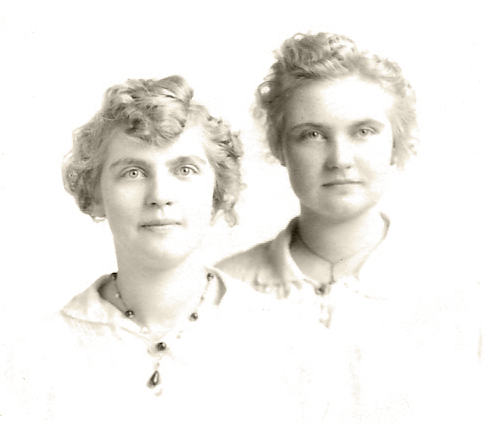 Helen and Esther Buelter

HELP NEEDED! Dave's family is related to the Buelters of Shawano Co. but which family do sisters(?) Helen and Esther belong to...the photo has their names and clearly, Esther is married to ? Weber and Helen's is unclear (Nusbauer?) and their cousin is Linda Hoem??

Here's another Buelter family member to identify. The info on the reverse side of the baby photo states: "Jane Oppermans mother, Martha Buelter". Hope someone out there can identify her to the Buelters in the Tilleda, Shawano Co. area.

If you know this family, email Dave... he'd love to hear from you!
---
---
Phillip & Lorraine (Bahr) Marohl
Married October 18th, 1923

Clara Bahr (daughter of Robert & Emma (Meyer) Bahr Married Helmuth Gehm in Cecil.
---
Dave writes: "I believe this Braun family lived in the Caroline, Grant Twnsp, Shawano Co. Ed and Esther had a son named Ruben.
In the group wedding photo Walter Poppendorf is identified on the left end. He is the son of August and Ida Eliza (Braun) Poppendorf. The Poppendorf's are also from Grant Township, Shawano Co.
Ida Eliza Braun was born Jun 1875, daughter of August and Lena (Radke) Braun. She had two brothers from what I can find, Otto born 1873 and Ed born after 1880 census was taken. I am guessing the Ed Braun in these wedding pictures is the son of either Otto or Ed, Ida's brothers. Lets hope someone out there can verify the linkage."
---
Now for the final group of photos. Here again is the Marohl family with possible Yuenger family ties. Dave also included a Kruger/Krueger photo with hopes someone can identify the family.

Photo #1 - Helen Marohl, daughter of Herman Marohl...1910 census for Shawano County lists Herman & Elizabeth Marohl with children Eva, Clarence, Helen and Agnes living on Depot Street in Shawano. Helen was born about 1907..
1930 Census for Shawano lists Wally & Helen (Marohl) Krumbach... perfect match as Helen's mother was b. in Ohio.

Photo #2 - Albert, Marie and Adolf Kruger. The photographer is from Marion, Waupaca Co, so maybe someone from the Waupaca co, GenWeb can help on this family. I suspect that the spelling on the photo is in error, and should be Krueger?
1910 Census for Shawano lists Albert & Mary Krueger with children Albert, Marie & Adolph...

---

---


(This photo is just too cute!)

Photo #3 - Lizzie Marohl, wife of Herman Marohl. I assume this is the mother of Helen, Photo #1. This photo is from L. Anker Photographer, Shawano Wisconsin, so I'm sure this is a Shawano Co. Marohl.

Photo #4 - Another photo from Shawano photographer L. Anker, and on the reverse side the owner wrote, "Mothers cousins the Marohls from Shawano, Eva, Helen and Agnes. I suspect that again this may be the Herman Marohl family and Helen is the same as Helen in Photo #1.

---

---

Photo #5 - is again from L. Anker, Photographer of Shawano and on the reverse is written "Ervin and Harry Yuenger. In the Shawano Co, GenWeb Queries there is a thread dealing with the Marohl / Yuenger families and I assume this may be of special interest to the submitters.
In the 1910 Hartland Twp Census, Charles & Bertha Yuenger have 3 children: Hattie, Harry & Ervin... 1900 Census lists birthdates of the "Yuenger Brothers" as Harry (Aug 1892) and Ervin (Oct 1895)... and a little more checking finds Carl J. Yuenger marries Bertha F. Marohl on June 1, 1885 in Shawano County. So, YES! There is a YUENGER - MAROHL connection!
---