1892 Leopolis School, Leopolis, Wisconsin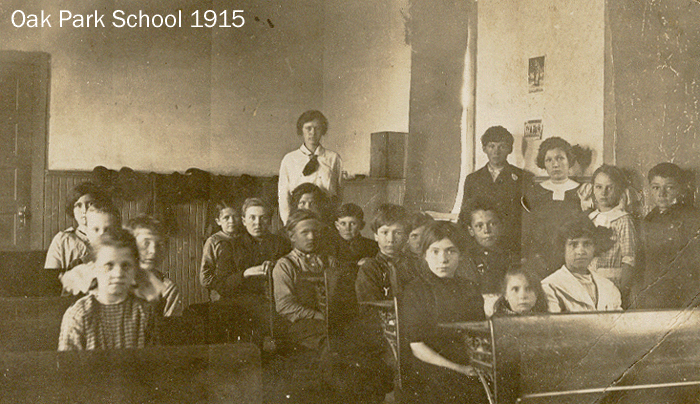 On back of picture is written:
"Otto Schultz, From your teacher Gertrude McEwan, May 6, 1915"
Contributed by Dorothy Hagemann ~ OAK PARK SCHOOL 1915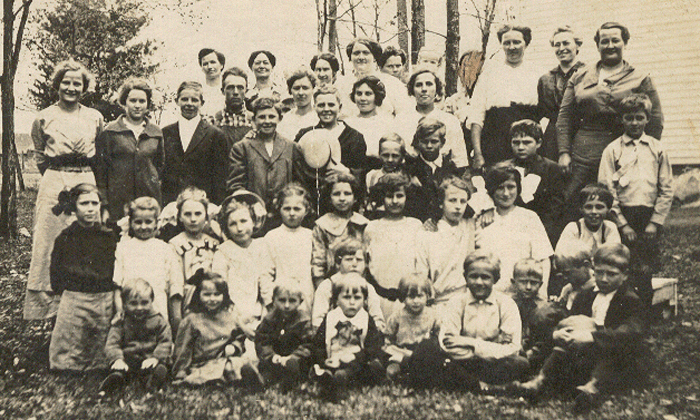 Boy, third from right, sitting, is Alfred Strauss, son of Bert Strauss.
Maybe someone can identify some of the others??
Contributed by Dorothy Hagemann ~ OAK PARK SCHOOL 1920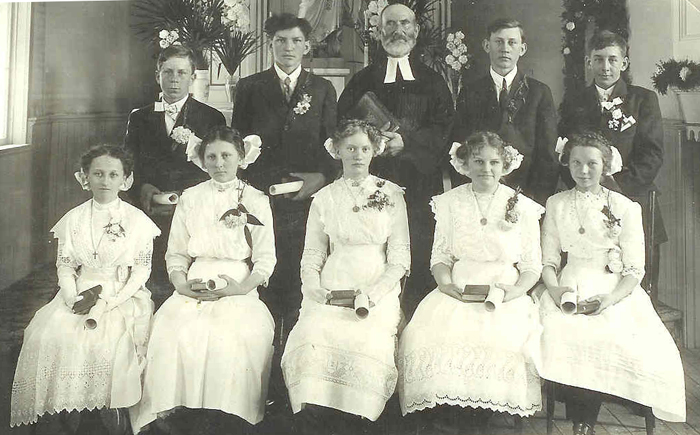 "I believe the church was Zion Lutheran Church, Caroline, since Alda Rusch was a lifetime member. These are all from Caroline, Shawano County families..."
Contributed by Dave Maas
Top, boys L-R:
Alfred Schroeder, Alex Krause, Elmer Detert, and Walter Engel.
Bottom girls L-R:
Dora Knaak, Elsie Detert, Alda Rusch, Martha Harder, and Lora Schachtschneider.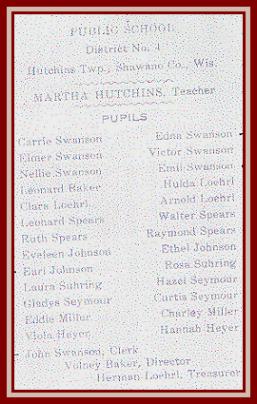 Lake May Grade School, Hutchins Twp., Shawano County, WI c. 1913
Hutchins Twp, Martha Hutchins, teacher with pupils: Carrie Swanson, Elmer Swanson, Edna Swanson, Victor Swanson, Nellie Swanson, Emil Swanson, Leonard Baker, Hulda Loehrl, Clara Loehrl, Arnold Loehrl, Leonard Spears, Walter Spears, Ruth Spears, Raymond Spears, Eveleen Johnson, Ethel Johnson, Earl Johnson, Rosa Suhring, Laura Suhring, Hazel Seymour, Gladys Seymour, Curtis Seymour, Eddie Miller, Charley Miller, Viola Heyer, Hannah Heyer .. John Swanson, Clerk; Volney Baker, Director, Herman Loehrl, Treasurer.
Contributed by Karolyn Roberts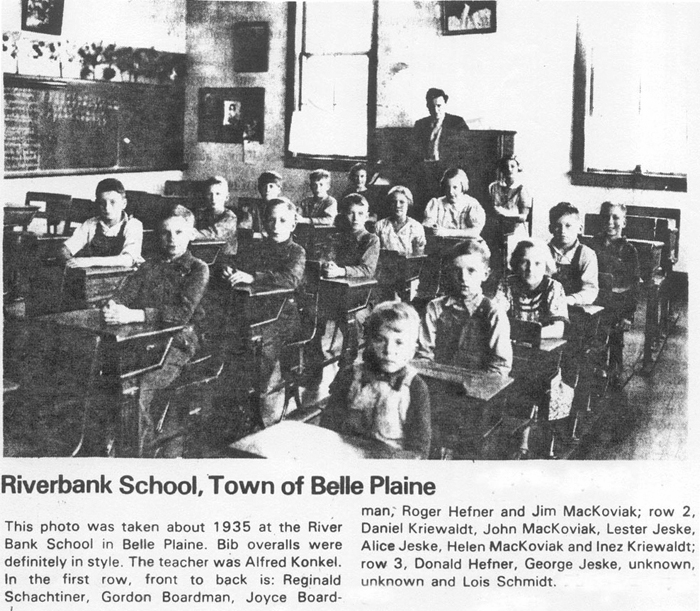 Riverbank School, Belle Plaine, Wisconsin
Taken about 1935 - teacher is Alfred Konkel; students are: Reginald Schachtiner, Gordon Boardman, Joyce Boardman, Roger Hefner, Jim MacKoviak, Daniel Kriewaldt, John MacKoviak, Lester Jeske, Alice Jeske, Helen MacKoviak, Inez Kriewaldt, Donald Hefner, George Jeske, Lois Schmidt.