his was originally walked by Wayne & Alta Guyant in 1973. The cemetery is located in Almon Twp, on River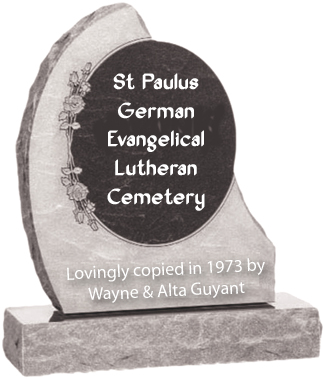 Road and many thanks to Debbieİ2006 for updating it and sending it in to the Shawano GenWeb Project. Originally, it was a German Lutheran cemetery call St. Paulus Evangelical Lutheran. Then it was known as St. Paul's Lutheran in Almon Twp., and later became St. John Lutheran.
Note: Here's a little info on Wayne & Alta and their work:
Tombstone inscriptions copied between 1970 and 1981 by Wayne and Alta Guyant in cemeteries in seventeen Wisconsin counties, and clipped newspaper obituaries and other related items. The records represent every known cemetery in Florence, Langlade, Portage, Waupaca, and Waushara counties and many in Adams, Barron, Forest, Green Lake, Juneau, Lincoln, Marquette, Oneida, Outagamie, Shawano, Winnebago, and Wood counties. Included is an original record book of the Meadow Creek Cemetery, Barron County, Wis. Also present are family history materials on the Axtell, Dent, Guyant, and Rogers families. These are available on 14 reels of microfilm at the Wisconsin Historical Society Archives. Wayne passed away on October 20, 1995 and Alta joined him on November 30, 2003. Their diligent hard work will continue to live on and many thanks -- because of their efforts, we have MANY of their cemeteries listed on the Shawano site. Quite a few of the cemeteries listed as being contributed from the LDS FHC are indeed cemeteries that originally were walked and transcribed by Guyants that the FHC forwarded to the Shawano site.

| | | | |
| --- | --- | --- | --- |
| BAERENWALD | Otto | 1865 - 1957 | Father |
| BAERENWALD | Mary | 1871 - 1956 | Mother |
| BAERENWALD | Lydia M.A. | 22 Jun 1900 - 10 Apr 1901 | |
| BUDAHN | Wilhelm F.C. | 17 Jun 1901 | s/v Wm.M.- |
| BUDAHN | Arthur | Oct 22,1893-Oct 18,1918 | s/o Wm.& Bertha; Co.A 25th Mach.Gun Battn.d.Camp Sheridan, Montgomery, Ala. |
| BUDAHN | William | 1858 - 1943 | Father |
| BUDAHN | Bertha | 1865 - 1938 | Mother |
| BUDAHN | Bertha | 1907 - 1966 | |
| FANDREY | Mabel A | June 2,1928-June 17,1945 | Dau |
| FANDREY | Arthur | 1936 | Infant sons |
| FANDREY | John | 1933 | Infant sons |
| FANDREY | Lizzie S. | 1892 - 1962 | |
| FANDREY | Edward L. | 1887 - 1948 | |
| FANDREY | Esther | 7 Jun 1913 - 17 Nov 1914 | t/v L & L |
| FANDREY | William R. | 1891 - 1966 | |
| FANDREY | Emma | 1893 - 1963 | |
| FANDREY | Arnold | 1920 - 1920 | |
| FONTE | Patricia | 1934 - | Married Dec 1, 1956 |
| FONTE | Nino J. | 1925 - | Married Dec 1, 1956 |
| GAST | Wilhelmina | 1852-1922 | Mutter |
| GAST | August | 1851-1907 | Vater |
| GAST | Orville | 12 Nov 1913 - 17 Feb 1914 | s/v F & H |
| HEYER | Walter | 1903 - | |
| HEYER | Erna | 1904 - 1939 | |
| KECKHAVER | Rodney p. | 1939 - 1941 | |
| KECKHAVER | Lorraine | 1917 - | Mom |
| KECKHAVER | Roy C. | 1914 - 1960 | Dad |
| KECKHAVER | Roger R. | Dec 19,1939 - Mar 22,1965 | Wis PFC 2 BN 92 Arty |
| KICKHAFER | Emil | 9 Okt 1877 - 4 Nov 1913 | |
| KICKHAFER | Ernstina | 28 Jan 1848 - 5 Apr 1912 | |
| KICKHAFER | Wilhelm | 30 Okt 1853 - 8 Jan 1910 | |
| KICKHAFER | Meta | Aug 4,1889 - Feb 5,1962 | Mother |
| KICKHAFER | Otto | Dec 29,1880 - Dec 25,1946 | Father |
| KICKHAFER | Loyd | 22 Mai 1912 - 20 Aug 1913 | |
| KIELMAN | Eva | 1851 - 1941 | |
| KIELMAN | Ferdinand | June 10,1856 -July 20,1908 | |
| KIELMAN | Carl | 1881 - 1948 | |
| KIELMAN | Marilyn Ann | 1948 - 1949 | |
| LEISKAU | Art | 1905 | Married Dec 28, 1932 |
| LEISKAU | Gladys | 1914 - | Married Dec 28, 1932 |
| LEISKAU | Anna | 1876 - 1967 | |
| LEISKAU | William | 1866 - 1928 | |
| LEISKAU | Gustave A. | 1883 - 1957 | |
| LEISKAU | Ellen | 1906 - | |
| LEISKAU | Walter | 1902 - | |
| LEISKAU | Willard D. | May 8 - Aug 29, 1924 | |
| LEMKE | Albert A. | 1890 - 1930 | |
| LEMKE | Wilhelm J. | 1858 - 1911 | |
| LEMKE | Laura E. | 11 Mai 1904-11 Jun 1904 | |
| MALUEG | Steven | 1947 - 1971 | |
| MAYER | Robert A | 1881 - 1920 | Father |
| MAYER | Leslie | 1915 - 1915 | Son |
| MAYER | Laurene | 1918 - 1919 | Dau |
| PARMER | Orrin C., Jr. | 1963 - 1964 | baby |
| PARMER | Bertha N. | 1886 - 1960 | |
| PARMER | Harry H. | 1882 - 1957 | |
| PUKALL | Ruben W. | 1925 - 1950 | Son |
| PUKALL | Esther A. | 1904 - 1971 | Mother |
| PUKALL | Emil R. | 1891 - 1940 | Father |
| RUPNOW | Ferdinand | 1849 - 1918 | |
| RUPNOW | Augusta | 1853 - 1910 | |
| RUPNOW | Otto | 1882 - 1922 | |
| SLATER | James E.- | Mar 3,1901-Aug 11,1901 | s/o C & A |
| WETZEL | Albertina | 1861 - 1937 | Mother |
| WETZEL | Anna | 3 Apr 1877 - 28 Jan 1920 | |
| WETZEL | Anna | 27 Jan 1920 - 25 Mar 1920 | |
| WETZEL | Carl F. | 1861 - 1957 | Father |
| WETZEL | Augusta | 27 Aug 1856-30 Jul 1908 | frau/v Carl |
| WETZEL | Arne | 30 Jan 1913 - 26 Jun 1921 | |
| WETZEL | Elizabeth | 1894 - 1971 | |
| WETZEL | Ernest | 1891 - 1930 | |
| WETZEL | Lillie | 19 Juli 1891 - 12 Nov 1918 | |
| WETZEL | Fred | Mar 25,1889 - Apr 7, 1931 | Son |
| WICHMAN | Tillie | 1872-1957 | Mother |
| WICHMAN | C. John | 1878-1943 | Father |
| WICKMAN | Anna | 1880 - 1914 | |
| WICKMAN | Gotlieb | 1872 - 1951 | |
| WICKMAN | Rose Miller | 1887 - 1932 | Rose Miller Wickman |