The Elm Lawn Cemetery page has been compiled from various sources... if you have headstone information or obituaries that you would like linked to this page, email me and we'll add them.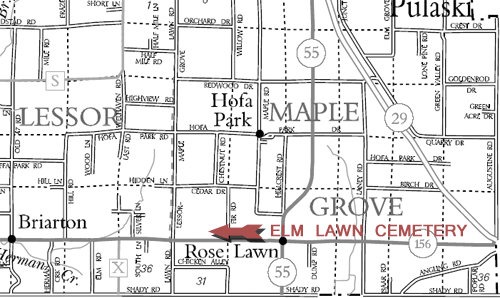 Elm Lawn Cemetery is located on Highway 156, Rose Lawn, in Shawano County.
GPS coordinates: N 44.60249 and W -88.36121.
Thanks Lloyd Lancaster for the additional photos:
ENTRANCE PHOTO 1 / PHOTO 2
SURNAME, First Name
Birth - Death dates
Inscription or other information

Abel

, Robert James
7/15/1935 - 5/26/2007

Baldwin,

Hannah
1836 - 1909

Baldwin,

John
1823 - 1913

Barron,

April Grace
4/18/1997

BISHOP,

Charles August
1880 - 1973
22 Oct 1880 - 26 Sep 1973 /SSDI
BISHOP, Ella Viola
1885 - 1952
BISHOP, Georgia
Broken Headstone
BISHOP, Ines
10/29/1877? - 3/24/1922
BISHOP, Pearl Hanson
1891 - 1947
BISHOP, Olga
3/8/1901 - 9/30/1973
BISHOP, Roy
1903 - 1979
4 Jan 1904 - 2 Dec 1979/SSDI

Cheslock,

Pauline A.
12/14/1971 - 2/22/2003
Beloved daughter, sister & mother

Cheslock,

Randy
8/3/1947 - 8/16/1947

Crofoot,

Mary Jane Clark
1848 - 1934
Wife of William W. Crofoot

Crofoot,

William W.
1840 - 1919
CO A 32nd WIS VOL - Civil War Vet
DEAN, Albert
186_ - ?
Father
DEAN, Lena
1862 - ?
Mother
DEAN, Edwin C.
CO C 14th WIS INF
DEAN, Edwin C.???
1839 - 1917
no first name on stone
DEAN, Elmere O.
7/19/1880 -
10/7/1888
DEAN, Grace
1897 - 1916
DEAN, Joseph
1815 - 1890
Old Funeral Home Marker
DEAN, Lester A.
d. 6/20/1927
WISCONSIN PVT VETERAN HOSPITAL

Delemater,

Ida J.
1864 - 1931
Same Stone with:

Delemater,

Thomas
1860 - 195_?

Elsner,

Eli O.

5/8/1919 - 1/11/1992

Elsner,

Helen G.

Elsner,

Terry J.
1953 - 1961
HALLAM, Alice M.
1872 - 1903
HALLAM, Clara
1914 - 1999
Same Stone with:
HALLAM, Donald
1913 - 1991
Married 10/26/1933
HALLAM, George
1869? - 1957
HALLAM, Jane
1852 - 1945?
HALLAM, John
1830 - 1913
HARRIS, Catherine

3/5/1816 - 8/5/1897

Information provided by family; obelisk on a small hill with trees.

Hawkins,

Mariette Hiull
9/28/1831? - 12/2_/1898
Wife of J. HAWKINS

Heagle,

Emily
1862 - 1928
Mother

Heagle,

Ransom
3/18/1861 - 12/29/1919
Father

Herning,

Emma
1879 - 1952
Mother

Herning,

Isaac

Herning,

Lorenzo
1861 - 1933
Father

Irish,

Jesse
1882 - 1921

Irish,

Reubin
CPL 108? NEW YORK INF

Johnston,

Everette
1907 - 1956
Husband

Johnston,

Lizzie
1884 - 198_?
Mother

Johnston,

Orville
? - ?
Father

Kesler,

Nettie Marsh
d. 4/10/1887
Wife of Chas. Kesler; Aged 30?yrs...

King,

Gibson S.
9/27/1849 - 1/24/1922
Same Style of Stone As Helen

King,

Helen
9/20/1852 - 6/16/1912

Kishanmister,

Dora
1826 - ?
Mother

Kishanmister,

John
1819 - 1880
Father

Lane,

Thomas
Age 87 years

Marcks,

Wilmina F. Ward
8/23/1913 - 4/10/1999

Marsh,

Charles
1831 - 1895
Same Stone with:

Marsh,

Emelia E.
1834 - 1905

Marsh,

Jennie M.
1894 - 1969

Marsh,

Joel V.
1863 - 1910
Father; Same Stone with Wilmina

Marsh,

John H.
1853 - 1923

Marsh,

Wilmina C.
1868 - 1935
Mother

McGillivray,

Angus
5/13/18__ - 5/21/1905

McGillivray,

Jennie
6/10/1856 - 3/18/1937

McGillivray,

John
3/15/1850 - 3/12/1890

McKenzie,

Charles
8/1/1862 - 8/28/1893

McKenzie,

Robert
2/8/1858 - 6/16/1949

Page,

William C.
1946 - 1969

Piccolo,

Domenico Giuseppe
1/16/1932 - 1/28/2001
Same Stone with:

Piccolo,

Nancy Ann Ward
10/8/1932 -
PLUDEMAN, David
2/15/1946 - 2/5/1976
Marine
PUTNAM, George W.
Apr/1832 - 9/22/1905
Co. B, 32 N.Y. (volunteer) Infantry
PUTNAM, Isreal J.
1904 - 1945
Son; WWII Casualty
PUTNAM, Victor J.
3/1/1891 - 5/11/1923
127th U.S. Army Infantry

Salisbury,

Clarence Leroy
1886 - 1915?

SNOW,

Eleanor Pauline Terry
10/13/1940 - 1/2/1996
Mother of Rosalee

SNOW,

Elmer G.
1907 - 1975
Father/15 Jan 1907 - 2 Feb 1975/SSDI
SNOW, Evelyn E.
1908 - 1988
Mother/1 Jan 1908 - 5 Jan 1988/SSDI
SNOW, Eliza Harris
7/20/1835 - 10/31/1903
Husband/Wife; Same Stone with:
SNOW, George
11/1/1837 - 1/17/1912
Photos by Lynn Chadek
SNOW, Marie
12/8/1915 -10/13/2002
Wife
SNOW, Maude E.
1887 - 1934
Mother
SNOW, Orin M.
1882 - 1966
Father
SNOW, Robert
11/19/1915 - 1/19/2004
Husband

Spaulding,

Edna Dean
3/11/1875 - 1/14/1901
Same Stone with Eugene Spaulding

Spaulding,

Erwin A.
1/13/1899 - 9/2/1973

Spaulding,

Eugene F.
11/23/1862 - 11/3/1905
Same Stone with Edna Spaulding

Stapel,

Orville (Shorty)
1927 - 1999

1/9/1927 - 5 May 1999/SSDI

Stevens,

Caroline M.
1855 - 1941
Same Stone with:

Stevens,

Charles F.
1855? - 1935?

Thompson,

Andrew
1852 - 1938
Same Stone with:

Thompson,

Anna
1863 - 1898

Thompson,

Bertha
1850 - 1912

Van Beek,

Gertrude
1913 - 1988
21 Oct 1913 - 14 Nov 1988/SSDI

WARD,

Carl
1886 - 1964
Father; Same Stone with Josephine Ward
WARD, Florence
1915 -
27 Feb 1915 - 5 Nov 2006/ SSDI; Same Stone with:
WARD, John H.
1908 - 1979
4 Jun 1908 - Nov 1979/SSDI
WARD, Grace
WARD, Josephine
1892 - 1955
Mother; Same Stone with Carl Ward
WARD, Richard S.
10/21/1936 - 10/6/2006

Wichman,

John W.
1911 - 2000

7/7/1911 - 29 Aug 2000/SSDI

WINGATE, J. S.
9/4/1907 - 7/14/1895
WINGATE, Rebeca
12/24/1810 - 5/15/1891
WINGATE, Wally
1873 - 1949

Wisniewski,

John E.
9/8/1931 - 6/29/2009
M. Lola Blom June 28, 1952

Wisniewski,

Frank J.
1/21/1895 - 5/1/1976
PVT US ARMY WWI
Thanks for the updates!
Lloyd Lancaster