At one time, there were SEVEN schools in Wittenberg: a Public School,Wittenberg High School, St. Paul's Lutheran Parochial School, the Government Indian School, Homme's Orphan Home School, Bethany Indian Mission School and the Wittenberg Academy.

The Wittenberg Academy operated from 1901 to 1912 when it closed. Following closing, the building served as Homme Home for the Aging, and later remodeled into a private home. The building is located at the corner of College and Vinal Streets.

Reprinted from the annual catalogue, 1910:
Wittenberg Academy was incorporated in the summer of 1901, and dedicated October 14, of the same year. On October 15, 1901, the school was opened, with E. J. Onstad as principal, Rev. F. Randt, assistant and eight pupils. Inauspicious as this may have seemed, the school has, however, experienced a steady and healthy growth, which has encouraged and gratified its friends and promoters. During the years of its existence there have been enrolled over 425 different pupils in the various literary and commercial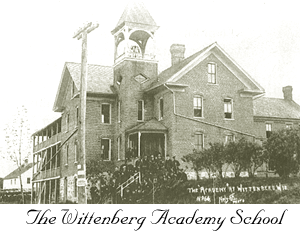 courses, and of these, 110 have finished one or more of the courses. In 1904 a music department was added, which has had a phenomenal growth and remarkable success. In this department there have been enrolled 210 different pupils. The faculty now consists of six teachers, the principal being the only member who has served the institution continuously since its organization. As specified in its articles of incorporation, the aim of Wittenberg Academy is the "establishing and maintaining of an academy for instruction in the liberal arts and sciences, and to advance and promote the Christian education of young men and women." A perfect and complete education is directed to every human faculty and power, with a view to giving each a healthy and harmonious development, and thus preparing the man for all the duties and exigencies of life.