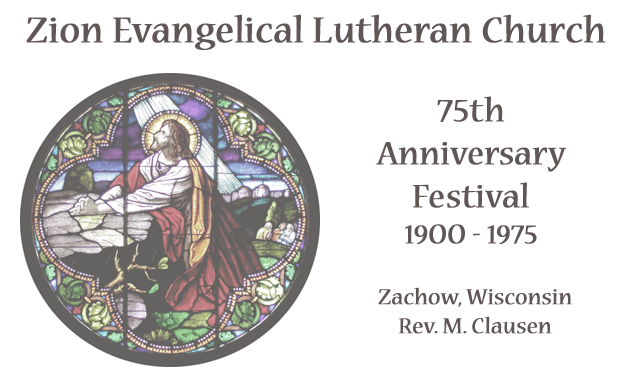 ---
Welcome to the online booklet of Zion Evangelical Lutheran Church in Zachow -- celebrating their 75th anniversary in 1975. Many of you or your ancestor's have ties to this church -- my Aunt Hilda (Laedtke) Westerfeld and her family attended here and so this booklet is extra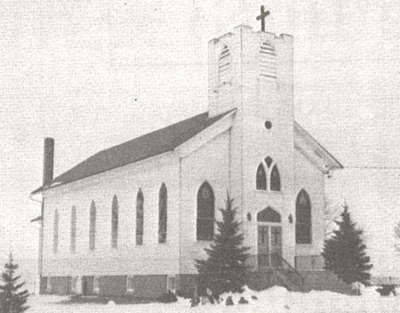 special for me. I absolutely LOVE church/parish anniversary or commemorative booklets!!! These booklets are my absolute favorites as the parish meticulously does the research and then puts together a booklet as a keep-sake memorial. These are so very awesome! Some even list the baptisms, confirmations, weddings and funerals from the early days of the parish. And many thanks to Jackie Stingle for sharing this booklet, as well as St. Paul Lutheran - Zachow, with the Shawano GenWeb site! We are indebted!!!

This is truly a gift -- the families in the parishes would have received copies 30+ years ago, and now, thanks to people like Jackie, researchers from around the world can read the beautiful comments & history and search the data for their relatives... Many thanks!
Some of the most valuable records in genealogy research are parish records. Prior to civil registration, an ancestor's life revolved around the church: baptism, confirmation, marriage and burial. If you locate your ancestor's name in this booklet, the actual church record may be of further value to you. The records are available at the church AND (even more readily available) at the Bonduel Community Archives.
Zion Lutheran Church
N4431 County Road F
Bonduel, WI 54107
(715) 758-8978
Bonduel Community Archives
108 S. First St. - P. O. Box 205
Bonduel, WI 54107
715-758-2687
And, as with all our church booklets, we are posting copies of it for your personal use. The following consists of the Dedication and Church History and then the Member/Names data for Baptisms, Confirmations, Marriages, and Burials. They all start in 1900 BUT if you have a confirmation in 1900, the birth would have been about 1886/1887. The same follows true with the marriages -- the births for those are back even further! And, a note on the MARRIAGES, since I have some of these individuals in my family tree, I added the column for ADDITIONAL INFORMATION -- if you have additional info, such as the marriage date for any of the names listed, email me and we'll add it to the page. For privacy, even though the booklet goes up to 1975 with data/years, I've only posted it to include 1940.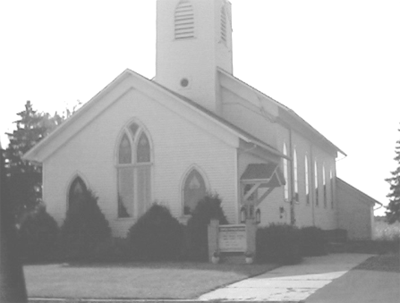 Thanks, Tasha for this current picture of this lovely church.
---
Front Cover
---
Dedication:
TO GOD ALONE BE GLORY

This Anniversary should be a day of sincere thanksgiving to God on the part of all her members. A time of re-consecration of all, to do the work the Lord has given them to do. So will the anniversary be a day of blessing to all. We give all Glory to God, who permitted Zion to accomplish her work in His service. We earnestly beseech Him to be with us and our children as He has been with our fathers. His Grace in the past is His guarantee that He will not forsake us in the future, if we will but remain true to Him and to His Holy Word.
An anniversary has been described as the commeratlon of a notable event that occurred a given number of year ago. It was in the year 1900 that Zion Lutheran Church, Route 2, Bonduel, Wisconsin was founded. And so in this year of our Lord 1975 we look back upon the history of Zion, and we give praise and thanks to Almighty Cod for His many blessings.
We have planned a whole series of anniversary services to celebrate our 75th anniversary. But we have done this not only to look back at the founding event of the congregation's history, for the history of the congregation is full of many outstanding events. More important, it is the record of God's people. God's people who at various times during the past 75 years, have come together at this place on Cod's earth, as a Christian church. Most important of all, however, in the history of the congregation is the record of God himself. It is God Who has abundantly blessed His people in this place. It is God Who chose the members of this congregation to be His own and to live under Him and serve Him. It is God Who out of His wonderful love sent His only Son into the world, so that through faith in Him we might have eternal salvation.
Yes, as we look back at the 75 years of Zion, it is the record of God rather than man that we celebrate. The words, "Zion Kept By Power Divine" and "To God Alone Be Glory," must be written in big bold print behind every event and before every life which He has used to shape the congregation according to His purposes.
Zion Lutheran Church of Route 1, Bonduel, no doubt, means many different things to each one of her members. Some who are members at Zion have belonged here their entire lifetime, and their fathers before them. Others have joined the congregation through transfer of membership or adult confirmation or through God's call as Pastor. Still others became children of God here at Zion through the Sacrament of Holy Baptism, were confirmed here, but have gone elsewhere to serve Him in His Kingdom.
But we all have this in common. God has reached down from Heaven and touched our lives with His Holy Word, here at Zion. God has made a deep impression on us, here, through this congregation. In one way or another God has used this congregation to bring us to Him, to give ourselves to Him, and to use ourselves for Him.
It is here that many of us first learned of Jesus Christ and His redemptive love. It is here that we confessed our unworthiness and our sin, and received our first communion. It is here that many of us have the continued opportunity to grow in the wonderful grace of God, and to serve Him Who died that we might live. It is here that we continue to receive the inspiration and the motivation to be witnesses of God's love living in us wherever we go. It is here that many of us will serve our Creator and Redeemer until the time comes when He calls us to our eternal home. To God Alone Be Glory!
---
CHARTER MEMBERS
| | | | |
| --- | --- | --- | --- |
| Herman Dobratz | Heinrich Dobratz | Heinrich Brueck | August Gnuschke |
| Carl Hoefs | Ernst Hoefs | August Beilfuss | Johann Busch |
| August Kallies | Johann Kallies | August Krueger | Franz Kroening |
| Wilhelm Moede | Franz Mittag | Karl Popp | Fredrich Radtke |
| Daniel Ruekert | Traugott Simon | Gustav Rosin | Julius Simon |
| Herman Sievert | Robert Kroening | Wilhelm Westerfeld, Sr. | |
FIRST ELDERS
| | | | |
| --- | --- | --- | --- |
| August Kallies | Fredrich Radtke | Gustav Rosin | |
FIRST TRUSTEES
| | | | |
| --- | --- | --- | --- |
| Johann Busch | Traugott Simon | Karl Hoefs | |
The history of a congregation is interesting especially to the members who remain, or are relatives of the founders. It was in the year of 1899 that a group of members of St. Paul's Congregation of Bonduel felt they wanted a congregation in their vicinity. With road conditions and mode of travel a far cry from conditions of today, this group prompted by faith in the Lord, were determined to have a church near by.
At a meeting held October 22, 1899 several families, together with Rev. Radtchen organized themselves into the ZION EVANGELICAL LUTHERAN CONGREGATION of the Town of Hartland. At this meeting plans were also made to erect a church building. A resolution to call a pastor and build a parsonage followed. Early spring, building operations were begun, and toward the latter part of summer the church and parsonage stood completed.
The first called pastor, the then candidate for the ministry, G. Kaniess, arrived. On September 2, 1900 the church was dedicated to the service of the Lord. Thus the year 1900 becomes a milestone in the history of the congregation. These Christian families knew that, although they needed food for the body, they also needed food for the soul. During the time Rev. Kaniess served Zion, he also conducted a part time Christian Day School in the church prior to the erection of a school house in 1907.
In 1908 Rev. Brandt accepted a call to Zion Congregation. In addition to preaching the Word of God, and the many pastoral duties, he taught the Christian Day School. The enrollment had grown to 55 children. W. H. Hinrichs was the first full time teacher called in 1911. The Lord had blessed the congregation in numbers and wealth, therefore in 1910 they resolved to remodel the church with the addition of a steeple.
Having a full time teacher it now behooved the congregation to build a dwelling for him. In 1912 the teacherage was erected.

After the extensive building program of the past years, the members of Zion were again faced with calling a pastor. From 1913 to 1918 they were served by Rev. J. Kempf. He served them faithfully. The challenge of the past is to be inspired, enlightened and dedicated to the work yet undone to extend the Kingdom of God.
In 1918 Pastor W. J. Schroeder was called to succeed the Rev. J. Kempf. He served Zion Lutheran Congregation for 31 years, during which time many changes took place. For the 25th anniversary year, the congregation deemed it fitting and proper to have the church redecorated, new pews were ordered, the altar was enlarged and the buildings were wired for the installation of electric lights. The numerical growth of the congregation also made progress.
Sunday, August 2, 1925 Zion Evangelical Lutheran Congregation celebrated the 25th Anniversary of the dedication of its church. Looking back upon the past 25 years, reflecting upon the unmerited grace and loving kindness which the Lord had shown unto them, the members of Zion have abundant cause to rejoice and to exclaim with the Psalmist: "O Give thanks unto the Lord, for He is good, for His mercy endureth forever."
The following taken from the 25th anniversary records of Zion Lutheran Church: "Appropriate addresses in the German and English language will be delivered in each service. The Bonduel Band has been engaged to furnish the music. At noon the ladies of the congregation will serve a chicken dinner at a very small price, 25' for adults, and 15' for children. Everyone is heartily invited to attend."
Again in 1944 an extensive remodeling project was in order. The church was raised with the addition of a full basement, furnace installed, water facilities, lavoratories and kitchen facilities. The steeple, a mark of distinction on a church, was taken down. The interior of the church was decorated by Mr. Tronto. In place of the attar a wine colored velvet dossal with a gold cross was then used. The altar was donated to the newly organized mission church at Pulaski.
In 1945 the Dartball Team was organized. Members of the team enjoyed competition as well as fellowship, through the years, with neighboring congregations. Contributions were given to the upkeep of the church.
The teacherage, not being used by the congregation, was sold to Mr. and Mrs. Wm. Pautz in 1948 for the sum of $7500.00. The monies to be used toward the Christian education of the young.
Realizing the need for a musical instrument to beautify the church services, on October 26, 1948 a two manual Wurlitzer Organ was purchased from Schultz Music Co., Appleton, for $2500.00
Among its sons serving in the Lord's vineyard are Donald Hafeman, Plainview, Texas, and the congregation also proudly claims the Rev. Henry Simon, who is the President of the North Wisconsin District. He was baptized in 1919 and confirmed in 1933 at Zion.
To commemorate its beginning in the year 1900, the members of Zion Lutheran Church set aside August 20, 1950, for the celebration of the congregation's Golden Anniversary. The Rev. W. A. Ave Lallemant set the theme for the 50th Anniversary of the congregation when he wrote, "Give Glory to God." "As Samuel of old raised a stone and called the place 'Ebenezer' at the successful conclusion of a great campaign, so this day marks our Ebenezer in the history of this congregation and, with Samuel, we must say 'Hitherto hath the Lord helped us'." Pastor G. Kaniess of Kewaskum, Wisconsin, a former pastor at Zion, preached the German Festival sermon in the 9:30 a.m. services, and Rev. Henry Simon, a son of the congregation, from Appleton, Wisconsin, preached the sermon in the English service at 3:00 p.m. Exhortations to remember the goodness of God, reminders to praise Him for the blessings He had given to the congregation, and encouragements to continue diligently in carrying out the work of the Lord were prominent in the sermons and songs of the "Golden Jubilee."
After a joyful day of celebrating the 50th Anniversary, the members of the congregation returned to their day-by-day activities of serving the Lord. There were times when they were to meet with notable success but also times when problems and difficulties would bring about failure. Through it all, the Lord of the Church would be there with His guidance and rich supply of grace and mercy.
On January 17, 1951, a Young Peoples Society was organized under the guidance of Pastor Ave Lallemant. The congregation promised their cooperation in realizing that the future of the church lay in the continuous Christian development of her youth.
In 1952, the Zion Lutheran School building was taken down. It was a landmark rich in history and personal meaning to many of the members where they had spent many hours of their younger lives. The school building formerly stood directly across the road from the parsonage.
In a meeting on August 4, 1952, Pastor Ave Lallemant asked for his release. He accepted a call to Rock Springs, Wisconsin. Pastor Harry Wians of St. Paul's Lutheran Church, Town of Washington, was asked to serve as vacancy pastor. He was to repeat this ministry a number of times in the future. Therefore, members of Zion have a warm place in their hearts for his willingness and presence to serve them in time of need.
On November 18, 1952, Pastor Kurt Lederer of Shawano, Wisconsin, accepted the call to Zion. Pastor Lederer's ministry was a fruitful one, and the church prospered and grew spiritually during his time of service.
It was also during this time that the German services at Zion were discontinued. Although the English language had been, for many years, quite generally spoken by all the members of the congregation, a once a month German service on Sunday afternoon was conducted until the summer of 1953.
Also in 1953, a major interior decorating program took place. For many years, the chancel area had housed a large wooden cross and dossal curtain over the altar, it was learned that It Paul's Lutheran of Green Bay was willing to part with their altar reredos which fit beautifully into our sanctuary and blends well with the Romanesque architecture of the church. The interior of the church was painted and a new drop-ceiling was installed.
During the summer of 1955, Pastor Lederer received a call to Darien, Wisconsin. After giving the call prayerful consideration, he informed the congregation that he felt it to be the will of the Lord of the church that he accept this call. In a meeting held on July 5, 1955, he was granted his release.
The congregation again asked Pastor Wians to serve as vacancy pastor. The prayers of the congregation were soon changed from supplication to thanksgiving when Rev. Fred Boelter of Alma Center, Wisconsin, accepted the call, and preached his first sermon on Thanksgiving Day, 1955.
The Boelter family has characterized their stay at Zion by stating, "We liked the people. They were friendly, kind and warm-hearted to us. It was a welcome change of pace to serve the Lord in this rural setting." Members of Zion also say in reference to Pastor Boelter, "He was a wonderful, faithful pastor to us, and during his ministry we were fed and nourished by his spiritual guidance and shepherding."
In the late summer of 1960, Pastor Boelter accepted a call to Zion Lutheran Church, Ridgeville Corners, Ohio. Pastor Bernard Strassen of Immanuel Lutheran, White Clay Lake, and Pastor Wians now served as vacancy pastors.
The period from the fall of 1960 until January of 1965 was a time of frustration and uncertainty. A total of 19 calls were to be declined before Zion was to receive their next pastor. Some of the members wondered whether or not the church should continue. But the Gracious Father in Heaven was permitting this to happen in order to mold and strengthen them in their faith relationship with Him.
Two calls were extended together with St. John's Lutheran Church of Green Valley. Then in January of 1961, upon the advice of district officials in the Northern Wisconsin District, St. John's of Green Valley aligned itself with St. John's of Pulcifer, thus discontinuing more than a 40-year relationship with Zion as a dual parish.
For a time, the congregation of Zion formed a dual parish with St. John's of Pulaski. During this period, they continued to be served by Pastor Strassen and Pastor Wians. Vicar Gene Ruechel was contacted to preach and conduct Bible School in 1961.
Unable to procure a pastor of their own, the dual parish of Zion and St. John's, Pulaski, was dissolved by mutual consent on July 7, 1964. Then on July 20, 1964, upon the advice of President Lloyd Goetz, the voters of Zion endorsed an agreement between themselves and Immanuel Lutheran Church, White Clay Lake. This relationship is still in existence today and has proved to be a blessing for both congregations. During this period we were served by Pastor Wians with the assistance of the pastors from St. James, Shawano.
After three more unsuccessful calls, Pastor Marvin W. Clausen, who was serving St. Mark's Lutheran in Garrison, Iowa, accepted the call. He was installed on January 5, 1965. The new pastor and his family, however, were to live in the parsonage at White Clay Lake, thus leaving the parsonage at Zion vacant. In July of 1965, permission was given to the trustees to procure the land where the parsonage is located for the sum of $250.00 from the William Jandt family. The Zion parsonage since that time has been rented out to various families who have paid the congregation a nominal fee.
Repairs and improvements to the property of the congregation are always an on-going concern. During the 1960's, this was no exception. A new oil furnace was installed in the church basement in 1961. New electrical fixtures, with a new and improved lighting system, were installed in the basement in 1966. The lighted cross found on top of the tower of the church was donated by the family of Mrs. Gustav Drage, Jr. in her memory in 1966. Thus, the cross of Christ stands on the very top of our church as everlasting sign of God's suffering love and plan of redemption.
The congregation also became conscious of landscaping the outdoor area around the church with shrubs and bushes in 1966. In 1968, the stain-glass windows were repaired and new storm windows were placed in front of them to preserve them as much as possible from weather damage. Also in 1968, the interior of the church was again repainted. Lighter and softer colors were used by painter Ray Jensen to stimulate more warmth and joy in the living relationship that we have with our Lord during the worship service.
Our Lord Jesus Christ has given us the "great commission" to go into the whole world and preach the gospel to every living person. Members of Zion have always responded to the calls for help and the challenges of faith that our Synod has placed before them. Synodical efforts such as "Conquest for Christ", "Building for Christ", "Faith Forward", and the "Ebenezer Thank Offering" were given the congregation's support with lesser or greater enthusiasm. Zion has also given its support to the Shawano County Lutheran Mission Society, Lutheran World Relief and other special charities such as the "His Too" offering. During recent years, Zion has become a leader in our circuit in mission giving. We are happy that such a spirit exists among our members to do the work of the Lord, and we may be certain that the Lord's promise "Give and it shall be given to you", will not fail.
In 1970, a new attractive outside bulletin board was purchased from the Ossit Church Furniture Company of Janesville, Wisconsin, for the sum of $450.00. A shade of brick next to white was used in its construction, with an aluminum inset which is lighted via an electric time clock.
One of the projects undertaken for the anniversary was to panel the church basement. A very worthwhile improvement as it is used for Sunday School rooms as well as for meetings and social events.
Of great importance to the congregation are its choirs directed by Mrs. Leon Westerfeld. The choir members assist the congregation in worship and help make the services more beautiful and meaningful. A junior choir was formed in 1972 and, as part of the 75th anniversary preparation. A senior choir was again organized in the fall of 1974. The singing of the entire congregation seems to have received a lift in making joyful sounds unto the Lord since the choirs were organized.
Also to improve and inspire the congregation in singing and in worship, a new Allen Organ was purchased from the Schultz Music Company of Appleton. The organ was dedicated on December 17, 1972. Much of the cost of the organ was contributed by the family of the late Mr. DeWayne Gipp in whose memory the organ was purchased. Donations for many memorials have been given that enhance the church property. To God Alone Be Glory.
Holy Scripture is full of many admonitions and encouragements to nourish and feed children and young people with God's Word. Therefore over the years, many talented and dedicated Sunday School teachers and Vacation Bible School teachers have served the church of Cod at Zion. The congregation should truly be grateful to these men and women who have served faithfully in this teaching agency of the church. At present, there are 50 children enrolled in our Sunday School, and the Vacation Bible School usually counts about 60 children in attendance during a two-week summer program. For those parents who wish to send their children to the full-time Christian Day School at St. Paul's of Bonduel, the congregation supplies $100.00 per child to help pay for their tuition.
In 1969, the young people of Zion merged their young people's society with that of Immanuel Lutheran, White Clay Lake. During the vacancy years, the young people were always very active, particularly so because of interested adults who served as counselors. At present, the youth group meets once a month for Bible study or other spiritually enriching activities. During the summer, the young people play softball in a local church league and have Christian fellowship through trips to Camp Luther and other service projects for the church and community.
Through the untiring efforts of the Ladies Aid Society sponsoring Bazaars, Chili Suppers and other socials, they were able to purchase Bibles, Hymnals, Altar Paraments and the Church and Service Flags. The kitchen was remodeled several times with donations from the ladies treasury, and also been equipped with many essential items. The eight burner gas stove was purchased from Herman Radtke in 1947 for $318.85. For the first recorded Pancake Dinner and Bazaar, a complete set of dinnerware was purchased for $392.00. In 1948 a donation of $200.00 was given toward the organ fund, together with a sizeable amount for new cupboards in the parsonage.
On April 2, 1959 the society joined the Lutheran Women's Missionary League. September 1961 Zion ladies hosted the Fall Rally. Mites, a penny a day prayerfully given, "As the widow gave all she had for love for her Savior", so the mites are gathered through the LWML, being an International Organization, for mission work at home as well as abroad.
Through the years gifts have been given to various charitable agencies, 1974 sees the adoption of a Korean girl. For the Christmas tree 1974 the ladies were involved in making Chrismons.
It is certain that the members have personally reaped a harvest of self satisfaction through Bible studies, service to the church and faithful! love of Savior.
To write a history of the Zion congregation, complete in every detail, would involve relating the story of each individual member. Each of them, especially the faithful, have played a part in the work and progress of the congregation by giving of time and talent or treasure.
The oldest member of Zion at this time of the 75th anniversary is Mrs. Ida Hoefs who is 88 years old. At present, she is in the Shawano Convalescent Center. Other members who have reached the age of 80 are Mrs. Martha Kroening, Mrs. Emma Bonnin and Mrs. Jessie Radtke.
In April of 1970, a "Perpetual Care" fund was begun by the congregation to insure future care of the cemetery. A sum of $100.00 was taken from the general fund at that time. The fund now has reached $2,084.00.
The subject of repairing our old mahogany pews or purchasing new ones had been voiced many times in voters' meetings. In May of 1973, the congregation decided to purchase new cushioned pews at a cost of $4,165. The pews were installed and dedicated in August of that year.
Concurrent with the installation of the new pews, Mr. and Mrs. Ernest Westerfeld, praising and glorifying God for His many blessings to them in their business for 40 years, generously offered to place carpeting over the whole downstairs of the church. The carpet, green in color, adds a new dimension to our house of God.
The rural population of America has generally been felt to be fairly permanent in living out their lives at one or only a few addresses. In recent years, however, people in Zion have proven to be quite mobile. For example, in looking at the records, we note that more than 207 communicants were members of Zion during the years 1960 to 1965. Of that number, just 85 remain as members today. Many of the latter figure are descendants of the founders of the church.
The rural church today has become the sending church. Three out of every five of our young people move on from our community. Therefore, even though adult classes are being held regularly and new members are welcomed to our fellowship, the membership of the congregation has remained about the same number for the last ten year. At present, there are 154 communicant members and 217 baptized souls at Zion.
In order to convey the saving gospel message not only to the world but also to our community, a newcomers' committee has been organized to welcome new people to our area. Their visits are then followed up by an Evangelism Committee, who usually go out once a month as witnesses for Christ.
Throughout all of the 75 years of the congregation's history, the Word of God has been taught and preached and the Sacraments have been administered. Through these means of grace, the Holy Spirit has brought the members of the congregation to faith in Jesus Christ as their Savior and has kept them in that faith. Projects to improve buildings or to erect them to the glory of God have been Important to the history of the congregation only as they have made postible a more effective proclamation of the Gospel of Jesus Christ. The people who have played a part in the congregation's history — pastors and members — have made significant contributions to the congregation's progress only because Cod made them His people, gave them talents and abilities they possessed, and granted His blessings to their efforts. To Him be all honor and glory.

President — Rodger Krueger
Elders — Ernest Westerfeld, Hilbert Schultz, Maynard Hoefs
Trustees — Albert Moede, Jr., Robert Winter, John Westerfeld
Secretary — Sidney Krueger
Treasurer — Harry Hoefs
Financial Secretary — Leon Westerfeld
Custodian — Walter Simon
Board of Education — Aaron Beilfuss, Ronald Hinkfuss, Dennis Westerfeld
---

---
1900
Paulina Simon
Maria Grunnes
Emil Rosin
1901
Ralph Kroening
Raymond Kaniess
Henrich Kroening
Adolph Sievert
Franz Specht
Anna Moede
Edmond Kaniess
William Kallies
Ralph Radtke
Flora Dobratz
William Fischer
Helmuth Krueger
1902
George Bluhm
Lula Mittag
Alfred Krueger
Eleanora Hansen
Henry Ruprecht
Emma Popp
Ernst Krueger
Ewald Bohm
Esther Dobratz
Alfred Kroening
George Radtke
Selma Leder
1903
Walther Boettcher
Martin Simon
Magdalena Fischer
Dora Gipp
Hulda Rueckert
Dorathea Kaniess
Albert Dobratz
1904
Edmond Kallies
Walter Simon
Adolph Froelich
Martha Radtke
Ernst Kroening
Emil Fischer
Walter Splitgerber
1905
Esther Boettcher
Irene Simon
Ewald Dobratz
Irene Diestler
Walter Gipp
Harold Sievert
1906
Arnold Krueger
Leona Boettcher
William Popp
Herbert Leder
Maria Moede
Walter Rosin
Linda Krueger
Helena Radtke
Minnie Dobratz
Waldemar Bonnin
Adolph Marquardt
1907
August Nuendorf
Oskar Fischer
Arthur Kasten
Lector Boettcher
Julius Kallies
Martin Kaniess
Hulda Sievert
Trougatt Simon
Silvia Krueger
Edward Lang
1908
Regina Neuendorf
Albert Kroening
Selma Bonnin
Alice Specht
Gilbert Westerfeld
Esther Splitgerber
Franz Radtke
Emma Dobratz
Clifford Glass
Loni Dobratz
Anna Kasten
Lisetta Fischer
Lorinda Bramschreiber
1909
Edmann Marquardt
Minna Moede
Louis Hoeffs
Elta Mittag
Wilhem Brandt
Freda Heuer
Carl Splitgerber
Madora Kallies
Martha Hinkfuss
Hilbert Muller
Clarence Bonnin
William Dobratz
Adella Neuendorf
Ernst Gnuschke
Dora Kroening
George Boettcher
1910
Viola Kroening
Johanes Simon
Ernst Westerfeld
Freda Dobratz
Harry Kasten
Florence Sievert
Albert Splitgerber
Hilbert Kroening
Ernst Heuer
1911
Leo Glass
Leonard Popp
Martin Radtke
Edward Herning
Julius Herning
Dorothea Stiede
Hilda Dobratz
Clarence Lemke
Florence Kroening
Franz Westerfeld
Lorina Bonnin
1912
Harry Muller
George Splitgerber
Leonhardt Krueger
Leonhardt Radtke
Clara Simon
Lawrence Bohm
Kenneth Radtke
William Heuer
Alice Krueger
Leonard Dobratz
Ehrdt Bohm
Edward Fantz
Sandy Dobratz
Edna Kasten
Elda Westerfeld
Maynard Stiede
1913
Dorothy Radtke
William Moede
Martha Moede
Helen Hoefs
Leona Schultz
Lucille Lemke
Marcella Raaths
Norbert Krueger
Harry Bonnin
Emma Splitgerber
Edmar Bonnin
Myrtle Westerfeld
Anita Neuendorf
Gladys Busch
Gertrude Mittag
Donald Henrich
Hilda Westerfeld
Lucille Hafeman
1914
Adolph Krueger
Clifford Radtke
Dora Splitgerber
Mildred Salzwadel
Harley Beilfuss
Erich Hinrichs
Loretta Boettcher
Hilbert Bonnin
Meta Fatz
Edwin Kallies
Ethel Westerfeld
1915
Dorothy Simon
Lucille Busch
Lester Radtke
Louisa Dirks
Leonhard Kroening
Leona Busch
Dorothy Bohm
Erna Dobratz
Pearl Dingeldein
Clyde Radtke
Florence Radtke
Johann Kasten
Hildagard Krueger
1916
Winfred Wiersig
Mildred Westerfeld
Elenora Kroening
Harold Kallies
Elenora Lemke
Maynard Schultz
Reuben Krueger
Marcella Radtke
Viola Hoefs
Alfred Pautz
1917
Leona Busch
Erwin Splitgerber
Gladys Hein
Donald Hafemann
Harold Kroening
Maynard Hoefs
Leonard Simon
1918
Mildred Kallies
Emma Hoefs
Herbert Kallies
Ethel Simon
Lorenz Kroening
Harvey Dobratz
Hilbert Schultz
Johann Westerfeld
Laurieda Peters
Victor Kollath
Herman Lemke
Bernice Boettcher
Clarence Busch
1919
Frederich Jensen
Ruth Radtke
Marion Kallies
Henrich Simon
Lucille Dobratz
Alice Pautz
Viola Hafemann
Adeline Westerfeld
Harvey Schorn
Mildred Krueger
Arnold Simon
Arnold Westerfeld
August Westerfeld
Louis Radtke
Ethel Hoefs
Fern Beuninghaus
Edwin Kroening
1920
Adelyn Beilfuss
Evelyn Beilfuss
Frank Prokash
Ewald Kroening
Melvin Dobratz
Marjorie Wilson
Lucille Schultz
Gordon Radtke
Jean Dobratz
Reuben Bartel
Harvey Radtke
Maynard Sievert
Everette Jensen
Ewald Simon
Harvey Kallies
1921
Martin Busch
Arthur Splitgerber
Fern Beilfuss
Julius Zuelsdorf
Robert Busch
Douglas Wilson
Geraldine Hovie
1922
Myrtle Kallies
Harley Kroening
Elta Kallies
Harvey Bergner
Myron Radtke
Nona Dobratz
Delores Dobratz
Hilda Simon
Harold Simon
Ursula Radtke
1923
Hertha Busch
Martha Simon
Virgil Dobratz
Mavis Zuelsdorf
Richard Strong
Vernon Hein
Lucille Mattson
Vernon Rueckert
Velda Kallies
Robert Bruss
Evelyn Radtke
Gustave Drage
Evelyn Wilson
Vyour Heise
Elda Kroening
1924
Dorothy Hafeman
Betty Dobratz
Doris Mittag
Grauville Kroening
James Mills
Reuben Bruss
Wallin Rueckert
1925
Roger Jensen
Lorraine Hoefs
Leonard Heise
Eugene Bergner
Mabel Simon
Gordon Dobratz
Violet Kroening
Nora Kroening
Dorothy Kroening
Caroline Streng
Harold Busch
Evelyn Kammermm
Ruth Mittag
Albert Moede
Anna Peterman
1926
Edward Kallies
Joseph Bergner
Harry Radtke
Caroline Simon
Vernon Mattison
Eugene Dobratz
Roger Bonnin
Deloris Simon
1927
Terry Jensen
Edward Peterman
Ella Plocekelmann
Kathryn Dobratz
Lois Radtke
Minnie Kallies
Dennis Radtke
Wayrer Dobratz
1928
Aurelia Dobratz
Betty Kroening
Elaine Krueger
Henrietta Kutz
Douglas Dobratz
Bernice Kroening
Lois Naus
Howard Streng
Franz Busch
1929
Dennis Dobratz
Roger Klevesahl
Violet Russow
Ruth Russow
Hazel Russow
Margaret Russow
Vivian Hoffman
Harvey Simon
Kenneth Russow
Raymond Kroening
Lester Simon
Elsie Russow
Duwaine Dobratz
Roland Dobratz
1930
Marvin Sievert
Glenna Radtke
Raymond Krueger
1931
Edwin Kroening
Edward Kroening
Robert Radtke
Robert Kroening
Ruth Simon
1932
Dale Brunner
Donna Brunner
Gerhardt Busch
Phyllis Deering
Lawrence Krueger
1933
June Sievert
Maxine Ikru
Jeanette Brusewitz
Genevieve Brusewitz
Roger Russow
Marjorie Mattison
Delores Radtke
Ruth Westerfeld
Donald Kroening
Vernon Russow
1934
Inez Deering
Audrey Rueckert
Ruth Jung
Mabel Knutzen
Robert Brunner
Marie Raaths
Donna Luedke
1935
Daroll Mueller
Leon Rusch
Dale Brede
Mildred Kroenke
Alice Kroening
Mae Ann Stiede
Valeria Westerfeld
Ardella Kroening
Yvonne Splitgerber
Armen Armitage
Darlene Dobratz
1936
Marilyn Dobratz
Arlene Sievert
Jerry Russow
Dean Proper
Roland Splitgerber
1937
Albert Drage
Jerrald Dehn
Dorothy Krueger
Gary Radtke
Milo Kallies
1938
Rodney Westerfeld
Janice Deering
1939
Roy Dirks
Mary Sievert
Carol Splitgerber
1940
Ronald Hinkfuss
Robert Stiede
Joyce Sievert
Michael Schroeder
Thomas Latus

---

---

1901 — Wilhelm Simon, Louis Westerfeld, Adolph Rosin, Hedwig Hoefs
1902 — Johann Busch, Erwin Beilfuss, Edward Kroening, Martin Hoefs, Louisa Radtke, Clara Kroening, Rosa Boettcher
1903 — Ernst Kallies, Fredrich Hafemann, Paul Hoefs, Louisa Rueckert, Meta Krueger,Alma Hoefs
1904 — Hermann Wudtke, Emil Radtke, Wilhelm Kroening, Emma Kroening, Hulda Simon, Anna Busch, Ida Beilfuss, Gertrude Werner
1905 — Robert Krueger, Ernst Braumschrieber, August Kallies, Otto Rueckert, Amanda Krueger, Olga Busch, Clara Rosin, Alma Hoefs
1906 — Franz Dingeldine, Maria Radtke, Emma Kroening, Helena Popp
1907 — Lorenz Arndt, Martha Beilfuss, Paul Simon, Walter Hafemann, Hugo Krueger, Robert Rosin, August Busch, August Dobratz, Elmer Sievert
1908 — Arthur Krueger, August Garbrecht, Louis Moede, Emil Krueger, Paul Kallies, Walter Dobratz, Louis Dingeldine, Ida Sievert
1909 — Herbert Krueger, Walter Kallies, Heinrich Radtke, Herald Hoefs, Wilhelm Hafemann, Paul Dobratz, Ernst Moede, Albert Kroening, Walter Kroening, Otto Krueger, Marie Splitgerber, Helene Kroening, Nayda Braumschrieber, Elsie Rueckert, Ella Rosin, Else Popp, Martha Busch, Flora Simon, Alma Garbrecht, Dora Rueckert
1910 — Emma Radtke, Linda Boettcher, Frieda Kallies, Minna Kroening, Linda Gnuschke, Else Hinkfuss, Else Christians, Alma Kureger, Heinrich Schultz
1911 — Carl Hafemann, Louis Kroening, Harry Braumschriber, August Heuer, Johann Moede, Lydia Krueger, Ella Simon, Clara Splitgerber, Martha Popp, Else Sievert, Edna Krueger
1912 — Sam Beilfuss, Walter Mews, Otto Garbrecht, Paul Hoffman, Robert Kroening, Else Kallies, Mabel Hafemann, Mina Beilfuss, Esther Busch, Elfie Krueger, Agnes Kallies, Linda Hinkfuss, Hulda Dobratz, Lydia Buettner, Edna Radtke, Herman Krueger
1913 — Raymond Mittag, Edwin Rueckert, Edwin Boettcher, Emil Hoffmann, Ella Radtke, Helene Christians, Emilie Radtke, Anna Popp
1914 — Gertrude Simon, Else Kempff, Mathilda Wilkel, Lizzie Garbrecht, Pauline Simon, Ella Splitgerber, Else Buettner, Helmuth Kroening, Herman Boettcher, Frederich Gnuschke
1915 — Anna Moede, Flora Dobratz, George Hinkfuss, Ewald Krueger, Wilhelm Froelich, Emil Rosin, Ralph Kroening, Adolph Sievert, Wilhelm Kallies, Alfred Radtke, Leo Marquardt, Helmuth Krueger, Alfred Kroening
1916 — Joseph Serve, Heinrich Kroening, Ralph Radtke, Paul Buettner, Alfred Krueger, Ernst Krueger, Martin Simon, Martha Luebke, Ida Hinkfuss, Ernma Popp, Manilda Marquardt, Esther Dobratz, Hulda Rueckert, Frieda Buettner
1917 — Edwin Radtke, George Radtke, Edmund Kallies, Ida Splitgerber, Florence Peters
1918 — Walter Simon, Ewald Dobratz, Ella Hinkfuss, Martha Radtke
1919 — Albert Dobratz, Ernst Kroening, Louis Splitgerber, Louis Serve, Irene Simon, Arline Moede
1920 — Wilhelm Garbrecht, Arnold Krueger, Adolph Marquardt, Wilhelm Popp, Raymond Priebe, Walter Rosin, Harold Sievert, Walter Splitgerber, Minnie Dobratz, Flossie Drage, Esther Hinkfuss, Linda Krueger, Marie Moede, Helena Radtke, Mrs. Albert Radtke, Mrs. Elmer Sievert
1921 — Julius Kallies, Traugott Simon, Edward Splitgerber, Loni Dobratz, Clara Lemke, Else Moede, Hulda Sievert, Esther Wirsig
1922 — Frank Hadtke, Arthur Kasten, Gilbert Westerfeld, Erdmann Marquardt, Albert Kroening, Hilbert Krause, Emma Dobratz, Elta Mittag, Minnie Moede, Asaph Boerger
1923 — Louis Hoefs, Ernst Gnuschke, Karl Splitgerber, Harry Moede, Johann Simon, Frieda Dobratz, Martha Hinkfuss, Madora Kallies, Esther Splitgerber
1924 — Martin Radtke, Robert Nischke, Ernst Westerfeld, Viola Kroening, Florence Sievert
1925 — Alvin Herschlip, Hilbert Kroening, Clarence Lemke, Leonard Popp, Maynard Stiede, Frank Westerfeld, Hilda Dobratz, Esther Kallies, Florence Kroening, Dorothy Stiede
1926 — Leonard Dobratz, Albert Drage, Herbert Krause, Walter Krause, Kenneth Radtke, Leonard Radtke, George Splitgerber, Helen Hoefs, Olive Jensen, Lucile Lernke, Marcella Moede, Dorothy Radtke, Clara Simon, Myrtle Westerfeld
1927 — Sandy Dobratz, Wm. Moede, Gladys Busch, Lila Jensen, Esther Kasten, Emma Moede, Leona Schultz, Elda Westerfeld, Gertrude Mittag
1928 — Harley Beilfuss, Edwin Kallies, Clifford Radtke, Leona Busch, Lucille Busch, Dora Splitgerber, Ethel Westerfeld, Hilda Westerfeld
1929 — Hilbert Bonnin, Lester Radtke, Erna Dobratz, Eleanora Lemke, Florence Radtke, Dorothy Simon, Mildred Westerfeld, Elsie Rossow
1930 — Gladys Hein, Viola Hoefs, Walter Moesch, Marcella Radtke, Arnie Perschbaeher, Otto Marrson, Archie Wilson
1931 — Harold Kallies, Leonard Simon, Erwin Splitgerber, Irene Busch, Emma Hoefs, Arabelle Jensen, Mildred Kallies, Mildred Salzwadel
1932 — Clarence Busch, Harvey Dobratz, Herbert Kallies, Victor Kollath, John Westerfeld, Oliver Zahn, Marion Kallies, Agnes Kammerman, Ruth Radtke, Ethel Simon, Adeline Westerfeld, Mike Brunner, lurruie
1933 — Maynard Hoefs, Harold Kuehl, Louis Radtke, Hilibert Schultz, Arnold Simon, Henry Sirnon, Lucile Dobratz, Ethel Hoefs, Ervin Schrieber, Rose Stark
1934 — Fern Beilfuss, Jean Dobratz, Elta Kallies, Violet Rossow, Lucile Schultz, Hazel Simon, Melvin Dobratz, Ervin Kroening
1935 — Martin Busch, Harley Kroening, Gordon Radtke, Myron Radtke, Harvey Radtke, Gerhardt Schwahn, Maynard Sievert, Arthur Splitgerber, Deloris Dobratz, Ruth Rossow, Donald Proper
1936 — Willard Bohm, Walden Mehlberg, Harold Simon, Hertha Busch, Evelyn Radtke, Urusula Radtke, Hilda Simon, Martha Simon, John Mielke
1937 — Robert Bruss, Gustav Drage, Virgil Dobratz, Vernon Hein, Elmer Stark, Dorothy Hafemann, Velda Kallies, Lucille Mattson
1938 — Eugene Bergner, Joseph Bergner, Reuben Bruss, Edward Kallies, Albert Moede, Wallin Rueckert, Lorraine Hoefs, Doris Moede, Hazel Rossow
1939 — Rodger Krueger, Vernon Mattson, Harry Radtke, Anna Mae Peterinan, Margaret Rossow
1940 — Ben Koska, Violet Koska, Merton Baker, Dora Baker

---

---
Year
Groom & Bride
Additional information from other sources
(If you have additions or corrections to this section, please send them in - THANKS!)
1901
August Radtke & Clara Brodhagen
Marriage: 21 August 1901
August John A. Radtke, son of Frederick & Auguste (Behnke) Radtke
Clara Anna Louise Brodhagen, daughter of Karl & ? (Kroening) Brodhagen
Richard Redlin & Bertha Hoefs
Marriage: 5 September 1901
Richard Albert Redlin, son of Frank & Carolina (Gripp) Redlin
Bertha A. M. Hoefs, daughter of Karl & Amelia (Henke) Hoefs
Louis Dobratz & Louisa Kroening
Marriage: 17 September 1901
Louis A. F. Dobratz, son of Henry & Caroline (Zahn) Dobratz
Louisa F. W. Kroening, daughter of Frank & Amelia (Tesch) Kroening
1903
Adolph Sederstrom & Ida Krueger
Marriage: 16 April 1903
Adolph Sederstrom, son of Nels & Johanna (Glance) Sederstrom
Ida Krueger, daughter of Karl & ? (Benz) Krueger
William Lang & Hedwig Krueger
Marriage: December 28, 1903
William J. Lang/Long, son of Edward F. & Emma (Dumman) Long
Hattie Krueger, daughter of Ferdinand & Emilie (Mittag) Krueger
1904
Wilhelm Mueller & Emma Beilfues
Marriage: April 17, 1904
Wilhelm Mueller, son of Karl & Bertha (Krueger) Mueller
Emma Beilfues, daughter of August & Anna (Dobratz) Beilfues
Theodor Natzke & Jennie Hoefs
Marriage: April 28, 1904
Theodore Natzke, son of Gottlieb & Wilhelmina (Benz?) Natzke
Jennie Hoefs, daughter of Karl & Amelia (Henke) Hoefs
Adolph Diestler & Alma Brandt
Adolph G. Diestler, son of August & Johanna Diestler
Alma A. Brandt
Moved to Milwaukee
1905
August Pagenkopf & Minnie Mittag
Marriage: September 7, 1905
August Pagenkopf, son of August Johanes & Emilie (Kohn) Pagenkopf
Wilhelm Weller & Ossilia Leder
Marriage: September 10, 1905
Ottilia Leder, daughter of August & Henrietta Leder
1906
Robert Moede & Mathilda Westerfeld
Marriage: November 9, 1906
Robert Moede, son of Wilhelm Frederick August & Ernestine (Bortz) Moede
Mathilda Westerfeld, daughter of Wilhelm & Augusta (Busch) Westerfeld
1907
William Hoefs & Ida Kroening
Marriage: April 4, 1907
Wilhelm Hoefs, son of Karl & Amelia (Henke) Hoefs
Ida Kroening, daughter of Frank & Amelia (Tesch) Kroening
William Westerfeld & Louisa Radtke
Marriage: July 17, 1907
Wilhelm Westerfeld, son of Wilhelm & Augusta (Busch) Westerfeld
Louisa Radtke, daughter of Frederick August Martin & Auguste Fredericke Caroline (Behnke) Radtke
1908
Hermann Kallies & Ida Bonnin
Herman Kallies, son of August & Anna Kallies
Ida Bonnin, Daughter of Fred W. & Augusta Bonnin
1909
Ernest Dobratz & Erma Kroening
Ernest Dobratz, son of Henry & Caroline (Zahn) Dobratz
August Westerfeld & Alma Hoefs
Marriage: August 15, 1909
August Herman Westerfeld, son of Friedrich Wilhelm & Wilhelmine Augusta Albertine (Busch) Westerfeld
Alma Bertha Albertine Hoefs, daughter of Ernest Karl Friedrich & Emelie Mathilda (Stavnau) Hoefs
Heinrich Schultz & Alma Kroening
Alma Kroening, daughter of Frank & Minnie Kroening
Robert Radtke & Magdaline Manthei
Emil Bohm & Ella Bonnin
Julius Herning & Ella Krueger
1910
William Zuehlke & Louise Rueckert
August Boettcher & Bertha Garbrecht
Married: March 4, 1910
Frank Boettcher & Augusta Neuendorf
Frank Stiede & Emma Kroening
Albert Kallies & Emma Eckert
Emil Radtke & Emma Brodhagen
Frank Brodhagen & Martha Mens
1911
Gilbert Jensen & Mary Radtke
Gilbert Jensen, son of Fred & Wilhelmina Friedericke Augusta (Genzke) Jensen
William Krueger & Meta Krueger
Arthur Raaths & Ida Beilfuss
Otto Lemberg & Anna Bartelt
Albert Kuehl & Alma Hinkfuss
Marriage: October 5, 1911
Alma Emma Anna Hinkfuss, daughter of Theodore Christian & Fredericke (Ziegenhagen) Hinkfuί
1912
Franz Busch & Hulda Simon
Frank Busch, son of Mr. & Mrs. John Busch
1913
Ernst Kirchenwitz & Alma Garbrecht
Richard Streng & Olga Busch
Olga Busch, daughter of Mr. & Mrs. John Busch
1914
Frank Ebert & Martha Beilfuss
1915
Hermann Hein & Helena Kroening
Martin Hoefs & Amanda Krueger
1916
Willie Westphal & Helena Popp
1917
Henry Radtke & Hattie Schawn
Wilhelm Wudtke & Linda Gnuschke
Linda Gnuschke, daughter of August & Bertha Gnuschke
Albert Radtke & Jessie Rymer
Gerhard Kempff & Lily Klussendorf
Emil Bonnin & Linda Boettcher
Emil Bonnin, Son of Fred W. & Augusta Bonnin
Julius Simon & Edna Krueger
1918
Walter Kroening & Elsie Rueckert
Henry Boerst & Mabel Hafemann
1919
Joseph Bergner & Frieda Kallies
August Schachtschneider & Martha Busch
W. C. Boerst & Bertha Kroening
1920
Loren Wilson & Minnie Kroening
Melvin Hovie & Emily Radtke
John Moede & Elfie Krueger
John Boettcher & Alma Kuehl
1921
Leonard Nirueauer & Eleanore Schruk
August Busch & Anna Simon
Julius Bloedorn & Esther Dobratz
Esther Dobratz, daughter of Louis A. F. & Louisa F. W. (Kroening) Dobratz
1922
Paul Noffke & Frieda Buettner
Married: Januray 8, 1922
Paul Georg Theodore Noffke, son of August Friedrich Wilhelm & Wilhelmine Auguste (Krause) Noffke
Frieda Marie Buettner, daughter of Herman & Anna (Bohm) Buettner
Frank Bruss & Bertha Prinhalz
Otto Mattson & Ida Splitgerber
1923
Joseph Serve & Manilda Marquardt
Leo Marquardt & Valasta Berau
1924
Reue Schwalbe & Viola Marquardt
Philip Galleske & Pauline Simon
Walter Hidde & Esther Radtke
1925
Elmer Graf & Anna Popp
Herman Krueger & Esther Busch
1926
Louis Serve & Esther Behnke
1927
Louis Reisner & Marie Moede
John Dolman & Emma Popp
1928
Albert Dobratz & Dora Krause
Albert Dobratz, son of Louis A. F. & Louisa F. W. (Kroening) Dobratz
Dora A. Krause, daughter of Heinrich Wilhelm & Josephine L. (Steubs) Krause
Edwin Naus & Helen Radtke
Adolf Runge & Glory Dittman
1929
Gerhardt Klevesahl & Leona Schultz
Louis Stiede & Arline Moede
Ernest Nadler & Flossie Drage
Rueben Schmidt &. Minnie Dobratz
Married: Nov. 29, 1929
Minnie Dobratz, daughter of Louis A. F. & Louisa F. W. (Kroening) Dobratz
1930
George Iken & Viola Kroening
Married: June 1, 1930
Viola G. Kroening, daughter of Edward and Martha (Genzke)
Archie Wilson & Augusta Sojka
Married: July 16, 1930
Augusta Sojka, daughter of Carl and Marie (Trofka) Sojka
Hilbert Kroening & Elsie Sojka
Elsie Sojka, daughter of Carl and Marie (Trofka) Sojka
George Peterson & Marie Mastedt
1931
Marvin Perschbacher & Norma Peterman
Marvin Perschbacher, son of Henry & Mary Perschbacher
Paul Dehn & Linda Krueger
1932
Normann Moss & Florence Sievert
Florence Sievert, daughter of Herman and Emma Sievert
Byron Brede & Helen Hoefs
Erwin Drage & Elda Westerfeld
Married: May 8, 1932
Erwin Drage, son of Herman & Augusta Anna (Lange) Drage
Elda Westerfeld, daughter of August Herman & Alma Bertha Albertine (Hoefs) Westerfeld
Frank Radtke & Agnes Piechochi
Ewald Dobratz & Lila Jensen
Lila Jensen, daughter of Gilbert and Marie (Radtke) Jensen
1933
Alvin Herschlip & Carrie Specht
Harry Mueller & Dorothy Radtke
Dorothy Radtke, daughter of August and Clara (Brodhagen) Radtke (??)
1934
Maynard Stiede & Edmire Bonnin
Edmire Bonnin, Daughter of Herman & Emma Bonnin
Alvin Schmidt & Gladys Busch
Married: April 29,1934
Gladys Busch, daughter of Frank and Hulda (Simon) Busch
Alvin O. Schmidt
Norman Burmeister & Esther Kasten
Leonard Lemberg & Viola Hoefs
Maynard Sohr & Mildred Westerfeld
Mildred Westerfeld, daughter of Westerfeld, daughter of August Herman & Alma Bertha Albertine (Hoefs) Westerfeld
1935
Arthur Brede & Gladys Hein
Paul Froelich & Myrtle Westerfeld
Albert Folkman & Hilda Westerfeld
Hilda Westerfeld, daughter of Westerfeld, daughter of August Herman & Alma Bertha Albertine (Hoefs) Westerfeld
1936
Charles Splitgerber & Agnes Shumann
Ralph Reinke & Hilda Dobratz
1937
Arnold Krueger & Marion Kallies
Marion Kallies, daughter of August J. & Minnie (Eckert) Kallies
Max Mueller & Florence Radtke
1938
Leonard Bonnin & Mildred Kallies
Mildred Kallies, daughter of Ernest and Martha (Kroening) Kallies
1939
George Splitgerber & Irene Johnson
Richard Bergsbakon & Martha Hinkfuss
Neil Moesch & Lucile Dobratz
Married: September 2, 1939
Lucile A. Dobratz, daughter of Herman and Anna (Krause) Dobratz
Eldred Schuster & Agnes Kammerman
Silas Uelman & Ethel Westerfeld
Ethel Westerfeld, daughter of Westerfeld, daughter of August Herman & Alma Bertha Albertine (Hoefs) Westerfeld
1940
Glen Latus & Fern Beilfuss
Fern Beilfuss, daughter of Ernest and Linda (Genske) Beilfuss
Victor Schultz & Adeline Westerfeld
Adeline Westerfeld, daughter of Wilhelm August Otto & Louise M. (Radtke) Westerfeld
Milton Stahlkopf & Emma Hoefs
If you would like any baptisms, confirmations or marriages look-up in the booklet for years 1940 - 1975, just email me.

PHOTOS

RETURN TO SHAWANO GENWEB INDEX PAGE