Waupaca County, Wisconsin - Libraries

Last updated April 30, 2013
Click on photo of library to view larger version.
_______________________
** Public Libraries **
75 Hemlock Street
Clintonville, WI 54929-1461
Fremont Neuschafer Community Library
317 Wolf River Dr.
P.O. Box 498, Fremont, WI 54940-0498
(920) 446-2474
180 South Main Street
Iola, WI 54945
(715) 445-4330
130 North Bridge St.
P.O. Box 20
Manawa, WI 54949
(920) 596-2252
Marion Public Library
P. O. Box 267
Marion, WI 54950
(715) 754-5368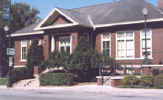 406 South Pearl St
New London, WI 54961
(920) 982-8519
Scandinavia Ellison Public Library
349 Main Street
P.O. Box 117
Scandinavia, WI 54977
(715) 467-4636
107 South Main Street
Waupaca, WI 54981
(715) 258-4414 or (715) 258-4415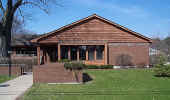 301 South Mill St
P.O. Box 6
Weyauwega, WI 54983
(920) 867-3742

________________________
** Genealogical Libraries **

Family History Center-Appleton
435 W Park Ridge Avenue
Appleton, WI 54911
(920) 733-5358
Family History Center-Shawano
Evergreen & Zingler Streets
P.O. Box 321
Shawano, WI 54166
(715) 526-2946
Family History Center-Wausau
5405 Rib Mountain Drive
Wausau, WI 54401
(715) 359-7171
(Hwy. N - West of Hwy 51 about 1/4 miles on left)
35 North Temple
Salt Lake City, UT 84150
(801) 240-2331
816 State Street, Madison, WI 53706
University of Wisconsin
Stevens Point, WI 54481
(715) 346-2586
(Archival repositories for the counties of: Adams, Forest, Juneau, Langlade, Lincoln, Marathon, Oneida, Portage, Vilas, Waupaca, Waushara and Wood.)
Norwegian American Genealogical Center & Naeseth Library
(Formerly the Vesterheim Genealogical Center and Naeseth Library)
415 West Main Street
Madison, WI 53703
(608) 255-2224
(608) 255-6842 (FAX)
This library is a must for the person with Norwegian researchers.
The holdings include: 3850 reels of microfilmed Norwegian Church Records,
70 reels of microfilmed American Lutheran Church Records, Emigration lists,
Transcripts, Census records and much more.
___________________________
** Research Center **

The Holly History and Genealogy Center
321 South Main Street
Waupaca, WI 54981
(715) 256-9980
____________________________
** Helpful Websites **
Wiscat - Online - Wisconsin Library Catalog
WI Department of Public Instruction - This is a great site for finding libraries of any kind within Wisconsin: public, public schools, private schools, etc.)
Wisconsin Library Association, Inc. - Various information in regards to genealogy and history.
Wisconsin Area Research Center Network - Information with links to the WI Area Research Centers.
Wisconsin Libraries
Wisconsin Public Libraries - Lists with links to Wisconsin Public Libraries.
DAR Library- Includes an on-line catalog.
BYU Digital Collections - Contains a variety of online collections
University of Wisconsin Digital Collections - Among other items this site contains complete Wisconsin digital books online.
Nation Center for Educational Statistics - Gives contact information for schools, colleges and libraries throughout the USA.
______________________
If you would to contribute material to this site or other WIGenWeb Project sites, please contact Paula Vaughan, the County Coordinator of this site.
Copyright Notice: All files on this site are copyrighted by their creator and/or contributor. They may be linked to but may not be reproduced on another site without specific permission from Paula Vaughan at pajolova@hotmail.com and/or their contributor. Although public information is not in and of itself copyrightable, the format in which they are presented, the notes and comments, etc., are. It is however, quite permissible to print or save the files to a personal computer for personal use ONLY.
Questions, suggestions or additions please email.
Copyright © 1999-2013 Paula Vaughan