These ads will take a while to load and is best viewed "maximized" computer screen width. I decided to keep the maps LARGE so that the names & details are easily read. These Shawano County Plat maps are contributed by Kris Pinkerton, Northeastern Wisconsin area genealogist. Kris has helped me extensively with research at the Diocese of Green Bay, along with Sr. Ella. A big THANKS!!
WHY INCLUDE THE ADS? This plat map book is not dated -- at all! It's only through the ads that Kris could establish a date of 1920. And I just love to see the ads for items that are "NEW" in 1920, along with the merchants in the area.
And, if any of you have plat maps xeroxed, prior to 1930, and would like to share them, let me know! These maps can be a GREAT resource for land deeds when doing research & trying to locate those elusive relatives. The "key" at the bottom lists landowner & acreage if known. ENJOY!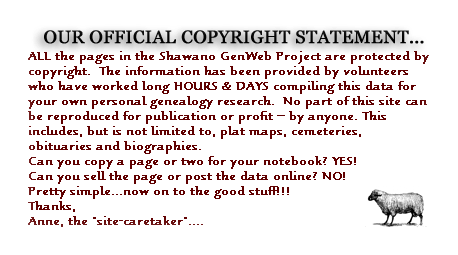 Wisconsin National Bank
Retail Lumber and Supply
Dunn & Accord
Wolf River Auto Co.
Shawano Lumber Co.
N. M. Howe & Son
H. C. Hayter Company
Gallagher's Drug Store
Walter H. Garfield
Shawano Fuel Company
Williams Drug Store
Badger Wood Products Co.
Klebesadel Dairy Farm
Citizen State Bank
Northen Land Company
Karth Furniture & Undertaking
Schweers Hardware Co.
A. Kuckuk, Jeweler & Optician
Ed Sommers
T. J. Wavrunek
Hammond Hardware Co.
Congress Cafe & Bakery
B. F. Koepsell
C. F. Melberg
Dr. Royer
City Meat Market
Werch & Beversdorf
State Bank of Gresham
Schultz & Carr Drug Co.
H. Iwen Box & Veneer Co.
O. E. Morgan
J. H. Kuehl
C. Weinig
Chas. R. Stier
O. Chaimson