The history of Saint Stanislaus Church at Hofa Park, Wisconsin, would lack the proper background if nothing were written about John J. Hof after whom this village in north­eastern Wisconsin was named. Hofa Park was the beginning of a movement conceived by Hof to settle northeastern Wisconsin, particularly the counties of Shawano, Outagamie, Brown and Oconto, with Polish immigrants. His humble beginning here was crowned with the settling of over one thousand Polish families at Hofa Park, Pulaski, Sobieski, Kosciuszko and Krakow between the years 1877 and 1900.
Who was this man, John J. Hof? Whence did he originate ? What was his interest in Poles and Catholics? This is particularly interesting since he himself was a Norwegian by birth and professed the Lutheran religion until shortly before death, when he became a Catholic.
Born in 1842 -- Little is known about Hof's early life, the years he spent in his native Norway and the exact year when he came to the United States. We know that he was born in 1842 at Domaas, Norway. This is definitely supported by evidence today contradicting earlier writers (Fr. Venceslaus Kruszka and Fr. Francis Manel, O.F.M.) who claimed that Hof was a Swede. The events of the next thirty-three years in Hof's life are shrouded in silence.
In the pamphlets which he later published in the Polish language advertising his land sales to the Poles of America, Hof wrote of his extensive travels throughout the United States. His purpose was to find suitable farm land upon which to settle Polish immigrants, or so he claimed. Although this statement must be taken with a grain of salt because every land agent praised his territory as the best, nevertheless the bio­graphical element offered is all that we have until we find Hof in Milwaukee, Wisconsin, about the year 1875. At least, it indicates Hof's early interest in land sales. Before undertaking this career, he carefully investigated the prospects and opportunities which existed in the country at the time for settling immigrants on farms. His choice fell upon Wisconsin.
Began Career as Land Agent in Milwaukee
As far as is known at present, Hof began his career as a land agent for the General Land Office at Milwaukee in 1875. It was located at 117-119 West Water Street (near today's intersection of N. Plankinton and W. Clybourn Streets). No further information has thus far been discovered which would indicate more precisely the name of the land company in whose employ Hof labored.
At the outset, it was not to Poles but to his own Norwegian countrymen that Hof first sold land in and around Seymour, in Outagamie County of northeastern Wisconsin. This he did for a period of two years, from 1875-1877. But he did not enjoy a great success with his own countrymen, many of whom left the Seymour area. It was then that Hof turned to the Poles.
His Plan to Settle Poles on Farms
In the summer of 1877, he began to contact Polish families in Milwaukee, urging them to settle on the cutover land near the future village of Hofa Park in the town of Maple Grove, Shawano County. He assured them that this would be the beginning of his plan to settle many Poles on the lands he was selling. If he were successful, more Polish colonies, as he loved to call the Polish farm settlements, would follow.
Hof openly professed his intention to the pioneers of Hofa Park that he would sell land only to the Poles. Later he also included the Lithuanians and other nationalities. However, in the case of the Lithuanians, they also spoke Polish because of their union with Poland for over five hundred years in one of Europe's earliest commonwealths. Nevertheless, Hof sold the vast majority of his lands to the Poles and thus remained true to his promise.
First Four Polish Families at Hofa Park
Hof's salesmanship was so convincing that four Polish families sold their homes in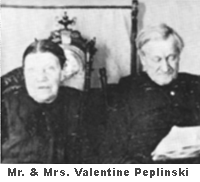 Milwaukee to him in exchange for land in the Hofa Park area. In September, 1877, the families of Valentine Peplinski, Frank and Michael Lepak, and of Valentine Zygmanski arrived in the northwestern section of the town of Maple Grove. A beginning for the establishment of Polish colonies by Hof was now a reality.
Some of Hof's Polish Aides
To assure himself of greater success in settling Poles in northeastern Wisconsin, Hof engaged Polish assistants, such as interpreters, secretaries and part-time agents. The earliest known of these Polish aides to Hof was Theo M, Helinski. It was he who served as a contact between Hof and the first four Polish families which came to Hofa Park. Helinski was a notary public in Milwaukee. He also served in this capacity for Hof as is proven by the early deeds.
Next, there was Miss Helen Rozanski, who served as secretary to Hof handling all Polish correspondence between the years 1877 and 1900. Other Poles serving as interpreters and agents for Hof at different times during the years 1877 to 1910 were Leo Gabryszek, Stanley B. Liberski, Edward Koldrowicz, Stanley Piotrowski and A. S. Dominiczak.
Non-Polish Associates, Remembered by Poles
Prominently associated with Hof and well-remembered by the early Polish settlers in Hof's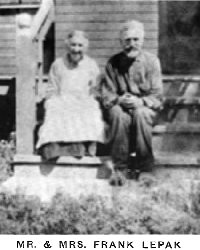 colonies were
such non-Poles as Thorace Thompson, who also operated a sawmill at Hofa Park from 1885 and John N. Kurtz, notary public for the Hof Land Co. from 1889. Hof also employed his own surveyor in the person of William E. Weeks.
Although the above-named Poles were more prominently associated with Hof in his contact with the Polish immigrants, almost every Polish family which was settled in the early years by Hof in this area served as individual agents for him in his Polish colonization program. The means used was correspondence of the early settlers with their relatives and friends in other parts of the United States and even in Poland. An insatiable hunger and love for the soil which they could call their own as well as life among their own country­men attracted many more to Hof's colonies.
Huge Advertising Campaign of Land Sales to Poles
Hof played masterfully upon this yearning of the Polish immigrant. Beginning with the year 1881, he or­ganized a tremendous campaign ad­vertising the formation of his Polish colonies in the farm regions of north­eastern Wisconsin. In lots of five thousand copies at a time, he pub­lished Polish land maps and pam­phlets gloriously describing the op­portunities which his lands offered for Polish agricultural communities, markets for farm products, transpor­tation by rail and water. In one edition, he assured the prospective settlers of the ultimate provision of a large river which would flow between Hofa Park and Green Bay!
Knowing the persuasiveness of cor­respondence, Hof printed thousands of letters listing the names of settlers already occupying land in his colonies. In these letters, the settlers praised the favorable conditions of life on the farms or land which Hof sold them.
The land sales advertising material of land maps, pamphlets and letters was written and printed first by the Smulski Publishing Co., of Chicago, Illinois, and a few years later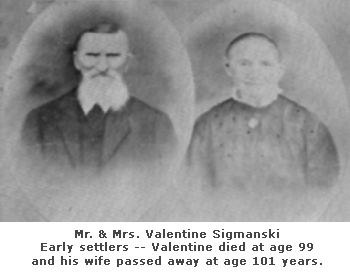 (1888) by the Kuryer Polski Publishing Co., of Milwaukee, Wisconsin. Records of copies surviving today attest to this fact.
Finally, Hof advertised extensively in the Polish weekly and daily newspapers of Milwaukee, Chicago and the cities of Pennsylvania and New York where greater groups of Polish immigrants were massed. The peak of this pamphlet and newspaper campaign existed between the years 1885 and 1900 although Hof still advertised in newspapers till 1905.
Brother Augustine Zeitz and Hof
From the years 1886 to 1900, Hof also advertised his land sales in the Lithuanian newspapers of the country. This was done mainly through the advice and help of Brother Augustine Zeitz, O.F.M., founder of the Franciscan Monastery at Pulaski in 1887. Most of the ad copy as well as articles on the progress of settlement in Hof's colonies were written in the Lithuanian language by Brother Augustine himself.
Again, the language barrier was not great since most Lithuanians also spoke Polish. For this reason, even Brother Augustine in advertising the foundation of a Franciscan Monastery opened its doors to Lithuanian as well as to Polish candidates for the priest­hood and brotherhood.
Various Surnames Used by Hof
An oddity occurs in Hof's use of various names during his early years as land agent. Up to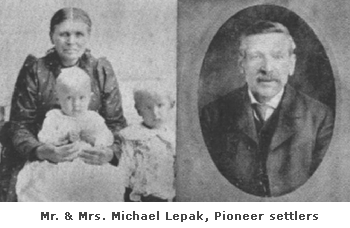 1881, he generally used the name of John J. Hof although that was not his true name. After Hof's death in 1910, the surviving correspondence between his brother Matthias in Norway and John N. Kurtz, the executor of Hof's estate in America, reveals that Hof's real name was Hofhaug. Matthias Hofhaug, who did not change his name, informed the executor that his brother John shortened the name to Hof after coming to the United States.
To this shortened form Hof added the name of Johnson in 1881 (probably sooner). On August 3, 1881, the Green Bay Daily State Gazette reported that "Mr. J. Hoff Johnson, of Milwaukee, spent last week in town (Angelica). Mr. J. is in the land agency. He has located a number of settlers in this town and Lessor." Some of the early settlers, such as John Lepak and John Peplinski, also testified to the author of this history that Hof used the name of Johnson at random in his early days as land agent.
Three Periods of Hof's Activity in Land Sales
From the above, it appears that Hof used both names interchangeably during the years 1875 to 1881. This may have been a holdover from his first attempt to settle Norwegian immigrants in the Seymour area. But from the year 1881 to his death, his land records, advertising material, stationery and deeds list only the name of Hof or the John J. Hof Land Co.
In conjunction with the use of various names, three periods of Hof's activity in land sales may be distinguished. The first extends from approximately the year 1875 to 1881. During this time, Hof was predominantly a land agent in the employ of the General Land Office of Milwau­kee. From the commission which he made on land sales, he purchased tracts of wooded and semi-wooded, cutover land for himself.
During the second period extending from the years 1881 to 1889, Hof operated as the sole owner of the land he sold. He stressed this fact in 1883 to Bishop Francis X. Krautbauer, of Green Bay, to whom he donated land for the Hofa Park Catholic church. Again, in a letter dated May 10, 1886, and written to Bishop Frederick Katzer, successor to Krautbauer in the diocese of Green Bay, Hof repeats that he is the sole owner of the land he sells.
The John J. Hof Land Company
In 1889, Hof became president of the newly organized John J. Hof Land Co., incorporated in the state of Wisconsin. William Mariner served as vice-president and John W. Mariner as secretary-treasurer. John N. Kurtz was the notary public for the company.
The Mariner brothers, whose realty company still exists today in Milwaukee in the building named after them (at 411 E. Mason St.), previously owned the Northern Colonization Co. up to the year 1887. Affiliated with them also were A. C. Conn, Howard C. Gardner and William Herman, all of whom owned large amounts of land in the Little Suamico, Sobieski, Krakow and Seymour areas. It was from them that Hof purchased much of his land prior to 1889. The formation of the Hof Land Co. in 1889 together with the Mariners may possibly hint that Hof worked as a land agent for their Northern Colonization Co. during the 1875-1881 period. But no conclusive evidence exists to establish this fact without doubt.
Strong Attachment of Poles to Catholic Faith
Besides playing up to the patriotic sentiment of the Poles in forming Polish farm colonies, Hof catered to their strong attachment to the Catholic Faith. Knowing that ninety-five per cent of the Polish immigrants were Catholics, he printed architec­tural sketches of churches on his early land maps to show that Catholic temples of worship were located in central positions of his rising settlements. In 1887, similar sketches appeared on succeeding maps depicting the first Franciscan monastery and church at Pulaski. It was variously labeled as "Church at Hofa Park and Pulaski," "Convent at Hofa Park and Pulaski," or simply "Pulaski Convent." All of Hof's land maps, circulars, booklets, deeds, stationery and other official papers bore this name of the churches from 1887 to 1897. From the latter year on, churches at Sobieski and Krakow were added to the maps and advertising literature.
Although Hof advertised the presence of churches in the five colonies he founded, the fact is that the settlers had to build these churches themselves generally about five years after their arrival in each settlement. In each case, however, Hof donated the land and most of the timber for these churches.
Disappointment of Early Settlers
Not only were the early settlers disappointed with the lack of churches when they first arrived in the Hofa Park, Pulaski, Sobieski, Kosciuszko and Krakow areas. Many were also disillusioned by the condition of the land Hof sold them. Meeting their gaze upon arrival were still quite dense forests and brush, deep swamps or low and sandy soil. The glorious picture painted in Hof's circulars appeared quite different upon personal examination.
Though their disappointment was heart-rending at times and their life very primitive and rugged at the very outset, these pioneers never lacked the will to work hard and to make sacrifices despite a life of almost abject poverty. Their love of the land and the sense of ownership conquered all difficulties as they dug in to clear the land and to begin farming on a modest scale.
Whatever claims and promises were overstated by Hof, he was generous to the settlers in other ways. He donated land, timber and money towards the building of their churches. In his transactions with the poor Polish immigrants who wended their way to these settlements, he was patient and reasonable. Selling his land at ten to fifteen dollars an acre, he would wait beyond the term of payment of the principal, often canceling the interest. He aided the settlers personally after the terrible forest fires of 1886 in these areas. Thus, with encouragement and help from Hof, these pioneers gradually prospered, built the first roads, constructed churches and schools and developed their farms to the efficient state which meets the eye of the visitor to these settlements today.
Settlements Named after Polish Heroes and Cities
With the exception of Hofa Park, which he named after himself, Hof reached into the past history of Poland to select national heroes and cities for the names of his settlements. He did this with the aid or at the suggestion of his Polish agents. Pulaski, Kosciuszko and Sobieski were military heroes and defenders of freedom either in Polish or both Polish and early American history. Krakow was once the capital of Poland in her greater days of glory. These national heroes and the former capital of Poland were dear to the hearts of the Polish immigrant who, settling on soil far from his native country, felt more at home in a Polish-named though modest farm community.
After meeting with complete success in colonizing and firmly establishing Polish settlements at Hofa Park and Pulaski, Hof opened a branch land office of the John J. Hof Land Company at Sobieski in 1894. This was done to spur land sales in the Sobieski, Kosciuszko and Krakow areas. The main office of this company still remained in Milwaukee.
Direct Railroad Transportation to Sobieski
Following the opening of a branch office at Sobieski, Hof succeeded in persuading the Chicago, Milwaukee and St. Paul Railroad to transfer its scheduled logging train stop from Gardner to Sobieski, a distance of one mile and a half to the north. Shortly thereafter, a depot was built at Sobieski. Thus, all the Polish settlers from various parts of the United States henceforth came directly through Chicago and Milwaukee to Sobieski. Previously, the settlers of Hofa Park or Pulaski detrained at Green Bay or Seymour and either walked or were driven by horse and wagon a distance of twenty to twenty-five miles to their newly-purchased land! Before 1894, the nearest railroad stop for Sobieski settlers was four miles further east at Little Suamico, Wisconsin. The Sobieski railroad station thus considerably shortened the distances of foot or wagon travel for the Sobieski, Kosciuszko and Krakow settlers.
This marked the earliest direct transportation by railroad to Hof's Polish settlements. Later, in 1906, similar transportation to Pulaski and Krakow was provided by the Chicago and North Western Railway. Hofa Park was never as fortunate. Although attempts were made as early as 1870 to provide railway transportation from Green Bay through Angelica, near Hofa Park, and though Hof optimistically advertised that trains would roll through Hofa Park, nothing ever materialized in this regard. Later, transportation by auto and shipping of farm products by truck lines decreased the importance of a railroad in Hofa Park and other farm communities.
Over 160,000 Acres of Land Predominantly Settled by Poles
Both the branch land office and direct railroad transportation to Sobieski represent Hof's final success in populating over 160,000 acres of land with predominantly Polish farmers. His dream of establishing Polish farm colonies was well realized even before his death. The initial success he had with luring four Polish families to Hofa Park in 1877 was followed by similar modest beginnings of new Polish settlements at Pulaski in 1883, Sobieski in 1892, Kosciuszko and Krakow in 1895. Kosciuszko, however, never developed into a thriving community.
Within five to ten years after the first settlers arrived, churches were built in Hofa Park (1883), Pulaski (1887), Sobieski (1897) and Krakow (1903). Previous construction of essential places of business and trade contributed to the gradual formation of villages that now dot this area.