All of our ancestors were special in various ways. Some immigrated with nothing in their pockets beyond the fare that would get them to their final destinations, some not even that. Others came to this county as small children and are considered "pioneers" as well. Still others came in the 20th century, long after those first roads were built and the wilderness settled. And some of our ancestors were here for centuries before--each of them were unique. Just because someone doesn't appear in a published biography, doesn't mean their story wasn't worth telling. If you have stories about your grandparents that you'd like to share, send them--even if it's just a paragraph or whether it's a page or

two... or three!. The only two requirements are that they lived in

Shawano

Cou

nty and are deceased. If it's only a paragraph you have put together on your "Uncle Wilhelm", I'd love to post it! And if it includes a photograph, all the better. Email me with the information!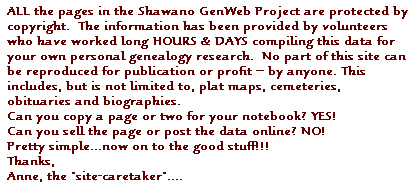 ---
The following are individual biographical sketches found in the History of Northern Wisconsin - written in 1881.
H. H. ANDREWS
J. M. ROBINSON

ASA HICKS

H. C. RUSSELL

ARTHUR M. JONES

CAPT. JOHN M. SCHWURS

JOHN DAVID KAST

WILLIAM SOMMERS

HENRY KLOSTERMAN

EDWARD SOMMERS

AUGUST KOEPPEN

UPHAM & RUSSELL

JOSEPH MAURER

HIRAM WESCOTT, Sr.

H. NABER

CHARLES D. WESCOTT

K. M. PHILLIPS

DAYN E. WESCOTT

CHARLES A. RAISLER

The following are individuals mentioned in the Biographical Sketches by J. H. Beers written in 1895, lovingly transcribed by Elaine O'Leary.
DANIEL HAIGHT PULCIFER
BENJAMIN B. ANDREWS
H. KLOSTERMAN
L. C. BOLD
JAMES BUCHANAN CHURCHILL
ANTON LIEG
JACOB H. VAN DOREN
REV. E. J. HOMME
BENJAMIN A. CADY
HERMAN MEISNER
REV. HERMAN S. W. DAIB
HARVEY J. MORGAN
LOUIS BERGNER
WILLIAM SALZMANN
HON. CHRIS BONNIN
JAMES DEWITT HEATH, M.D.
JAMES MORGAN
CONRAD WEINIG
REV. FATHER JOHN KASTER
FREDERICK E. PORTER
CHARLES SUMNICHT
LOUIS GLAUBITZ
REV. ODORIC IGNAZ DERENTHAL
MATHIAS WAGNER
JOHN E. ROEPKE
F. D. NABER
GEORGE BRUNNER
HERMANN NABER
HEALY MARCY LOOMER
JOHN KLICKMAN
THOMAS H. SAVAGE
HERMAN HACKER
JOHN T. BECKER
SAMUEL MEYER
LOUIS SPECHT
BYRON S. FULLERTON
FISHER BROTHERS
JOHN McDIVITT
AUGUST BLECK
ANTONE KUCKUK
JOSEPH RUNDHAMER
CHARLES H. MEISNER
PAUL H. MEYER
GEORGE H. FRAZER
CHRIST RETZLAFF
HERMAN DRUCKREY
OTTO AXEL RISUM
WILLIAM PARKER
HENRY C. ZUEHLKE
WILLIAM J. SCHUMACHER
WILLIAM H. SANDERS
WILLIAM C. ZACHOW
H. F. GRALAPP
FRANK ISSTAS
FREDERICK C. SCHEWE
G. GARBRECHT
DELOS W. KRAKE
ISAAC H. ISAACSON
L. ROTHMAN, M. D.
C. P. E. LUTZ
F. F. GREEN
FRED RIEMER
F. J. MARTIN
JOHN AINSWORTH
WILLIAM WEDGWOOD
WILLIAM KUEHL
WILLIAM WEGNER
ALEXANDER PETERSON
HENRY J. BLOECHER
REV. PETER HENRY DICKE
FRANZ F. KOSKE
JOSEPH KERN, M. D.
BYRON H. GARFIELD
CHARLES D. WESCOTT
R. E. WEDGWOOD
HERMAN R. SCHWANKE
JOHN QUINN
WILLIAM SEERING
WILLIAM HOFFMANN
REV. EMIL STUBENVOLL
ROBERT E. SEMPLE
MARTIN JOHNSON
CHARLES MAGEE, SR.,
OLE ERICKSON
N. A. GILBERT
JOSEPH GAUTHIER
The following are from the Wisconsin Blue Book. The Blue Book is an almanac containing information on the government, economics, demograpics, geography and history of the state of Wisconsin. The book was first published in 1853. It is currently published in the fall of every odd year, corresponding to the start of each new biennium of the Wisconsin state government.
ANTONE KUCKUK
AUGUST BEVERSDORF
JONAS SWENHOLT
JOHN HERMAN KOCH

The following are individuals who have had articles written about them, either found in a newspaper clipping or compiled by a family member.
FERDINAND KUPSKY
WILLIAM & ELISE SPERBERG
JULES & ANNA MARTIN
WILLIAM & LEWIS ROGERS
HEATON MESSENGER JENNINGS
PETER PETERSON & SON EVERETT
This paper was written by a descendant of Peter's regarding racism issues in the 1800-1900s - the paper is very nicely written and gives the history of the PETERSON FAMILY in Leopolis as well.