News Articles:
23 Apr 1904
Charles Lord interview
7 Mar 1910
Charles Lord obituary
28 Aug 1914
Indian cemetery controversy
4 Sept 1914
Indian cemetery controvery
5 Sept 1914
Indian cemetery controversy
7 Sept 1914
Indian cemetery controversy
Feb 7 1915
Chief Blackbird interview
16 April 2001
DAR listing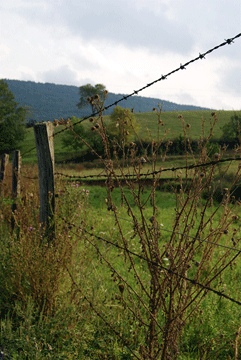 Names and dates of some of those who pioneered in exploring the Douglas County areas were:
Father Menard (1653)
Radisson and Grosseilliers (1655)
Father Claude Allouez (1668)
Nicolas Perrot(1671)
Sier Randin (1673)
Daniel Greysolon Du L'Hut (1679)
Pierre Charles Le Sueur (1693)
Douglas County lies on one of the major water highways used by early travelers and voyagers of inland America. This water trail, the Bois Brule-St. Croix River Portage Trail, was the most convenient connecting link between Lake Superior and the Mississippi River.
The Bois Brule and St. Croix River systems were only separated by a short portage over the Continental Divide near Solon Springs. The northward traveler used this water trail to take him to Lake Superior, while the downstream traveler could use it to go southwest to the Gulf of Mexico, unhindered by portages, by using the St. Croix and Mississippi Rivers.
This waterway was also an important route in the Wisconsin fur trade, particularly when the French War with the Fox Indians closed the more southern routes. This territory was transferred to British rule by the treaty of Paris in 1763 at the conclusion of the French and Indian War. It was explored by Capt. Johnathon Carver in 1767 and came under the flag of the United States government in 1783 under terms of the Treaty of Peace of that year.
A law enacted February 8, 1854, separated Douglas County from the larger County of La Pointe. Superior was immediately selected as the county seat; however, it wasn't incorporated as a city until 1887. St. Louis was actually the first name proposed for the County; however, R.R. Nelson submitted an amendment to change the proposed name to Douglas County after Nelson's friend, Stephen A. Douglas, Illinois Senator, who was financially interested in the new settlement. 
The opening of the Federal Land Office at Superior in 1855 marked the beginning of the white man's transformation of this area. (Some notes from the census of 1860 show the population of Douglas County as 812 souls.)
The first courthouse was built in 1871. It was a two-story frame building built near 25th Avenue East and East Fifth Street. The present courthouse was built during the year 1919 and was occupied in March, 1920. It is considered the finest courthouse in the Northwest. The construction consists of selected Bedford blue cut stone and Pavanazza marble.
After more than a quarter of a century of patient waiting and many disappointments, on the 17th day of December, 1881, (the most memorable one in its history) the Northern Pacific Railroad formally opened to Superior. This marked the boom for Superior's industry and growth.




Interesting web links



A search for the `Old Country' enriches life in the new," by Larry Oakes, Star Tribune (Minneapolis-St. Paul), Aug. 9, 1998

Memoirs of Alexander Gardner, Soldier and Traveler - Duluth Superior area has a 200 year old connection to Afghanistan. Researched and written by Mike Leahan

Sør-Trøndelag to America: Our Norwegian Ancestors by Linda Schwartz (includes ancestors of Score/Skaarvold family who lived in Douglas County)

Superior WISCONSIN Police & Sheriff 1890 - 1910 - Along with several images of police, it includes an extract of listed men in the Duluth, MN directories for 1890-1891 and 1891-1892, noted as police and sheriff for occupation, whose residence was entered as "Superior, MN."