elcome to the Shawano Wisconsin GenWeb Project. I'm Anne and March 6, 2012 marks my 11th anniversary of hosting this genealogy site. I'd like to gratefully thank all of you for your support and contributions for making this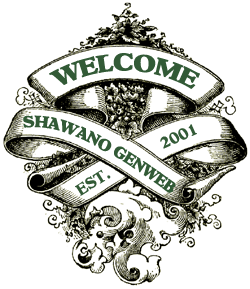 site work. I've listed various links to resources here and am always looking for other resources and data that is available. Any suggestions you might have that would make the site more "user friendly" or things you would like to see posted are always welcomed. The website itself consists of OVER 800 PAGES and our MESSAGE BOARD has OVER 19,000 obituaries and various other records for you to search and places for you to contribute your queries, obituaries, military records, etc. These are not INDEXES where we ask for fees for the obit -- these are the actual obits -- we charge for nothing. When we say FREE, we mean FREE! Remember to add your queries and obituaries to the sites, so that other researchers will know you are interested in that family surname. Your contributions will be greatly appreciated!
---
| | | |
| --- | --- | --- |
| | And, I'd like to acknowledge Tina Vickery, the WI State Co-ordinator; Marcia "MAK" Kuehl, the WI Assistant State Co-ordinator; and Kelly Mullins, our WI Project Web Mistress -- the folks that help keep the WIGenWeb sites up and running! Now, on to the good stuff!!! | |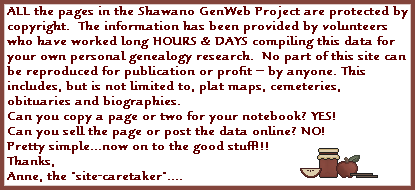 ---
I'd like to dedicate this site to my maternal grandparents...
Johann "Fred" Friedrich Wilhelm LAEDTKE (1881-1965)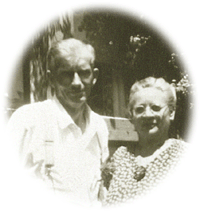 & the "apple of his eye" his bride,
Emma Wilhelmine Elisabeth BLAESE (1894-1958).
Both were born in Shawano County to German Families from the Pommern & Kreis Cammin areas of Germany. They were married for 48 years and were the proud parents of 8 children, 5 daughters: Esther, Hilda, Ida, Amanda & Dorothy and 3 sons: Alfred, Fred and Robert. Their families from Germany settled in Hartland Township and the Town of Washington/Cecil areas of the county.
I am looking for ANY PHOTO COPIES of the BLAESE - LAEDTKE families. After my mother passed away, we realized we did not have many pictures of her family. Other researchers from the Shawano site have shared some of their photos and they are greatly appreciated. Fred Laedtke's parents were E. W. LAEDTKE (1832 - 1896) & Louisa (nee STOCK) LAEDTKE (1846 - 1929) and Emma's parents were Carl BLAESE (1855 - 1945) and Henrietta (nee KRAUSE) BLAESE (1859 - 1921). I'm hoping to locate 1 photo of each to put in my book. Family lines also include Bartelt, Hinkfuss, Noffke, Horn, Bublitz and Spohn. Thanks in advance!

Now, on to the GOOD STUFF!
---
---

ust click on the TYPEWRITER
& drop us a line. Let us know how we're doing, and what you would like to see online AND your success stories! And if you have items you would like to share with other researchers and post to this site, we're here 24-7!!

---

And be sure to try out our SEARCH ENGINE. It will search the entire Shawano WIGenWeb site, BUT NOT the message boards for queries and obituaries board. A drawback is that if the surname is spelled differently than what you type in, you won't find it. So be sure to check various spellings and even check by town/place names. When we "transcribe" records, they are entered as they are in the original document, mistakes and all. Click here to check 18,000+ queries, obits and postings on the Message Board.
---
You are visitor
since 03.06.2001. Thanks for stopping by!

---
<center>